15 Creative Ways to Use Spare Buttons
If you're anything like us, you've been hoarding spare buttons for years from sewing projects that you over-purchased for in the past or clothing you bought that came with spare buttons you haven't needed yet. Our collection has built up so impressively, in fact, that we're almost proud of it! If you don't need buttons often, however, what can you do with all those buttons instead of letting them sit around in a drawer?
Check out these 15 awesome projects that put spare buttons to good use in all kinds of super creative ways!
1. Statement button rings
Perhaps you'd absolutely love to jazz up your style a little bit in the accessory category but your jewelry making skills aren't quite up to the challenge of making something very complicated? Then make it easy by using fun, big, decorative buttons as the centre piece of a ring! We love the way Miss Kris used eye catching vintage buttons to create fantastic finger decorations in all shapes and sizes!
2. Cute as a button hairband
We simply adore making our own headbands because there are so many unending designs and styles that you can create to match an outfit or your personality, so we're always on the lookout for new supplies that we can use to make unconventional, cool hair accessories. That's why we were so excited about finding these awesome button bands by Tip Junkie! When you wrap them around your head, they look like kitschy little fascinators.
3. Clothespin button racers
Perhaps you've been trying to find ways to upcycle household items in order to make your kids some fun little trinket toys, or even to help them make toys themselves? This is an activity that teaches creativity, thriftiness, and an ability to keep themselves busy in many different ways with whatever they have available. These fun little cars, made of buttons and clothes pins, are a perfect example! See how they're made on Almost Unschoolers.
4. Kids' fine motor games
One of the reasons we love saving and crafting with buttons is that they're useful in so many small and unexpected ways, and many of those things are very easy to make happen. This kids' activity featured on Cheerios and Lattes, for example, makes a great fine motor activity for little kids who are working on hand-eye coordination and love to get their little fingers into new sensations and concepts. Let your kids string some of your old buttons along some uncooked spaghetti noodles and they'll be busy with their simple new game for hours!
5. Felt and button Christmas tree crafts
Okay, we know we're nowhere near Christmas right now, but we couldn't help putting this adorable Christmas tree idea on the list just because we liked it so much. Cutting out felt shapes and embellishing them with buttons is an easy crafting idea for your kids. Olives and Pickles made a Christmas tree here, but that doesn't mean you couldn't help your kids cut out other shapes and decorate them for any holiday or season!
6. Preschooler learning activities
Are you sensing a theme yet? Buttons are great tools for kids' crafts! While there are plenty of creative things you can do with them, there are also many different learning activities you can use buttons for so you don't have to fall into the trap of buying flashcards, counting tiles, or less fun things that your kid might not want to use. Tip Junkie, for example, suggests creating little jars made of paper and using old buttons to "fill" the jars, letting your kids play counting games or visualize simple math with them.
7. Little apple journal
Sometimes the cutest button crafts are the ones that actually only use a few buttons rather than many of them at once, making them like a cute novelty detail. Something like this adorable journal, which uses buttons as decorative apples, makes a great project for people who only have a few matching buttons in small, uneven quantities. The Split Stitch shows you how they made this adorable cover.
8. Pretty button ornament
Crafts n' Coffee guides you through the process of making an adorable ornament out of decorative foam balls, buttons in different sizes, and pins, with a little bit of ribbon for embellishment. Their colour scheme suggests that their ornament is a Christmas one, but we think this concept is so cute that, in other colours, similar ones could be made as regular décor or hanging ornaments for other holidays too.
9. Button stud earrings
Have you found a matching set of tiny, decorative buttons that are so decorative and dainty that you just want to wear them all the time, but you only have two so there aren't many garments you can sew them to? Try turning them into earrings instead so you can wear them even if you only have two! Tip Junkie shows you how to attach the button to earring stud posts in a very simple way.
10. Vintage button calendar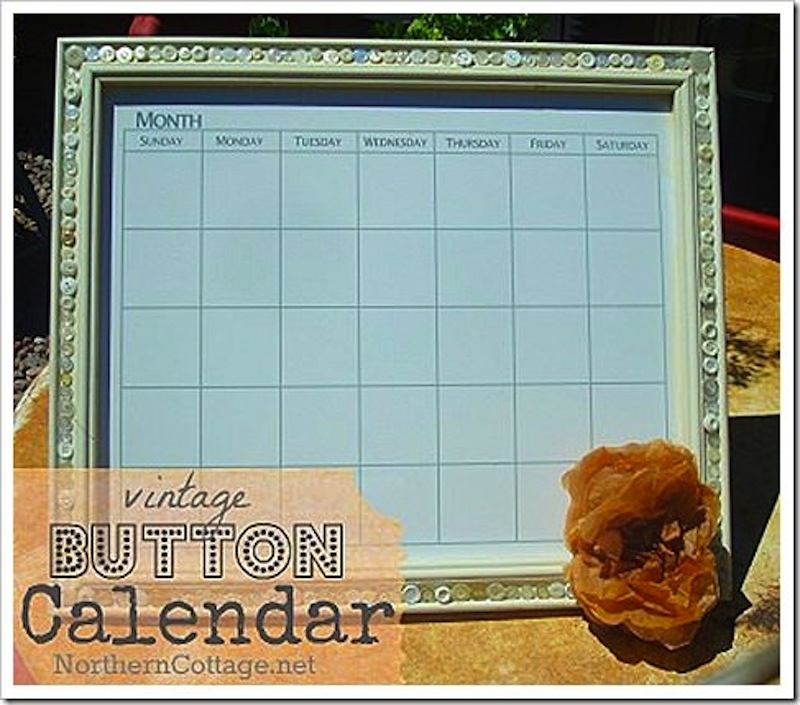 Have you ever made yourself a reusable dry erase calendar before? If so, then you already know how great they are and might be ready for different designs than the ones you've made previously. If you haven't, here's an adorable design to start with! Northern Cottage shows you how to put the dry erase sheet inside an old empty picture frame and decorate the frame with cute pieces from your spare button selection.
11. Button wall monogram
Have you always been a huge fan of monogrammed decorative pieces because they really make a space feel at home thanks to a little customization? Well, My Blessed Life shows you how to merge that décor love with your awesome button collection in a really useful and quite pretty way. The more colours and styles of buttons you use, the more interesting the piece will look!
12. Reclaimed button magnets
Perhaps you're looking for something a little bit different and simpler than some of the more complicated décor pieces you've seen on our list so far? Then check out how Big Box Detox made easy little fridge magnets out of buttons! Grab a package of simple magnetic pieces from the crafting or dollar store, pick out the buttons you like most, and simply glue them on!
13. Cottage chic button checkerboard
Did you love the idea of making projects with buttons that your kids can play with, but you haven't seen one quite yet that has kept your attention, so you're not sure it will keep your kids' either? Perhaps your kids are a little bit older and won't be interested in some of the simpler ideas? Then check out how Little Miss Momma made this absolutely adorable checkerboard using buttons as the playing pieces. As long as the pieces on each side have something in common, like shape, they'll work for the game!
14. Button frame art
We already talked about making a frame project that involves using your spare button collection to decorate the actual frame itself, but you've done that before and now you're looking for something else? Are some of the buttons in your collection stand-alone ones that are incredibly pretty and it feels like you're wasting them just letting them sit in a box? Then harness their kitschy beauty and make them into décor just for the sake of décor! Torie Jayne suggests affixing the buttons to a canvas base inside a pretty frame.
15. DIY button clock
We've always had a thing for clocks that involve other novelty things in the place of where the numbers should be. Fab DIY suggests putting your buttons in place of the numbers on a DIY clock, but they take it once step further in terms of décor and novelty appeal too. Check out how they stretched some burlap through an embroidery hoop or a cute, rustic chic book that puts your buttons to good use.
Have you created other DIY projects that repurpose buttons in creative ways but you don't see anything similar to what you made on our list? Tell us how you made it or link us to pictures of your work in the comments section!