50 DIY Keychains For You, Your Friends and Your Family!
Keychains are one of the top-selling souvenirs and gifts around. Which is why there are so many amazing DIY's out there that involve creating rings of style for your house keys to dawn. Whether you need something simple to hand to your best friend as a thank you, or maybe even something for your child's teacher as a gift of appreciation, these ideas will always come in handy. Check out these 50 DIY keychains for you, your friends and your family!
1. Leather Tassels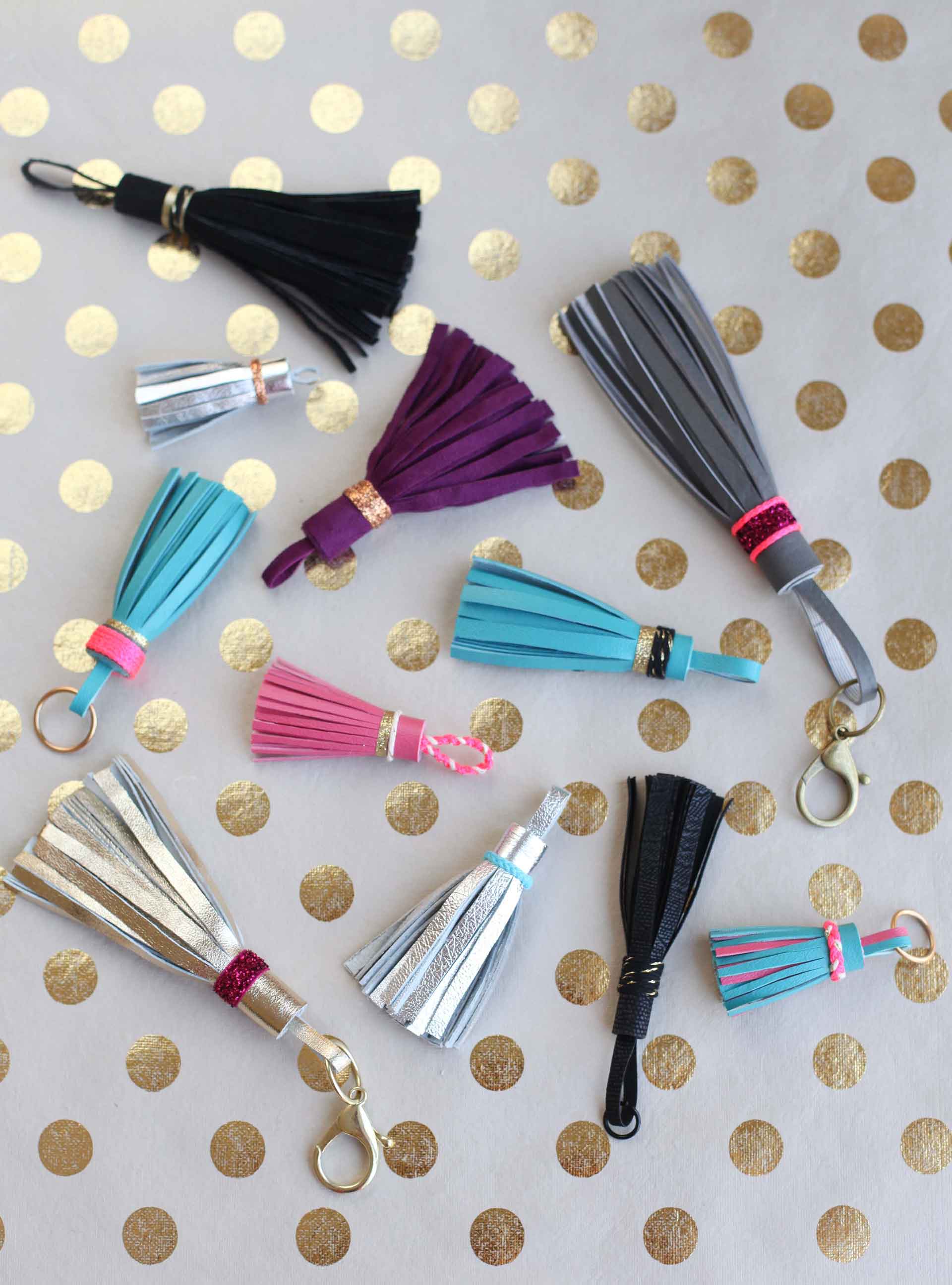 Miss Renaissance shows us how to make some gorgeous leather tassel keychains that would be wonderful as best friend gifts, wrapping toppers or even something to just whip up for yourself!
2. Ribbon
This YouTube video will walk you through the entire process of making these braided ribbon keychains. Perfect to represent favorite colors or even team or school spirit!
3. Plastic Animals
Ginger Snaps utilizes small plastic animals in such an adorable way! Add some color and then hook them on a ring to create something charming for your necessary keys.
4. Braided Leather
Here's another leather keychain that you can DIY all on your own. Visit Thanks, I Made It to discover all of the details.
5. Jenga
All you need is some decorative paper, mod podge and a Jenga piece. Sarah Ortega gives us this inspiration idea. And we think it'd be great to add a bit of embellishments to them too!
6. Beaded
Sometimes the best thing is to do the simplest. Look how trendy and cute these beaded keychain are from Be Crafty, and there are endless designs to springboard from.
7. Colorblocked
The Crafted Life made these sweet and contemporary color blocked keychains. Made with leather and paint, they're quite simple to recreate for yourself!
8. Colorful Carabiners
If you want to take a carabiner and make it a bit more stylish then follow along with this easy idea from The Curtis Casa. All you need is the right amount of thread!
9. Arrow Tail
She Knows shows us how to create these leather arrow tail keychains in such a simplistic way that even the most novice of crafters can follow along! And like the post states, these would be great gifts!
10. Stitched Heart
This leather stitched heart is just too darling not try give a try at. Love Maegan has all the details on how to go about making this cutie from scratch, and it's the perfect Valentine's Day treat!
11. Divergent-Inspired
Pitter & Glink uses her Divergent series fandom to create a keychain that's not only chic but inspired by the popular books and now, movies too! Lovers of Tris will really love this DIY!
12. Gilded Horse
Earnest Home Co. gives us another take on the animal keychain we saw above. This gilded horse keychain is chic, it's youthful and it's so easy to make for yourself!
13. Feather
Of course, we had to throw in yet another leather keychain DIY – because leather is truly the best! Creative Bug makes this adorable feather piece, and we're loving the splash of metallic gold!
14. Wine Corks
The Crafty Swedes  shows us how to upcycle some older wine corks and turn them into chic little keychains. A dab of color and you've got a personalized memory to hang on your keys.
15. Starbucks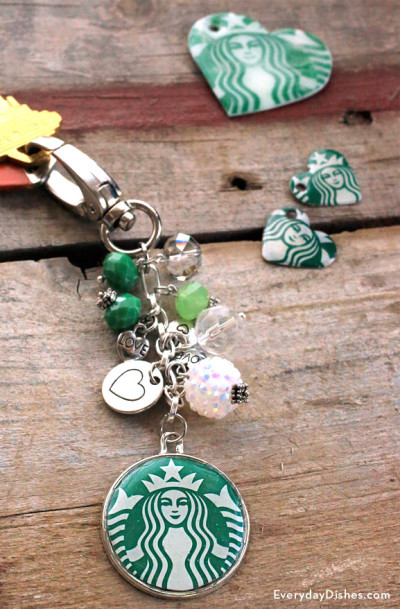 Do we have any Starbucks lovers out there? Or any coffee shop, really! Everyday Dishes shoes us how to create a charm out of our favorites and have it jazz up our keyring.
16. Cord Organizer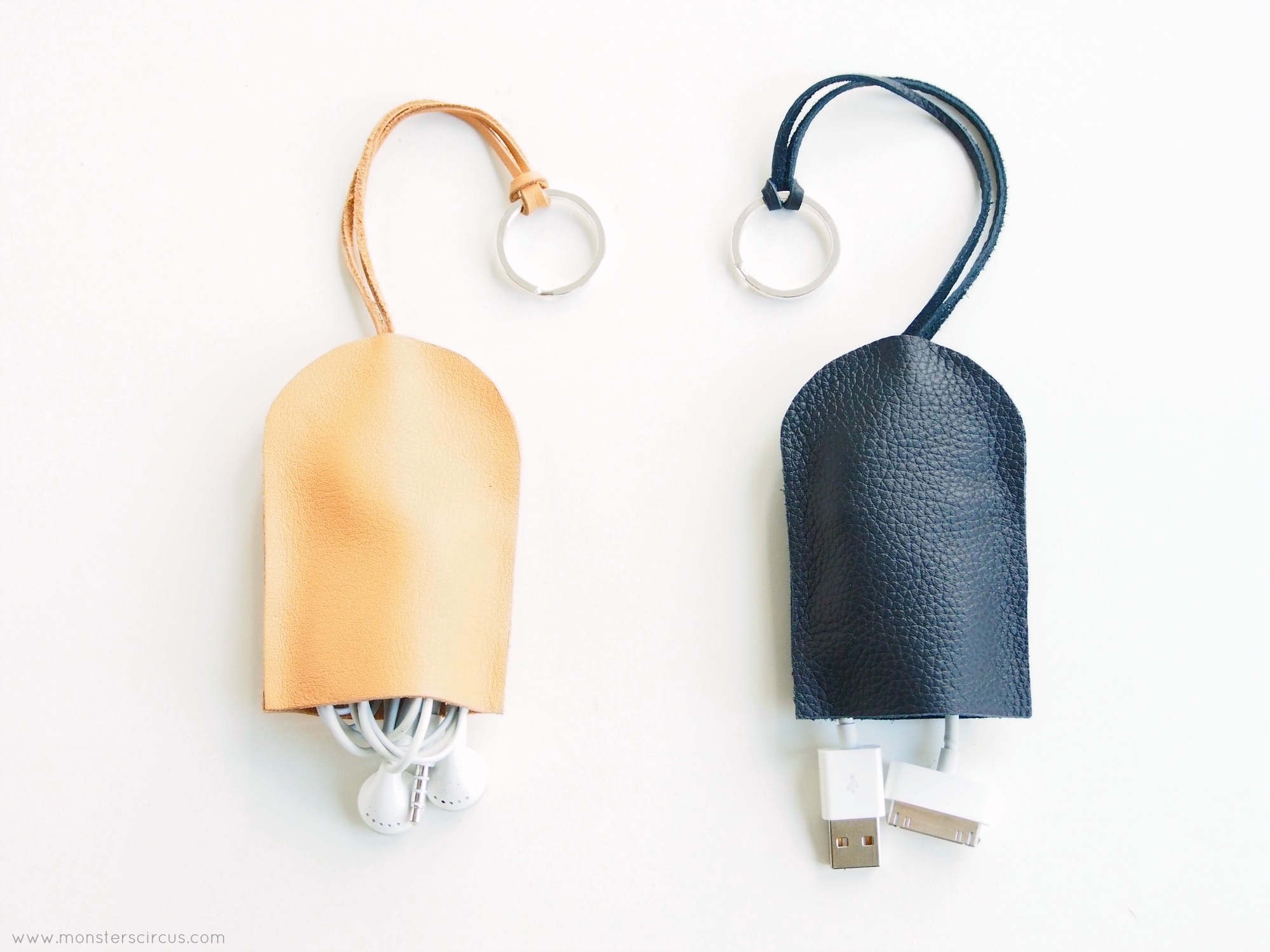 Here's a super innovative ideas that's both smart and stylish. Monsters Circus gives you all the details on how to create this keychain that's also a cord organizer – for your earbuds!
17. Glitter Heart
Flax and Twine shows us how to create a keychain with two styles wrapped into its design. With a bit of glittering glam and some rustic wood, you too can have this dangling from you keys.
18. Monogram
This too was made with the help of some leather. In fact, you may even be able to find an actual leather letter to use as did Thanks, I Made It did with this DIY.
19. Glass Orb
This project is all about personalization and we love that! Make Something Mondays gives us the complete breakdown and inspired for making these dangling cuties.
20. Pom-Pom
These pom-pom keychains will definitely give you a pick-me-up and a fun spirit. Plan B has the tutorial and all the know-how on making these cuties for you – and the kids too!
21. Macaroons
Once Upon Her Dream created a keychain that will have girls' hearts melting everywhere. The "key" element in making this adorable piece is having the right kind of lip balm pot to get started!
22. Stamped Silverware
Have you ever wondered how to get silverware stamped? Well, with this DIY from Eclectically Vintage you'll find out how and learn how to create a keychain from it too!
23. Fabric Scraps
Craftiness Is Not Optional shows us how to take fabric scraps and turn them into keychains! And we love how you can have an even more fun of a time by adding some embellishments – like buttons!
24. Baseball
Learn how to take the skin of a baseball and turn it into something useful outside of the field! These are really great gifts too! Just follow the tutorial here.
25. Conversation Chart
Polka Dot Chair shows us how to use leather (we love it!) and turn them into adorable and charming conversation hearts. Again, these would be great DIY gifts for your loved ones.
26. Stamped Brass
Over on the Etsy blog, you can learn how to make ones of these stamped brass keychains at home. These kinds of projects are great for getting your feet wet with more intricate crafting.
27. Personalized Blogger
The Benson Street has something special for our bloggers out there! Check out this tutorial and see how you can make one of these personalized cuties for yourself!
28. Maps
Check out these resin map keychains from Darby Smart! They're so chic they look store bought, so hop on over and check them out!
29. Sailor Knot
Michael Ann Made shows us how to make a simple, sailor knot keychain. This is one of the most popular styles we see around about and now you can learn how to make it yourself!
30. Tiny Palettes
Look how adorable these tiny wooden keychains are! Mod Podge Rocks gives us this idea because of its ease of design. You can do some much on these little foundation pieces.
31. Chapstick Holder
Make It Love It has a super innovative idea as well. Create a chapstick holder that you can hook right onto your keys for easy accessed and a pop on color for your ring!
32. Lucky Penny
How does a bit of luck hanging on your keyring sound? Think Craft has everything you need to know when making a lucky penny keychain for anyone you love or needs the extra bit of karma.
33. Camper
Using perler beads you can create this adorable, vintage camper from The Scrap Shoppe! She even provides us with the pattern to make it right at home.
34. House
How does this minimalistic, tiny house look to you? It's adorable right? Grab the details over at miniKUNST and make your way through the tutorial.
35. Fingerprint
With some oven clay you can create some fingerprint keychains of all your love ones. My Life of Travels and Adventures shows us how to make these and get the kids involved too!
36. Felt Friends
Repeat Crafter Me knows how to make adorable items for yourself and your loved ones. And these felt friends are no exception. Sidenote: They can double as Christmas ornaments!
37. Fruit!
Here's another perler bead craft that we are swooning over! This fruit will bring a pop of color and personality to your keyring. Check it out at My Poppet Makes!
38. Shamrock
With some leather scraps, you can create this adorable shamrock keychain from Brit + Co. And you don't even have to make it in green if you don't want to!
39. Soda Can
Mod Podge Rocks took a soda can and made an adorable charm for your keyring! Hop on over and take a look at the tutorial!
40. Fendi Puff
Have you ever seen Fendi's pom-pom accent? If you're in love, visit Style Buddha and learn how to make one for your very own.
41. Diamond
Momtastic shows us how to create a stylish, geometric diamond out of felt! And the color combinations you can made will be so much fun.
42. Heart Baked
HGTV gives us a classic and fun project for the entire family to get involved it. Oven clay can be a real treat and it is so easy to work with.
43. Minimalist
Here's a great minimalist-style keychain that will dress up your keychain but also make it to where you won't ever lose your keys again! Brit + Co gives us this great idea!
44. Faux Banner
This isn't leather but the idea is all the same. Simple, sweet and slick, check out how to make this faux leather banner from Francois et Moi.
45. Painted Beads
The Pink Samurai takes simple beads and turns them into something with so much personality and charm that we are swooning! Just look at this adorable little "bead" girl!
46. Mini Book
Have a place to jot down those genius ideas and moments by having a tiny book attached to your keychain that can be used as a diary to notepad. Wonderful DIY has all the details.
47. Geometric
Handmade Charlotte gives us the insight on how to create a geometric keychain for those that like contemporary styles but also more of a trendy spirit. Even your keychain can show off your personality.
48. Rope
Don't you think these rope keychains are super sleek and chic? MyLifeBox Designs knows how to create these little beauties and if you hop on over you can grab the details too!
49. Macrame Lasso
For those with a more boho vibe, this macrame lasso keychain is definitely for you! Lebenslustiger gives us all the details and steps on how to make this happen, of course you can add some color too!
50. Mustache
Katrinshine gives us a keychain DIY that the men in your life are going to love. Learn how to make this adorable mustache keychain for your beau or even your dear old dad!