15 Ways To DIY Your Very Own Spa Night With The Girls!
Gather up all of your pals and start planning a night of luxury and relaxation. From scrubs to pedicures, we've got a list that will make your Friday evening so much more enjoyable. Top off your week with a retreat right into your own home with these 15 ways to DIY your very own spa night with the girls!
1. Iridescent Pearl Bath Bombs
Grab the girls and whip up some homemade bath bombs for everyone to relax and enjoy in the comfort of their own home. Of course, you could make these ahead of time and give them as gifts for your buds on their way out too. Check out the tutorial at Soap Queen.
2. Turmeric & Honey Face Mask
It's not a spa night with the ladies without everyone wiping off their makeup and slapping on a fun face mask. We found this one over at The Glowing Fridge. It's meant to brighten the skin – just add tumeric and honey!
3. Spa Water Bar
Play Party Plan gave us some inspiration surrounding a spa water "bar." Have everything set up for the ladies to grab some refreshments. Yummy, cool water, infused with berries, limes, lemons, or  even some cucumbers!
4. Foot Soaks
Have some foot soaks ready to go as well. You can allow everyone to create their own. Some fruit, fresh floral petals, epsom salts, and more. Just grab some more info over at Craft BNB.
5. Sweet & Salt Snack Board
There's gotta be snacks for spa nigh with the gals. And over at Two Peas & Their Pod, you'll find the best inspiration around. This sweet and salty snack board will make everyone happy.
6. Coconut Rose Body Scrub
You can make some body scrubs with the ladies as well. Or again, send them off with this at the end of the night as a favor. Exfoliating hands and feet before pedicures and manicures would be great as well. Check out the recipe for it at Lulu's.
7. Nail Polishes
A nail polish bar is a necessity as well. Make sure you have lots of colors out for the ladies to try and pick for the night. Check out more inspiration like this over at Ashley Brooke.
8. Lit Candles
Long Island Pulse gave us some great inspiration as well. Make sure if you're setting up for a spa night with your best friends that you add a few flames into the mix. Pillar candles and tea lights are a great mix to go with.
9. Drunken Strawberries
Here's another snack that's perfect for spa night. Hop on over to Julie Blanner and check out how to serve up some of these "drunken" strawberries. And don't forget the sugary "frosting" on top!
10. Hair Mask
You could do some hair focusing as well. Whip up some homemade hair mask and lather them on your friends. Check out this recipe over at Wendy Polisi.
11. Lip Balm
doTERRA will teach you how to make some homemade lip balms. And we think these would be the perfect accompaniment to the night. Use them as favors or thank you's for the ladies.
12. White Towels
You're going to have to have some extra towels for the night. And some simple, white ones will help out with the ambiance. Check out more inspiration at Brit + Co.
13. Peppermint Kit
PopSugar will give you all the details behind this spa peppermint kit. From lotions to scrubs, everything you need for a luxurious night is right here. Take he leap now and check out all of the details.
14. Teeth Whitening Strips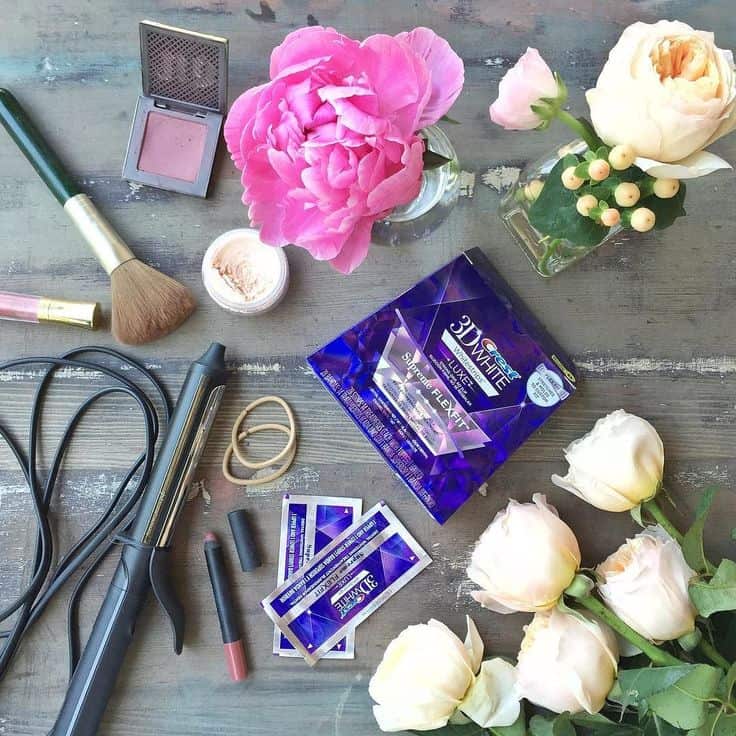 While the ladies are sitting there with their hair mask on or soaking their feet, they could slap on some teeth whitening strips too. We found this bit of inspiration over at Instagram and thought that it was a really great accompaniment to the night. Don't you think?
15. Prickly Pear Margaritas
What are snacks without some drinks? Check out this prickly pear margarita with found over at Boulder Locavore. It's the best inspiration for the types of cocktails you can serve up for your next ladies night at home.