25 Creative Ways To Use Washi Tape
Washi tape has become more and more popular throughout the years, and it shows no sign of becoming less trendy. It is incredibly versatile, and now comes in tons of different colors and patterns. So today we're sharing 25 new and different ways to use it in your everyday life.
1. Washi Tape Gift Tags
This unique project uses a combination of paper and washi tape to create pretty tags that you can affix to birthday gifts or other presents. Just cut a little heart shaped window into each tag and then place strips of washi tape behind. Head over to White House Crafts to learn more.
2. Washi Tape Door
This colorful door wasn't always so pretty… the brightly colored stripes were created with lots of different types of washi tape. The key is to arrange them in a rainbow style pattern. Make your way over to Burlap and Blue to find out all the details about this fun washi tape idea.
3. Washi Tape Bangles
Have some old bangles that you don't wear any more? Dress them up with some patterned washi tape and you will have a whole new set of bracelets that cost very little to make. Just grab a few rolls of washi that complement each other to get started. Check out the tutorial here. 
4. Washi-Covered Pencils
If you have lots of old pencils that aren't so pretty, give them a makeover with washi tape! There are a few ways to go about it… you can wrap it around lengthwise, or you could do multiple tapes on one pencil if you wrap the tape around the other way. Check out the details at Hazel Fisher Creations.
5. Washi Tape Frames
If you have tons of photos on your phone, why not get them printed and frame them up with these adorable magnetic washi tape frames? All you'll need are some wooden Polaroid style frames, magnets and of course washi tape. Check out the tutorial over at Burlap and Blue.
6. Washi Tape "Wallpaper"
Here's another creative way to use washi tape – by attaching tons of small pieces to the wall in a specific pattern so that it looks almost like wallpaper. Just be sure to arrange the tape so that it looks orderly, just as real wallpaper would. Find out more about this project here.
7. Washi Tape Clothespins
Wooden clothespins are useful in many ways – for drying clothes, clipping chip bags closed, etc. But why leave them plain when you could dress them up with some bright colors? Just grab some pretty washi tape to get started. Find out all the details at White House Crafts.
8. Charger Hack
Differentiate all of your chargers with this fun and easy hack. Simply add a different type of washi tape to each one, so that you can tell them apart. This can be especially helpful if multiple people in your home have the same chargers. Check out the instructions at Sarah Johnson.
9. Washi Trimmed Envelopes
Step up your snail mail game with this fun pink-trimmed envelope project. For this one, you'll start with colorful paper and then you'll assemble the envelope using bright pink washi tape as the trim. Head on over to Gathering Beauty to check out the full tutorial.
10. Glass To-Do List
If you're a big fan of to-do lists, then you might love this fun large scale to-do list. It is made out of a large piece of glass which is then framed with washi tape. Make your way over to the Dnilva blog to find out all the details of this easy yet stylish washi tape project.
11. DIY Cork Coasters
These modern striped coasters are made using washi tape as a sort of mask to create this unique design. Begin with a set of cork coasters, then arrange washi tape in a fun design like the one above. Paint the coasters, then remove the tape and you're finished. Check out the full tutorial at Ludorn.
12. Washi Tape Bookmarks
Bookmarks are another great way to use washi tape. You'll begin with a few plain cardboard bookmarks, and then you'll arrange washi tape in strips across them. Then simply trim the edges. Head on over to Fox & Star to check out the full tutorial for this easy DIY.
13. Washi Tape Wall Frames
Washi tape can also be used as an alternative picture frame on your wall. Begin by hanging up your photo or artwork, and then use long pieces of washi tape to surround the photo. You can get creative with the corners too, as shown above. Head over to Historias De Casa to check it out.
14. Washi Tape Gift Wrap Idea
If you like to wrap gifts with plain kraft paper, then you may want to stock up on washi tape because it is the perfect embellishment and a great way to add some pizzazz to your gifts. Make your way over to Boxwood Avenue to check out some more inspiration.
15. Washi Envelope Liners
Believe it or not, you can even make envelope liners out of washi tape! The key to this project is to create an envelope liner out of plain paper and then to cover it with washi and attach it to the inside of the envelope. Head over to Fox & Star to check out the tutorial.
16. Washi Tape Keyboard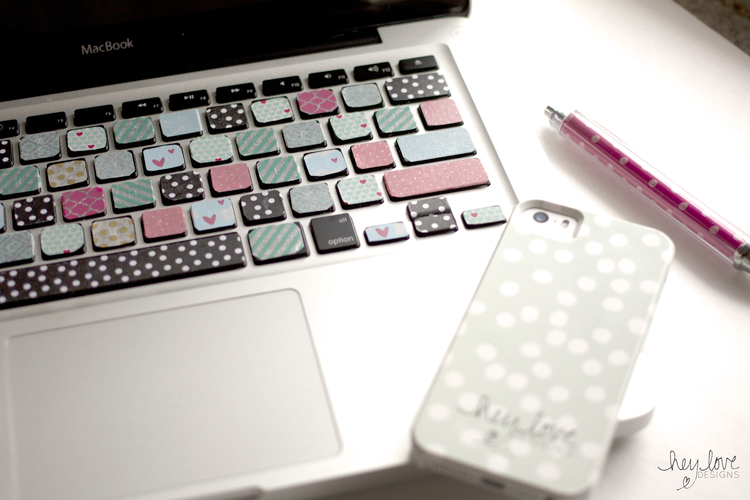 If you are a typing whiz who never looks at the keyboard, then you might want to consider adding some colorful washi tape to the keys. Try using a variety of different patterns and colors to add some interest. Make your way over to Hey Love Designs to find out more.
17. Paperclip Flags
Keep important notebook pages handy with a few of these clever washi tape paperclip flags. Fold a piece of washi in half over the end of a paperclip and then cut a triangle out of the end. Head on over to Paper and Pin to find out all the details of this clever project.
18. Corner Bookmark
Here's another great way to mark your page in a book. First, begin by clipping the corner off of an envelope. Then cover it with strips of colorful washi tape. This is a great way to recycle old envelopes! Make your way over to Zakka Life to check out the tutorial.
19. Washi Phone Cover
Who says you have to buy a case for your phone? There are lots of easy ways to make phone cases too. This one is made with three different types of washi which are formed into a herringbone pattern. Make your way over to Chronicle Books to find out all the details.
20. Washi Drink Tag
If you're on the hunt for a quick and easy way to label drinks at a party, look no further… these simple washi tags will do the trick! Simply fold a piece of washi in half and write a name on it. Head on over to Design Fixation to check out this and lots of other washi tape ideas.
21. Washi Business Card Holder
Protect your business cards with this paper and washi tape holder. The first step is to fold the paper into the correct shape, and then reinforce the edges with colorful washi tape. Make your way over to Zakka Life to check out the diagram and instructions for the holder.
22. Washi Pineapples
Pineapples are still super trendy, and this fun tutorial shows you how to make your own pineapple stickers out of washi tape. The key is to attach contrasting washi tape colors to parchment paper and then cut out the pineapple shapes. Check out the tutorial at Omiyage.
23. Washi Tea Lights
Dress up plain old tea lights with washi tape to give them a whole new look. There's nothing fancy about this tutorial… simply wrap the tape around the metal part of the tea light. Head over to One-O to check out the tutorial and lots more photos.
24. Washi Birthday Candles
Spice up some plain white birthday candles with lots of colorful washi tape. It gives them a super festive vibe perfect for a birthday celebration. Make your way over to Kraft Mint to find out all the details about how to recreate this look for your next birthday party.
25. Washi Plasticware
And last but not least, we have a clever tutorial which shows you how to give boring white plasticware a colorful new look. These can be customized according to the season too. Head on over to Tikkido to check out the full tutorial as well as additional photos.