15 DIY Wall Coverings To Transform Your Home With
There are so many ways that you can change your home in a big way and it can start with the walls. Instead of buying new furniture, think about adding textures. These 12 DIY wall coverings can transform your home by creating interest in dull areas, sprinkling pops of color and personality, or just completely transitioning the style of your space in new ways.
1. Stikwood Wall Treatment
Dwell Beautiful begins our journey throughout the possibilities of wall coverings with this stikwood living room accent. It adds just the right amount of rustic charm to this trendy, family space. Learn how to DIY it yourself after the jump.
2. Gold Studded Plank Wall
Houseologie takes a plank wall to new heights with this DIY wall. It's studded with gold hardware giving it a posh makeover. Even hallway walls or nooks can be taken to a stylish level with a covering instead of new pieces of furniture or decor.
3. Fabric Accent Wall
You'll need to travel back to Houseologie once again and learn how to transform a wall with fabric. It does the same as wallpaper but you may have more and better options when using this material. It's a wonderful way to create a new vibe for a nursery or even a guest room.
4. XL Art
You don't actually have to cover the entire wall to create a wall covering that makes a difference. Just take a look at this example for instance. Apartment Therapy shows us that simply hanging an extra large piece of art could do the trick.
5. Stencils
The Spruce gives us a lot of inspiration all of the time. And this one is both budget-friendly and stylish. All you need are some stencils to make this one come to fruition.
6. Faux Brick Wall
A faux brick wall could be your ticket to a new paradise. My Vintage Porch will walk you through the process seamlessly. And this particular style is whitewashed and versatile within a variety of interior design genres.
7. Handwriting
You could always put your own handwriting on the walls. We've actually done this tutorial ourselves! Start with pencil to outline and fill in with paint. Check out the details and tips at A Beautiful Mess.
8. Sharpie
Classy Clutter will blow your mind with this DIY. Take your homemade home decorating to new levels with a Sharpie and a ruler. Create a new escape in the foyer or home office with this style.
9. Modernized
Modern art may be your best source of inspiration. The dining room will get an instant makeover with the installation of these bits. Emmett's ABCs will walk you through the process of taking levels, casing, and a few other odds and ends – and turning it into one of these feature walls.
10. Stamps
Stamps can get it done too. This task is a bit more tedious but the finished product is definintely worth it. Remodelaholic walks you through this budget-friendly idea – including everything you need to finish the project from cleaning tips to creating backing.
11. Plywood
Plywood can do the trick too. And there are plenty of different ways to design and install a wall covering using this material. We just happen to love what Architectural Digest features in this midcentury-modern living space.
12. Chalkboard
Chalkboard paint can be one of the best and easiest to install types of wall coverings. All you have to do is paint it and then decorate it with chalk. Learn and get inspired by Inspired by This. This idea would be perfect for family mudrooms, home offices, and playrooms.
13. Black Shiplap
Over at VR, find out how to create a stunning black shiplap wall in the home. You'll start by painting the wood pieces and then follow details to install. The installation includes trimming planks to fit and polishing up each piece.
14. Herringbone Plank Wall
Designer Trapped went with a favorite design – herringbone. This can be done with a variety of materials and here we see it done in wood. Paint them to add your own personality or keep it with a bit of rusticism intact.
15. Super Organized Pegboard Wall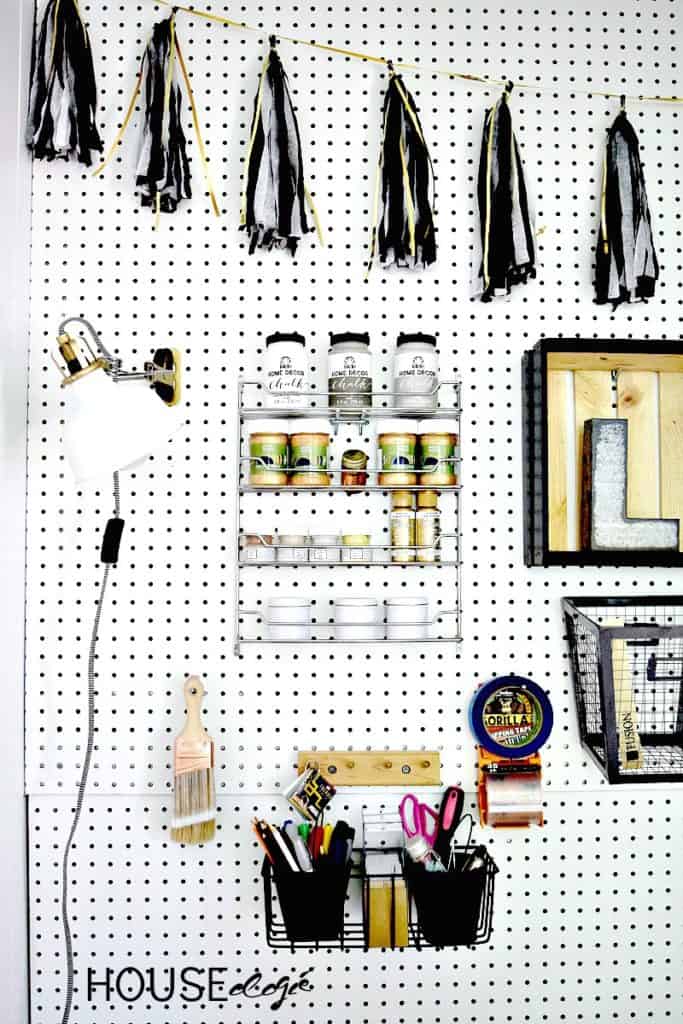 Finally, Designer Trapped gave us some of the best organizational inspiration! This covers the walls to add personality while helping to tidy up the spaces. Garages, craft rooms, home offices, even mudrooms and laundry areas could use this help.