DIY Rustic Tin Can Container
Being the home decor and DIY accessories enthusiast that I am, I'm sure it would come as no surprise to anyone who knows me that my very favourite kind of crafting to do is the kind that marries my two favourite things together. Making myself new cute decor pieces for my mantel or my side tables gives me a total sense of simple joy and helps me keep my home and comfort spaces up to date with my own tastes as they change. Lately, I've been totally digging rustic chic decor, which is a great fit since my little old house already has a very upcycled farmhouse atmosphere about it! Decor pieces involving burlap have been high on my list of coveted items lately when I browse the interior decorating blogs but I'm also not looking to invest lots of money in any big redesign projects right now, so I've been trying to come up with ways to incorporate burlap into my home decor schemes in small DIY ways instead! That's how this simple rustic tin can container came to be.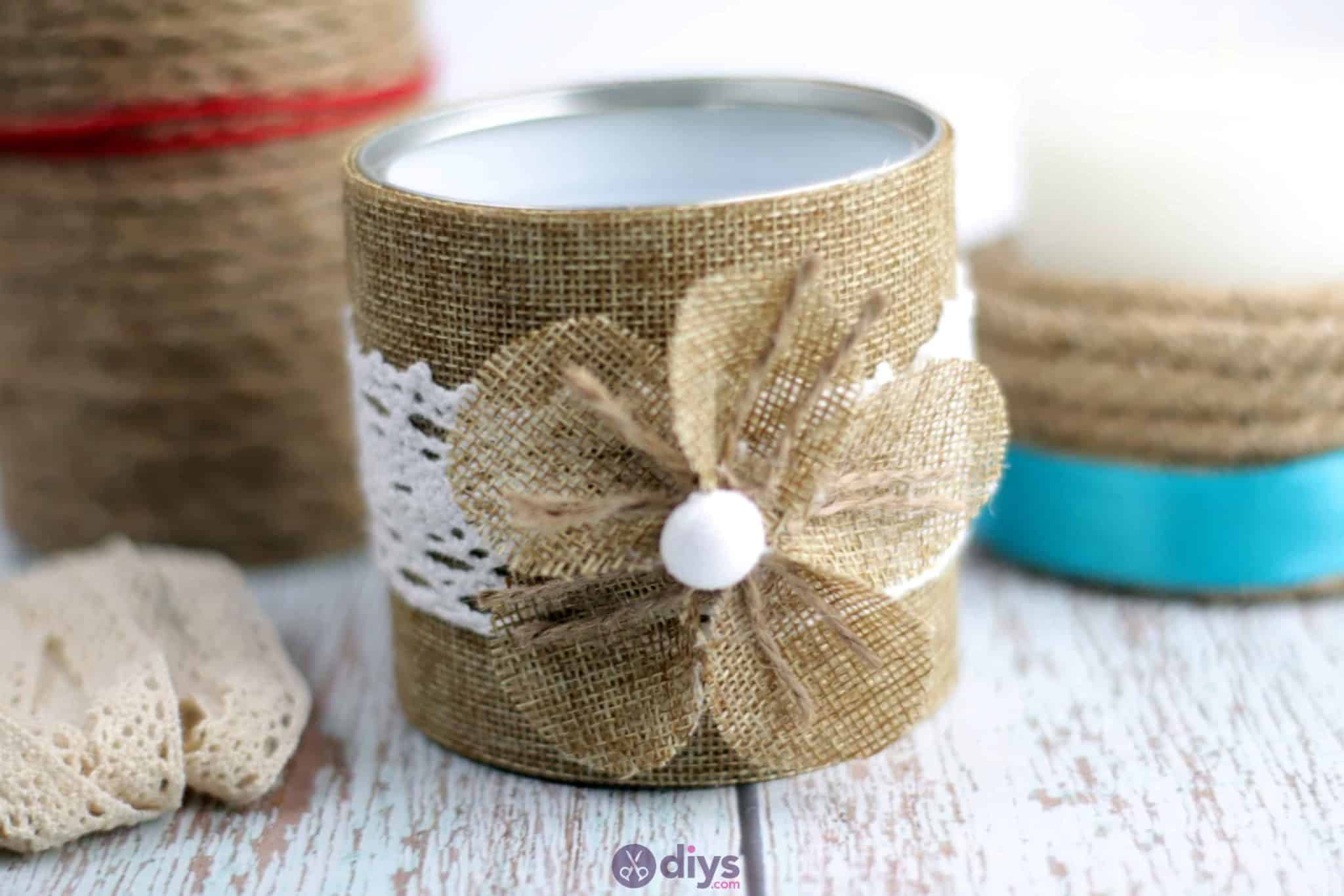 I was actually so pleased with how the first rustic can turned out that I made two more! Now one sits by my telephone to hold pends, one sits by my bathroom sink to hold toothbrushes, and the other sits on my vanity to hold hair pins. I made sure to document the process of making at least one, just in case other crafters wanted to see how I made this versatile little piece. Check out these step by step instructions complete with photos! If you'd rather follow along with a video tutorial instead of written words, scroll to the bottom of this post to find just what you're looking for.
For this project, you'll need:
An empty tin can

Scissors

Hot glue

Jute twine

Lace ribbon

Burlap trim

A small styrofoam sphere
Step 1:
Gather your materials!

Step 2:
Wrap the outside of your tin can entirely in jute trim. The thickness of my trim was only about half the height of the can, so I wrapped the bottom half first and then the top half. Apply some glue in a vertical line near the bottom edge and glue the short edge of the trim down there so you can wrap the trim horizontally around the can. Keep the long edge perfectly lined up with the bottom edge of the can as you wrap. When you get back to your starting point, apply a bit of glue along the edge of that first end and stick your trim down there, trimming off the excess. Repeat the process on the top half of the can, starting and ending in the same place as before so you have a distinct back side to your can for when you embellish it and set it on display. If your trim is very thin, you can wrap it around twice for opacity.