These 15 Vegan Pumpkin Pie Recipes Will Revamp Your Holiday Season
Any good vegan recipe is priceless, especially when it comes to desserts. It's hard to recreate the original and desired tastes when you have to reroute the ingredients, but have no fear, we've done the research for you! These 15 vegan pumpkin pie recipes will revamp your holiday season in all the right and delicious ways.
1. Paleo Vegan Pumpkin Pie
Texanerin Baking whipped up this beautiful vegan pumpkin pie that also follows the guidelines for a "paleo" dieter. You'll get all of the fall-inspired flavors you love with this one but without any of the guilt-inducing ingredients. Follow the link and peek at the recipe now!
2. Gluten-Free Vegan Pumpkin Pie
The Movement Menu has a vegan pumpkin pie recipe up there sleeve as well. This one follows along with those that need a gluten-free option and it hits every mark in the flavor department as well!
3. Rustic Vegan Pumpkin Pie (with oat crisp crust)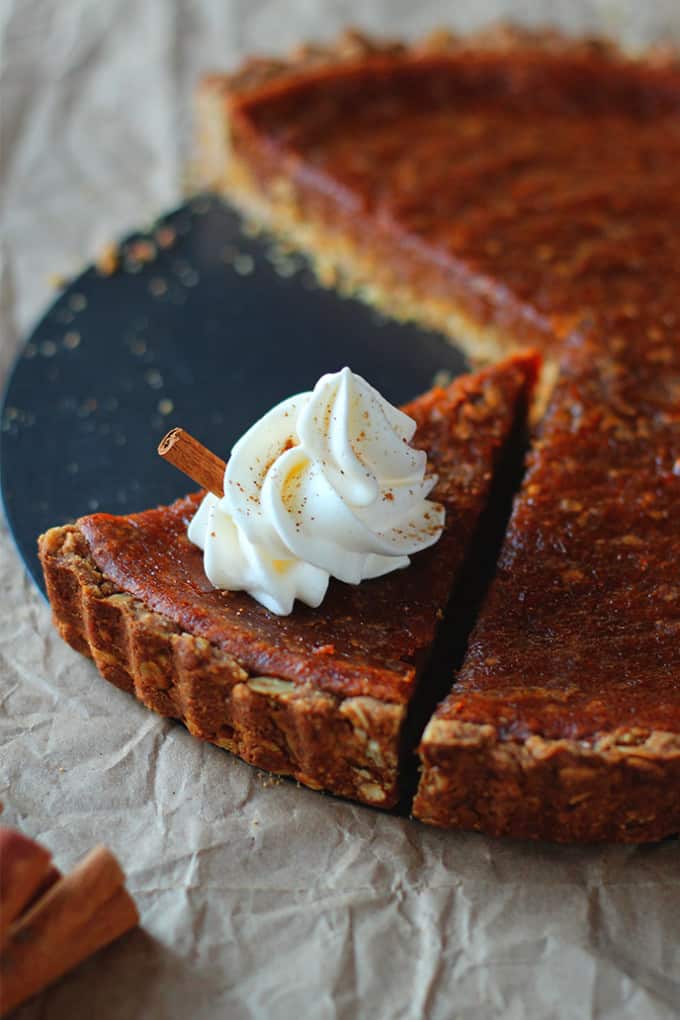 We found a rustic-inspired pumpkin pie recipe that we're swooning for as well. It's got an oat crisp crust and is vegan on all levels. Check out the details by visiting I Love Vegan.
4. Vegan No-Bake Pumpkin Pie Tarts
These vegan tarts are adorable and delicious. They're also made without a minute of baking required. If you're interested, hop on over to Running on Real Food and grab the recipe.
5. Vegan Chocolate Cheesecake Pumpkin Pie Swirl
There's so much going on in these bites and every ounce is vegan and scrumptious. It's pumpkin pie, it's chocolate, and there's cheese involved too. The masterpiece is featured on The Colorful Kitchen.
6. Vegan Pumpkin Pie Fudge
So, this one isn't an actual pie but it's got all the flavors we love packed inside the creamy bites. Learn how to make vegan-style fudge that tastes just like your favorite slice of pumpkin pie at Simple Vegan Blog.
7. Vegan Gingerbread Pumpkin Pie
Are you already a fan of gingerbread? Well, if you didn't know, Go Dairy Free has a recipe for a vegan gingerbread pumpkin pie that just may rock your world. Check it out now! It'd be great for this holiday season!
8. Pumpkin Pie Vegan Squares
Oh She Glows made pie in square-form that look rather delicious. Perfect for potlucks and other kinds of parties, they're great for sharing with friends. Grab the recipe after the jump.
9. Raw Vegan Pumpkin Pie
If you want to follow along via a video, you can check out this YouTube video and create your own pie right alongside the tutorial! This one is vegan and raw and still rather yummy.
10. No Bake Vegan Chocolate Pumpkin Pie Squares
Pumpkin and chocolate go together so nicely. There's an elevation of decadence involved in the bite when you add the extra sweetness. And this fun recipe from The No Fuss Vegan is a showstopper.
11. Walnut Vegan Pumpkin Pie
Recipe Righter utilizes the crunch of walnuts for this pie and we love the addition! Check out this vegan-style pie and let us know how you like the nutty flavoring by its side.
12. Vegan Pumpkin Pie Cups
These pumpkin pie cups are perfect for dinner parties as well. Whether you're offering them up at Sunday brunch this fall or spreading them out after Thanksgiving dinner, you won't regret it. Grab the deets at Feasting on Fruit.
13. Vegan Pumpkin Pie Parfaits
Love and Lemons has a pumpkin pie-version dessert that we think you'll get a kick out of. Yes, they're vegan. But these parfaits are guilt-free and the aboslute perfect addition to you fall brunch spread.
14. Raw Vegan Pumpkin Pie Bars
Dishing Out Health has some pumpkin pie bars that you'll love as well. Creamy and delicious, they're completely raw and will hit the right spot. Serve it up with some hot tea or coffee.
15. Vegan Chocolate Pumpkin Pie Cashew Cheesecake
Chocolate, cheesecake, and pumpkin pie too? This dessert has the best of all worlds, seriously. Grab the delicious recipe at Paleo Running Mom and knock the family out with this sweet dish.