15 Pioneer Woman Recipes We're Salivating Over
The Pioneer Woman has taken our televisions – and kitchens – by storm with her home cooked, delicious, and comforting meals. So, we scoured the Internet to find some of our favorites that we could share with you. Below, you'll find 15 Pioneer Woman recipes that we're salivating over – at first glance! Breakfast, lunch, dinner; complete the day with any of these yummy dishes.
1. Individual Sausage Casseroles
Start your days off with these individual sausage casseroles brought to you by the deliciously-inspired The Pioneer Woman. The kids will love them, you'll love them, and the leftovers aren't back either. A side of bacon and OJ is really all you need.
2. Chicken & Dressing Sheet Pan
She also makes a scrumptious chicken and dressing sheet pan supper that you'll fall in love with. It's easy and the kiddos will enjoy it. But the best part is it's not expensive for larger families to cover!
3. Pizza Rolls
Pizza rolls for the family are always a good idea, especially when they're homemade. Check out the recipe and serve these up for movie night this weekend. They're perfect for sleepovers too!
4. Peach Dumplings
If you're feeling for something on the sweet side, check out these delicious and tart peach dumplings. With a side of vanilla bean ice cream, it's a perfect evening treat. They're also great for Sunday brunches!
5. Fried Goat Cheese
Fried goat cheese is a great started for dinner parties, holiday get-together, or even game days. You'll need some marinara or similar dipping sauce to finish it off right.
6. Cheesy Chicken Parm Pasta Bake
You'll want this recipe for your box as it'll become an instant staple in the household for the family. Cheesy chicken parmesan pasta bake is everything you want in a homemade dinner. It's filling, it's satisfying, and easy to make!
7. Summertime Shrimp Pizza
If you're looking for an offbeat, summertime recipe to try, check out this shrimp pizza. The flavors are great, it's a fun spin on a classic recipe, and our seafood lovers will enjoy it too.
8. Grilled Veggie & Cream Cheese Sandwiches
We have something for the vegetarian to enjoy too! And it's a fun way for the kiddos to eat their veggies. This cream cheese and grilled veggie sandwich is delicious and satisfying.
9. Layered Chocolate Pudding
Here's one of our favorite desserts on her menu as well. A layered pudding dessert is accessible to all tastebuds and easy to whip up too. Just follow along with the recipe after the jump.
10. Hot Corn Dip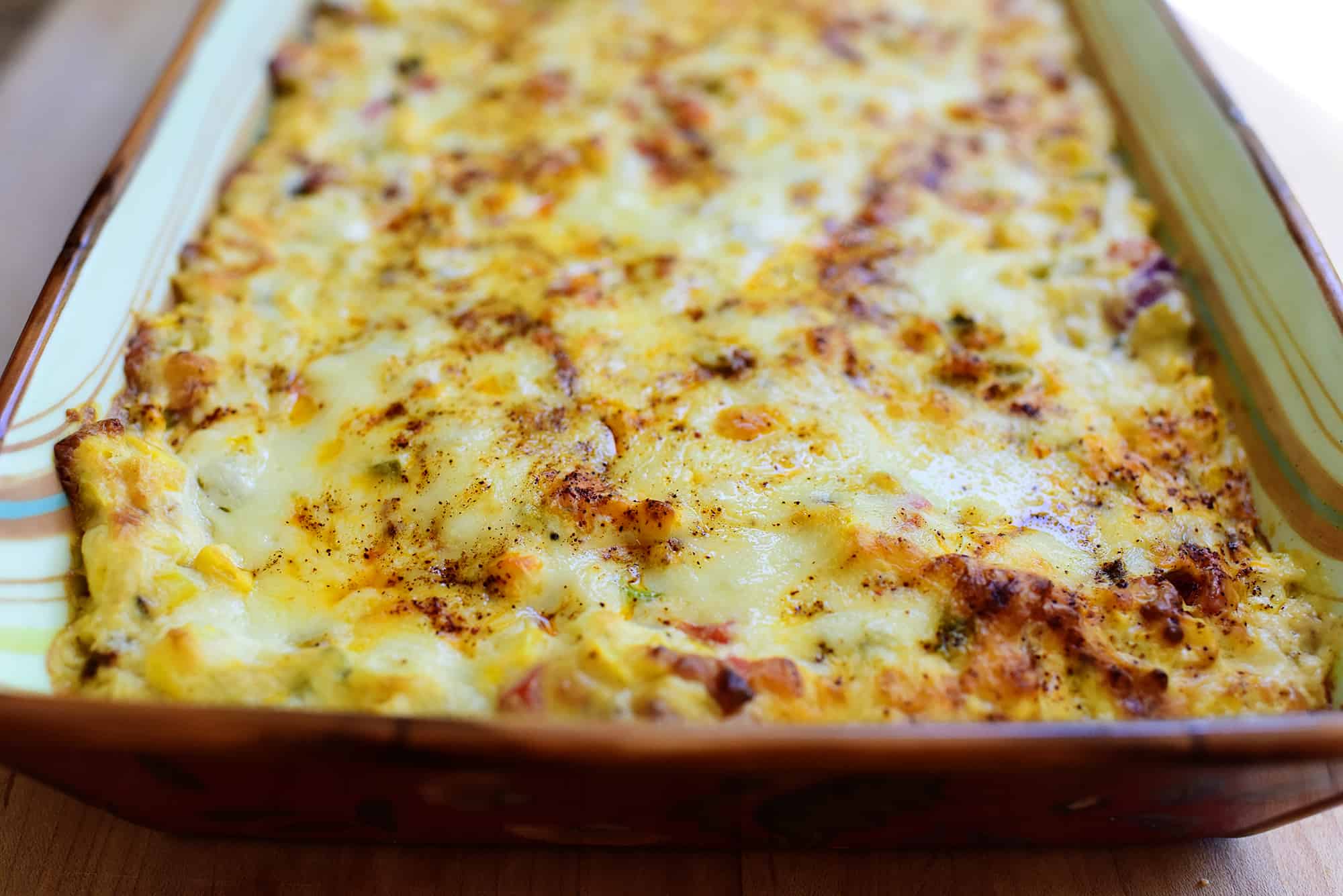 Hot corn dip is just another great way to start off a meal or get-together. It's a perfect potluck or holiday recipe – and it's one that everyone will love and want second of.
11. Cayenne Cheddar Breakfast Biscuits
Make breakfasts a little more enjoyable with these cayenne cheddar breakfast biscuits. You can pre-make these and the kids can grab and go in the morning with something hearty to eat. You can grab one for work too!
12. Kiwi Pie
This may not be anyone's first thought when it comes to dessert but we're certain that once you try it, it'll always be on your mind. If you're already a fan of the fruit, do yourself a favor and try a piece of kiwi pie. Those macadamia nuts on top really set it off right.
13. Butternut Mac & Cheese
Here's a hearty butternut mac and cheese recipe that you'll thank us later for. Cheesy goodness with an extra bout of flavor, dive on into this after the jump. It's great as a side or a main dish!
14. Lasagna Roll-Ups
Lasagna roll-ups will have everyone at the table happy too. Just check out the recipe, give it a try, and see how fast you make this one a new staple.
15. 7-Can Soup
Finally, when you're in the mood for something light and warm, this seven-can soup should do the trick. Perfect for fall or winter nights, it's easy to whip up and goes perfectly with a grilled cheese on the side.