Reroute Some Interior Style With These 18 Rustic Bathroom DIYs
If you want jump on the farmhouse-inspired bandwagon, we've got your powder rooms covered. Go ahead and begint o reroute some interior style with these 18 rustic bathroom DIYs. Infuse some chic, country vibes into some unsuspecting spots of your home to help turn around the end vision of the house in its entirety. Check out our favorite projects below!
1. Mason Jar Vanity Light
Give farmhouse style a chance from the ground up. Even our foundational pieces could hold a bit of the cozy genre. Check out Bless'er House and watch as you learn how to turn mason jars into vanity lights.
2. Towel Ladder
A towel ladder is an absolute must in our larger bathrooms. It's a great way to organize and display in a stylish way and it rings true to the final vision. Grab all the details behind this bunch by visiting our friends at Remodelaholic.
3. Wooden Cabinet
Wooden cabinets of all types are wonderful additions to homes with a farmhouse quality – but especially in the bathroom where some extra organization is always needed. We found this easy design while perusing the sights at Warm Cozy Home. Thankfully, projects like this our easier than you may think to complete.
4. Wood Mirror Frame
You can farmhouse feelings in subtle, smaller ways if you want to ease into its transformation. At Joyfully Growing, you can learn how to take your classic mirror and add a wooden frame to it. Instantly, you get a new feeling swirling around the space.
5. Ruffled Shower Curtain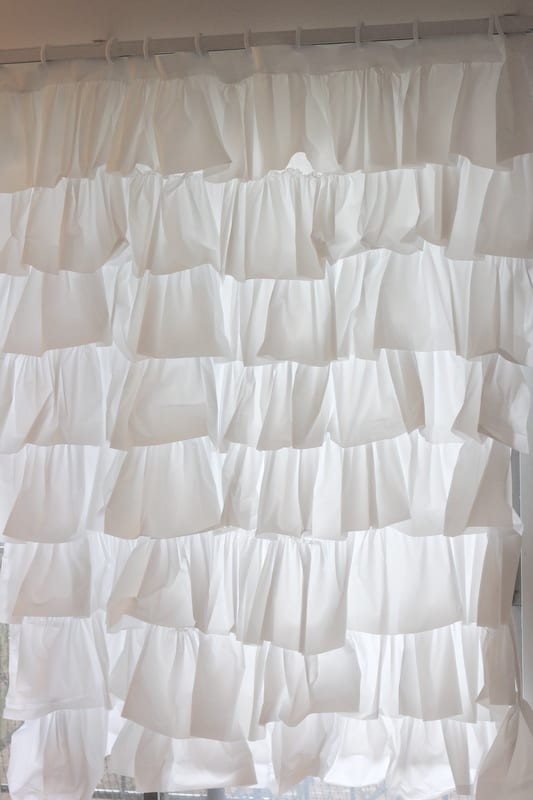 See Kate Sew used a design from Anthropologie as the inspiration behind these ruffles. If you want to add a delicate touch to your farmhouse bathroom, try something like this to finish it all off. It's a beautiful topping that still have a country-boho vibe that fits within the vision.
6. Built-In Magazine Rack
Four Generations One Roof went with a built-in magazine rack as their farmhouse addition. Not only is this functional but its simplicity fits in well within this genre. Even novices can make this happen in less than an afternoon.
7. Bed Frame Towel Bar
Sarah Joy did something quite genius by upcycle an old bedframe. Who knew it could turn into a charming towel rack that fits right into a home with a bout of southern charm? You can even add a bit of color or sweeten out a the neutral with a coat of fresh paint.
8. Floating Shelves
Floating shelves work within any genre – it's all in the material that makes the differnece. Learn how to make some wood ones by visiting Mommy Suite and following along. They'll help you organize, display, and create more emphasis on the farmhouse quality.
9. Bath Valence
We're loving this innovative idea from Cedar Hill Farmhouse. Create a wooden valence for your tub, add fabric, and you have beautiful blend of romance, cottage-inspiration, and farmhouse quality for your bathroom. Just don't do this in a space that's on the smaller side.
10. Whitewash Mirror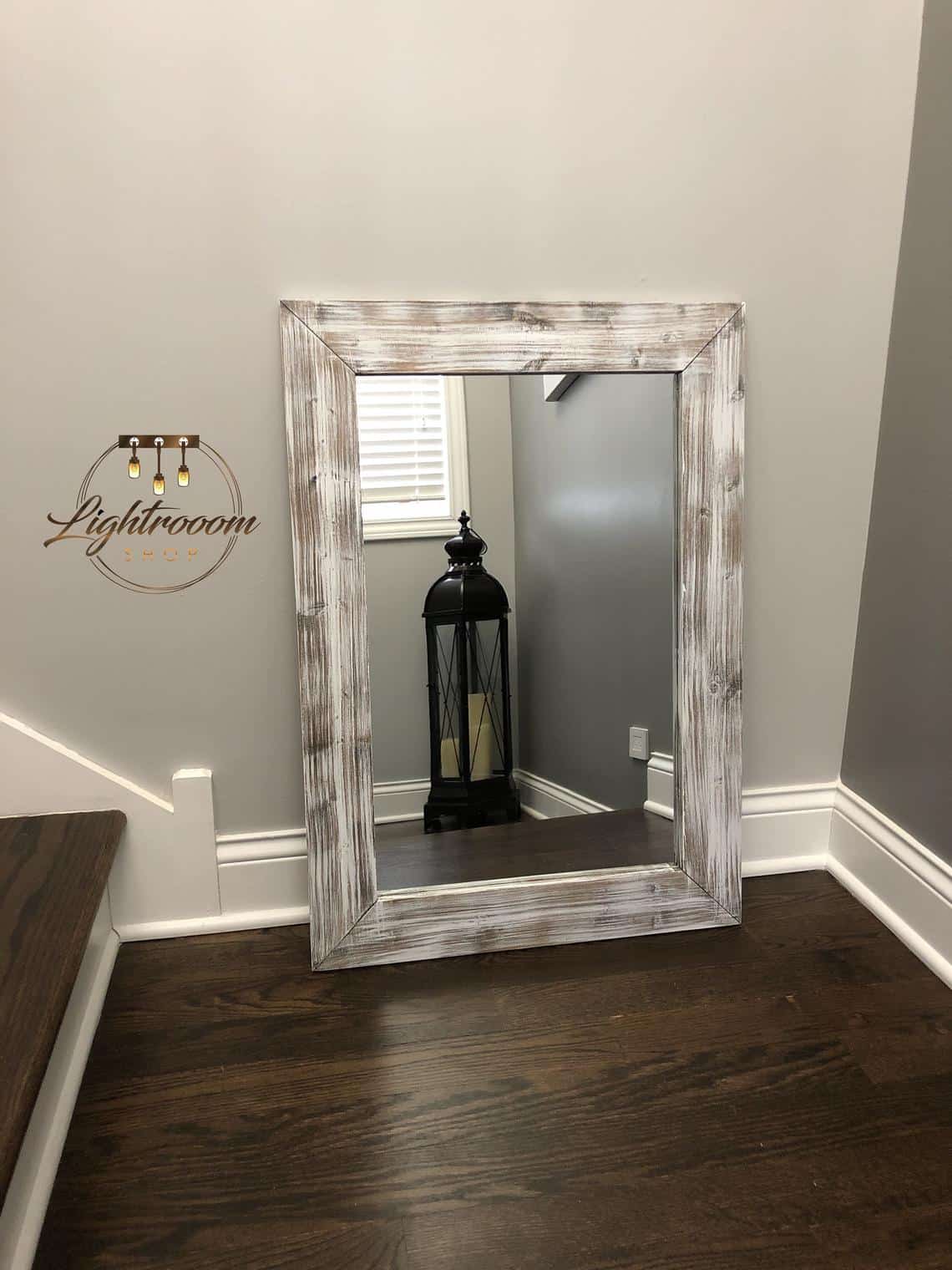 Take some inspiration from Etsy with this whitewash design. Instead of adding a classic wooden frame to the space, why not give it a bit more style. This will add feminine flavor as well as farmhouse quality.
11. Mason Jar Storage
Mason jars are an easy way to add this kind of country style to the house. And of course, they're great at organizing too. Check out the know-how behind this set up by visiting Liz Marie Blog.
12. Pipe Towel Rack
The Country Chic Cottage made a towel rack out of pipes! It'll pump up your guest room with a bit of industrial flavor beside its country inspiration. We love the blending of materials – metal and wood are magical together.
13. Wooden Hooks
Hooks are an absolute necessity – in some form or fashion – inside the bathroom. We love this design from My Fabuless Life because it works inside smaller powder rooms as well. Hang up your robes or towels with ease.
14. Toilet Paper Holder
Even your toilet paper holder could use a farmhouse-style upgrade. Hop on over to Mountain Modern Life and learn how to make this one happen. You can finish it off within mere minutes.
15. Medicine Cabinet
We're swooning for this large medicine cabinet. Thankfully, Shanty 2 Chic knows how to make one with just the right amount of "shabby" to fit the farmhouse theme. Of course a coast of white or cream paint would make it blend a bit better if you'd like.
16. Doorknob Hook
The House of Smiths turned an old doorknob into a functional hook. It too blends farmhouse genres with a more feminine touch. We love the upcycled nature of this project.
17. Planter Organizers
Our Sixth House used basket planters as baskets for the bathroom – what a genius idea! Actually, they went a step futher and turned them into shelves. This takes clutter off the countertops and as an easier means to organize.
18. Pipe Shelves
Take some wood and some pipe and turn the two inside shelves for your bathroom. Grab all of the information you need to create these by hopping on over to Cherished Bliss. You can easily add some metallic shades to this one too!