Creative Ways to Upcycle Your Old T-Shirts
Transforming your old things into new, more useful objects can be both fun and practical when you turn it into a DIY project. You'll be able to create yourself things that you actually need out of things you don't use anymore. Check out these awesome ways to transform your old t-shirts into all kinds of useful projects!
1. Jumper skirt
Cut Out and Keep shows you how to transform an old oversized t-shirt into an adorable jumper skirt that's the perfect mix of preppy and chic!
2. Coin purse
Use the fabric of your old t-shirt to make this adorable change purse, just like Zakka Life!
3. T-shirt Sandals
The Etsy Blog gives you all the steps you'll need to follow to create these adorable tying sandals just in time for summer.
4. Shirt skirts
Oversized t-shirts make amazing comfortable skirts! Check out how Sew like My Mom made these ones.
5. Recycled scarf
Joy Beadworks shows you how to transform your old t-shirts into an adorable recycled scarf in just a few easy steps.
6. Jersey weave sweatshirt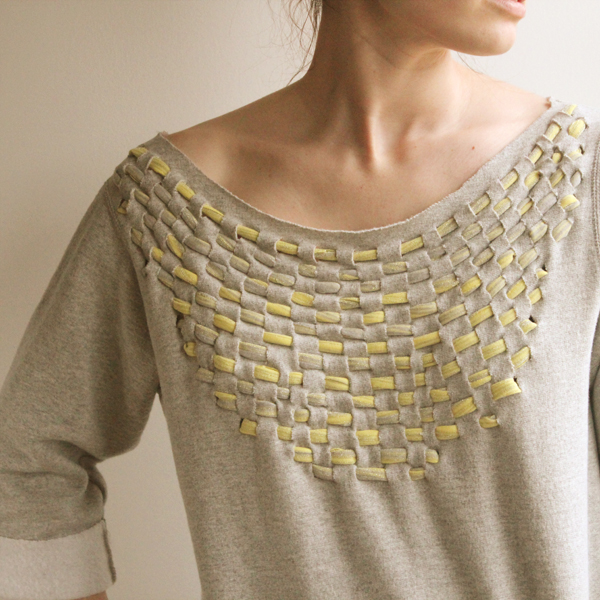 Cutting old t-shirts into strips can help you customize an old sweatshirt too! Use the strips to add a basket weave pattern of fun colours like The Forge Style did.
7. Braided t-shirt flip flops
As you can probably tell, t-shirts make the perfect fabric for all kinds of things! Customize a pair of flip flops into sandals with a little more style using strips of t-shirt material to make braids! Make It, Love It shows you how it's done.
8. Slashed scarf
Sometimes messy is the recipe for chic. Check out how A Beautiful Mess made this scarf that's totally adorable even though it's full of holes!
9. Graphic aprons
Are you a cooking fanatic? Try turning your old t-shirts into aprons helps you out in the kitchen and the closet! Check out the tutorial on Ruffles and Stuff!
10. T-shirt and washcloth bibs
Gracious Rain shows you how to upcycle two things at once! A t-shirt and a washcloth are all you need to make a cute but functional baby bib.
11. Little summer dress
Daddy's big t-shirt can be easily re-purposed as a dress for your little princess! Check out how Vanessa Christenson made this one!
12. Baby onesie
The Seamery shows you how to turn adult sized t-shirts into adorable baby onesies that don't cost you a thing!
13. Ruffle backed dress
This dress is simply pretty from the front and all party in the back! The best part? It's all made from upcycled t-shirts! Check out how Tidbits made it.
14. T-shirt sleeve baby hat
Homemade by Jill walks you through the process of making this adorable baby hat use nothing more than a single t-shirt sleeve!
15. Plush bunny rabbit
Your kids won't mind a bit when they find out that their new bunny playmate is made of old t-shirts! Life Your Way shows you how to make them an adorable friend from upcycled clothing.
Do you have friends who love upcycling projects? Share this post with them for a little bit of clothing-clearing inspiration!