15 Unique Ways To Jazz Up The Next Bridal Shower You're Hosting
Instead of the normal "stuff" that we've all been seeing at our besties' bridal showers, why not take some time to put a new spin on that tradition? We've compiled 15 unique ways to jazz up the next bridal shower that you're hosting and we're positive that you'll find something that inspires you. From the food to the decor, let's dive in and have a peek, shall we?
1. Glitter Ice Cubes
Something Turquoise starts our journey off right with these wonderful, sparkling ice cubes. Infusing glitter into them makes it a bit more aesthetically pleasing and pretty for photos – magical too, of course. Take a peek at how to make these happen after visiting the geniuses behind the idea!
2. Kissing the Single Life Goodbye
How fun is this idea from What Woman Needs? Every bridal shower needs a little thank you favor and these chapsticks will actually be used by all of the guests – and not just thrown out after a while. The addition of the "kissing the single life goodbye" just punches up the uniqueness and creativity.
3. Grandiose Chairs
Nix the tulle and go with something extra, extra special and photo worthy. Bespoke Bride showed off a boho-inspired bridal shower that we fell in love with, but most of all we fell in love with the guest of honor's chair. Dress up a chair in a grander way than the average for your bride-t0-be to sit in and open all of her gifts up.
4. Balloon Garland
Dress up the tables, gift area, banisters, mantles, and more with this idea! Over at Sugar & Cloth we learned how to make a balloon garland that serves as both stylish and festive decor for all kinds of parties. And that includes bridal showers, to which its perfect for!
5. Bagel Bar
Camille Styles will teach you how to create a perfect bagel bar – to which is perfect for have ready for a brunch time bridal shower. From lox to strawberry cream cheese, your guests can interact and chow down with something like this. It's an elegant and fun way to serve the ladies.
6. Paper Plate Flowers
Who knew that you could turn regular ol' paper plates into something so beautiful? Well, over at Muslin and Merlot you can learn how and then use those gorgeous petals to style the event! Whether you decorate the bride's chair or the sweet table, they're the perfect addition to the fun.
7. Champagne Pound Cake
Crazy For Crust infused some pound cake with champagne and we couldn't help but think how perfect that idea is for celebrating! We all need to have some nibbles at our shower events and there isn't a more subtle and sophisticated treat than this one. Learn how to whip up a batch or two after the jump.
8. Glitter-Dipped Utensils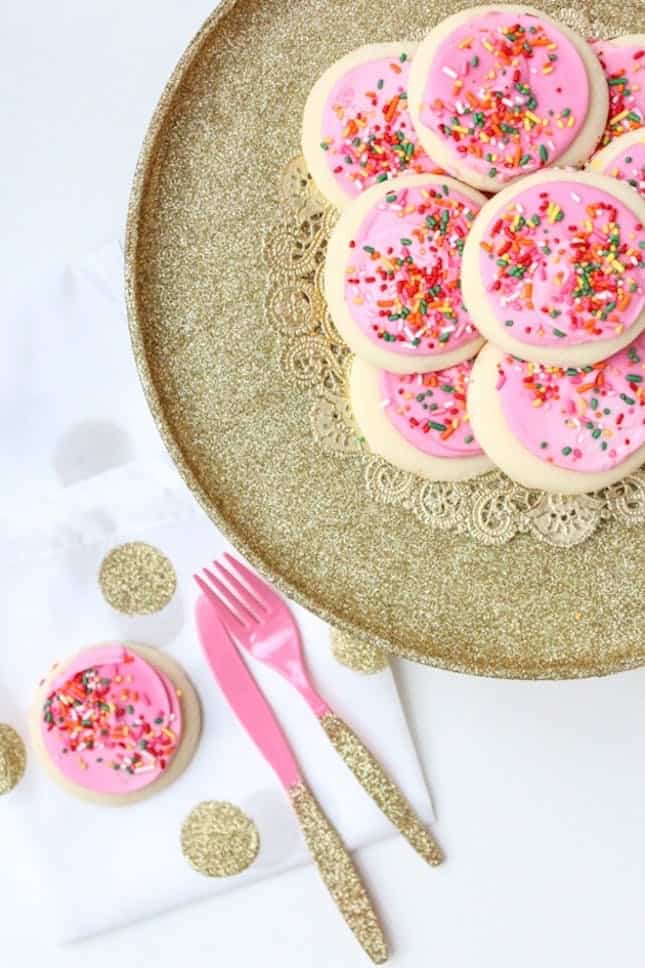 Glitter is always welcomed for our brides and Sugar & Cloth ran with the idea. Dip all of the utensils in some sparkles to dress everything up just a bit. The cake stand, the plastic fork and knife, the makeover is so easy to do and looks so good by the end!
9. Fiesta-Themed
Of course, you could always pick a theme that's less than expected. Really throw a party by celebrating in style with a Fiesta-inspired look! Don't worry, Etsy has you covered in the invite department and that'll help inspire your decorating too!
10. Lucky Charms Popcorn
Whether you serve it as a snack or in a bag as a favor, Paper & Stitch has so many ideas for munching at the shower – including this popcorn creation. Add some Lucky Charms marshmallows on top of your buttery goodness for a sweet and savory bite that hits the sport every time! It's pretty too, don't you think?
11. Conversation Balloons
Taking a note out of conversation hearts we all love at Valentine's Day, Studio DIY turned some balloons into conversation starters as well. From charming doodles to fun phrases, they're easy to make and will definitely liven up the party. They make for fun photos with the bride as well!
12. Flower Crown Station
Here's another interactive idea for your guests. Over at Something Turquoise you can get a glimpse into the flower crown station that they created. All the ladies can sit and make their own – and then wear it – throughout the party!
13. Wedding Countdown
No. 2 Pencil made this beauty with a Cricut and had everyone even more excited for the main event. Add a countdown to the day's decor and make it unique to the bride as well. Infuse her style – or the weddings – in its design.
14. Wine Gummy Bears
Cooking with Janica used wine to inspire her treats. These wine gummy bears are so delicious and will have everyone grabbing for more throughout the celebration. Grab the recipe after you take the leap.
15. Fun Sugar Cookies
And finally, get inspired by these fun sugar cookies we spotted at Beautylish. Have a batch of these set up at the treat table. From lipsticks to wedding rings, there are so many ways to go when it comes to design.