15 Outdoor Kitchen Designs That You Can Help DIY
If you have the space to create it, why not help out a bit? Today, we're providing your with some backyard inspiration. These 15 outdoor kitchen designs are DIY-friendly. Whether it's the entire setup or just a piece, you can help make your own slice of heaven right outside your backdoor. Here are some of our favorite ideas.
1. The Perfect Barbeque
Instructables  starts us off with this snazzy, makeshift BBQ center. You can follow along and learn how to get handy and make it yourself – right at home, for your home. Add wheels to make it easily movable around the patio and into the garage before winter hits.
2. A Stone Setup
This Old House went with a stone setup that we love. If you're looking to add some modern, organic beauty to the backyard, this is definitely the way to go. We love the inside storage as well.
3. Fire Oven
The Cow Spot walks us through their made-at-home fire oven. And, yes, it works for all of your pizza-loving needs! Check out how to make one for yourself after the jump over.
4. Customizable Modular System
If you want something chic and organized, check out Tree Hugger and learn about this modular, customizable outdoor system. Mix and match, and create something that fits your specifications perfectly.
5. Refrigerated Drawers
Think about adding some refrigerated drawers to the mix as well. We found this idea over at Kalamazoo Outdoor and loved it! You won't need a full-sized fridge outside or feel the need to run in and outside the house if you have these beauties installed.
6. Cedar Cabinets
New Eco went with cedar cabinets that look absolutely divine. We have a sneaky suspicion that this kind of cabinetry can be learned to build at home for our craftiest of creators as well. That stainless steel contrasts so beautifully as well, making this the right kind of outdoor contemporary space.
7. Add a Fire Pit
Karen Foley added a chimney fire pit to her outdoor kitchen. These are quite easy to DIY at home as well and there are so many ways to make it happen. Just do a bit of a search and take your time in its creation.
8. Painted Patio Tile
A Beautiful Mess will help you personalize your outdoor kitchen with some extra style. Learn how to create painted patio floor tiles after the jump. You'll be so surprised at how this little addition will transform your entire backyard space.
9. Herb Garden
Of course, adding an herb garden could be a fun addition to that outdoor kitchen as well. Just check out this setup from BHG. Use fresh herbs for all of your cooking needs since they'll be right at your fingertips.
10. A Tuck Away
Of course, learning how to create a space that's easily hidden is nice as well, especially for those winter months. Check out this design from Arch Daily and its innovative "tucked away" approach. We love that everything has a place that can just slide right in when it's not in use.
11. Dining Space
Adding a makeshift dining area to your outdoor kitchen is a must. It personalizes, styles, and makes it even more cozy and functional. We found this design at BHG and it inspired us in so many ways as to what we could create in our own backyard!
12. Personalize with a Chalkboard
Here's another fun DIY that you can easily recreate inside your own outdoor area. Add a chalkboard wall to the scene. Put on the menu, style it for the season, and more! We saw this idea featured at The Horcticult and scooped up the innovative idea!
13. Stucco Fireplace
Country Living featured this gorgeous stucco fireplace and we instantly fell in love with its southwestern style. Use it to add comfort and coziness to your entertaining space. The family will get so much use out of it, especially during the spring and summer months.
14. Concrete Cook Space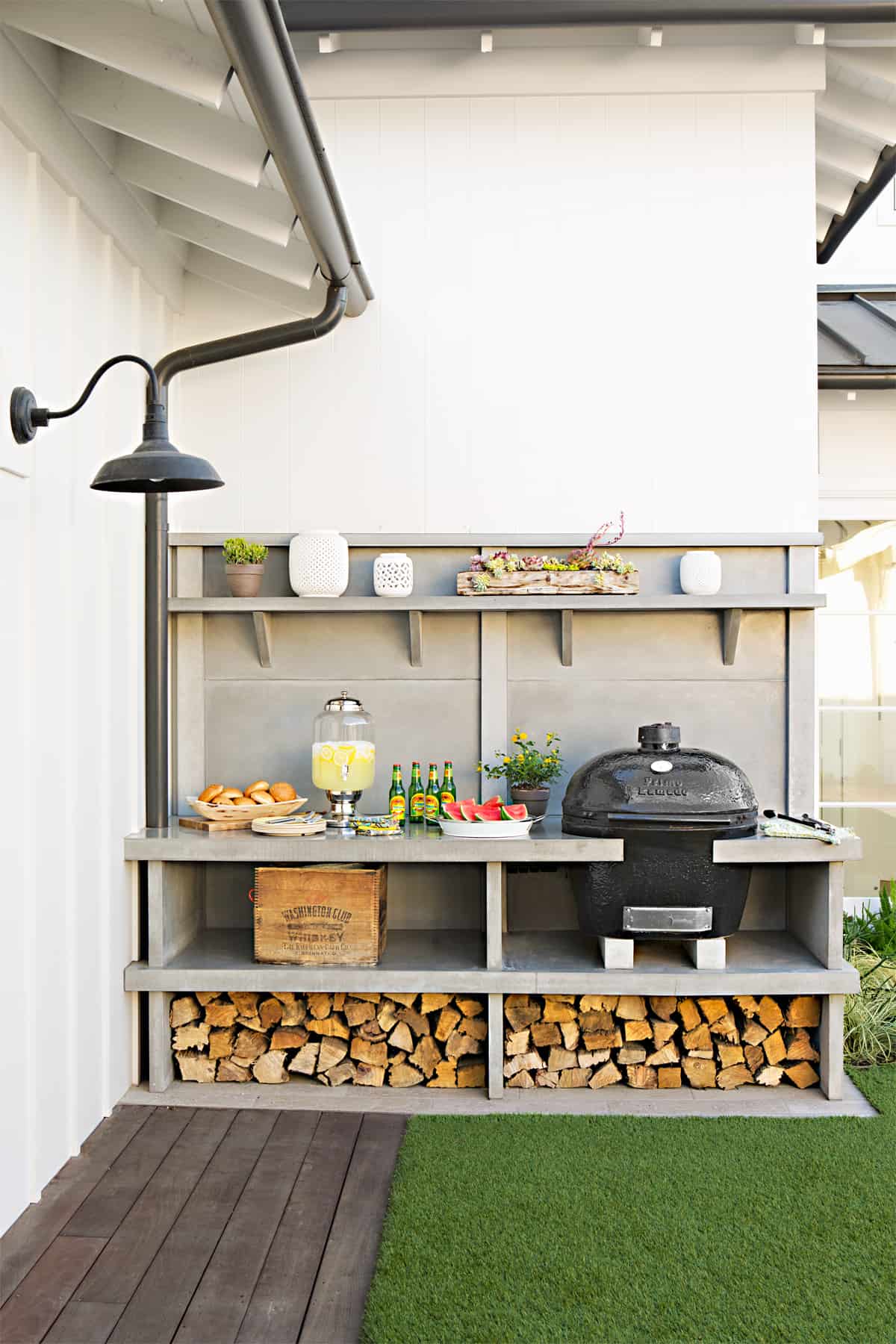 We also found this great concrete cooking space from Country Living. It's little, it's quaint, and we think some handy crafters could figure out how to recreate this bad boy at home. We love how easy it is to organize and chic the final design is.
15. A Complete Redo
And finally, gather some inspiration from Manmade DIY and his complete outdoor kitchen redo. Learn how to spruce up and start from scratch within the details of the tutorial. It's such a functional and versatile space for our readers to take hold of.