Rustic Wedding Ideas: 50 Beautiful Ideas for a Rustic Country Wedding
The rustic wedding trend is still going strong, and every day I see evenmore unique projects and inspiration floating around the internet…using everything from wooden slabs to succulents to mason jars. So today I wanted to share 50 of my favorite ideas for arustic wedding.
Best Reception Ideas for a Rustic Wedding
1. Wedding Rustic Boutonnieres
These gorgeous boutonnieres are made with pinecones, twine, and a few other rustic materials… and they are so easy to make yourself! Your groomsmen are sure to just love them. Head on over to the Foxy Folksy blog to check out the full tutorial.
2. Succulent Escort Cards for a Rustic Wedding Event
This project will have your guests oohing and ahhing the minute they see them, with the combination of greenery and wood along with a calligraphed escort card. Make your way over to Ash and Crafts to check out the full tutorial and to see more photos.
3.CarvedHeart Wood Slice for a Wedding
Here's another DIY that utilizes wood, this time with a pretty carving on the surface of a wood slab with the couple's initials and their wedding date. Head on over to the Average But Inspired blog to find out how to recreate this piece yourself.
4. Wedding Ideas With Mason Jar Cakes
Send your guests home with these lovely mini cakes that are gorgeous and delicious. The cake is made in the form of smaller cupcakes, making the size perfect for the mason jars. And then the guests can reuse the jars afterward! Read more here.
5. Best Wedding Paint Stick Basket Inspiration
Believe it or not, you can create a beautiful rustic crate-style basket for your wedding using paint stirrers from the paint section of your local home improvement store! Just grab some stain and get to work. Check out the full tutorial over at Build-Basic.
6. DIY Feather Boutonniere As A Wedding Inspiration
If you're planning a rustic wedding with a unique vibe, then this stunning feather boutonniere will be the perfect accessory for the groomsmen to rock while walking down the aisle. And they're so easy to make! Check out the how-to at Be Loved Blueprint.
7. Mr. & Mrs. Canvas Wedding Inspiration
This adorable little Mr. & Mrs. canvas is made with, well, canvas and some vintage Scrabble tiles. The key is to find a canvas that is a more natural color like the one above… or alternatively, you could cover a white one with burlap. Get the tutorial at All Things With Purpose.
8. Rustic Wedding Ceremony Wine Box
Here we have a DIY monogrammed box that serves as a sort of time capsule, storing a bottle of wine until a future wedding anniversary. And you won't need very many materials to complete it. Head over to Something Turquoise to check out the tutorial.
9. Rustic Burlap Favor Bags For A Fall Wedding
Add an extra special touch to your favors by making these pretty favor bags out of burlap and lace. It might take you some time to complete such a large number of them, but it will certainly be worthwhile when your guests see them! Get the tutorial here.
10. Wedding Wooden Ring Box
Put your wedding rings in this adorable little wooden box, so that your ring-bearer doesn't lose them! And this sweet little container also has a customized monogram on the top. Make your way over to Mountain Modern Life to check out the instructions.
11. Wooden Crate Cake Stand
Display your wedding cake in style with abeautiful rustic assortment of wine crates and wooden boxes. It's simple to replicate, just make sure that they are extremely stable – nobody wants a smashed cake! Head over here to check out this and many other rustic ideas.
12. Ladder Lighting
Add some unique lighting to your reception using this fun idea…. set up an old wooden ladder, wrap string lights and flowers around it, and place candles in jars on each step. So pretty! Make your way over to Elegant Wedding Invites to check out this and other ideas.
13. Chiffon Ceiling
Chiffon fabric is a great way to dress up a barn or tent for your wedding. Drape the fabric from one side of ceiling to the other, hanging it over a higher center point if possible to create a pointed look as shown above. Check out this and other rustic wedding decor ideas here.
14. Clothespin Photo Display
Display photos of you and your fiancé (or other couples attending the wedding) by hanging them along jute twine with tiny wooden clothespins. Your guests will love to have something to look at while they're waiting for dinner! Check it out over here.
15. Wooden Dessert Display
Use large tree slices to display all of the decadent desserts you'll be serving to guests. Be sure to stagger the height of each piece of wood, and add some extra lighting to set the mood. Make your way over here to check out this and other dessert display ideas.
16. His and Hers Signs
Give the bride and groom's seats a special look by adding ribbons and pretty wooden signs that say "his" and "hers." Not only will it look pretty, but it will ensure that guests don't steal the happy couple's seats! See this idea here and check out other ideas too.
17. Barrel Recycling Bin
Go green by putting out a recycling bin for your guests to toss empty cans into. And don't worry, it doesn't have to be ugly – consider using a large rustic barrel as shown above and hang a pretty sign on it. Head over to Deer Pearl Flowers to see this and other ideas.
18. Marquee Letters
Combine wooden marquee letters with a pallet, and you're well on your way to a unique and gorgeous decorative sign. Finish the look by wrapping greenery through the pallet. Make your way over to Mod Wedding to see this and other table ideas.
19. Burlap Aisle Runner
Sometimes people forget to consider the décor for the ceremony… here is an easy and pretty way to give your aisle some pizzazz. Simply lay out some burlap and then sprinkle the edges with rose petals. Check out this idea and others over at Harpers Bazaar.
20. Mason Jar Favors
There's nothing more rustic than a mason jar, so why not give each of your guests one as a favor? And here's the bonus: they can also use it to hold their drinks all night, cutting down on glassware costs. Help your guests understand the concept with a sign. Found at Deer Pearl Flowers.
21. Rope Love Sign
Get crafty with some rope and reclaimed wood in order to make one of these super fun "love" signs. All you'll need is a glue gun and a steady hand. Make your way over to the Funky Junk website to find out how to make your own rustic sign for your wedding.
22. Rustic Beer Tap Station
If your guests are beer lovers, create a rustic beer tap station using reclaimed wood and inserting the taps through from the back. You could also customize an old wooden shelf to create a similar effect. Found over at My Wedding Reception Ideas.
23. Romantic Canopy
Here's another great way to dress up your ceremony. Have someone help you create a canopy out of birch wood and then drape it with pretty flowers in your wedding color scheme. A barrel and a "love" sign sit behind to help set the rustic vibe. Found at Style Me Pretty.
24. Branch Escort Card Holders
Help people find their seats in style by displaying your escort cards using lovely wooden holders made out of branches. Simply cut a slit in each one and slide the cards in. Make your way over to Artsy Mountain Wedding to see more photos of this wedding.
25. Twine Knot Ring Photo
Here's a unique way to photograph your rings in a rustic style – simply have your wedding photographer grab a piece of jute or hemp twine and tie a knot around all three rings. And the knot symbolizes "tying the knot." Photo by Michelle Jordan, found at Prudent Plan.
26. Rustic Hashtag Sign
If you and your guests love Instagram, be sure to share a hashtag with them that can be used through your wedding festivities. If you write it on dark stained wood with a white paint pen, it will fit in nicely with the rest of your rustic décor. Found here.
27. Cherry Favors
Sharing fresh local fruit with visitors is a nice idea if your wedding is during the warmer months. To further the rustic appeal, put them inside of brown paper bags and have a calligrapher write the names on the bags. Found over at Intimate Weddings.
28. Baby's Breath Centerpieces
Give your reception tables a romantic flair with these gorgeous rustic centerpieces. All you'll need to do is handwrite the word "love" on an old wooden box and place a vase of baby's breath inside. Check out photos of the rest of this wedding at Wedding Chicks.
29. Happily Ever After Sign
Make your guests smile with this rustic signage that can be created with scrap wood that you probably already have lying in your basement. Just grab a paintbrush and get started! Check out this and lots of other fun wedding sign ideas over at Wedding Wire.
30. Wheel Barrow Seed Packets
Here's another impossibly cute favor idea…. give your family and friends seed packets so they can grow their own tomatoes. "Plant" them in a wheel barrow and add a sign that says "take one and watch love grow." Found over at Mod Wedding.
31. Rustic Curtain Arch
Here's an easy way to make a huge impression on your guests – hang large, billowy white curtains over a doorway and tie them back with a rustic style bouquet. Top it off with your new monogram! Head over to For Creative Juice to see this and other ideas.
32. Floral Lanterns
Suspend candle lanterns from a tree with thick ropes, and top them with clusters of flowers in your wedding colors. They will cast a pretty glow and also add some serious color. You can get lanterns like the ones above at IKEA. Found over at The Knot.
33. Rustic Card Box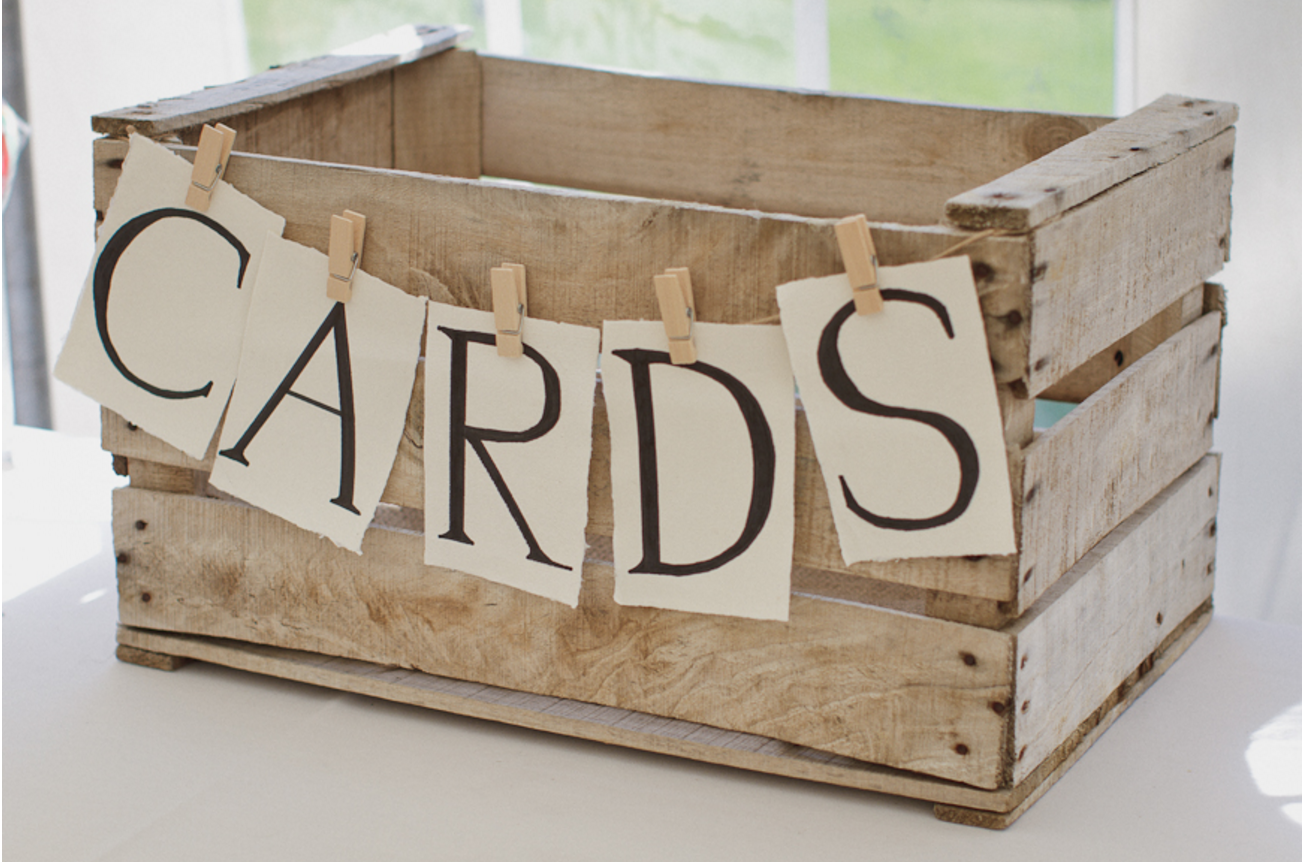 Provide a wooden crate for people to place cards in… and give it a special feel by hanging the letters from jute twine using clothespins. Make your way over to Gemma Williams Photography to check out the rest of the images from this pretty wedding.
34. Rustic Dessert Bar
There are so many cute things about this rustic wedding dessert bar – the wooden trays and crates make it feel super woodsy, while the sign is sure to make guests smile. And the miniature signs are the perfect finishing touch. Found over at Catch My Party.
35. Doily Invitations
Doilies are another great way to lend a rustic vibe to your wedding. Here, doilies are paired with brown kraft paper and jute twine for a lovely, unique look. Make your way over to YouTube to check out avideo tutorial on how to make them yourself.
36. Wooden Seating Chart
Help your guests find their seat with a beautiful wooden seating chart. Make it even more special by writing in cursive and adding some fancy calligraphy and greenery across the top. Head over to Style Me Pretty to see the rest of this beautiful wedding.
37. "Ring For A Kiss" Bell
Wedding guests love to make the newly married couple kiss by clinking their glasses with silverware, so why not provide them with an actual bell?! This adorable "ring for a kiss" cowbell would be perfect for a rustic wedding. Found at Her Interest.
38. Baby's Breath Candles
Fill large glass jars with candles and a bit of baby's breath at the bottom… it will lend a beautifully romantic vibe to any wedding. Consider using citronella candles if mosquitos will be a problem. Found over at Not On The High Street.
39. Burlap and Lace Runner
Add some serious rustic charm to your wedding by making these gorgeous runners for each of your guests' tables. Start with long rolls of burlap and lace, and then head over to Miss Bizi Bee's blog to check out a full tutorial along with more photos.
40. Guest Map
If your guests have flown in from all over the world, create one of these vintage looking guest maps which shows each of their locations. Everyone will have fun talking about who came from where… it's a great conversation starter! Found over at The Daily Wedding.
41. Mason Jar Chandelier
If you're in need of some extra mood lighting for your rustic wedding, you might consider a romantic chandelier made with mason jars. This might even be a doable DIY project! This one was found over at the Elegant Wedding Invites blog.
42. Dried Flower Confetti
Confetti is a pretty way to shower the newly married couple with love immediately after the ceremony. But if you're looking for something more natural than paper confetti, you might consider dried flower confetti in paper cones. Found here.
43. Curtain Altar
Decorate your altar with aset of pretty, flowing white curtains and some tree stumps. Bouquets and rose petals will add that floral touch to the front of the ceremony. Head over to Style Me Pretty to see the rest of the images from this lovely ranch wedding.
44. Rustic Guestbook Alternative
Instead of a traditional guestbook, have your friends and family each sign a small little slice of wood and then slip them into a rustic wooden frame. You can buy this one premade over at Etsy, or you could easily make your own with branches and a small saw.
45. Hanging Mason Jars
Give your wedding a memorable touch with this stunning hanging mason jar display. Simply tie natural rope around a dozen mason jars and hang them from an arch or a tree. Then fill them with pretty floral bouquets. Found over at Rustic Wedding Chic.
46. Pallet Blanket Holder
Keep your guests warm by providing cozy blankets for them to borrow… and make a rustic holder for them using an old wooden pallet. Simply use a stencil to paint the words "snuggle up" and then cut off a few of the horizontal boards. Found here.
47. Wine Bottle Table Numbers
These colorful bottle table numbers are easy to create yourself. Just collect a variety of old bottled (wine, beer and soda bottles would all work) and spray paint them your wedding colors. Check out photos from the rest of this wedding at Style Me Pretty.
48. Hay Bale Seating
If you're going for acountry look, hay bales might be the perfect seating option for your ceremony. Cover them with draped fabric in colors that match the rest of your decor. Head over to Lula's blog to see this and the rest of the gorgeous wedding.
49. Ring Toss
Ring toss is a great little game that will get guests interacting with each other, and this one from Refunked Junkies on Etsy has a lovely rustic vibe with the wooden crate. Or you could make your own by spray painting old wine bottles and placing them in a small wooden box.
50. S'More Bar
Treat your guests to a tasty dessert at the end of the night – s'mores! They will love sitting around the fire roasting marshmallows and reminiscing about the evening. And don't forget to add the blackboard "s'more love" sign! Found at Style Me Pretty.