Ways To Create Unique Ponytail
Most mornings, we wake up ready to pull our hair back away from our face so we can conquer our day without being hindered by tickly strands. We're not often picky about how it looks as long as it's neat and tidy, so a regular old ponytail is usually our go-to style. They're quick and easy and they're also a classic look! Some days, however, we feel like going a little bit above and beyond when it comes to how we make our ponytail look. Just because you want to put a fun new twist on an old favourite doesn't mean is has to be complicated or time consuming.
Check out these 15 stylishly pretty ponytail ideas that give you a little bit more than the norm without getting your fingers or your hair tied in knots (unless they're a style choice, of course)!
1. Twisted braid ponytail
Just because your hair is up in a ponytail doesn't mean it can't have some pretty fine detail to go along with your casual day! We adore the way Abella's Braids combined their pony tail with a twist that, through some simple but creative weaving, is also a braid.
2. Big hair ponytail
Do you have big, voluminous hair and you'd really like to show it off, but it's day two since your last wash and your style and waves could use just a bit of help really getting that umph you're looking for? Then check out this secret from Hair Romance for building just a little bit of extra volume into your ponytail without laborious back brushing.
3. Low messy pony with a side braid
Not every ponytail has to be pulled up tight and high on your crown to stay out of your face. In fact, we actually adore low, messy ponies because they often frame the face so well. Check out how Free People took that simple idea and added to it by incorporating a loose braid down one side leading around from the very front as well!
4. Leather laced ponytail
We've always loved hair pieces and embellishments, but some days we find we've put together a subtle look where brightly coloured bobbles and sparkly gems just won't suit. Instead, Pinterest suggests weaving a simple leather thong (like the kind you'd use to make jewelry) through your ponytail, as though you're braiding loosely but using the leather as one of your strands. The looser you do it, the more aesthetically suiting it might look.
5. High layered ponytail
Have you been growing your hair out for a while now and you know it's getting there but your ponytail still just isn't quite as long as you'd like it to be? Then we think you'll appreciate this little ponytail hacking secret from Makeup.com! They'll show you how to layer more than one pony underneath the other to create that length until you're able to grow it out yourself.
6. Back brushed pony with crown height
Particularly if you have a small face, adding a little bit of height to your ponytail can really amp up the style and give it a little more of a polished finish when you go into the office. That's why Short Hairstyles is here to show you how back brushing at the crown can totally transform a simple, standard ponytail!
7. Wrapped curly ponytail
This stunning, swooping way of hiding a hair tie in your hair is the perfect way to let your natural wave and curls really rule the style. Rather than just bursting out from the hair tie like a regular ponytail would have them do, The Beauty Department's idea lets your hair envelope the elastic right into your natural volume so it looks whimsical and neat.
8. Topsy ponytail
Whether you give your topsy ponytail one, two, or six twisted tiers, we have a feeling you'll have a real blast with the topsy ponytail if a little bit of excitement within the classic style is really what you're looking for! This style is actually much easier to do than it looks, so check it out at Lulu's.
9. Braided mohawk ponytail
High, sassy Mohawk hairstyles have begun trending, but not every girl wants to cut her locks to achieve the look. That's why Makeup Wearables has found a way to fake the Mohawk using your long hair instead! We love that instead of just back brushing the hair into a voluminous nest, they've used the solid structure of a braid to get that awesome shape all along the top.
10. Textured double pony
Are you still intrigued by the idea of doubled and layered ponytails but you actually already do have a lot of hair to work with and you're just trying to figure out how to harness it properly so it looks stylish messy and not just… messy? Then this double pony tutorial from The Freckled Fox is definitely the one for you!
11. Pretty twisted pony
Perhaps you like the look of the ponytail itself left in its classic style, but you're open to seeing simple ways that you can add detail to the style near the roots of your hair instead? This post featured on Pinterest suggests creating a French twist starting around the front at the bangs and leading backwards until it's swept up in the elastic and set free into the ponytail itself.
12. Dutch braid into a low pony
Are the twists and braids you're seeing in conjunction with ponytails here really catching your eye, but you want to make sure you use a braiding style that people will really notice? Then we think you'll fall in love with Barefoot Blonde's idea of leading two Dutch (or inside out) braids down into your tail!
13. High pony with a bandana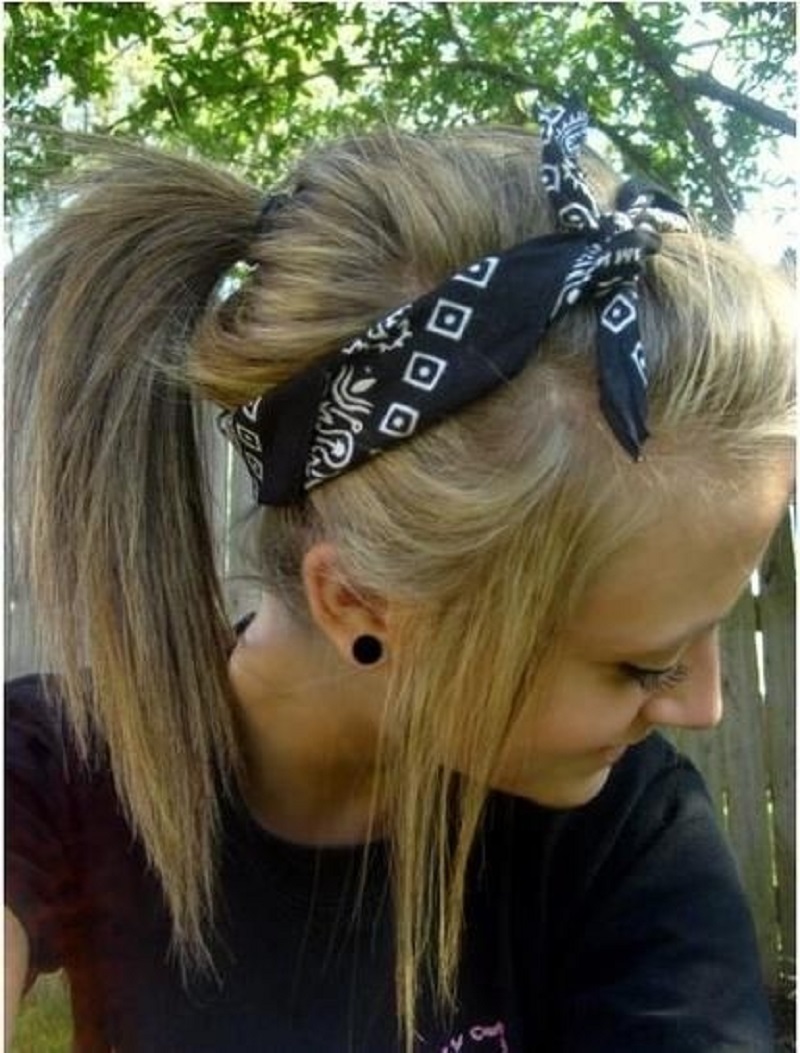 Perhaps your time is limited and you'd rather just quickly add something to your plain ponytail rather than getting complicated with things like strands and twists? Then try tying a classic bandana around like a hairband, just like Pretty Designs did here!
14. Looping elastic pony
Do you like the idea of a topsy ponytail but you'd also like to add a subtle touch of coloured embellishment to your hair, just to give things a bit of a pop? Then you're going to love this woven elastic idea from Hair Portal! Like many other weaving techniques, this look is surprisingly simple for how intricate it appears.
15. Wrapped segment ponytail
Just in case you're not quite over the idea of pieced ponytails but you're still trying to find the one for you, here's a segmented alternative where your elastics are wrapped in another strand of hair, keeping things natural looking and impressive. Get the details and instructions for the style on All For Fashion Design!
Do you know someone who love wearing a ponytail because it's easy but who has gotten bored with the favourite style? Share this post with them for a little bit of inspiration!