Make Dinner In A Jiffy With Any One of These 50 Dump Meals
It's so much easier to grab and go when it comes to meals. Prepared, packaged or through the drive-through seems so much more appealing after a long day's work. But, if you could just dump all the right ingredients in one spot and make a dish worth eating, wouldn't you want to do that instead? Make dinner in a jiffy – and with less stress – with any one of these 50 "dump" meals.
1. Balsamic & Honey Dump Pot Roast
Lauren Greutman knows how to whip up a beautiful and delicate pot roast. Serve it up with a salad and a couple of sides for an easy weekday meal.
2. Dump Chili
Lauren Greutman also knows how to make up a scrumptious pot of chili. It's easy and it's the perfect way to end a fall night.
3. Dump Vegetable Stew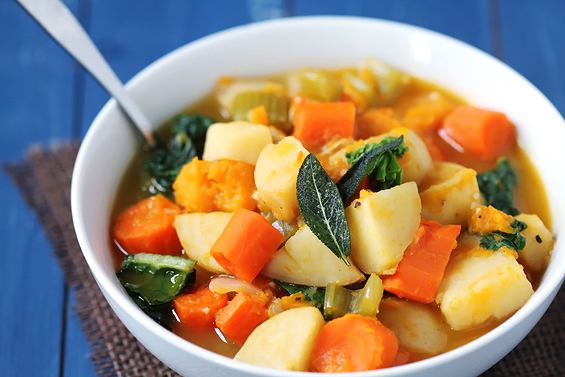 In the mood for some veggies? Dump them all in with this stew recipe from Gimme Some Oven.
4. Lemon Garlic Dump Chicken
Served over a bowl of rice, this lemon dump chicken looks scrumptious. Check out all the details at One Good Thing.
5. Dump Chicken Tetrazzini
The Magical Slow Cooker went with an easy recipe for turkey tetrazzini. And it looks good enough to dive right into, don't you think?
6. Ham and Potato Cheese Soup
Real Housemoms threw together this soup pretty quickly and it's definitely one that will become a fan favorite of the family. Serve it up with some grilled sourdough for dipping or a nice salad!
7. Root Beer Dump Pulled Pork
Pulled pork works great as quick sandwiches or even on top of baked potatoes. Make dinner easier with some help from The Magical Slow Cooker.
8. Tuscan Chicken Dump Stew
Sweet Peas and Saffron went with a stew as well. This one has a Tuscan-inspired twist though – with chicken!
9. Chicken Tater Tot Dump Casserole
If you want something with a real comfort food feel, then you'll want to hop on over to The Country Cook. This tater tot casserole will surely be a hit on the dinner table for everyone.
10. Brown Sugar Dump Ham
The Magical Slow Cooker even has an easy recipe for a beautiful, brown sugar ham. Just dump the ingredients and go!
11. Dump Chicken & Gravy
This open face chicken and gravy sandwich works for any night of the week. Check out the easy directions over at The Magical Slow Cooker.
12. Dump Beef Stew
Pillsbury made a stew too! But this time it's filled with beef and all your favorite veg.
13. Butter Dump Chicken
Half Baked Harvest makes a delicious chicken dish that goes well with a nice bowl of rice. It's a quick and easy dinner idea for any night of the week!
14. Vegetarian Dump Chili
Whether you're vegetarian or not, this dump chili from Gimme Some Oven will definitely delight the palette. Run on over now and snag the recipe!
15. Potato Corn Dump Chowder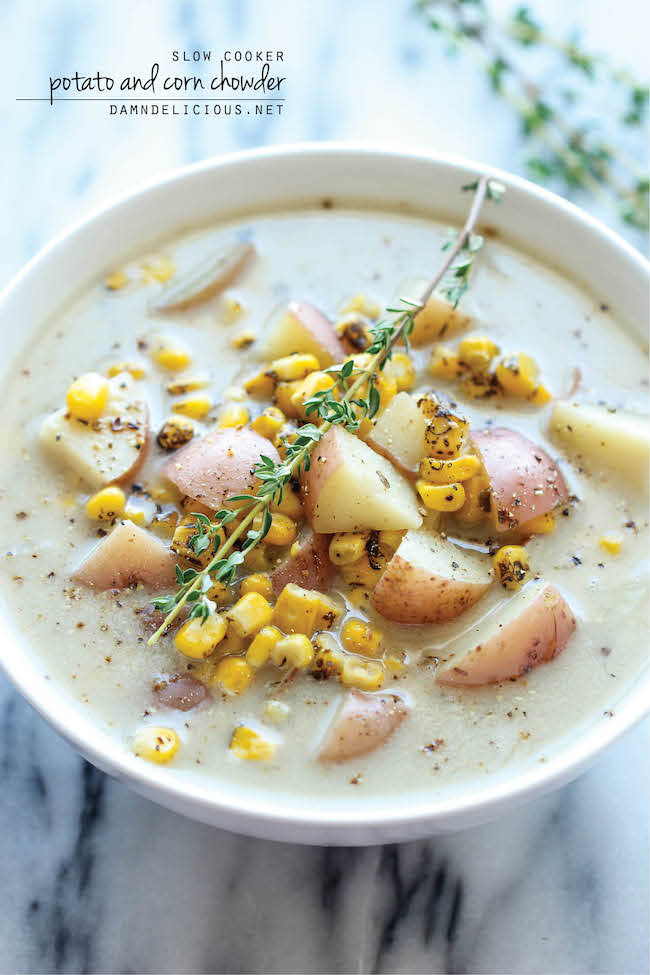 Damn Delicious whips up a corn chowder that will satisfy the family too. It's hearty and comforting and pairs nicely with a classic grilled cheese.
16. Ham & White Bean Dump Soup
Damn Delicious went with a soup for their "dump" recipe. Throw in all the ingredients and make something that will settle dinner with ease.
17. Beer Braised Dump Chicken
Chicken lovers will want to dive right into this one from Half Baked Harvest. Again, all you need is a simple rice accompaniment.
18. Dump Chicken Casserole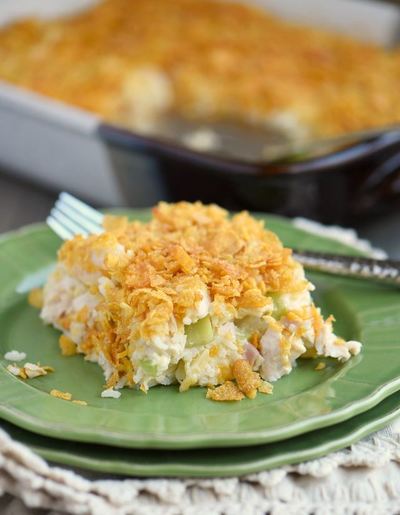 Recipe Lion shared a dump recipe too but this time it was for a casserole! Make dinner easy on yourself by throwing this one together.
19. Russian Apricot Dump Chicken
Russian apricot chicken goes well with rice too. Check it out at Recipe Lion.
20. Italian Chicken & Broccoli Rabe Dump Chili
For some Italian vibes and flavors, you'll want to dive right into this dish from Half Baked Harvest. Some chicken and broccoli rabe can end the night quite nicely.
21. Dump Pizza Chicken
Betty Crocker dumped all the ingredients for pizza chicken into a pan and made this beauty. It's something that the entire family will love, including you!
22. Country Style Dump Pork Ribs
Pork ribs will be a fun treat this weekend. Learn how to whip these up in the kitchen with some help from Betty Crocker.
23. Garlic Parmesan Dump Chicken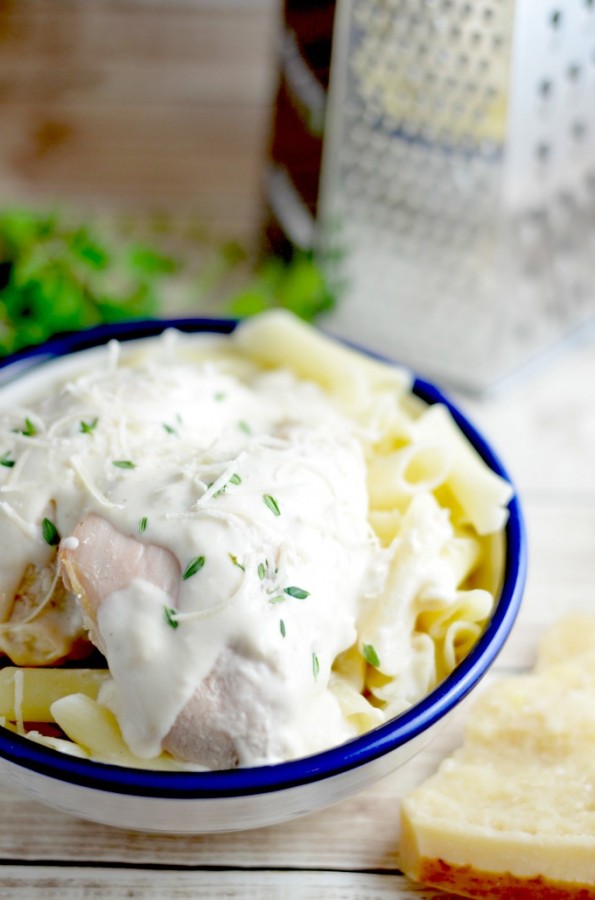 Quirky Inspired went the chicken route as well with this parmesan garlic masterpiece. Pour over pasta for an easy meal.
24. Chicken Fajita Dump Pasta
If you're a fan of chicken fajitas, then you'll love this pasta creation! It's a yummy dish that even the kiddos will enjoy digging into! (via)
25. Dump Mississippi Roast
There's so much you'll be able to do with this roast once you've finishing the "dump." The Supermom Chef will show you how.
26. Tortellini Dump Soup
Foods of Our Lives grabbed the crockpot and put together a beautiful tortellini soup that's friendly for all tummies. Whether it's for lunch or dinner, it's a winner!
27. Dump Pepper Steak
The Magical Slow Cooker grabbed some steak and got some peppers to throw in with them. Serve it above rice for another easy meal.
28. Dump Chicken Cheesesteaks
These chicken cheesesteaks look pretty good, don't you think? All you need is a light salad or some chips to serve up alongside them. (via)
29. White Chicken Dump Chili
Gimme Some Oven gives us another chili recipe that works as such: dump the ingredients and go! White chicken chili is quite tasty too!
30. Italian Dump Chicken
Pillsbury has an Italian dump chicken you can serve over pasta that the family will love too. It's hard to go wrong with this one.
31. Ranch Potatoes and Chicken Dump
This "dump" recipe comes with a side dish intact! Check it out at Moms with Crock Pots.
32. Dump Crack Chicken
Cookies and Cups knows how to make some chicken that everyone will love. In fact, you'll love it so much you may just become addicted.
33. Dump Smothered Pork Chops
The Country Cook went with pork chops. And included some gravy in the recipe too!
34. Southwestern Fajita Dump Quinoa
Chelsea's Messy Apron started with quinoa and turned it into something really delicious and special. Run over now to snag the recipe.
35. Ranch Chicken Dump Tacos
Tacos are always a favorite of family dinners. But ranch chicken tacos are even better! (via)
36. Tex Mex Dump Soup
Pillsbury knows how to take our favorite Mexican flavors and turn them into a soup. Serve it up with a cheese quesadilla on the side!
37. Dump Mexican Chicken
Here's some more Mexican chicken that we're loving. A Pinch of Healthy has all the details for this one.
38. Dump Chicken Pot Pie
Chicken pot pie is a classic and always satisfying too. The Seasoned Mom turned it into an easy "dump" recipe we can all follow.
39. Chicken Alfredo Dump Pasta
You can dump your alfredo too! You just have to visit The Seasoned Mom to learn how!
40. Buffalo Chicken Dump
For those that love something with some spice, then you'll love this recipe for buffalo chicken. Eat it on its own or over salad, rice or even a baked potato! (via)
41. Smothered Chicken Dump with Bacon
The Seasoned Mom smothered their chicken. Dump all these fun ingredients on top for an extra delicious bite.
42. Dump Meatball Casserole
For the meatball lovers out there, check out this special dish from The Seasoned Mom. Don't forget the cheese!
43. Dump Mexican Chicken Bake
Here's an entire Mexican chicken bake that you'll love too. Just visit Happy Go Lucky for the details.
44. Dump Pork Carnitas
Mama Instincts went the taco route as well. But this time the main ingredient is pork!
45. Taco Dump Soup
Here's another play on a "Tex Mex" soup but this time it's been dubbed "taco soup." Check out this easy recipe and serve it with some cheese and sour cream right on top! (via)
46. Dump Meatloaf
Betty Crocker even knows how to dump some meatloaf. Make it easier with some help from the classic cook.
47. Black Bean Dump Soup
A good black bean soup is both healthy and flavorful. Learn how to make your own at Live Simply.
48. Dump Broccoli Beef
Broccoli beef is fun over some rice as well. Creme De La Crumb has all the details behind this treat.
49. Cheesy Enchilada Dump Quinoa
Chelsea's Messy Apron utilizes some quinoa here with this enchilada-inspired concoction. And it looks good enough to dive right into as well!
50. Peach Dump Dessert
And finally, this may not be a meal but it finished off a meal quite nicely. Dump your dessert with some help from KitchMe.