Unique DIY Picture Frames to Brighten Any Room
Picture frames are amazing things. They let you display images of your family and friends, places you've been, and things you love. Fun frames in different styles even let you give those pictures context. You might put a picture of your and your mom in a "mom and daughter" themed frame, or a picture of your best friend in a pink frame because that's her favorite color.
Finding from frames in stores isn't hard, but making your own lets you display your pictures however you like! You can make frames that are rustic, bright, silly, or classy. Check out these great DIY picture frame tutorials!
1. Wooden clothespin frames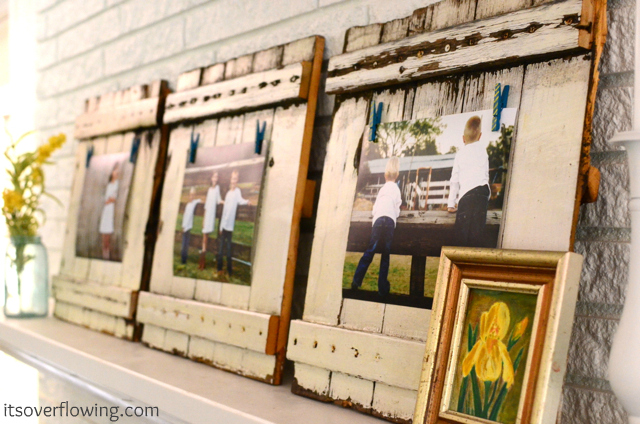 It's Overflowing shows you how to create a beautifully rustic wooden frame. This design lets you easily change the picture by fastening it with tiny clothespins!
2. Branch and twine frames
Shelterness gives you the perfect idea for a rustic yet easy picture frame. Choose four similarly sized branches and lay them in ta square with the ends overlapping in the corners. Tie them with twine, stick a print of your photo on the back, and hang it up for all to see!
3. Giant collage frames
It's Always Autumn shows you how to make a great (and totally huge!) picture collage from a piece of soundboard, a pressed table cloth, and some prints of your very favorite photos!
4. Light fixture frames
Re-purposed light fixtures can make great DIY frames! 12th and White shows you how to anchor the fixture to the wall with a ribbon and insert your own picture.
5. Textured paper frames
Radmegan's tutorial shows you that paper can be chic too! Some textured card and some paint will do the trick in this tutorial.
6. Cardboard frames
Who ever thought cardboard could look so classy? Ohoh Blog gives you a little proof that, when you customize it just right, cardboard is great for more than just boxes.
7. Yarn wrapped frames
She Calls Me Mama Leisha gives you the perfect tutorial for not only creating a fun custom picture frame, but also for using up yarn scraps from your knitting or crochet projects!
8. Old book frames
Better Homes and Gardens is your spot for learning how to create a chic, upcycle picture frame from an old book! This project is the perfect gift or craft for literary fans and bookworms.
9. Newspaper roll frames
Instead of letting your newspapers pile up in the corner or crowd up a landfill, turn them into DIY projects! Saved by Love Creations shows you how to make little newspaper rolls and turn them into a fun, colorful frame.
10. Popsicle stick frames
Eighteen25's tutorial is the perfect level of fun and easy for crafting with kids. Print out the pictures you like best, collect popsicle sticks of any size, and get creative with paint, markers, and other craft supplies!
11. Lantern frames
That's What Che Said's tutorial has an added bonus; it shows you how to make a picture frame that doubles as a light! This project back lights your photos for a gorgeous, glowing lantern effect.
12. Scrabble piece frames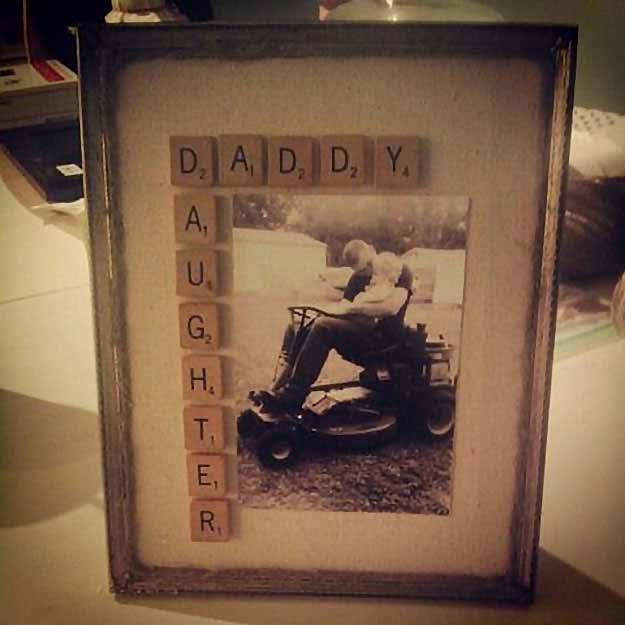 Call up fond memories of fun childhood game nights by incorporating Scrabble letters into a DIY picture frame. Saving by Design shows you how it's done.
13. Wooden photo transfers
Instead of building a picture frame out of wood, try actually transferring the picture right onto the wood itself. DIY Joy's tutorial walks you through the process.
14. Twig frames
You already saw pictures of a frame made from entire branches. If that's not your style but you like the rustic wood element, try HGTV's method of using smaller pieces of twig instead.
15. Washi tape frames
If you're looking for a low maintenance craft that's still bright and fun, check out Bombshell Bling's washi tape picture frame tutorial! It's the perfect customization for people who love stripes and patterns.
Have you created other unique DIY picture frames that you don't see here? Tell us how you did it in the comments!