Unique Crepe Recipes That are Worth Waking up For
Whether you prefer sweet or savoury crepes, you know that unique tasting crepe recipes are hard to resist! They're perfect for breakfast, lunch, dinner, and even just a snack. They're good for date nights, family breakfasts, or even just a treat for yourself.
Check out these delicious crepe recipes that you might not have realize were even possible before!
1. Steak, spinach, and mushroom with balsamic glaze
Juicy strips of steak inside a crepe makes for a delicious taste contrast, especially accompanied by mushrooms and balsamic glaze!(Source: Half Baked Harvest)
2. Pumpkin crepes with beer, cinnamon apple, and chocolate drizzle
You read that right: these crepes involve beer! The flavour gives a unique kick to the more classic cinnamon, apple, and chocolate elements.(Source: Eats Well With Others)
3. Fruit salsa crepes
These taste best topped with caramel drizzle and cottage cheese!(Source: The Gunny Sack)
4. Lemon crepe cake
What do you call a whole stack of lemon crepes? A cake! Yes, this is a cake made of many crepes piled on top of each other, with delicious lemon filling in between.(Source: The Girl Inspired)
5. Caramel apple brie crepe parcels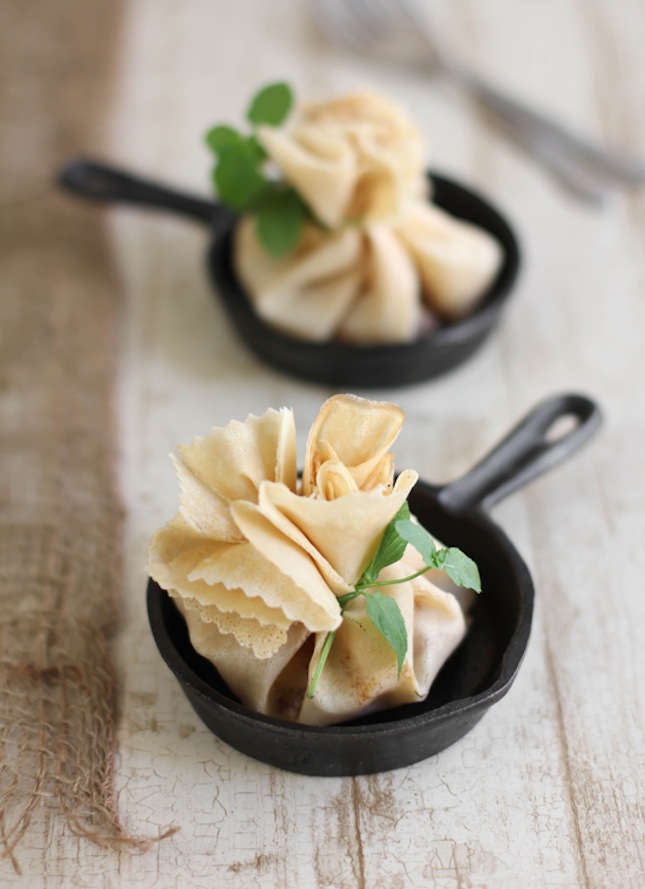 These crepe's fillings are sweet and savoury at the same time, and they're an absolutely adorable packaged shape!(Source: Sprinklebakes)
6. Vanilla bean crepes with peaches and cream
Have you ever heard of a sweeter combination than peaches, vanilla, and whipped cream? Top if off with a sprinkle of icing sugar for a little extra touch!(Source: Cooking Classy)
7. Coffee mascarpone cream crepes
Coffee lovers rejoice! There's a way to incorporate your favourite coffee flavour into your breakfast besides just drinking your morning cuppa joe.(Source: Diethood)
8. Whole wheat crepes
Are you looking for a slightly healthier alternative to regular crepes? Making them with whole wheat will do the trick!(Source: 100 Days of Real Food)
9. Boston cream pie crepes
Are you a big fan of Boston cream pies and donuts? Get that same deliciously creamy flavour in your crepes with this recipe!(Source: The Girl Inspired)
10. Hazelnut crepes with honey whipped cream and fruit
Honey and hazelnut have all the sweetness you'll need to balance the citrus taste of fruit like oranges, peaches, or strawberries in these crepes.(Source: Baker's Royale)
11. Darkest chocolate crepe cake
If you're a lover of rich flavours, then you won't be able to get enough of this high stacked dark chocolate crepe cake. Top it with nuts for some extra flavour (as long as no one's allergic)!(Source: Martha Stewart)
12. Apple cinnamon crepes
Apple cinnamon crepes aren't necessarily a new or innovative recipe idea, but this particular recipe makes sure you do it just right.(Source: Julia's Album)
13. Lefse (Norwegian potato crepes)
Potato crepes are a great alternative for people who are gluten free! This Norwegian recipe is also just totally delicious.(Source: Adventures in Cooking)
14. Blueberry lemon mini crepe cake
Are dessert crepes your favourite? Try these adorable mini crepes that are packed full of sweet lemon and blueberry flavour.(Source: I Am A Food Blog)
Do you have a favourite crepe recipe that you don't see here? Tell us about how you make them in the comments section!