15 Unique Button Projects
Every once in a while, particularly on a slow, rainy afternoon, we'll delve into our crafting room and go through our DIY supplies, just to see what we've got available and what we should think about using up soon. That's how we discovered a massive bag in one of our drawers that was chalk full of all kinds, shapes, colours, and sized of buttons! Now, we're definitely sewing enthusiasts and avid sweater knitters, so it does make sense that that'd have at least a few buttons lying around, but when we say we found a bag… we mean that we found so many buttons that we hardly know what to do with them. That's why we decided to hop online and look up a few new, creative ways to upcycle them into all kinds of cute DIY projects!
Just in case you're as intrigued as we were by the idea of repurposing buttons into awesome crafts, here are 15 of the coolest designs, ideas, and tutorials we've come across in our search so far.
1. Knotted layer button necklace
If you've always been a jewelry enthusiast and a fan of homemade accessories, we think we might have found just the tutorial for you, right out of the gates! There are actually plenty of ways to make button based jewelry but this cute layered button necklace from Button Jewelry that's put together by knotting string is definitely one of the coolest ideas we've come across… so we promptly made two of them.
2.  Burlap and button owl craft
If you're going to go to the trouble of making something from scratch using buttons, would you rather create something your kids will have fun with too? Well, if they're a fan of mixed materials crafts, then these adorable little burlap owls might be just up your alley! Kids Craft Room shows you how to make them from a piece of folded burlap, button facial features, and a bit of felt for their cute little feet.
3. Cute button stud earrings
Did we really catch your attention when we started talking about jewelry made from buttons but you're just not sure that a knotted necklace is quite what you need, since you actually have so many necklaces already? Then perhaps you'd prefer to make yourself a set of earrings instead! Now, don't get us wrong, we love long, glamorous dangling style earrings too, but there's just something about simple studs that we really adore, so we used some of the very smallest buttons in our collection to make a series of cute stud earrings by following this tutorial from The Life of Jennifer Dawn.
4. Vintage button flower arrangement
Has the concept that's actually caught your attention the best so far been the part where we started talking about how you can make awesome crafts by mixing different kinds of materials, and how buttons are a really great tool for that? Then we'd absolutely suggest taking a look at how Always Never Home made this adorable button flower bouquet using wire, tulle, a wooden spool, and some scrap lace in addition to their buttons. We love how vintage it looks.
5. Burlap wrapped and button flower wreath
Were you actually so smitten with the idea of using both buttons and burlap in the same place that you've started wondering whether there might be slightly more adult crafting options out there for you to try besides the adorable burlap and button owls you made with your kids? In that case, we'd encourage you to take a look at how Liwen Yun made a stunning floral door wreath using the very things you're interested in, plus some colourful sewing pins and a few fabric scraps!
6. Button topped gift bags
Are you an avid party and event host who's always looking for fun new ways to create simple party favours or goody bags for your friends and families, but you like to keep that on the cheap whenever you can? Then we'd definitely suggest taking a look at how The Life of Jennifer Dawn added buttons and fastening strings to some simple little paper bags, filling them with all kinds of treats and then closing them nice and tightly.
7. Paint stick and button flags
What are the chances that, when you were going through your crafting room to take stock of the household items you've saved up over the years, you also found paint stirring sticks stashed away with your buttons? Then it sounds to us like you already have just about everything you need to make these awesome button and paint stick flag crafts featured on I Heart Crafty Things! Of course, you could get always build the base of the flag with the sticks and then get creative with your buttons and some paints to make different flags of all kinds, no matter where you come from.
8. Button magnets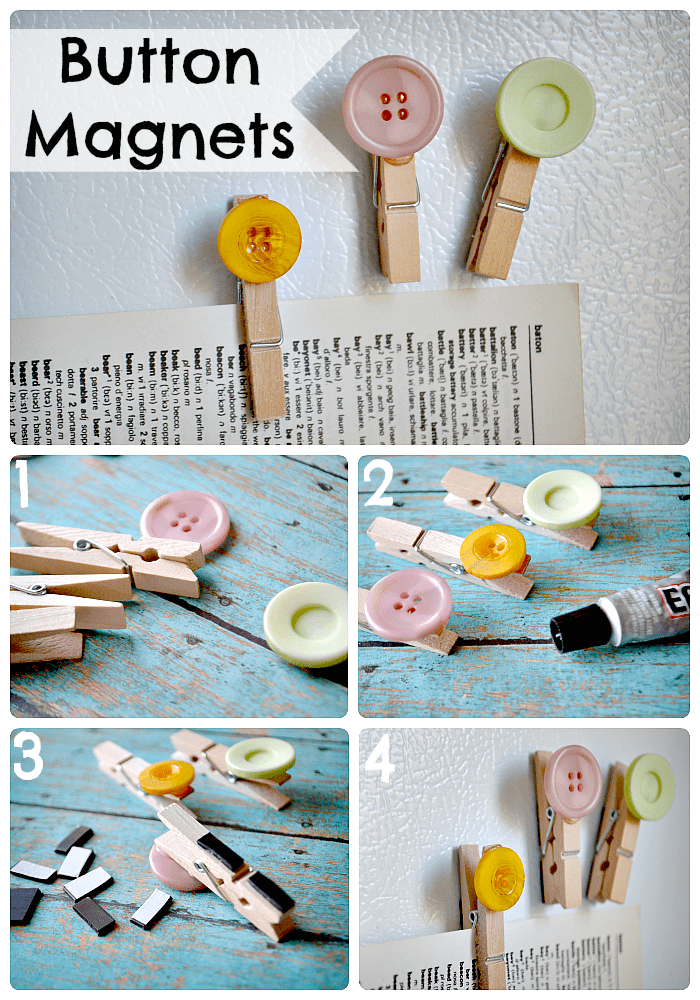 Are you perhaps pleased to see so many mixed material upcycling projects because you've got quite a large array of objects and random things stashed away and you're wondering whether you might use even more things than just paint sticks or burlap with your buttons? Then we'd suggest reaching for that giant bag of wooden clothespins you found that you'll never use up on just your laundry in a million years! The Life of Jennifer Dawn suggests gluing a single, adorably coloured button to the end of each one where you'd pinch it and then flipping them all over to glue pieces of magnetic strips on the back. Voila! Fridge magnets to keep notes, lists, photos, and artwork in on the fridge door!
9. Cute button charm bracelets
Is your mind still on the idea of button jewelry a you scroll but you've always been more of a bracelet person rather than a necklace or earring lover? Perhaps you'd actually like to find a bracelet tutorial so you can make yourself a whole matching button accessory set! In either case, we'd definitely suggest checking out how Mum in The Madhouse made a stunning, delicate looking charm bracelet using jewelry chain, closing links, and buttons in all different colours and sizes.
10. Kids' button flower art
Have your kids been eyeing up your button collecting in an excited way all week so you're intend on finding them something to make with them, but they're also still quite young so you need to make sure it's a simple project? In that case, we'd encourage you to take a look at how The Best Ideas for Kids made adorable flower art using crafting or popsicle sticks as the stem and glued buttons to create the petals, flower centres, and leaves.
11. Easy button and fabric flowers
Were you somewhat interested in the button door wreath we showed you earlier on our list, but primarily only because the fabric flowers with button centres caught your eye, even though you feel like you could actually give or take the rest of the wreath itself? Then here's a tutorial that will help you get more to the point! Catch's Place guides you step by step through the process of making bunched fabric flowers that feature all kinds of colours and patterns, gathering in the centre with any kind of button you please.
12. Simple single button necklace with laces or chains
Do you have some really awesomely coloured buttons in neat shapes or sizes that you like so much you actually feel like you could happily wear them just the way they are and be quite pleased with the look? Then we think you'll be pleased to know that The Life of Jennifer Dawn is totally on your same wavelength! They show you how to make a very simple necklace that gives your button centre stage like a real pendant, suggesting that you fasten it around your neck with a ribbon, a shoelace, or some simple jewelry making chain.
13. Fall button serving tray
Are you actually the kind of crafter who likes to do things that are a little messier, so working with resin is one of your favourite activities? Maybe you'd just like to make any repurposing projects you do a chance to upcycle as many things as possible, all at once, so you're looking to use your buttons to embellish something else. Either way, this adorable button art and resin covered serving tray outlined step by step on DIY Thought sounds like just the project for you! The resin helps even the surface out smoothly so you can actually set things like drinks on the tray without them wobbling on the buttons and spilling as you carry it.
14. Button clasping bookmark
If you're going to craft with upcycled things, would you much prefer to turn them into something practical that you might actually use? In that case, we have a feeling the bookworms scrolling our list will be very pleased indeed to come upon this great idea from Shade Made It! They show you how to use upcycled buttons, ribbon, and old hair elastics to make a clasping bookmark that will certainly never lose your page on you.
15. Cute button paperclip bookmarks
What if you're very interested indeed in the idea of making yourself a cute upcycled button bookmark, but you'd rather have am ore easily movable kind because you want to mark several places at once while you're studying, rather than just hanging onto one specific page? In that case, we think you might prefer the way The Life of Jennifer Dawn fastened buttons to the top of a set of paperclips and created quick, easy, and adorable button bookmarks that way instead!
Have you made other kinds of fun button crafts and projects that you really enjoyed but that you don't see anything quite similar to on our list? Tell us all about how you did it or link us to photos of your finished product in the comments section!