Throw-It-All-In Chicken Chow Mein Recipe
A simple Chicken Chow Mein recipe – loved by kids and adults alike! One of the best things about making chow mein at home is that you can modify it to your own tastes. Like it spicy? Throw in some sliced chillies or sriracha. Don't like chicken? Add in some cooked shrimp at the end. Trying to get extra veg into the kids? Add some peas and broccoli in there too. This meal is so easy and versatile, anything goes!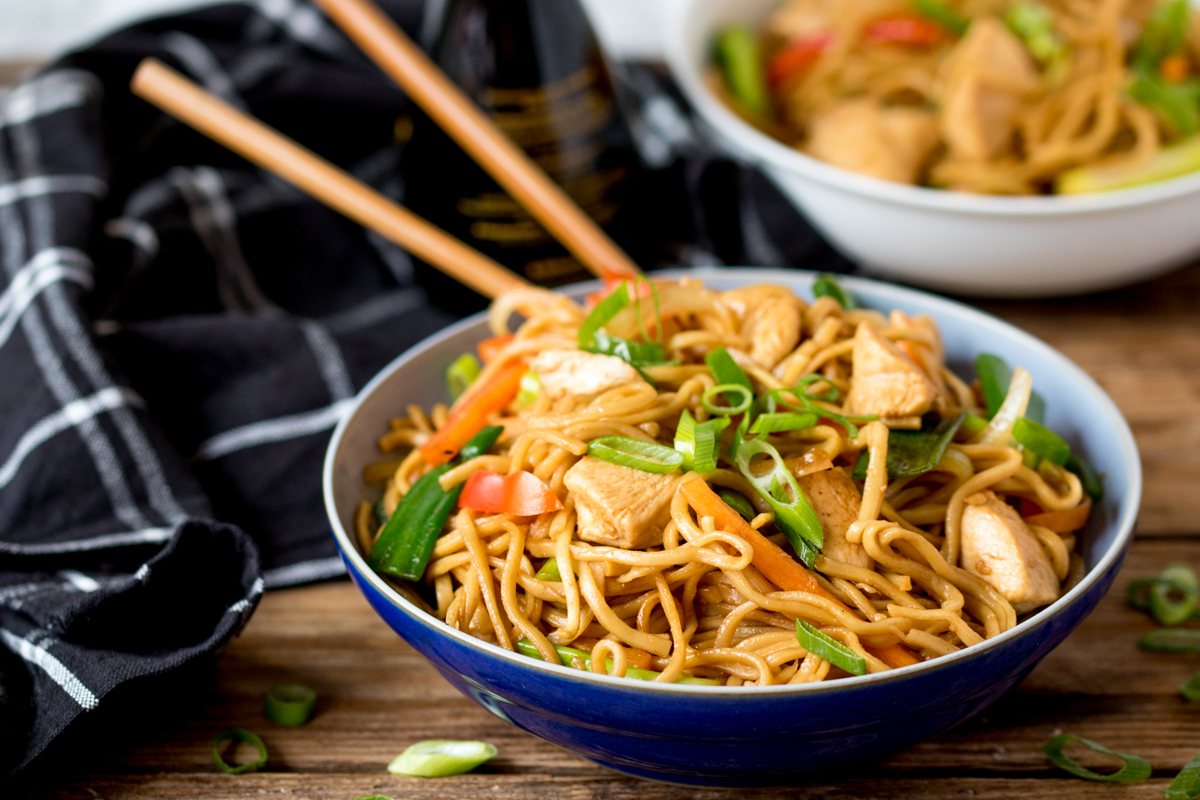 I also like to skip the chicken sometimes and serve the chow mein as a side dish – along with baked salmon or even a fried egg.
You can make it ahead too, and reheat later in the wok – which makes it a great addition if you're cooking several dishes (mmmm how about a Chinese banquet!)
What would you include in your Chow Mein? We'd love to know – tweet us @diyscom!
Here's what you'll need for chicken Chow Mein:
Serves 4
1 x 10-ounce pack of dried egg noodles
3 tbsp vegetable oil
3 chicken breasts, chopped into bite size chunks
1 yellow onion, peeled and sliced
2 cloves garlic, peeled and minced
1 large carrot, peeled and sliced into matchsticks
1 large red pepper, seeded and sliced
10 scallions, cut into 2" lengths
4 tbsp oyster sauce
2 tbsp soy sauce
1 tbsp kecap manis (sweet soy sauce)
¼ tsp white pepper
To Serve:

Directions to prepare a delicious Chicken Chow Mein
Cook the noodles in a pan of boiling water for 4-5 minutes (until just cooked through). Drain and rinse in cold water. Put to one side. Meanwhile, heat the oil in a wok. Add the chicken and cook for 5-6 minutes until just cooked.
Add the onion and cook for a further 2 minutes to slightly soften.
Add the garlic, carrots, red pepper, and scallions. Stir and cook for 1 minute, then add in the noodles, oyster sauce, soy sauce, kecap manis and white pepper.
Fry on a high heat, tossing everything together until warmed through.
Serve topped with chopped scallions