25 Delicious Thanksgiving Stuffing Recipes to Prepare
Thanksgiving is just around the corner, and since Thanksgiving dinner is the highlight of the entire holiday, making sure that everything looks and tastes great is of the utmost importance, and this also includes the Thanksgiving stuffing for the turkey.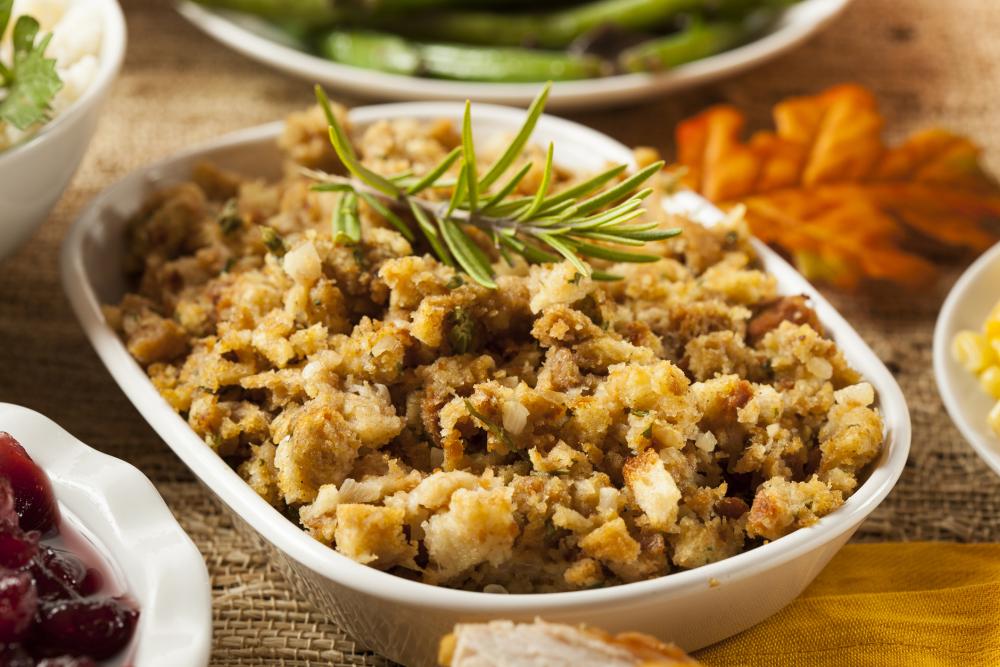 Fortunately, there are some great Thanksgiving stuffing recipes out there that can really help to turn something good into something great.
The main thing to remember when making Thanksgiving stuffing is that you need to make sure that the end result has enough flavor, but not too much. You want someone to be able to taste it, but not be overwhelmed by the taste.
It doesn't matter how good everything else on your Thanksgiving dinner table looks if the stuffing doesn't come out right here is a list of some of the best Thanksgiving stuffing recipes around so be sure to check them out if you want to make your holiday meal the very best it can be.
What Is Thanksgiving Stuffing?
At its simplest, stuffing is a seasoned bread cube mixture of onion and herbs. Traditionally, it's stuffed inside the bird, but many modern-day recipes call for it to be prepared outside of it as a separate dish. When it's cooked this way, it's sometimes called a dressing.
The first step of making stuffing is simply sautéing celery and onion in plenty of butter, which just might be the most incredible smell ever. Then you combine those sautéed aromatics with your dried bread, chicken broth, and beaten eggs and toss until everything's coated and moist before baking.
How to Make Stuffing for Thanksgiving
Thanksgiving dinner isn't Thanksgiving dinner without the stuffing inside the turkey, so here are some of the basic things that you need to know on how to make stuffing for Thanksgiving.
The first thing that people need to do when they start learning how to make Thanksgiving stuffing is figuring out what base recipe they are going to use.
The most common ones tend to be either cornbread or regular breadcrumbs mixed with various spices, but there are literally hundreds of variations out there that people can choose from.
It doesn't matter if someone makes something fancy and complicated or keeps it really simple, as long as it tastes good to the people eating it.
The next thing that someone has to do is to figure out how much stuffing they are actually going to need.
They may want to measure the amount of space in their oven or pan before they start making things, and then make sure that everything holds roughly the same amount.
Once all of this information has been gathered, it's time for someone to start cooking!
There aren't really any complicated steps here; people simply follow whatever recipe they chose and put their stuffing inside something like a turkey before putting them in an oven so it can cook properly.
After a certain amount of time has passed, it will be ready but some basic guidelines are depending on what kind of stuffing someone is making.
For example, if someone is using cornbread then about an hour and a half should be enough time or any other kind of breadcrumb recipe will only take a little over an hour.
When people learn how to make Thanksgiving stuffing they can either prepare it in advance or make it the day of, depending on what their schedule looks like.
Either way works fine as long as it tastes good!
Which Are the Best Thanksgiving Stuffing Recipes of 2021?
Thanksgiving has been around for hundreds of years, so it goes without saying that some recipes have remained unchanged because they have become a hallmark of the holiday.
On the other hand, we're still talking about food, and people continuously experiment with all kinds of stuffings to obtain new and surprising flavors and textures that go well with the traditional turkey meat.
If you are looking for some great Thanksgiving stuffing recipes, look no further. I have put together a list of the best Thanksgiving stuffing 2021 on the internet to make things simpler for you. All these recipes are easy to make and delicious!
1. Keto Thanksgiving Stuffing – Keto Cornbread Stuffing with Sausage
Starting off our list is a Thanksgiving stuffing recipe that is not only delicious, but it's also pretty healthy as well, and it won't ruin your waistline either, since the ingredients make use of very few carbs.
Well, our keto cornbread stuffing with sausage blends together everything you would like to expect from a Thanksgiving dish: enchanting flavors that will really bring out the appetite, as well as a low caloric density.
As far as ingredients are concerned, you'll need 9 cups of crumbled keto cornbread, cooked, 1 lb of ground breakfast sausage, browned and seasoned with your favorite seasonings,1/2 cup chopped onion, sauteed in butter or ghee, dried parsley, or herbs de province, 4-6 cups of chicken stock (or turkey stock if you want to go all out), depending on how wet your mixture is, and 2 large eggs.
All of these ingredients will be whisked until smooth, and then salt and pepper everything to taste!
The recommended ingredients are enough to make 10 servings at about 8g net carbs per serving. You can also use this stuffing as a main dish by adding choice meat like chicken breast or pork chop to increase protein intake.
Unfortunately, the stuffing is so delicious that most people might want to try a bit more than the recommended portion size, so there's no real way around putting on an extra pound during Thanksgiving.
2. Thanksgiving Stuffing Recipe – Grandma's Thanksgiving Turkey Stuffing
When it comes to home-cooked meals, any recipe that has the words "grandma" or "traditional" sounds good, since it's hard to beat a classic, even when it comes to food.
Because of that, the next item on our list is a recipe called grandma's Thanksgiving turkey stuffing, and it's all that it seems to be at first glance: a recipe featuring classic ingredients and old-fashion cooking methods that eventually result in a turkey stuffing that will make you miss your childhood.
To make the stuffing, you'll need about 15 cups of dry bread cubes (croutons will work as well), some chopped celery, some diced onion, butter, salt, ground black pepper, poultry seasoning, chicken stock, and eggs.
In a large pan, brown the beef in the butter over medium heat until golden brown. Set aside and keep warm. Add the onion and celery to the frying pan; saute for 10-12 minutes, or until the onion and celery are soft.
Place the bread cubes in a large mixing dish. Over the breadcrumbs, slowly incorporate the butter, onion, and celery mixture, and stir in all remaining ingredients thoroughly.
Spray a 2-quart casserole dish with cooking spray, and fill the prepared dish with stuffing. Bake at 350 degrees for 30-35 minutes, or until your entire mixture is golden brown and delicious-looking.
Admittedly, the recipe itself isn't exactly something you should eat in bulk, since there are a lot of carbs involved, but truth be told the stuffing is just too good to stop at just one serving, so it's understandable if you survive Thanksgiving with just a few extra pounds.
3. Thanksgiving Dressing – Simple Is Best
Another popular word for Thanksgiving stuffing is "Thanksgiving dressing", and while one may sound like the thing you fill the turkey with and the other sounds more like the stuff you cover the turkey with, the truth is that these two dishes are exactly the same thing.
Well, in terms of Thanksgiving stuffings and dressings, the purpose is to enhance the favor of the turkey without actually distracting your attention from it, and in order to do so, it's always best that you keep the recipe as simple as possible, and that's how the "Simple is Best" thanksgiving dressing came to be.
To make this dressing in your own home, you'll need a lot of unsalted butter, white bread that has been torn into 1-inch pieces, some chopped yellow onions.
As for the flavoring, you'll need sliced celery, some chopped flat-leaf parsley, sage, rosemary, and thyme, a little kosher salt, freshly ground black pepper, low-sodium chicken broth, and vegetable broth in equal amounts, and lastly some eggs.
In order to cook these ingredients, you'll have to preheat the oven to 250°F. Butter a baking dish and set it aside, scatter bread in a single layer on a rimmed baking sheet and bake for 1 hour, stirring occasionally. Once it's done, allow it to cool before transferring to a large mixing bowl.
Meanwhile, melt 6 ounces of butter in a large pan over medium-high heat. Cook the onions and celery in the butter, stirring frequently until golden brown, about 10 minutes. Combine with the bread; add the herbs, salt, and pepper. Gently drizzle in half of the broth before serving.
You'll then have to preheat the oven to 350°F. In a small mixing bowl, whisk the other half of broth and eggs. Add to the bread mixture and gently fold until completely combined. Place in an uncovered dish and bake for 40 minutes, or until an instant-read thermometer inserted into the center of the dressing reads 160°F.
Once everything is cooked, remove the dressing from the oven, keep it on a wire rack, and allow it to cool slightly before serving (either warm or at room temperature). The dressing will set as it cools and crisp up as well (if refrigerated, add 10-15 minutes).
4. Thanksgiving Dressing Recipe – Mushroom Stuffing
You may have noticed how all of our Thanksgiving stuffings and recipes so far use cornbread or regular bread as their core ingredient, and while that's how it's traditionally made, there's nothing bad about straying a bit from the recipe, especially if you want to watch those carbs.
Thus, if you want a Thanksgiving dressing recipe that tastes good and is also very healthy, you should try out the mushroom stuffing, since you might be surprised just how well it goes with the taste of turkey meat.
To make enough stuffing for one big 12-pounds turkey, you'll need one pound of freshly sliced mushrooms, 6 tablespoons of butter, 1 cup of diced onions, 1 cup of chopped celery, poultry seasoning to the taste, salt to the taste (if there isn't any in the poultry seasoning), and some ground black pepper.
You'll also need to add dried bread crumbs (yes, they're here in this recipe as well), enough hot chicken broth to melt everything together, 2 beaten eggs, 2 cups of peeled diced apples, and some chopped parsley.
Butter an oven-safe pan, and preheat the oven to 375 degrees Fahrenheit (190 degrees Celsius), and remove the mushroom stems, then rinse and pat them dry.
In a large saucepan, melt the butter over medium heat, then stir in the mushrooms, onion, and celery; saute for 5 minutes before removing from the heat, and season your mix with poultry seasoning, salt, and pepper while stirring.
Combine bread crumbs, broth, and eggs in a mixing bowl, and then add the mushroom mixture, apples, and parsley; mix until combined, then pour it all over the prepared baking dish.
Cover and bake for another 45 minutes at 375 degrees F (190 degrees C), then remove the cover and bake for 15 minutes longer until the top of your dressing gets all brown and even a bit crunchy.
5. Traditional Stuffing Recipe
The one dish that's always there on Halloween is the roast turkey, and while it's true that it has become the face of the holiday, the second most popular dish is arguably the stuffing, and truth be told that it's so good that many are wondering why we only cook it once a year.
Well, just how the turkey has a tradition of being forever present on thanksgiving, so does the stuffing have a certain recipe that needs to be followed if you want to label it as "traditional".
To make your own traditional stuffing like this one from Delish, you'll need 2 large baguettes, 8 tbsp. of butter for the mixture, and an extra one to oil up the baking dish, one large diced onion, 4 stalks of thinly sliced celery, 2 cloves of minced garlic, some chopped parsley, thyme, sage, and rosemary, some kosher salt, some low-sodium chicken broth, and 2 large beaten eggs.
On the day before you make the stuffing, tear or cut bread into 1/4-inch pieces and set out to dry overnight, or you can cook the bread on baking sheets at 200° for 20 minutes if you are under time constraints.
When it comes to making the stuffing, preheat the oven to 350 degrees and butter a large baking dish. In a large skillet over medium heat, melt the butter. Add the onion and celery and cook until soft and fragrant for about 8 minutes. Stir in the garlic, parsley, sage, thyme, and rosemary while cooking for 1 more minute, and then season with salt and pepper before serving.
In a large mixing bowl, combine the bread and skillet combination. Toss to combine. In a small mixing dish, whisk together chicken broth and beaten eggs and pour over the bread mixture. Season generously with salt and pepper and toss until thoroughly coated.
Remove the bread from the oven and let it stand for five to ten minutes before thinly cutting. Pour into a large mixing dish along with all of the sauce ingredients. Use an electric mixer or shaking pan to combine them until they're smooth.
Cover with foil and bake for 45 minutes, then remove it and cook for another 15-20 minutes, or until bread is golden brown on top.
The recipe is easy to follow, and everyone at the table will have a hard time deciding whether they want an extra serving of turkey or an extra serving of stuffing.
6. Best Thanksgiving Stuffing Recipe – Crispy Black Rice and Chinese Sausage Dressing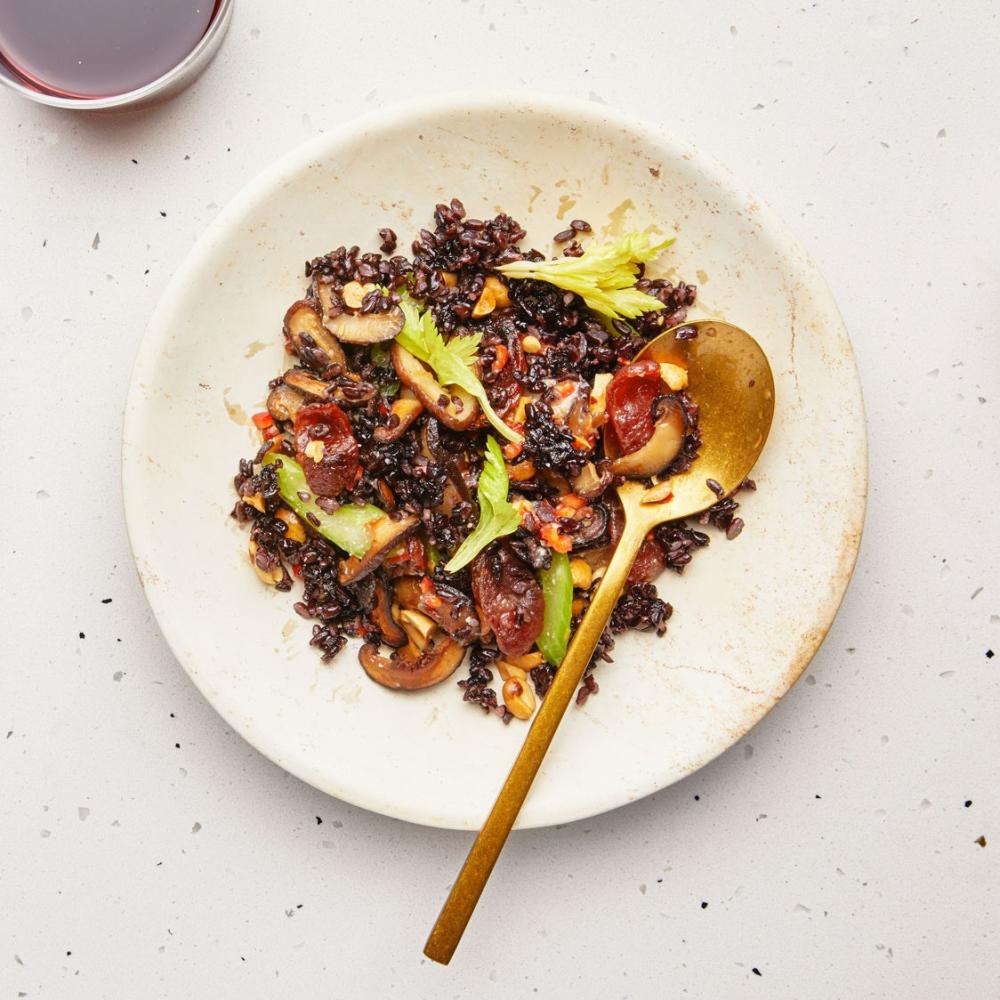 If you're particularly fond of Asian food, the best Thanksgiving stuffing recipe that you could ever try is this crispy rice and Chinese sausage dressing that will fill your stomach on Thanksgiving dinner and make you excited about the Chinese New Year.
You'll need 2 red Fresno finely chopped chiles, a quarter cup of unseasoned rice vinegar, 2 tbsp. of white miso, 1 tbsp. of maple syrup, 7 tbsp. of neutral oil, 4 cups of cooked black rice that you then leave out to cool down, and half a tbsp. of kosher salt.
The bulk of the stuffing is made up of 6 ounces of Chinese sausages that have been thinly sliced, 3 celery stalks chopped up into quarter-inch pieces, 6 ounces of shiitake mushrooms that had their stems removed, and half a cup of roasted salted peanuts.
In a mixing dish, whisk the chiles, vinegar, miso, maple syrup, and 1 Tbsp. oil to combine, and set aside until needed.
Place the rice in a large nonstick pan and add 2 tablespoons of oil. Press the rice into a flat, uniform layer while it's still cold. Stir lightly halfway through cooking to avoid sticking. 7-8 minutes until the underside is crisp (feel it; it should be crackly).
Cut the rice into a few large pieces. Then turn it and cook until crispy. Add salt to the rice and then break up any crispy bits with your hand. Put all this into a large bowl like the one on the counter next to you.
Put sausages and celery in a pan, put oil in the pan too, and cook them until they're brown and crisp-tender, and then add this to rice.
Put the leftover 3 tbsp. of oil in the same skillet over medium heat. Let it get really hot, about 1 minute. Add mushrooms and toss them once or twice to make sure they are coated in oil.
Then, put half a tsp. salt on the mushrooms and cook them for 4-5 minutes until they are brown underneath, all while you cook the vegetables until they are softened and browned. This will take 3-4 more minutes.
When the rice mixture is cold, put it back in the pan. Cook until it gets warmer. Put vinegar dressing and peanuts on top of the rice mixture and then mix them up, all while you taste to see if you need more salt.
Finally, place the rice on a serving dish. Celery leaves may be used as a garnish.
7. Thanksgiving Sausage Stuffing – Classic Sage and Sausage Stuffing
Sausages and Turkey go together like Mac and cheese, so it shouldn't be a surprise to anyone that so many recipes rely on this combination, but if you really want a Thanksgiving sausage stuffing that will really surprise you with its abundance of flavor, you should try this recipe for classic sage and sausage stuffing.
You'll need 2 and a half pounds of sandwich bread, a stick of butter, 1 and a half pounds of skinned sage sausage, one large finely chopped onion, 4 finely chopped celery ribs, 2 minced cloves of garlic, a quarter cup of minced sage leaves, salt, and pepper, 1-quart of low-sodium chicken or turkey stock, 3 whole eggs, and a quarter cup of minced parsley leaves.
To start, turn the oven to 275 degrees Fahrenheit and place the racks in lower-middle and upper-middle positions. Make sure that you put bread on 2 baking sheets.
Put the trays of bread on oven racks and bake them for 50 minutes. Every time you take them out, mix them around and move them to a new oven rack. Take your bread out after it is cooked and put it in a bowl to cool. Then turn the oven up to 350°F (180°C).
In a big pot, put butter and heat it. It will foam up when it's ready. Add sausage and break them into little pieces with the whisk or potato masher. They should be no bigger than 1/4 inch long.
This is how to make soup. You need the ingredients. Start by cooking vegetables first, then add chicken stock. Cook for 10 minutes, stirring often. Add the soup ingredients and cook for another 8 minutes before removing from heat.
Put the eggs, stock, and parsley in a bowl, mix them until they are all mixed up, and slowly pour this mixture onto the sausage mixture while stirring with a spoon while adding the bread cubes so they are all mixed up too.
If you want to cook stuffing in the turkey, you need to use some of the stuffing. If not, put it in a buttered 9- by 13-inch rectangular baking dish (or 10- by 14-inch oval dish), cover tightly with aluminum foil, and bake until it is cooked through.
Remove the foil, put it in the oven for 15-20 minutes, then take it out, sprinkle with parsley, and your sausage stuffing is ready to be served to your excited guests!
8. Best Thanksgiving Stuffing – Sourdough Stuffing with Sausage, Cranberries, and Apples
Cranberries and apples are another fan-favorite when it comes to Thanksgiving dinner, as they are the main ingredients for desserts, sauces, dressings, and apparently even the turkey stuffing.
So, if you're one of those people that don't mind mixing in sweet and sour flavors in your dishes, you'll definitely fall in love with this recipe for sourdough stuffing with sausage, cranberries, and apples.
You'll need some sourdough bread, Italian sausages, unsalted butter, onions, Granny Smith apples They are the sourest types available), dried cranberries, some fresh parsley, thyme, and sage, salt and pepper, and some homemade or storebought turkey or chicken broth.
We're going to start by warming the oven to 350°F, then we're going to put a thin layer of butter in a baking dish.
Take the bread and put it on 2 baking sheets that are rimmed. Toast for about 15 minutes, then take them off and then put them in a big bowl.
Meanwhile, cook sausage in a skillet. Cook it until it is no longer pink and then take it out of the pan with a spoon and put it into a bowl that has bread in it.
Put the butter in the pan and turn it on to medium. Add the onion after 5 minutes, and add apples after 7 minutes, and when those are done as well, put in cranberries, parsley, sage, thyme, salt, and pepper.
Add the onion mixture to the bowl, all while slowly pouring the broth into the bowl, while stirring.
Put the bread mixture in a dish that is ready to cook, then put butter on the top of the dish with foil over it. Cook for 40 minutes, then take off the foil and cook until it is golden brown.
You can refrigerate the stuffing for up to 2 days, and when you need to reheat it, cover the dish in foil, and heat it for about 25-30 minutes at 375ºF.
The results are delicious, and your guests will definitely praise your mastery over mixing the different flavors of autumn.
9. Thanksgiving Stuffing Recipe Easy – Budget-Friendly Stuffing
Everybody talks about how Thanksgiving needs to be a time when you all gather around a large table and feast, all while feeling thankful for the things that you have, but the truth is that most of the time we should be thankful if we still have any money after spending it all on Thanksgiving food.
Of course, Thanksgiving doesn't need to be so taxing your budget, especially if you do it right, and you can start off by keeping things simple, like with this budget-friendly Thanksgiving stuffing recipe!
You'll need 2 small diced onions, 4 diced celery stalks, butter, poultry seasoning, sage, black pepper, salt, bread cubes (or croutons), chicken or turkey broth, fresh parsley, and some fresh herbs to give the stuffing a very alluring aroma (e.g. sage, rosemary, and thyme).
Set the oven to 350°F, put butter in a pan and turn it on, cook onions, celery, and poultry seasoning (and rosemary if you want), and then cook the entire mixture for about 10-12 minutes.
Put bread cubes in a bowl, add the onion mixture, parsley, and fresh herbs to the bread cubes, and then pour the broth to cover the bread cubes or croutons, and finally season with salt and pepper to taste.
Put the mixture in a dish, pour butter on it, cover with a lid, and then bake for 35 minutes. Then uncover and leave it for 10 more minutes.
These ingredients will be enough for about 12 servings, and everything should be finished from A to Z in a bit over an hour, and as far as storing it is concerned, you can keep it in the refrigerator for about 48 hours before the taste starts to change.
10. Thanksgiving Turkey Stuffing – Cornbread Stuffing with Chorizo
We already talked about a Chinese take on the traditional Thanksgiving turkey stuffing, so now it's time we presented to you something with a Mexican twist to it: the cornbread stuffing with chorizo!
The flavor is fantastic, especially if you like things to be on the spicy side, while the presence of other more classical ingredients will make sure that the taste doesn't stray too far from that of what you'd expect from a traditional Thanksgiving stuffing.
That being said, you'll need some cornbread, Mexican chorizo, sauteed onions, celery, and garlic, sage, thyme, and rosemary, turkey, chicken and vegetable stock, and eggs.
To make the stuffing, you need to cook the chorizo in a large skillet until it becomes browned (about 5 minutes over medium-high heat).
Then add in the veggies and herbs. Add onions, celery, garlic, sage, thyme, and rosemary. Cook this for about 10 minutes until the onions and celery have softened a little.
Next, you should add the cornbread to a large baking dish that has been greased, but first, chop the cornbread before adding it in, but do not chop it up too finely, since you still want it to be able to stay together, and add the cooked chorizo mixture and stir until everything is mixed together.
Put the chicken stock and egg together in a bowl or cup. Then, pour it on top of your cornbread, and finally, bake everything in a 350°F oven for 25 minutes and that's it!
The cornbread pieces at the top should get a little toasted and crunchy. The layer below should be infused with the juices from both the chorizo sausage and herbs.
This is probably one of our more flavorful stuffings, and we recommend that you make more than the original 12 servings, since it's highly unlikely that your guests will be able to resist eating just one.
More Homemade Stuffing for Thanksgiving
As mentioned earlier, trends change, and while the previous 15 entries are the most sought-after stuffing recipes of 2021, let's not forget that there are also plenty of timeless classics that deserve recognition.
That being said, if you received plenty of praise from your guests these past few years for the turkey stuffing you used, you might as well stick to these 15 other recipes for homemade stuffing for Thanksgiving
11. Thanksgiving Stuffing – Mole Roasted Turkey with Masa Stuffing and Chili Gravy
Are you looking for a way to spice up your Thanksgiving dinnerjust a little bit? Then we've found something we think will intrigue you! Epicurious guides you through the process of roasting your turkey ever so slightly differently so that it's got a touch of spice to it.
They also help you add some spice to things by making a masa curried stuffing to go inside, as well as by topping things off with a chili gravy rather than your milder classic flavor!
12. Sweet and Savoury Cornbread Stuffing Recipe
Have you always been a huge fan of the whole sweet and savoury trend that's taking the snack foods world by storm? Well, we can't say we blame you and, in fact, we love sweet and salty flavours so much that we'll take any opportunity to incorporate that kind of flavour into our actual meals themselves as well.
That's why we were so excited when we found this amazing sweet and savoury stuffing recipe fromHome With Heartland.
13. Hawaiian Sweet Bread Thanksgiving Stuffing
Perhaps you love stuffing the most of anything on the table (we really do, to be honest), but you're having many, many guests over because your family is big? Chances are good, then, that you're going to need more than just the smaller amount of stuffing that will actually fit inside the bird to cook.
That's why we sometimes make a more casserole-like stuffing or sweet bread dish! If you're looking for one that's a little fancier in flavour to try out this year, here's a delicious Hawaiian recipe fromMy Recipe Magic that involves pineapple!
14. Cauliflower and Pecan Thanksgiving Stuffing Recipe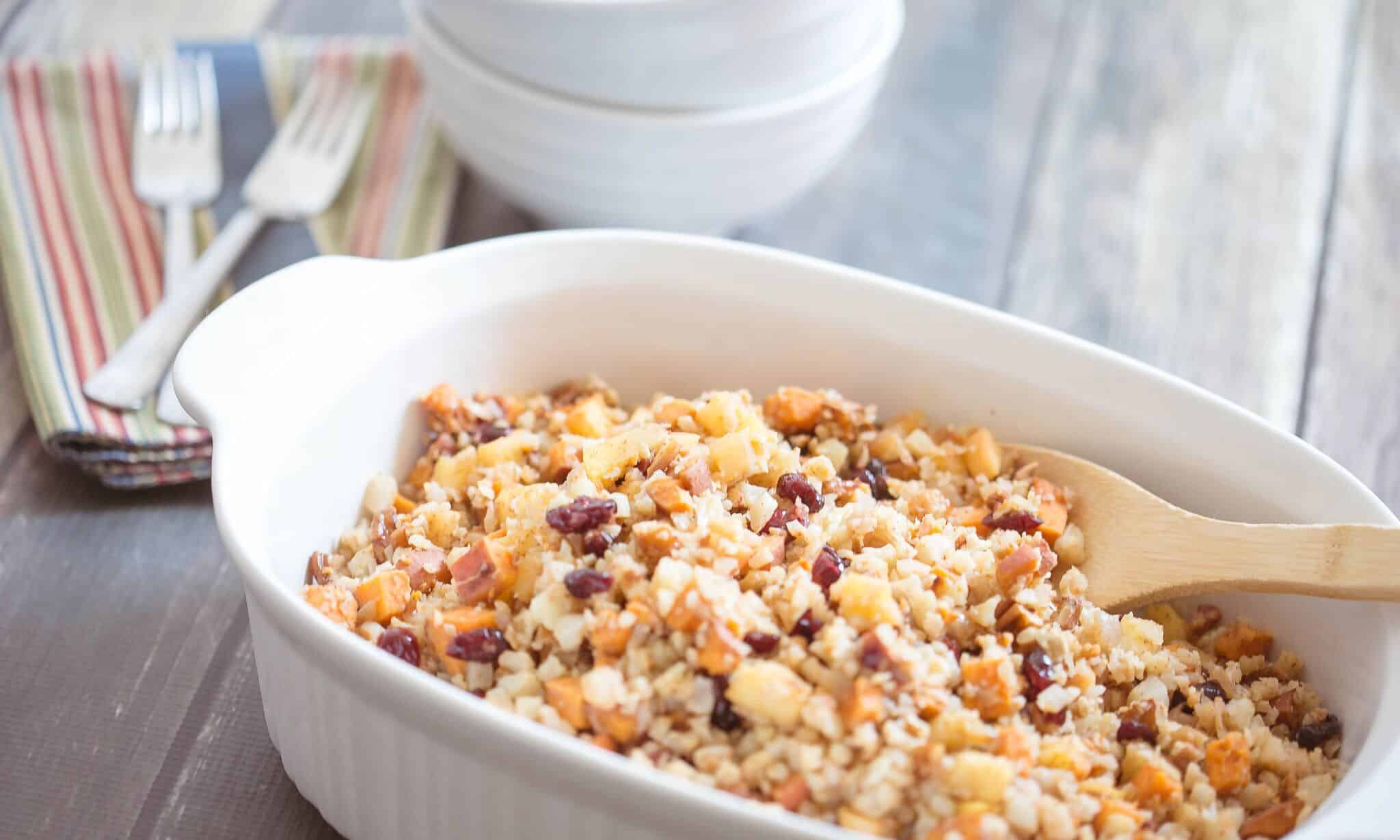 Have you always been a nut lover because they add such a rich flavour to just about anything? Then we have a feeling you're going to love this cauliflower and pecan stuffing fromLiving Well, Spending Less!
As long as no one's allergic to nuts, we think you'll appreciate this cauliflower and pecan Thanksgiving stuffing, particularly if you're trying to count your calories even through the holiday or if someone coming to your dinner is gluten intolerant.
15. Cornbread Thanksgiving Stuffing with Green Olives and Pecans
Do you prefer a stuffing or bread casserole that really gives you that filling, super satisfying bread texture, but you want to make one this year that's also chock-full of unique flavor?
ThenSimply Recipes hasjust the recipe for you! They show you how to make a cornbread-based Thanksgiving stuffing that incorporates an interesting but basically ingenious combination of pecans and green olives.
16. Delicious Vegetarian Thanksgiving Stuffing
Do you have some family members who can't or choose not to eat meat, but your family's traditional stuffing recipe has always involved turkey cooking and gravy?
Well, adjusting the recipe without losing the flavour everyone loves or making an additional meat-free dish doesn't have to be a hassle at all! Check out this shockingly simple but completely delicious (seriously, we've actually tried it) vegetarian stuffing recipe fromThe Cottage Market.
17. Cornbread and Oyster Thanksgiving Stuffing
Perhaps, even though you're a big Thanksgiving fan, yourreal favourite meals have always been seafood dishes? Then we think you'll love this extra unique stuffing dish fromChow Hound!
They show you how to make a cornbread stuffing, which might not be anything new to you, but instead of adding raisins or pecans, they made theirs with mouth-watering smoked oysters!
18. Hamburger Stuffing Recipe

Have you already got all of the "adult dishes" sorted out and ready to make but you usually try to incorporate some type of slightly novelty "kid dish" on the menu to make sure the little ones have a familiar flavour and really eat enough at dinner?
Then wedefinitely think you should give this hamburger stuffing recipe a try! Potato Rolls shows you how to make it happen with hamburger meat and some fragrant spices.
19. Stove Top Stuffing Pizza Recipe
Perhaps you're actually working through the holiday season and you can't make it to the big family dinner this year, so you're looking for something lightly Thanksgiving-inspired but still delicious? In that case, here's a fun meal that's totally easy to make and will serve one or two, depending on how small your dinner will be.
Check out howThanks, Mail Carrier used store-bought stuffing mix to create- get ready for it- a stuffing pizza. It's like something overworked university students would dream of!
20. Mushroom and Fennel Bread Pudding Thanksgiving Recipe
Perhaps you're still thinking about the idea of a delicious bread pudding baked to perfection, but neither pineapples nor green olives are quite holding your attention when it comes to the recipes we've shown you so far? In that case, here's a great alternative for you to try instead!
Chow Hound suggests putting mushrooms in your bread pudding to give it some satisfying substance and then adding fennel for some extra great taste.
21. Thanksgiving Sausage Stuffing
Are you actually a huge meat lover who will incorporate as many different kinds of meat as possible into your meal at any chance?
Our family often does turkey and ham (we know that technically ham is really more of an Easter tradition, but it's just too good to pass up), but sometimes we make side dishes that give useven more options! That's why we loved discovering this delicious Thanksgiving sausage stuffing recipe from Potato Rolls.
22. Thanksgiving Stuffing Recipe – Winter Baked Stuffed Apples
Does your family practice the tradition of making a sweet side dish with your entrée before the dessert even arrives to the table? Then we've got a great alternative, just in case the most common ambrosia salad isn't an option because you don't like marshmallows.
Crafty Cake Creative guides you through the process of making stuffed baked apples filled with a sweet, tasty granola mixture.
23. Homemade Tofurkey and Brown Rice Thanksgiving Stuffing
Perhaps someone attending your meal is vegan and you want to make sure that they have enough to eat and get to try something delicious, rather than just picking their way around the vegetables on the table and ending up still hungry at the end of the meal?
Then wedefinitely think you should check out this delicious tofu turkey alternative! We love the wayChow Hound stuffed their "tofurkey" with a fragrant vegan stuffing to really make sure everyone's left satisfied.
24. Twice Baked Orange Cinnamon Sweet Potatoes Thanksgiving Recipe
In addition to your mashed potatoes, are youalways a big fan of serving sweet potatoes as well, but you want to make sure the two dishes aretoo similar so that one doesn't get eaten?
In that case, we think you should take a look at these incredibly delectable twice-baked sweet potatoes from Edesia's Notebook! The filling is flavoured with orange and cinnamon to bring a really unique fall taste to your plate.
25. Delicious Thanksgiving Stuffed Mushrooms
Are we really catching your attention with all of these delicious Thanksgiving stuffing recipes but you just haven't seen the one yet that's quite calling your name? Then here's one last attempt to really help you out!
These stuffed mushrooms make the perfect bite-sized side dish and you only need one or two to make sure everyone gets a taste of that delicious combination.Simply Recipes shows you how to stuff and bake them with a filling made fromshallots, garlic, walnuts, breadcrumbs, chopped mushroom stems, and parmesan.
Best Thanksgiving Stuffing Recipes: Conclusion
Thanksgiving stuffing doesn't have to be difficult, and there are plenty of awesome Thanksgiving stuffing recipes out there that people can use to give their holiday dinner a little extra flavor.
Everyone has their favorite way of making it, and each person has their own reasons for liking the recipe they like best.
Like any other aspect of the food, less is more for this dish. You don't want someone to be able to taste it from across the table, but you do want them to have a little bit of something on their plate that is different from everything else they are eating.
There are plenty of awesome, easy-to-make Thanksgiving stuffing recipes out there that people can use to give their holiday dinner a little extra flavor no matter what they're serving with it!
By checking out these awesome Thanksgiving stuffing recipes, you'll have no problem finding something that will turn your good meal into an awesome one that everyone will enjoy for years to come.
To read more Thanksgiving-related articles, simply go ahead and browse the rest of our website, since we've written plenty of articles, especially ones that cover the delicious dishes that will fill your Thanksgiving dinner table.
However, if there's something in particular that you'd like to read about, tell us about it in the comments section below, and we'll make an entirely new article based on that subject in no time!
Happy Thanksgiving!