15 Delicious Stuffing Recipes to Prepare for Thanksgiving
Thanksgiving is coming and, if we're being honest, it just might be our absolute favourite holiday when it comes to sharing a meal with our family! We meant that, of course, in the sense that we enjoy sharing time with our loved ones, but we'll fully admit that we also mean that in terms of the food itself. Some of the very best entrees and side dishes in the whole world get served on Thanksgiving! Now, we're always big turkey fans, but in our family, it's really the awesome stuffing that all of our family members bring along that really make the meal.
Just in case you're on the search for some new and especially delicious stuffing recipes to try out this Thanksgiving, here's a list of 15 mouth watering recipes to help you along! We're barely resisting make all of them at once for our family dinners at the end of the week.
1. Mole roasted turkey with masa stuffing and chili gravy
Are you looking for a way to spice up your Thanksgiving dinner just a little bit? Then we've found something we think will intrigue you! Epicurious guides you through the process of roasting your turkey ever so slightly differently so that it's got a touch of spice to it. They also help you add some spice to things by making a masa curried stuffing to go inside, as well as by topping things off with a chili gravy rather than your milder classic flavour!
2. Sweet and savoury cornbread stuffing
Have you always been a huge fan of the whole sweet and savoury trend that's taking the snack foods world by storm? Well, we can't say we blame you and, in fact, we love sweet and salty flavours so much that we'll take any opportunity to incorporate that kind of flavour into our actual meals themselves as well. That's why we were so excited when we found this amazing sweet and savoury stuffing recipe from Home With Heartland.
3. Hawaiian sweet bread stuffing
Perhaps you love stuffing the most of anything on the table (we really do, to be honest), but you're having many, many guests over because your family is big? Chances are good, then, that you're going to need more than just the smaller amount of stuffing that will actually fit inside the bird to cook. That's why we sometimes make a more casserole-like stuffing or sweet bread dish! If you're looking for one that's a little fancier in flavour to try out this year, here's a delicious Hawaiian recipe from My Recipe Magic that involves pineapple!
4. Cauliflower and pecan stuffing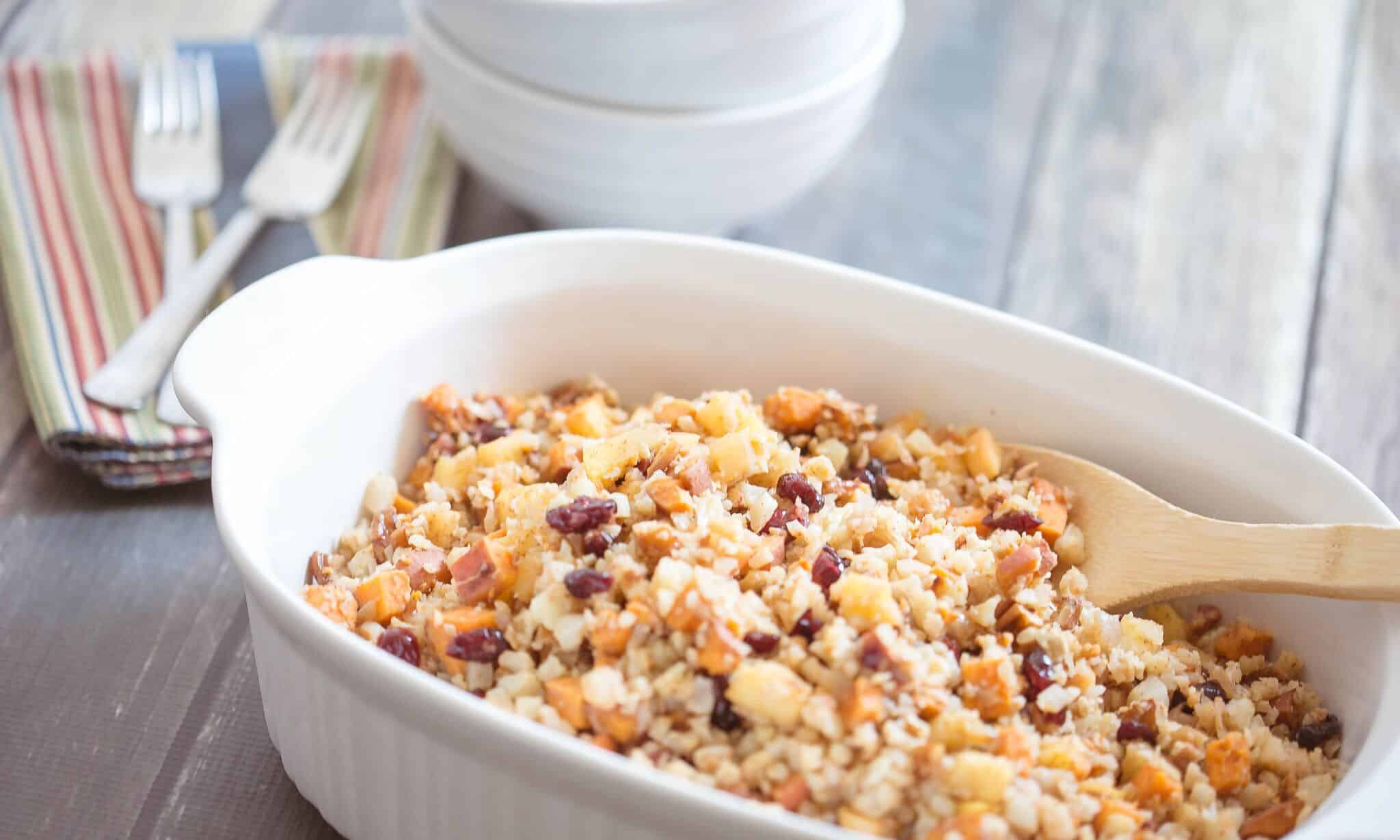 Have you always been a nut lover because they add such a rich flavour to just about anything? Then we have a feeling you're going to love this cauliflower and pecan stuffing from Living Well, Spending Less! As long as no one's allergic to nuts, we think you'll appreciate this cauliflower and pecan stuffing, particularly if you're trying to count your calories even through the holiday or if someone coming to your dinner is gluten intolerant.