25 Wonderful Things You Can Make With Pipe!
Industrial-styled furniture, copper beauties or unique ideas you may have never thought to try, even a novice DIYer can craft some wonderful things out of pipe. And we're here to show you how! We've compiled a wonderful list of 25 different things you can make with pipe.
Take a peek, get inspired and get to work!
1. Shelving
Create something magical for your larger living room, kitchen or office space with the help of DIY Show Off. You'll have an industrial accent and functional, unique piece to organize and display.
2. Lighting
Hello Lidy shows us how to make a makeshift chandelier with a masculine, edgy style. With some easy materials, you too can create this funky, focal piece for any space of the house.
3. Towel Holder
Squirrelly  Minds made us squeal with this genius idea. She took something boring and made it fresh and stylish for the kitchen – the best part is how easy it is to do yourself.
4. Drawer Pulls
Upcycle an old dresser just like Upcycled Treasures did! A fresh coat of paint and some new hardware made this piece become an absolute stunner. And all it took was some copper piping.
5. iPad Holder
A Bubbly Life grab some copper pipes and created a handy essential for the kitchen. Pop up your iPad to watch your favorite show during meal prepping or follow a recipe with ease.
6. Stools
Are you in need of something a bit edgy for the craft room? Try your hand at making these industrial-styled stool from Love Grows Wild.
7. Garment Rack
A Beautiful Mess took plumber's pipe and helped with closet organization. In need of a garment rack? Make one from scratch as you follow this easy tutorial.
8. Plate Rack
Shanty 2 Chic took a kitchen and dining room delight into a whole new world with this fabulous DIY. Display your plates or create some extra store with this chic addition.
9. Side Table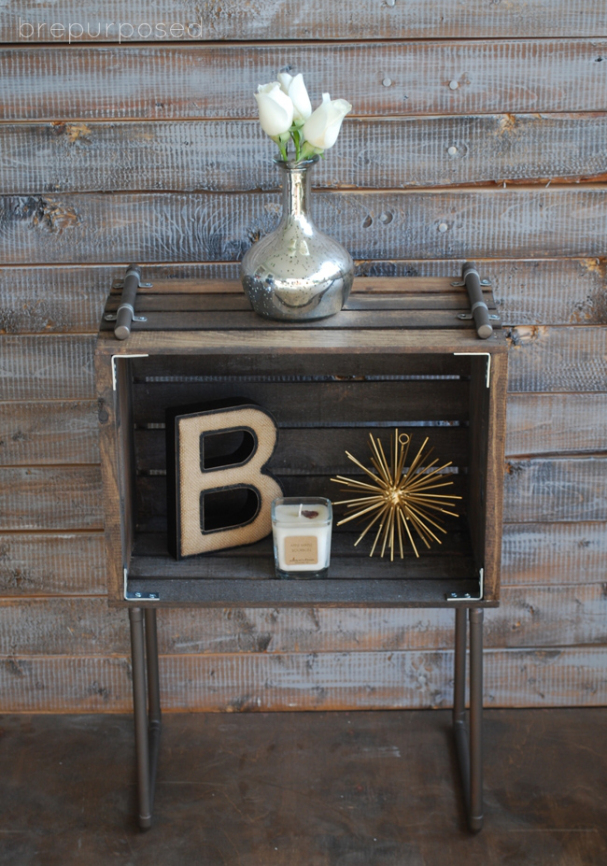 A quirky side table to dress your dorm room or apartment in style can be made from scratch. Grab some piping and some crate and Bre Purposed's direction.
10. Firewood Holder
If you have the space and the fireplace then this DIY  from The Cavender Diary is exactly what you need for when the colder months hit home. Organize your firewood in an easy and chic way – who knew you could even do that?!
11. Wine Rack
PVC pipe can become quite the artistic medium and if you visit The FHD, you'll find out how they created this modern-styled wine rack. And then, go make one for yourself.
12. Bar Cart
We're in love with this bar cart brought to us by Wien 1900. It's industrial, it's trendy and it blends well within a lot of different interior design themes, making it perfect for entertaining.
13. Plant Stand
Brit+Co made this quaint and adorable little plant stand without getting their hands too, too dirty. It's a great project for a beginning DIY ready to do something a bit more experienced.
14. Accent Table
We're in love with this artistic, beautiful piece of furniture from Home Depot. Find out how to make it and then dream of all the ways to accent your home with it.
15. Pencil Holder
A Fabulous Fete made an adorable accent for any crafter or home office. Have your pens and pencils ready at a moment's notice with this chic holder made from small, copper piping.
16. Tape Dispenser
Organize and become a bit more functional by creating this PVC pipe tape dispenser from Left Brain Craft Brain. Create less of a mess and have your tape right on hand during projects.
17. Shoe Rack
Stack PVC piping and create a show rack with ease. This idea from House Beautiful is perfect when you're hurting for space but want to stay organized.
18. Laptop Table
House of Jade brought us this wonderful laptop table idea. Whether at home or away at school, just pull-up this easy-to-make laptop table to make homework a bit more comfortable or work more manageable.
19. Console Table
Handmaid Tales made a chic console table that's doable for anyone that wants to take the plunge. It's a great way to bring some hipster style into the foyer or spruce up the living room.
20. Coffee Maker
Every college student around is going to want to try and recreate this coffee maker from HomeMade Modern. It's stylish, it's chic and the best part … it works!
21. Curtain Rod
Lemon Thistle gives us an easy, minimalistic way to style and cultivate a home. Use copper piping as curtain rods for a more fashion-forward feel.
22. Magazine Stand
Zana shows off this precious magazine rack that everyone can create if they have a few minutes time. We love its posh appeal and contemporary vibes.
23. Table
Dive into something bigger with 4Men1Lady and learn how to create a tabl for the patio or even inside your dining room if you're looking for something a bit industrial.
24. Entry Table w/ Shelves
Hindsvik gives us an idea that not only works as shelving but also as an entry table or console table. We love all the possibilities one can have for accenting and styling.