15 Unique Tealight Candle Projects
We've written about DIY candle projects a number of times before because, to be honest, there are just too many good crafting opportunities out there to fit into just one post. Whether you're actually physically making your own candles themselves or perhaps just creating something that a candle will look nice standing in, we're sure you've noticed by now that candles are a crafting enthusiast's dream in terms of versatile DIY supplies. If you ask us, however, tea light candles are particularly great to craft for and with because their low height and uniformed rounded shape makes them easier to size and fit neat designs to.
Check out these 15 awesome DIY projects that were conceptualized specifically for little tea light candles and that will help you keep your place glowing any time you please!
1. Washi tape tea light candles
As you probably already know, if you're any kind of crafting enthusiast, tea light candles actually already come in their own miniature "holder". For the most part, tea lights are made and sold in a small metal tray that gives them their shape and makes them so easy to insert into other designs. If you're really hoping to keep things incredibly simple in terms of tea light candle holders, Cheap Crafting suggests decorating what's already in front of you! Try wrapping washi tape around the edge of the original little silver tray, matching the colours and patterns on your tape to the event décor scheme or the room around you, depending on what you're using the tea lights for.
2. DIY bottle cap tea lights
Are you in love with tea light candles but you'd actually prefer to make your own miniature ones from scratch rather than just buying pre-made and pre-sized ones? The check out this totally awesome novelty concept of making your very own little candles inside a bottle cap! They sure won't need a separate case made for them since the one you're building the candle right into is already so kitschy and pop culture cute. See more details of how they're made on Handmade Charlotte.
3. Snow drift tea light holders
Among the many other things they're good for, simple, cheap tea light candles make a great opportunity for the holidays. We know we're not exactly near Christmas right now by any means, but sometimes it's nice to stockpile DIY ideas for the future so you're prepared when that season arrives! That's why we couldn't pass up the chance to show you these awesome "snow" covered tea light holders from Hometalk. We love the way the textured finish actually looks like snow.
4. Easy DIY scented tea light candles
Perhaps you clicked on this post hoping that our discussion of tea lights would actually teach you how to make some tea lights of your very own? Well, we still think you'll need to take a look at a few of our holders and perhaps spruce things up a bit when you're done, but in terms of the candle itself, these little DIY tea lights by The Herbal Healing Mama are just about perfect!
5. Pastel Easter nest tea light holder
String crafts make for such simple DIY and crafting that we can't believe we don't talk about them more often and on a more regular basis. We're particularly fond of the ones that are wrapped carefully around a balloon or other object so that, when the object is slid out from inside the wrapped string, it holds its shape like a mold or frame. Wrapping your string around an egg so that it looks like a pastel Easter egg is a great example of what we mean! Check the whole idea out on Mind Ruffle .
6. Fabric decoupage glass jar tea light holder
We love stumbling across crafts like this one by Ain't That Berries because they're such a great mashup of crafting skills. Not only are you creating your own tea light candle holder, repurposing an old mason jar, and practicing your decoupage skills here, but you're also taking care of smaller old fabric scraps that you might never otherwise use. Just made sure you don't leave this particular candle lit if you leave the house! Most fabrics will be sage enough to be around the small, weak flame of a tea light candle, but it's still always best to err on the safe side.
7. Easter egg shall tea light holders
Since Easter is coming up fast, it's totally feasible that you clicked on this list in hopes of finding adorable Easter candle designs that will look good on your dinner or side tables on the big day. We can certainly understand that urge, so imagine how amused we were when we saw these funny little dyed half Easter eggs in their carton and then realized that what's inside is actually a tea light candle! See the entire concept in more detail on Little Inspiration.
8. Patterned rope tea light jars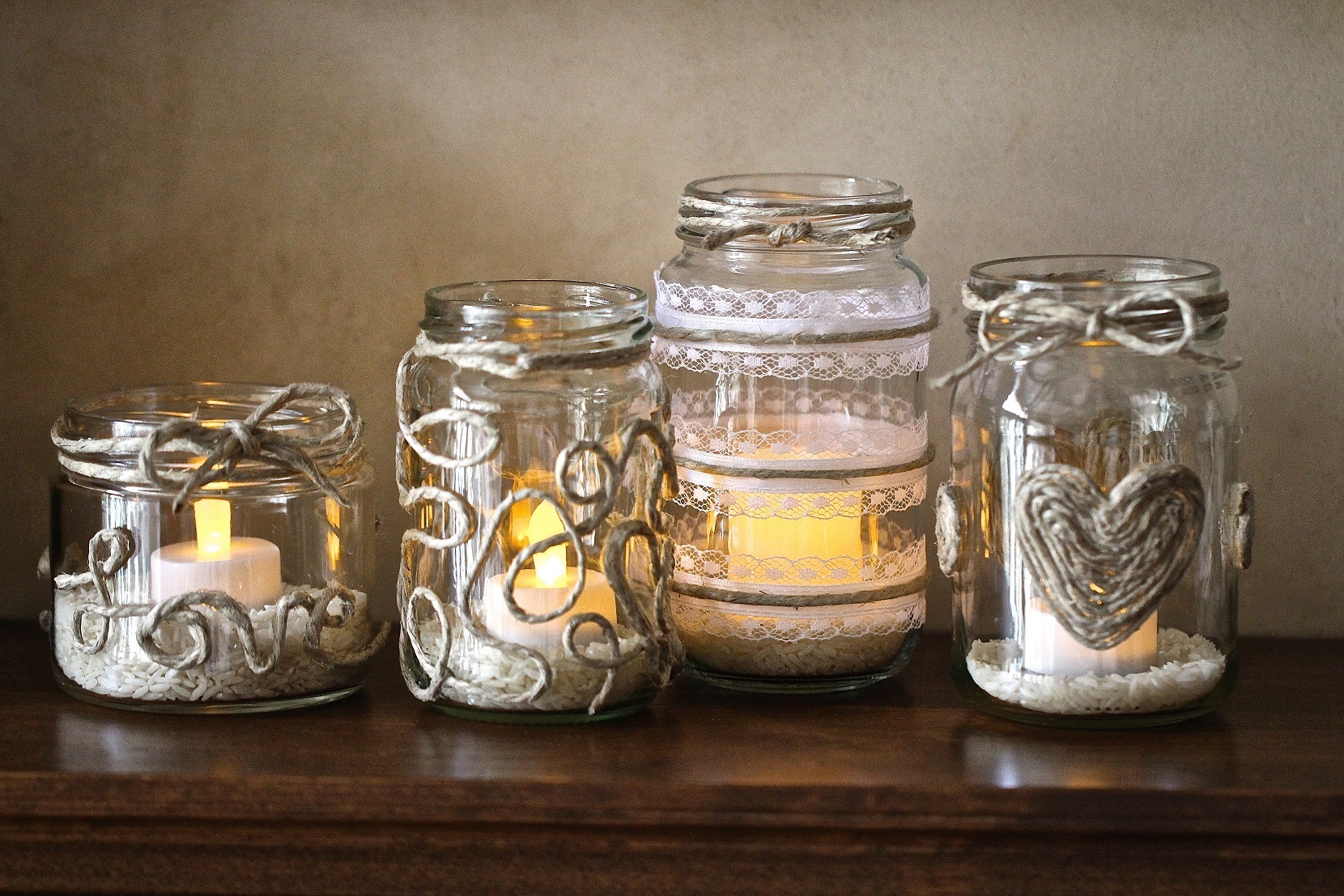 If you've ever done rope or string art then you already know how much fun it can really be. This new kind of string art, however, involves creating all kinds of saying and patterns across the jars or old candle holders (whichever you decide to use). This technique, which Icon Home Designs reminds you is much easier than it looks, is held in place by liquid glue, very similarly to a decoupage tactic but with more texture.
9. Wooden branch tea light holder
Are you still intrigued by the idea of woodworking to make your very own candle display? Well, if you're going to go to all that trouble with power tools you might as well make things look as natural as possible by placing your candle in an actual tree branch. DIY Cozy Home walks you through the process of creating the crevice in the top and sanding the branch section smoothly so it doesn't rock back and forth on you when you set it down.
10. Tea light and marble martini glass
Usually when we talk about "marble" we actually mean the DIY technique that many people use on their finger nails. This time, however, we're referring to actual marbles built right into a camera display! We love the way Stylish Spoon placed a tea light in the very centre of a martini glass and nestled little metal marbles all around the candle. These ones are both fun to make and to use.
11. Paper quilled tea light decor
If you've never tried paper quilling yet then, if you're as much of an intricacy fiend like I am, we're convinced you'll do amazingly at this craft. We simply adore the way Our Daily Ideas shows you how to make stunning spirals and swirling quilled hearts that curve around a tea light candle set right in the centre circle. We think you might be pleasantly surprised by how much simpler this technique is than it looks!
12. Walnut tea light centre piece
During certain seasons, like fall and winter, some people celebrate the change in weather by roasting walnuts and chestnuts. Besides being fun, delicious and fragrant, this project can also be quite decorative, especially if you fill a bowl with the nuts and then, on top, balance two empty shell halves that actually have candles built right into them, just like we showed you previously with the bottle caps. One O guides you through the process of making this stunningly wide votive.
13. Gold lace stencil tea light holder
Do you have rather expensive tastes when it comes to your style, but your bank account is currently telling a story that's a little bit different? Then you might be tempted to do something like this gold leaf painting and stencilling job from Freutcake! In reality, however, the look of lace stencilled into the bottom half of a tea light candle holder looks delicate enough to have actually cost a little bit of money, even if you just made it yourself last night using a paper dollar store doily as a guide for getting the stunning lace holes.
14. Coffee bean tea light votives
Did you really enjoy the filled bowl aesthetic that we showed you earlier but you're actually allergic to nuts and don't really like having them around even when you're not eating them? Well, here's an awesome alternative that just about anyone we know can join in on without having an allergic reaction! It's All About the Pretty shows you how to build a similar idea but using whole coffee beans to fill a bowl and nestling a tea light candle right into the very centre of the bowl.
15. Sea shell tea lights
Are you still not quite over how stunning the uniquely re-fitted candles we've shown you so far look in their novelty little holders? Well, if you're up for the challenge, Burkatron is here to make sure nothing goes wrong when you create a similar tea lights to the bottle caps we talked about earlier. Instead of bottle caps, however, they've used seashell halves in order to keep the seaside aesthetic in the room very strong.
Do you know someone who's always lighting tea light candles just the way they come, in that tiny metal tray, without ever seeing them try to decorate it in any way even though they're usually a fun, bright person? Then share this post with them for a little bit of candle inspiration!