DIY Sweatshirt Alterations and Patterns
We love to wear cozy hoodies any time of year. Even in the summer when it's warm out, we like to take one with us when we go out just in case the air conditioning in the office or at the movies is turned up high. For some brand names, however, buying a new sweatshirt or hoodie can be expensive. We also find that sometimes our sweaters and sweatshirts that are made from quality material last a very long time; much longer than the style or design interests us. That's where our DIY skills come in to save the day!
Check out these 15 awesome hoodie and sweatshirt projects and alterations that will amp up any style or fit of sweater!
1. Fabric applique hoodie
Do you have a sweater that's quite plain but you've had your eye on similar things with bright colours and patterns across the front and back instead? Well, if you're a sewing enthusiast with easy access to scrap fabrics, then you have just about everything you need to try this fabric applique sweater project from Alisa Burke!
2. Kids' dinosaur hoodie
We say this pattern is for kids but, if we're being fully honest with ourselves, we'd totally wear this design too! Whatever Dee Dee Wants guides you through the process of adding little fabric dinosaur "spikes" all down the back of a sweater starting at the edge of the hood so that the wearer looks like a funny Stegosaurus.
3. Woven back hoodie
Have your favourite types of clothing alterations always been ones that involves cut outs and changing the shape of the fabric, like adding twists and braids to t-shirts? Well, here's a neat sweater version of a similar technique! Pretty Ditty suggests cutting the back of an old sweater into strips and weaving them over and under each other in a basket weave effect that gives the whole garment an interesting feel.
4. Geometric sweatshirt with ruffled shoulders
Are you more experience with pattern making and sewing garments from scratch, so you won't shy away from actually just making an entire sweater yourself? Then check out this awesomely shaped geometric sweatshirt from Misusu! Their tutorial shows you how to piece fabric shapes together to make a modern design with stylish bunching at the shoulders.
5. Simple raglan sweatshirt
Perhaps you're very open to the idea of making your own sweatshirt from scratch but you'd rather concentrate on pretty colours and patterned fabric than creating lines and shapes from pieces of plain fabric? Then check out how It's Always Autumn made this simple raglan style sweater in just a few steps!
6. Awesome octopus hoodie
If you've tried making fabric applique hoodies but you'd rather create a novelty garment for one of your kids (or yourself, really) than something just featuring pretty patterns, then we have a feeling you'll love this next idea. Nest Full of Eggs guides you through the process of creating homemade applique pieces that look like curling octopus legs all down the front and back.
7. DIY Ruffled jacket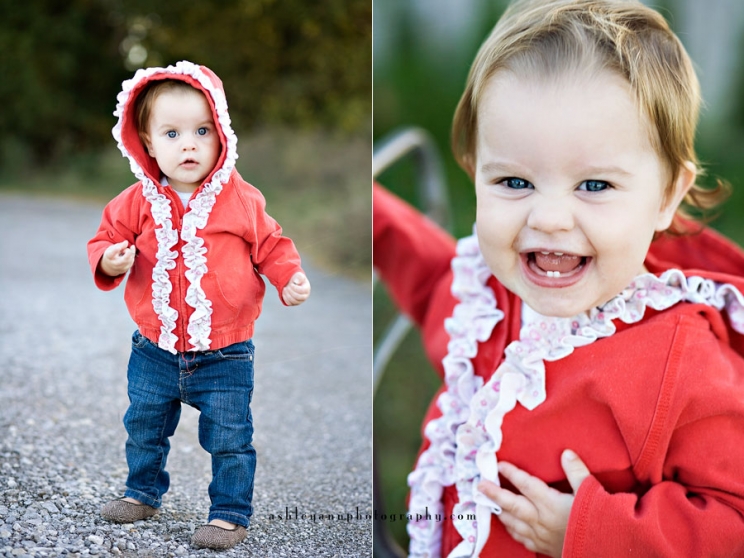 Have your favourite kinds of embellishments always been cute frills and ruffles that add texture and character to just about anything? Then we are total on the same page! This idea from Ashley Ann Photography shows you how to add the ruffles down the from of a baby or toddler coat, but once you've taken a look at the technique we don't think you'll have any trouble adjusting it to an adult size if you decide you just can't resist making an equally adorable version for yourself.
8. A-line zipper hoodie
Perhaps your favourite hoodies and sweatshirts have always been the kind that involve stylish collars and asymmetrical elements? We like those because they tend to be stylish enough to be appropriate for work days and casual dinners even though they're still comfortable and warm. They also, however, tend to be  much more expensive than plainer styles. That's where this pattern and tutorial from Kiiruhda Hitaasti comes in to save the day! Their instructions show you how to place the zipper at a neat angle rather than along a straight line like you might be used to.
9. Cowl neck hoodie sweatshirt
Zippers aren't the only part of the sweater you can get creative with to make yourself a sweater that's a little more upscale and versatile! We love the way Sewing Rabbit added a cozy cowl neck to this one. It looks great and it will also be extra warm to wear in cold weather, like a built-in scarf!
10. Applique and ruffle embellished hoodie
Are you still thinking about the applique and ruffle hoodies we talked about earlier in this post but you're having trouble choosing between the two? Well, who said you even have to choose? Try following in Riley Blake Designs' footsteps and adding ruffles around the hood and down the front but adorable appliques on the back! This is another one that would look adorable on your kids but that we'd be total tempted to make for ourselves in some capacity too.
11. Angled button hoodie
Are you still intrigued by the idea of collars and angled embellishments but you're just not quite convinced by the styles you've seen quite yet? Then check out how Small Things made their look unique using buttons instead! They show you how to add them at an angle all along a big collar hood.
12. Men's colour block hoodie
Has your boyfriend, husband, son, or brother been looking at all of these hoodie designs over your shoulder and musing about how he might really like a custom or DIY hoodie of his own design choosing too? Well, Lalio Parda has you covered if he happens to like bright colours and geometric shapes!
13. Zipping baby hoodie
Are you just learning to sew and you're looking for something to practice basic skills like neat, straight seams, putting in a zipper, and creating rounded shapes like hoods? Then make an adorable but simple hoodie for your baby! Choosing a fleece material like Japanese Sewing Books did here will make sure your little one stays nice and toasty while they sport something you made with love.
14. Dual colour star hoodie
Are you still ruminating on the idea of creating cool edgy shapes in your stitching when you make yourself a custom hoodie but you'd like some kind of clear shape or design to be incorporated somewhere? Well, lucky for all of us, Made for Apes is here with a super fun star design that will look great in any colour!
15. Button collar hoodie
Just in case the last buttoned collar design just wasn't quite what you were looking for because the buttons were a little too big or you're not sure about the angle, here's a slightly different take on the concept! See how it's done on Bouts des Tissues.
Do you know someone who loves making and altering their own clothing and could definitely use a new hoodie or sweatshirt? Share this post with them for a little bit of sewing inspiration!