DIY Hats To Keep The Sun Off This Summer
Besides being a super cute style statement, sun hats are great way to protect yourself from the sun. Even thought they're always fashionable looking, that doesn't mean they're always in fashion enough that you'll find one you like in stores. Luckily for us DIY enthusiasts, you can just make yourself one!
Check out these 15 DIY sun hates that perfectly combine style and practicality.
1. crochet straw hat
If you're a crochet lover then you're in luck, because this classically floppy style of sun hat is most often made by crocheting straw! Craft Passion's design is a fun chance for you to work with something a little different than your usual yarns for once. Use coloured crafting straw to make the flower on the side.
2.  DIY stitched hat
Honestly WTF reminds you that you don't have to make the hat completely from scratch for it to count as a good DIY project! Why not find a plain straw hat with a loose weave and embroider it? Try adding coloured stitches around the hat and also on the brim.
3. DIY "snakeskin" baseball cap
Floppy sun hats aren't your only option for keeping the sun off this summer. A baseball cap will do the trick too! Customize a plain white hat by using lace as a stencil. Spray paint the hat two different but complementary shades in light sweeping strokes . When you remove the lace, the effect will be a snakeskin like gradient, just like this hat from Refinery 29.
4. DIY ombre sun hat
You can make this ombre effect along the brim of an old sun hat using either spray paint or regular paint and a brush. Either way, concentrate the paint around the edges and smudge it or mist it carefully away from the edge. Miss Kris shows you how it's done.
5. Laced up sun hat
PS I Made This takes a plain straw hat and transforms it completely! Try cutting off the very top, splitting and trimming a section in the back, and adding a lace at the back in any colour you like. This way, the hat protects your face from UV rays but keeps your head cool.
6. Custom fedora
Fedora hats with a tight weave make great embroidery projects. Treat the grid created by the holes like a needlepoint or cross stitching pattern and use embroidery floss to create a coloured zig zagging pattern, just like Hi Sugarplum did here.
7. DIY Striped summer hat
What I Wore If the plain sun hat you found has stripes from being wound and sewn, work with them! Choose a colour of paint that coordinates with you bathing suit and paint alternating or random stripes on the hat to turn your beach attire into a chic little outfit.
8. Sassy saucer hat
Flashback Summer shows you how to make a sun hat that's appropriate for classier events, with a vintage air about it! Wear it to your cousin's summertime wedding at the vineyard or the invite-only beach party in the Hamptons that you want to look your best for.
9. Romantic floral summer hat
If you love the idea of a classier style sun hat but you'd rather it sit deeper on your head than the flat vintage hat above, then this design from CraftsDotCupCake is the one for you. We love the feminine floral accent.
10. Colourful crocheted sun hat
This beautifully crocheted sun hat makes a clear DIY statement while you strut your stuff down the beach! This is the perfect chance to use that super bright, summery yarn you've had your eye on but hadn't figured out a project for yet. Get the full instructions on Guidecentral English.
11. Top ombre sun hat
Remember the previous hat where you created a painted ombre working from the edge of the brim inward? Go Make Me's design does the opposite! Start dark and concentrated at the centre top and fade the colour downward towards the brim.
12. T-shirt bucket hat
Feelin' Crafty shows you how to make a classic bucket hat out of an old t-shirt! This style is perfect for fishing trips when you'll be sitting in the sun out on the water for hours at a time.
13. Stenciled polka dot floppy hat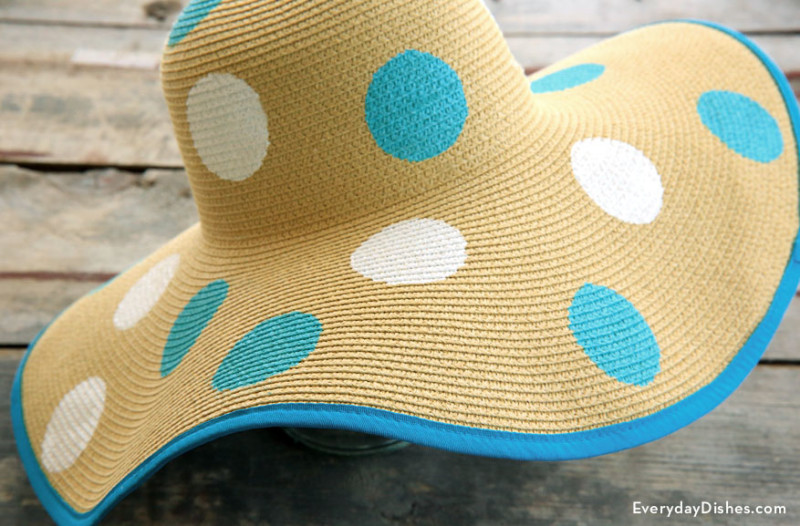 Stencils are an awesome tool, and they're definitely the key to creating neatly painted patterns with clean edges. Everyday Dishes suggests using a circular stencil to make circles all over a cute floppy sun hat.
14. Scalloped felt hat
The Pink Samurai shows you how to make a sun hat that's a little different than the rest! Instead of using straw, try using felt and cutting a scalloped edge for a little bit of extra style.
15. Funny faced sun hats
Handmade Charlotte shows you some designs that are a little more unconventional but totally hilarious! These are awesome for parties, fun beach days, or making for your kids.
Have you made yourself other styles of sun hats that you don't see on this list? Tell us about how you did it in the comments section!