25 Super Stylish Accent Walls You Can Create On Your Own!
Whether it's at the end of the hallway, in the foyer, in the master bath or in the kitchen, accent walls can really make a space pop and transform it into something special. From prints to colors, let's take a peek at some design-worthy styles that you can create on your own without the help of a professional.
Check out the 25 DIY accent walls we've compiled below and grab some inspiration!
1. Horse-Stencils
A Beautiful Mess created something quite offbeat and funky with the help of some custom horse stencils. Just think of all the possibilities that could stem from this idea.
2. Modern Sharpie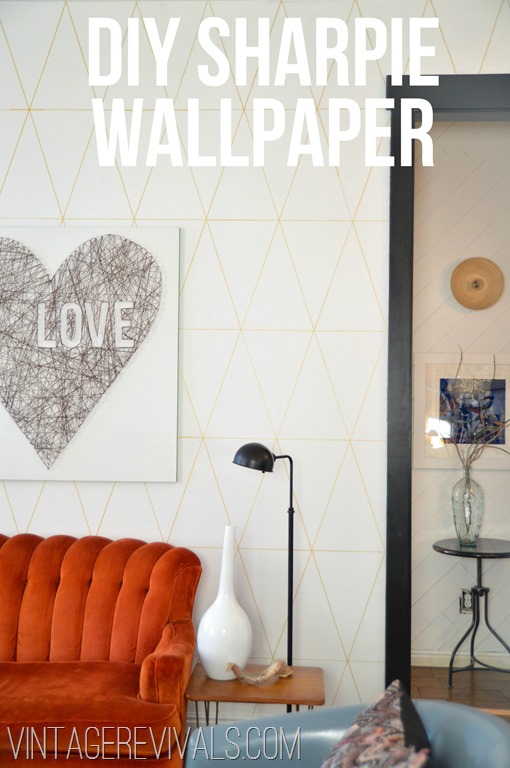 This geometric printed wall was made by Vintage Revivals. And to create such a look, you'll learn who to make some sharpie wallpaper!
3. Sweet Print
DIY Show Off shows everyone how to create a sweet, delicate print for your wall to dawn. Adorn the guest bathroom or even your office with something similar.
4. Tree Decal
Imperfectly Perfect gives us an idea that absolutely anyone could replicate. Something the right coat of paint and the right decal finds can make a huge difference.
5. Black & White Stripes
Black and white stripes are classic in plenty of ways. It's a traditional neutral pairing and it's a timeless print. And thanks to House to Home you can learn how to make it!
6. Rain Pattern
Over at A Beautiful Mess we have another patterned wall we fell in love with. It's easy, it's chic and really makes difference inside a room.
7. Arrows
Zest It Up made one of my favorite designs of the bunch. With this slight arrow design, you'll have a funkier, trendier space to enjoy.
8. French Wallpaper
Over at Mom Filter we learn how to get inspired by real (and expensive) wallpaper and learn how to create your own! Her version is seamless!
9. Book Pages
Grab all of the old books you can find and replicate this inspiration at home in your bedroom or office! We're kind of head-over-heels for this idea from Poppytalk!
10. Honeycombs
Vintage Revivals has so many amazing ideas, and this is one of our favorites. Take the weekend and dive into this creative project for your bedroom!
11. Handwriting
A Beautiful Mess created this handwritten piece and not only is in artistic but it's a great way to make a room pop without too much fluff. I first saw this post when moving into my own home and it inspired me to do a version in our breakfast nook!
12. Geometric Color
This pop of color does this room a huge service in remaining neutral but trendy. Check out how it was made over at Lady.
13. Flower Mural
Check out this super inspiring accent wall DIY from Mini Penny. This is great for an apartment or even an art room inside the home.
14.  Small Triangles
Taped shows us how to really utilize some painter's tape to create the look you want. Just check out this colorful creation!
15. Trellis
All you need here is a stencil to start the job. We love the subtly here and the sophistication. The bit of sparkle is a hit in this project from Stencil Stories.
16. Wooden Chevron
We can't help but gush about this genius – and small – accent wall from Iron & Twine. We love the trendiness of the chevron pattern paired with the coziness of wood!
17. Dalamatian Print
Using fabric, you can create an accent wall like that of the 100 Dalmatians! We love the classic black and white pair jazzed up with a nit of funk. Thanks Shelterness!
18. Raindrop Decals
At Young House Love you'll see how to recreate this whimsical and charming raindrop wall for your little bundle of joy!
19. Diamond Studs
Check out this gorgeous design from Pride in Photos. Not only is it in the elegant diamond pattern but it's set off with a stud border!
20. Simple Stripes
We love simple stripes, especially when they leave a space feeling a bit romantic. Which is exactly what they do in this project from Live Love DIY.
21. Stretched Diamonds
The Frugal Homemaker made this stretched and elegant diamond accent wall inside her living room. And we're in love with this chic style.
22. Weathered Panel
Check out this wood weathered panel wall from Me and My DIY. It was a great way to offset and create a foundation for this beachy vision.
23. Black Crosses
Cuckoo 4 Design has a chic new idea for your hallway accents. These black crosses are trendy, contemporary and oh so sophisticated.
24. Chalkboard
This kitchen nook is full of fun and youthful spirits. From college apartments to … the kitchen … chalkboard accent walls can carry so much creativity. Thanks It's Katie, Darling!
25. Tribal Triangles
Vintage Revivals creates an accent wall full of trendy spirit and versatile style. From offbeat nurseries to a funky bonus area, this works!