DIY String Art Ideas and Tutorials
If you've never tried your hand at string art before then we're very sorry to tell you that you've been missing out on something awesome! We've long loved string art for ourselves but recently our kids wanted to learn how to do it too, so we've been on the hunt for a whole range of tutorials, both for ourselves and also young beginners.
1. Simple string art lettering
Just in case you're still a beginner at this whole idea of making string art and you're looking for a way to practice your basics, here's a great tutorial from Frishta DIY Craft that will teach you how to do easy lettering! Not only does their tutorial outline the process for building the bases for the letters, it also shows you the best way of weaving the string around the nails to fill the space in and really make them pop against the wood.
2. Musical note string art
Are you still thinking about how you can practice making easy but new shapes, so you're looking for more beginner tutorials? Well, music lovers rejoice, because Crafts With Ellen has the perfect string art idea for you! This tutorial guides you nice and clearly, step by step, through the whole process of outlining and wrapping the shape of a treble clef.
3. String art greeting cards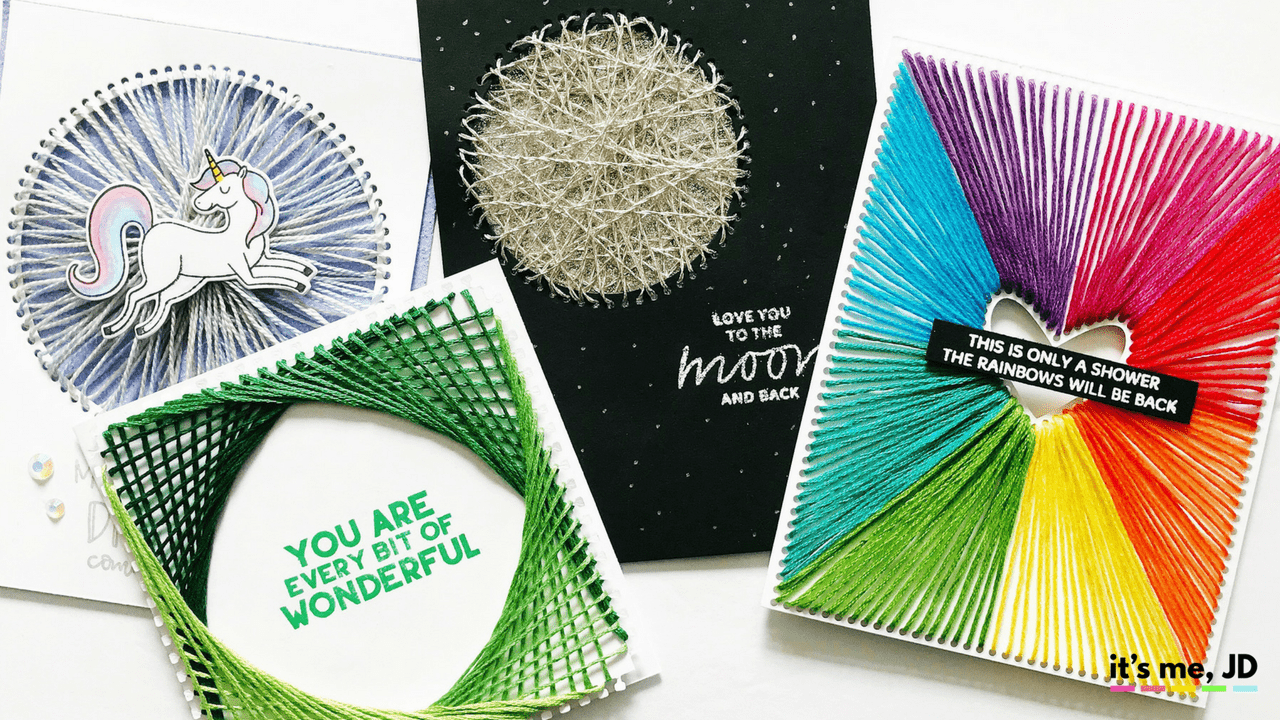 Of course, making a shape on some wood with nails and wrapping string or bright yarn around them isn't the only kind of string are you can do, even if it's the most popular right now. We're also huge fans of the way It's Me, JD outlines the super fun process of making these adorable string art greeting cards be weaving their yarn through holes around the edges of the card's cover in all different patterns!
4. Negative space string art lettering
Perhaps you've actually already mastered the kind of nice, basic string art lettering we showed you before and now you can't help wondering whether there might be not only other fonts, but others ways to make the letters show up within the piece? In that case, we think you simply must try your hand at this technique from Instructables that teaches you how to make negative space letters, where the shapes are established by blank spaces in the woven string, rather than by the string itself.
5. DIY air plant string art
Are you the kind of plant lover who will find a way to include some kind of little green succulent or air plant into just about any craft or decor piece you possibly can? In that case, we have a feeling you'll really appreciate the way Hello Creative Family incorporated lovely little air plants into their string art in order to make these stunning wall hangers.
6. Simple string art heart
Perhaps you're looking not only for a good beginner's tutorial but one that's suitable for kids too? In that case, we'd absolutely suggest checking out how Southern In Law made this simple heart tutorial, outlining the steps very accessibly all the way from choosing a wooden piece as a base, nailing down the shape, and wrapping the string.
7. DIY string art state
Are you the kind of person who is very proud of where you live because you've lived there all your life and couldn't imagine ever leaving your home? In that case, we think you just might be the perfect person to give this awesome state shaped string art by DIY Projects a try! They even teach you how to make a negative space heart in the middle to really make your love apparent.
8. DIY string art deer
Are you actually still looking through our list hoping to come across something a little less whimsical and personalized and a little more suitable to the aesthetic of your hold home? Then maybe this simple stag silhouette will be a little more up your alley! We like this idea from 3 Little Greenwoods because the styling of the piece will change depending on the colours you choose. If you want something rustic looking, work with neutrally coloured string and a wooden base. If you'd rather something kitschy that looks more like pop art, paint your base a bright colour and work with string that contrast brightly.
9. DIY tree string art
Here's another fantastic nature inspired string art tutorial that can be taken in either direction like we just talked about with the deer silhouette! Personally, we're kind of in love with the very natural way that Erin Spain kept their trees green and their wood brown, but we can totally picture this project in brighter colours as well. We also really like how they recommend leaving blank spaces within the leaves to take the shape and detail to the next level!
10. DIY apple string art
Are you actually still scrolling through our list hoping to come across easy, simple shapes that your kids might even be able to handle themselves? In that case, we have a feeling you'll appreciate the way Sarah M Style helped their own little ones make this lovely string art apple as a teacher gift. The outline is simple and you can fill the centre with as many or as few woven layers as you please!
11. DIY rainbow spirograph string art
Perhaps you're less concerned with shapes and pictures within your string art endeavours and more concerned with the lovely weaving patterns you can make and how these pieces are actually a great opportunity to work with colour? In that case, we'd be willing to bet that this tutorial from Cut Out and Keep that teaches you how to make a stunning spirograph shape using variegated yarn for pretty colours ways will be right up your alley!
12. Elephant nursery string art
Just in case we did catch your attention with our talk of animal shaped string art but it's not a stag or dear that you were hoping for, here's a shape that suits a little kids' room or a nursery a little better. Erin Spain walks you step by step through the process of making an adorable little elephant that resembles a cartoon shape and looks very nice hung over a crib.
13. Easy DIY snowflake string art
Are you the kind of crafter or DIY enthusiast that loves bookmarking holiday inspired ideas all year round, any time, even when it's not the right season? In that case, we think you'll really appreciate the way Knit Hacker made this faux frosted board that features a series of delicate, pretty looking string art snowflakes!
14. DIY string mason jar and flower art
If you're going to create string art, are you at the point where you're ready to start putting a fun or unique twist on your project, just to take things to the next level a little? Well, why not try crafting with more than one material and technique at once? We're in love with the way Chaotically Yours used string art techniques to outlined the shape of a mason jar on a wooden board and then affixed pretty handmade felt flowers at the top to look like they're blooming out of the jar like a three dimensional vase.
15. DIY Mickey heart string art
Just in case you're still looking for a pattern that might appeal directly to your kids a little more, whether it'll be them creating it or you, here's a fun tutorial from This Fairytale Life that teaches you how to make a Mickey Mouse shaped edition with a little negative space heart in the middle! We love the way they also teach you how to do the same basic technique with string as thin as embroidery thread, just in case you'd prefer a finer, more delicate look than what some string and yarn allow for.
Do you know another avid crafter or DIY enthusiast who has been wanting to learn how to make string art but who feels like they could use a bit of guidance along the way? Share this post with them so they have all kinds of inspiration and ideas to try!