The 5 Best Lettering Machines in 2023 – Pick the Right One for You
Lettering machines are, without a doubt, one of the most popular choices for crafters all over the world. While not an object on its own, a lettering machine can be really useful in a wide variety of scenarios, ranging from birthday parties to graduations, fairs, or expositions.
You may be a bit confused about our phrasing back there, but we ensure you that there's no mistake: lettering machines are simply cutting machines that are excellent when it comes to cutting letters and other similar characters (for instance, numbers or symbols).
However, for the sake of our guide staying on-brand, we're going to refer to them as lettering machines so that you won't get confused halfway through our guide when the lettering machine we're describing suddenly becomes a mundane cutting machine.
Truth be told, there are several machines out there that you could use for your lettering projects, and they'll probably serve you excellently, but some of them seem to be more fit for this type of activity. Aren't you eager to find which ones?
If you are, then keep on reading as we'll go through some of the best lettering machines on the market that could help you turn your project into reality in no time and with minimum effort. What's that? Do you also want them to be cheap? You got it.
Editor's Choice
What Are Vinyl Lettering Machines?
We're sure you understand that there are a lot of ways to turn a profit from crafting activities, and making letters for various occasions just happens to be one of them. It's a lucrative business, and fortunately, not everyone is passionate about crafting letters, so there's your chance to excel.
If you ever coordinated or organized a birthday party, you may remember a banner spelling 'Happy Birthday!' or something similar. Well, more often than not, the banner was handmade to keep costs to a minimum.
However, making things with your hands takes not only skill but a lot of time as well. On the bright side, if you're not one to compromise when it comes to the quality of your crafts and could use a helping hand with your projects, lettering machines are what you're looking after.
Don't have a lot of free time on your hands to learn about all the features that make each machine on our list truly stand out? We've created a top three consisting of the best lettering machines you can safely turn to if you need some help with your projects. Here we go:
| Cricut Maker | Cricut Explore Air 2 | Silhouette Cameo 4 |
| --- | --- | --- |
| Best Lettering Machine: If you need complete freedom with your projects, as well as speed, reduced noise levels, and an impressive cutting force, Cricut Maker is what you want. | Best Budget Choice: If you feel like the Cricut Maker might fit the needs of someone more advanced better, but you still love the features it boasts, Cricut Explore Air 2 is exactly what you need and costs a lot less. | Best Choice for Value: If you're really serious about your lettering crafting business, then the Silhouette Cameo 4 is definitely the choice for you, given that it provides you with a lot of advanced features and can carry out cuts of up to 10 feet. |
| User-Friendly: Both the machine and the software solution it comes with are highly intuitive and offer you a streamlined experience, whether you're a beginner or a seasoned artisan. | Low Ownership Costs: Aside from the fact that the machine itself can be bought at a fraction of the price of the Cricut Maker, maintenance and purchasing accessories and/or supplies are also very affordable. | Tremendous Cutting Force: The Silhouette Cameo 4 comes with almost 20x the cutting power of its predecessor, the Cameo 3. The Cameo 4 model boasts a 5000g cutting force, while the previous model was only capable of 210g. |
| Amazing Cutting Power: Thanks to the 4000 grams worth of cutting power that Cricut Maker is endowed with, you can work with a lot of materials, including stronger or more resilient ones. | Smooth Learning Curve: Much like every cutting machine in the Cricut family, the Explore Air 2 has a smooth learning curve, making sure that you can grow accustomed to its features in no time | Auto Blade: The Auto Blade feature can help you take out the guesswork from all of your lettering projects, seeing as all you have to do is selecting the type of material you're working with and let the machine take care of the rest. |
| Unleash Your Creativity: Cricut Maker officially supports a plethora of materials (over 300) that you can work with to create amazing lettering projects. | Amazing Quality: If you want that your card stock, paper, or vinyl letters to be cut perfectly (even comparably to a print shop), then you definitely can't go wrong if you stick with the Cricut Explore Air 2. | Matless Cutting: Mats enable you to work on a material that's cut to a predefined length, depending on the capabilities of the machine that you're working with, but cutting without a mat lets you cut unlimited material, and that's exactly what Cameo 4 is capable of. |
| Check price on Cricut. | Check price on Cricut. | Check price on Amazon. |
If you're not exactly impressed with the products we listed above or simply want to learn more about all the lettering machines in our ranking, we recommend that you keep reading, as we've prepared a list of absolutely awesome machines for you.
The Best Letter Cutting Machines
Cricut Maker is a huge name in the crafting industry and therefore needs (or should need) no introduction. However, if you're just starting, we have some big news for you: whether you're a beginner or you're quite handy with your crafts, Cricut Maker is going to rock your life.
First of all, you need to understand that it's a very versatile machine, so you can literally throw any letter cutting project at it, and it will ace it 10 times out of 10. It's also incredibly easy to use, which makes it possible to operate it regardless of your previous experience with similar products.
With Cricut Maker, all you'll have to do is add the letters you want to cut (or words, for that matter), choose the font style you want to use for your design, press the Cut button and wait for the project to come to an end.
You'll certainly be amazed not only because Cricut Maker can work at an incredible speed and precision, but also because your letter cutting project will come out incredibly smooth, as some professional print shop did it.
Another attractive feature about Cricut Maker is that it's very simple, despite the complex projects it can handle. Compared to other products that showcase advanced, complicated features, working with Cricut Maker will feel like a breeze.
Aside from those perks, you can work with several materials. Most often, crafters will design and cut letters out of paper and vinyl (the two most often used materials in the world of crafting and cutting machines), and Cricut Maker can handle those formidably.
Additionally, this machine also enables you to work with stronger, more resilient materials, such as fabric, leather, crafting cartons, matboard, and even balsa wood. In fact, the Cricut Maker can handle more than 300 materials without skipping a beat.
For a while, the Cricut Maker 3 used to be the most powerful cutting machine, seeing as it boasted an impressive 4000g of cutting power, which also meant that it could handle harder materials just as easily as paper or vinyl. Its 2.4 mm clearance also helped a lot in the cutting and supported materials department.
Nowadays, it's been surpassed by Silhouette Cameo 4, which boasts an even higher cutting force of 5000 grams. Getting back to the lettering, you should know that the Cricut software solution, the Cricut Design Space, is intuitive enough to help you get started in no time.
There's a Cricut Access subscription plan that offers you up to more than 500 fonts for unlimited use (if you buy the most expensive plan), but if you're fine with using your own design, you'll be glad that the free plan still has more than 15 fonts you can choose from.
Another great thing about Cricut Maker is its Dual Carriage feature. Now, this may not sound like much, but it allows you to attach two tools (different or alike) tools to the Maker's holsters and run two steps, such as drawing and drawing, cutting and cutting, or drawing and cutting, depending on your needs.
You don't have to press Pause and put your project on hold so that you can just replace the tools and change the configuration of the machine; you just attach another tool and let the Maker worry about the rest.
Need more reasons to pick the Cricut Maker 3 as your go-to letter cutting machine? It's fast, and recently it got a turbo upgrade which doubles the maximum speed that the lettering machine works at. However, note that even though the machine is generally acceptably silent, turning on the turbo 2x speed feature will turn it into a noisy beast.
Last, but not least, we're going to mention the fact that the ownership costs of this machine are among one of the lowest ones. Even though the machine is a bit expensive, you'll definitely save a fortune in supplies, materials, accessories, and maintenance.
The bottom line is that there are a lot of reasons why Cricut Maker is simply the best lettering machine on the market, and you can find them all above.
Cricut Maker 3 Pros
It comes with 4000g cutting power, enough to cut through stubborn and soft materials as well
Is the fastest letter cutting machine on the market and comes with a turbo 2x speed feature
Doesn't make a lot of noise while running as long as you don't activate the turbo mode
Can work with more than 300 materials, including mat board and balsa wood
Intuitive hardware and software components so that you can get started easily
Docking station for your phone
Cuts letters out of various materials with print shop accuracy and precision
Low costs of accessories, supplies, materials, and maintenance
Cricut Maker 3 Cons
The machine itself is a bit expensive
There are a few hidden fees in the software (not mandatory)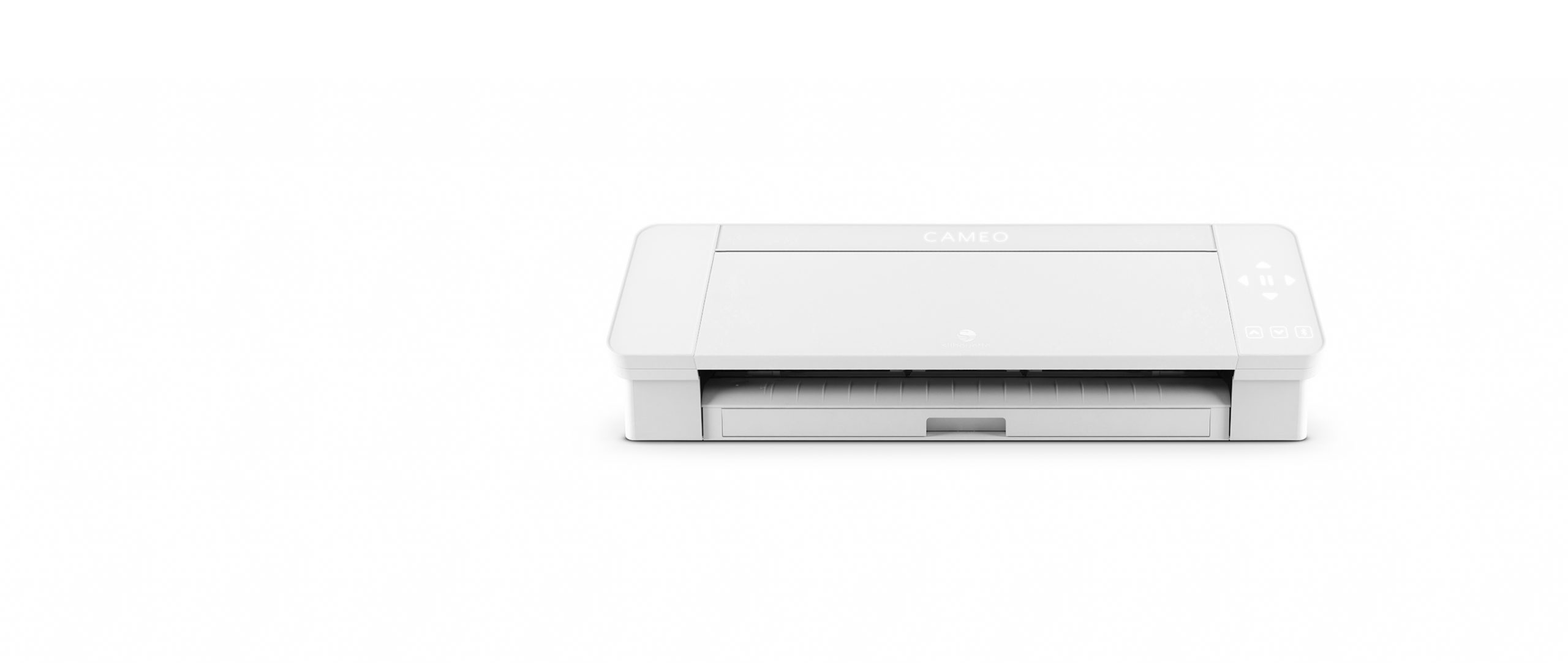 While products in the Silhouette family of products have fallen a bit behind Cricut for the last few years, the release of Cameo 4 is definitely a strong push forward, given that the machine comes with a lot of powerful features.
For once, perhaps the most important feature of the Cameo 4 is its ability to work with huge projects of up to 10 feet. Yes, you read that right, it's not a typo, Cameo 4 has a cutting size of 12 inches x 10 feet, thanks to its built-in roll feeder.
However, in order to achieve this impressive cutting size, you must work without a mat, which is something that some customers may fail to understand. Aside from this amazing feature, the Cameo 4 also has two holsters, which we often refer to as a Dual Carriage.
As we've mentioned above, the Dual Carriage enables you to place two tools, whether different or not, in the two available holsters, just so that you can perform two steps at the same time. The most popular choice is obviously drawing and cutting simultaneously.
Additionally, the Cameo 4 comes with a nifty cross cutter that helps you cut off any excess material at a moment's notice. This letter-cutting machine is also endowed with an auto blade, which we've been praising in most of our guides as being a true lifesaver.
What the auto blade does is that it allows you to work on your letter-cutting projects by simply specifying what kind of material you're using for the cut. The machine will automatically adjust all necessary settings to their appropriate values and start working on your cutting project.
The software that the Silhouette Cameo 4 comes with is conveniently called the Silhouette Studio. By comparison with the Cricut Design Space, the Silhouette Studio is way more advanced, as it provides you with full creative control over your designs.
On the other hand, it may feel a bit difficult to work with Silhouette Studio if you're an absolute novice. This is probably why the general consensus is that this software is aimed at graphic designers or users who have at least a bit of experience with design programs.
However, there's a drawback that's not exactly easy to shake off: if you're using the free version of the Silhouette Studio, you won't be able to handle SVG files, as this feature is strictly reserved for the business account. By comparison, the Cricut Design Space can handle SVG files just fine in its free version.
Last, but not least, the Silhouette Cameo 4 comes with 25% more cutting power than its Cricut Maker counterpart, aka 5000 grams, which are plenty enough to work with several materials, even harder ones. It also has a higher clearance of 3 mm, which also means that it can process thicker materials than Maker 3.
The bottom line is that if you want a powerful lettering machine for your projects, but you also plan to use it for other crafts, then the Silhouette Cameo 4 is definitely worth looking into. It's strong, it's fast, and it has a great design software solution.
Silhouette Cameo 4 Pros
It can cut materials up to 3 mm in thickness
Has the highest cutting force on the market of 5000 grams
It can handle cuts of up to 10 feet if you cut matless
Built-in roller feeder so that you don't have to waste time manually feeding material
Dual Carriage feature that enables you to run two steps at the same time
Auto Blade that helps you take all the guesswork out of your projects
Cross Cutter feature that lets you cut any excess material
Powerful, advanced software solution
Silhouette Cameo 4 Cons
Reversed loading and unloading arrows
Software may be a bit difficult to use by novices
The free version of the software doesn't allow you to handle SVG files
Generates high levels of noise while operating
View price on Amazon
If you have any previous knowledge about machines from the Cricut family, you probably know one thing: that they're not only extremely reliable and versatile but that they're also intuitive and provide you with a user-friendly, streamlined experience.
That's exactly the case with Cricut Explore Air 2, seeing as it can provide you with most of the Cricut Maker 3's features at a lower price, and can still keep the headaches out of your projects by streamlining the entire process.
The Cricut Explore Air 2 is, without a doubt, one of the most, if not even the most intuitive lettering machine that you can use, and that won't rip a hole into your wallet in terms of purchasing the actual unit and the following costs with accessories, supplies, materials, and maintenance.
Thanks to Cricut's database of fonts and designs, you can get straight to work even if you have next to no talent as a designer. Although the design software comes for free, Cricut also offers a subscription-based service called Cricut Access that could help you ease into the world of crafting.
The service comes with a free version, but it goes without saying that it's heavily limited compared to the other ones. That's not to say that the software is limited in any way, so you can use it even to handle SVG files, as opposed to using Silhouette Studio's free version.
Furthermore, if you're interested in Cricut Access, but you're not ready to bite the bullet and commit to purchasing a subscription plan, and you're not thrilled with the free version either, there's a trial version that you can use for a full month.
After the trial expires, you can go back to the free version of Cricut Access or purchase a subscription plan if you found the service interesting and helpful enough, or you could start purchasing designs from the database individually if you'd prefer. Just know that having a Cricut Access plan would also give you some nice discounts on individual purchases.
Moving on, many customers believe that the Cricut Explore Air 2 is similar to the Silhouette Cameo 3, and they wouldn't be wrong. Some are even bold enough to compare the Cricut Explore Air 2 to the newest model of the Silhouette Cameo, but this couldn't be farther away from the truth since the newest Cameo is in a league of its own.
While similar to the Cameo 3, the Explore Air 2 has a bit more cutting power (350g, compared to the Cameo 3's 210g) and a dual carriage. The dual carriage essentially means that the machine has two holsters, and you can place one tool inside each holster.
Therefore, you won't need to stop the machine in order to change the tool mid-cutting or re-configure the machine to perform a different action. You just put a pen in one holster and a blade in the other and let your machine perform drawing and cutting at the same time.
Regarding the size of the unit, it's quite standard (24 x 9.5 x 9.5 inches), so you won't have to worry about making extra space on your workbench for this lettering machine. However, Cricut Explore Air 2 is a bit heavier even than the Cricut Maker 3, standing at 17.3 lbs, so carrying it around may prove to be a bit more difficult.
What's interesting about the Cricut Explore Air 2 is that it's the first Cricut cutting machine that received a turbo speed boost, which makes it twice as faster as older models of the same brand.
Back to the cutting power; if your only aim is to create awesome lettering projects and you plan on working with not-so-complicated materials such as paper, vinyl, or crafting cartons, then Cricut Explore Air 2's 350g of cutting power will definitely prove to be more than enough.
If you want to experiment with some other materials, you may also be able to do that, but you may not get far with harder ones such as leather or mat board since the Cricut Explore Air 2 isn't strong enough to cut through those.
Furthermore, due to it being an older model in the Cricut family, it lacks compatibility with some of the newer accessories, which is also a drawback for many crafters. However, if you just want it to assist you with your letter-cutting business, the Cricut Explore Air 2 is an excellent choice.
Cricut Explore Air 2 Pros
Affordable letter cutting machine
Has low maintenance costs
Its accessories won't cost you a fortune
350g of cutting power is more than enough for all your lettering needs
The dual carriage feature will let you run two different steps at the same time (drawing and cutting)
Intuitive enough that you can start letter cutting moments after unboxing it
Wireless connectivity
User-friendly software
Cricut Explore Air 2 Cons
Due to it being slightly outdated, it's no longer compatible with some of the newer accessories
It lacks various specialized blades such as the Rotary Blade
There's no auto blade feature
Heavier than the Cricut Maker 3, which makes it harder to move it around
Lettering or the process of cutting letters out of various materials is probably far from being the most sophisticated project you've ever worked on, at least when it comes to crafting, but the truth is that it can take you a lot of time to do it, especially if you're working with bulk quantities.
Thus, the need for a trustworthy assistant becomes more of a necessity than a luxury, so it goes without saying that if you're in the situation above and you lack a lettering machine, things could get pretty hectic in just about no time.
This goes especially if you're the host of an event or you have to deliver a lot of cut letters in a short amount of time, and there's simply no one else around you that you can count on. Cue Brother Scan and Cut 2.
Not only will this machine help you achieve letters that even print shops could envy, but it will also do that without relying on any additional devices. The other lettering machines in our guide all require a secondary device in order to be operated successfully.
For instance, if you want to cut letters on Cricut Maker, you'll also need a device to pair the cutting machine with. The secondary device will also be used as a source for custom designs.
If that sounds like too much of a hassle for you, allow us to present, once again, Brother Scan and Cut 2. Not only will this help you cut letters out of your favorite materials quickly and without significant effort, but it also comes with a bunch of perks that other machines lack.
The most important feature is definitely the built-in scanner that lets you load custom designs on the machine without requiring any additional devices. All you have to do is feed an image of your design to the scanner and let the machine recognize and use the design.
Additionally, there's also a generous LCD screen that's embedded in the lettering machine's body, further eliminating the need to attach any secondary device to the cutting machine in order to work on it. The LCD screen can help you perform some of the most common operations.
More often than not, desktop cutting machines are limited in the sense that they only allow you to work with a bunch of fonts without having you create your own personal ones. With Brother Scan and Cut 2, you just use the scanner to load your custom design, and you're ready to go.
Many customers agree on the fact that the Brother Scan and Cut 2 also score great when it comes to overall flexibility since the machine is not very hefty, to begin with so that you can carry it everywhere you go.
Furthermore, the fact that you only need the machine and not an additional phone, tablet, or computer in order to work on your designs with this lettering machine is definitely a plus. Resizing letters and cutting them can be done on the screen once you've settled on a design.
In some of our other guides, we mentioned that low noise levels are highly appreciated when it comes to cutting machines. Although Brother Scan and Cut 2 is not as noisy as some of the other models, it can still make quite a racket if you go full throttle on it.
Thus, we recommend that if you stick with the Brother Scan and Cut 2, you should definitely avoid working at night or cutting letters when there's someone nearby who's just trying to relax or sleep.
The price of the unit itself is not high. In fact, it's quite affordable if you were to consider that it's the only model that provides you with an LCD with a touch screen and a built-in scanner, and these features are not to be ignored, either.
However, even if the price of the unit is not exaggerated, that doesn't mean that we're in the clear yet. As with any other lettering machine, you also have to think about the consumables, the parts that get used over time and need to be replaced so as to not ruin your projects.
Now comes the not-so-pleasant part: Brother has some of the most expensive accessories on the market, if not downright the most expensive ones there are. If you can afford expensive accessories and price is not a definitive dealbreaker for you, then by all means, you should stick with the Brother Scan and Cut 2.
The Auto Blade feature it showcases can save you from spending hours working on your projects by eliminating all the guesswork from your letter-cutting process. All you have to do is choose the type of material that you're using for your projects and let the machine do all the heavy lifting.
However, you should know that much like many other accessories for the Brother Scan and Cut 2, the auto blade isn't included by default with this machine, and you'll have to actually purchase it.
The machine also lacks the Dual Carriage feature that most desktop letter cutters have, so you won't be able to run two steps at the same time. This translates into spending additional amounts of time changing the tool and performing some configuration changes to reflect the new operation you're trying to perform.
Furthermore, you may notice that the cutting size of the Brother Scan and Cut 2 is simply too small. By default, this machine offers you a 12 x 12 inches cutting size, but you can upgrade it to an industry-standard of 12 x 24 inches by purchasing an additional add-on mat.
It's not exactly fair, but if you can get behind it, then that's all that matters. Furthermore, some people complained that the LCD and touchscreen ensemble isn't exactly accurate, not even if you work with the design pen included in the bundle.
However, this doesn't mean that you're stuck to the LCD screen. If you want, you can use the machine's wireless connectivity (which it has) to connect the lettering machine to a network or a device, and then use the Canvas Software to work on your designs and send them to the machine.
The bottom line is that the Brother Scan and Cut 2 is a great choice for a lettering machine, especially if you want to avoid depending on any additional devices to create and/or manage your designs. However, the price of its accessories and the lack of some features might be off-putting for certain customers.
Brother Scan and Cut 2 Pros
Includes a 300 DPI built-in scanner that can help you load your custom designs
Generous LCD screen that you can use to interact with the machine
Intuitive software solution
Smooth learning curve so you can work with it even as a complete beginner
Portable enough that you can transport it everywhere you go
Auto blade support to eliminate the guesswork from your lettering projects
The unit price is affordable, at least compared to other lettering machines
Brother Scan and Cut 2 Cons
It lacks Dual Carriage, so you won't be able to run two steps at the same time
The accessories are some of the most expensive ones on the market
The cutting size is 12 x 12 inches and requires an add-on to be upgraded to industry-standard 12 x 24 inches
View price on Amazon
If you're ready to rise a few steps above the competition, then you know that you must invest in a professional machine, one that will enable you to work with large chunks of materials.
A machine that supports large prints can make the difference between cutting letters for school projects or small banners and creating vinyl letters for a vehicle or a storefront. The big money usually comes from the latter, so it makes sense to invest in a machine that can handle it all.
Without further ado, we give you USCutter Titan 3, the best lettering machine for professional usage. This machine can handle cutting smaller letters as well as it can process larger ones without skipping a beat.
First of all, it's worth mentioning that it comes in three sizes. More specifically, you can buy the USCutter Titan 3 in its 15″, 28″, and 53″ versions, depending on your needs.
However, we must mention that the 15″ version is slightly larger than a desktop cutter, so you might want to consider investing in the 28″ or 53-inch version if you're serious about professional lettering projects.
The 53″ version may be a little overkill if you haven't already established a customer base and know for a fact that they're all ready to pay you the big buck for huge projects. It goes without saying that the 53″ version is not only the most expensive version of this machine, but it's also quite expensive on its own (for instance, as compared to other similar products).
That being said, we feel like the 28″ version is a great place to start if you don't want to spend too much money on a lettering machine or if you can't afford it at the time being. We're confident that the 28 inches will help you save money for an upgrade in no time.
Not only is the USCutter Titan 3 large, but it's also swift as well, considering that it can cut letters at the amazing speed of 31.5 inches per second. By comparison, the Cricut Maker, which we bestowed the title of Best Lettering Machine title upon, can only reach 8 inches per second, so only a quarter.
Getting back to praising the USCutter Titan 3, you should know that it doesn't require a mat, which, believe us or not, makes it a great machine to be working with. First of all, you won't have to worry about sticking your materials to a mat or unsticking them.
Furthermore, it eliminates the need to always check if you stuck your material right so that your project doesn't end all messed up because of a tiny positioning error. USCutter Titan 3 has a vacuum hold that actually prevents the vinyl from moving or sliding while you're working with it.
Much like many other USCutter machines, the USCutter Titan 3 comes with an advanced system that can recognize contours and cut them incredibly accurately. The system is called ARMS, which stands for Automatic Registration Mark Sensor, and it involves an optical eye.
ARMS can locate registration marks that are printed around a graphic and relies on the optical eye to triangulate the coordinates of your printed design and cuts around its contour.
Another awesome aspect of USCutter Titan 3 is that, as opposed to other professional lettering machines, it comes equipped with servo motors, which are incredibly quiet and fast compared to stepper motors. In fact, the whole thing is built like a tank, with only top-grade materials.
Now, if everything was peachy with the USCutter Titan 3, everyone would buy one of them instead of sticking with desktop cutters such as the Maker or the Cameo. However, it does have some drawbacks, and it's up to you if you can compromise on them or if you consider them dealbreakers.
First of all, it feels old, despite it being released just only a few years back, and the reason we're saying this is that it lacks wireless connectivity. Thus, you'll need to use a cable if you want to hook it up to your computer and work on your designs.
However, if you have a dedicated workspace (such as a workshop), you can configure it with your computer once and then forget about it. Personally, we trust cables more than wireless connections, but we agree that it would've been nice to at least have the option of going wireless.
Additionally, if you ever need to calibrate the blade of USCutter Titan 3, you'll have a hard time doing so. The machine comes with the blade calibrated and all, and on the bright side, you won't need to perform this operation often since both the machine and the blade are quite sturdy as it is.
The bottom line is that if you're serious about starting a letter cutting business and you need a trustworthy assistant in the form of a letter cutting machine, then the USCutter Titan 3 is exactly what you've been looking for or needed but never knew.
USCutter Titan 3 Pros
ARMS feature that can triangulate and cut contours accurately
Servo motors that are quieter and faster than stepper motors
Matless cut to eliminate all the headaches from cutting letters
Vacuum hold to ensure that your material won't slip during the cutting process
One of the fastest machines on the market (31.5 inches per second)
Comes in different sizes, and the biggest one is truly huge (53 inches)
USCutter Titan 3 Cons
Requires a lot of clearing space to be installed (a dedicated space like a workshop would be best)
Lacks wireless connectivity, which could be a pain for customers who lack the extra space for a PC
Calibrating the blade is often a long and tedious procedure
View price on Amazon
The Best Lettering Machines – CONCLUSION
All things considered, if you just started in the beautiful world of crafting and you need a machine to help you cut letters (and not only) out of various materials, then you should definitely invest in a lettering machine.
The products that we've listed in our guide are all excellent choices, but you should be careful when making your pick, seeing as each machine can serve some purposes better than others. If you want a great all-around lettering machine that you can easily convert for other different projects, then the Cricut Maker 3 is what you're looking for.
However, if your needs are more specific and you need your lettering machine to be able to meet some, if not all, of those needs, you may want to give this guide a good, long read.
Our guide will give you some much-needed insight into the world of lettering machines and let you understand what each machine is capable of, as well as present you with some of the most common weak points of each machine.
Note that, although we recommended the Cricut Maker as being the best letter cutting machine on the market at the time being, ultimately, your needs and budget will be the ones to decide which choice is best for you.
FAQ
What are the best vinyl lettering machines?
Can I make my own lettering decals?
If you're using any specialized software solution such as the Cricut Design Space or the Silhouette Studio, it's possible to create your own lettering designs and use them to create personal decals. If you're using the Brother Scan and Cut 2 lettering machine, it won't be necessary to rely on any software solution since the machine includes a built-in scanner and an LCD screen with a touchscreen you can use to scan your designs and cut them.
How fast does a lettering machine work?
Like with various other products on the market (not necessarily cutting machines), there are various levels of speed that your lettering machine can achieve. The Cricut Maker 3, for instance, can cut 8 inches per second, which is great for a desktop cutter. On the other hand, the USC Titan 3, which is a professional-grade cutter, can cut at a whopping 31.5 inches/second speed. Therefore, it highly depends on the machine you're going with.
Is a big lettering machine better than a small one?
The size of your lettering machine could ultimately have an impact on the size of your prints. However, the size of the machine is not an important parameter in this case. In fact, the cutting size is the one that dictates the maximum supported size of your letter cuts. A bigger lettering machine is better than a small one in the sense that it could cut small and big decals alike, while the small ones are limited in that regard.
What cutting force does a lettering machine have?
The cutting force of a lettering machine depends not only on the type of machine you're going with but also on the brand and the model. For instance, the Cricut Maker 3 has a cutting force of 4000g, but not all of the Cricut machines have this kind of force (for instance, the Explore Air 2 has only 350g). If you need even more cutting force, you could stick with the Silhouette Cameo 4, which comes with a whopping 5000g and a 3 mm clearance.
What can I cut with a lettering machine?
The types of materials you can cut with a lettering machine don't depend on the type of the machine itself but on a sum of factors, including the manufacturer, the material clearance, the compatibility with appropriate accessories, and not last, the cutting force. For instance, the Cricut Maker 3 can handle well over 300 types of materials, including but not limited to fabric, leather, vinyl, paper, matboard, and even balsa wood.
What kind of cutting machine can make vinyl letters?
Vinyl is actually one of the most often used materials in crafting projects, and basically, any cutting machine can handle vinyl. As far as the actual lettering part is concerned, that's more of a design-related part, so as long as you'll use a lettering design, the machine should yield a lettering project.
What is the absolute best machine for cutting letters?
We've unanimously bestowed the title of Best Machine for Cutting Letters to the Cricut Maker 3 because it's a versatile machine, has an amazing cutting force, can work with over 300 materials, supports matless cutting, is intuitive, doesn't cost a lot of money, and its accessories are some of the most affordable ones you can find on the market at the time being.