13 DIYs That Will Help Spruce Up Your Outdoor Kitchen
Throughout the warmer-weathered months, our outdoor kitchens become the spot to entertain and enjoy with our friends, families, and neighbors. But are there ways to infuse a bit of personality and even more functionality into these spaces? Well, of course, there is. And there are 13 of our favorite DIYs that will help spruce up your outdoor kitchen to sift through below.
1. Gradient Barware
The barware you use outside could have a personalized and chic look to it. At A Kailo Chic Life you'll learn how to create a gradient look. Just choose your colors and add a bit of sunshine to your outside sips.
2. Rolling Island
Pneumatic Addict will walk you through how to make a rolling island for your outdoor area as well. This can easily transfer into a prep station, serving station, or a grill station. And there's enough storage to help you with your entertaining needs as well.
3. Summer Bar
A summer bar area to go with your outdoor kitchen is a great idea too. This is a great setup for all your entertainment throughout the warmer months. Check out A Burst of Beautiful for more information on the project.
4. Grill Station
This creation was made for grilling and it was done so in style. With the stone topping and function in mind, this project from Unexpected Elegance is one of the best on the list. Take the leap and start this project over the weekend.
5. Painted Patio Umbrella
You may want to adorn your outdoor kitchen area with some tables, chairs, and a few patio umbrellas as well. You'll learn how to put a personalized stamp on some of your own with help from Lovely Indeed. With love this easy painting idea.
6. Cooler Stand
Eddie and Steph walk us through how to whip together a cooler stand to use outside. These are perfect for entertaining and keeping the drinks cool. Set this up near the rest of your outdoor kitchen for complete function.
7. Buffet
You may want a nice serving buffet outside as well. After everything is whipped up and ready to eat, Sincerely, Marie shows us how to make a buffet to make the rest of the task run smoothly.
8. Dining Table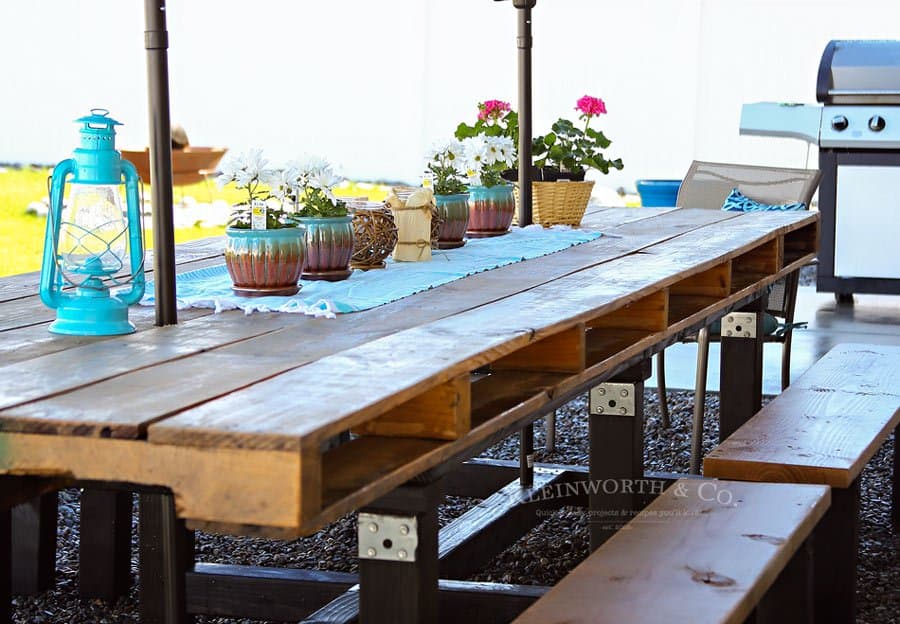 Kleinworth has a beautiful outdoor dining room table project featured. And with an outdoor kitchen, it's only right that you have a place to enjoy the delicious food that you've made. Check out the plans after the jump.
9. Storage Box
A storage box could help with some of the kitchen supplies depending on how your outdoor kitchen is set up. Extra pots and pans, etc, can be easily stored inside this box. Check out the tutorial by visiting The Chronicles of Home.
10. Prep & Serve Cart
Home Depot featured a smaller prep and serve cart that's right up our alley. This works well with more compact spaces. Even if you just has a grill set up outside, this little companion will help make things a little more functional.
11. Rustic Grill Bar
Here's another grilling station that you can DIY yourself. It's a larger project but still completely doable. Visit Hometalk for more details if you like this rustic style setup.
12. Wall-Mounted Cabinet
A wall-mounted cabinet could help with storage as well. Again, you'll need to visit The Home Depot for all the know-how. But we find these rather good for areas without too much square footage or storage for necessities.
13. Beach Ball Drink Stirrers
And finally, if you're looking for smaller projects to add pizazz to your kitchen space, learn how to make drink stirrers! Garnish your sips with cuteness from Studio DIY. These ones are great for a pool party.