DIY Sprinkler and Slip-n-Slide Setups for Summer
Now that summer is finally peeking through the clouds, our kids are practically ready to jump straight from their pyjamas into their bathing suits and get outside to enjoy some time in whatever kind of water they can find. Whether it's our sprinkler, a friend's kiddie pool, or the splash pad at the park down the street, that's where the whole family can be found basically all summer. At this point, we're not even sure why we buy them actual summer clothes since they spend each day in their swimsuits anyways! That's why we started thinking that it might be worth creating some kind of better, much more fun sprinkler or slip-n-slide system for them in the backyard so they can really squeeze in all the watery fun they please this summer.
Just in case you'd love to build an awesome DIY water wonderland for your family as well but you feel like you could use some guidance while you're at it, here are 15 of the coolest homemade sprinkler ideas we've come across so far in our search!
1. Simple DIY PVC pipe and fitting sprinkler
Is the real issue here actually that you don't own a sprinkler at all and you know your kids have been wishing you did so they don't have to keep running over to the neighbours' yards? Well, sprinklers aren't exactly expensive or hard to come by in stores but we just get such a satisfaction out of making things ourselves, especially when we can get our kids in on helping us out and learning how to make something new! That's why we loved this simple DIY PVC pipe and fitting sprinkler from The Crafty Blog Stalker so much.
2. Homemade pop bottle sprinkler
If you're going to make a homemade sprinkler with your kids, would you rather make one that's a little more hokey and fun, or maybe even one that upcycles so that the kids can learn about taking older things you don't need anymore and transforming them into something new? Then we have a feeling you'll have just as much of a blast making this funny 2L pop bottle sprinkler over at your house as we did at ours! Get the full details for making one of your own on Making Memories With Your Kids.
3. Hollow hula hoop sprinkler
Speaking of upcycling old things into new ones and getting creative with what your sprinkler is made out of, have you ever thought of making a sprinkler that has a more unique shape than the ones you probably used as a kid? Well, if not, here's a super simple place to start exploring that idea from! We love the way Wonder How To poked holds in a hollow plastic kids' hula hoop, attached it firmly to the end of their hose, and and enjoyed the water flying in all different directions from the main circle shape!
4. PVC pipe large surface sprinkler
If you're going to make a unique shape with lots of different water streams for your kids to run through, would you rather go all out and make one that's a custom size of your own? Then perhaps it's time to revisit the PVC pipe idea a little more creatively! We love the way Square Foot created a grid shape with plenty of crossing legs and strategically placed holes for water to shoot from. Make yours as big and wide as you please!
5. Fun "bike wash" sprinkler
Now that we've got you hooked on the idea of using PVC pipes to build new shapes for your water to course through, are you thinking about how easy it would be to build awesome structures as well? Then we have a very strong feeling that you and your kids will completely adore making and then playing in this PVC pipe "card wash" sprinkler outlined on Come Together Kids! They show you how to build a water spraying archway that's big and tall enough for your kids to ride their bicycles, tricycles, or scooters through.
6. Fun kids' "tinker sprinkler"
Do you have inquisitive young kids who are always trying to touch, change, and tinker with things whenever they can because they're curious and want to learn more about basically everything around then? Then we'd definitely suggest making your very own "tinker sprinkler" from PVC piping, funnels, and bending hose lengths. Instructables outlines a particular design of tinker sprinkler that will let your kids change the direction of the water and control or play with certain parts of the stream will come out of. If you're feeling adventurous, though, there's nothing to stop you from playing too while you design a structure of your own!
7. Pool noodle sprinkler train tracks
Did we catch your attention pretty well when we started talking about sprinkler cat washes because your little ones are completely obsessed with vehicles and moving transportation of all kinds, but you've held out and kept scrolling because you know that what they love most is actually trains? Then we think you simply must take a look at how Play Trains created an awesome train track sprinkler from cut sections of pool noodles! Build this all across your yard and let your kids run across the "tracks" through the water like they're speeding trains carrying all kinds of cargo!
8. Wacky pool noodle sprinkler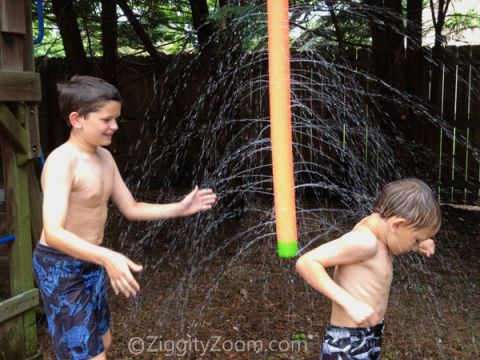 Are you convinced that the most fun your kids could possibly have in a sprinkler would be chasing it and running around or through it if you were able to make one by hand that moves around? We remember having a blast with those plastic "wacky daisy" style sprinklers when we were kids, but they were often overpriced in stores and we're not even sure they exist anymore. That's why we were so pleased to stumble across this awesome moving sprinkler made from a hanging pool noodle suspended above the lawn! Check out how Ziggity Zoom made sure that their noodle could move and swing for some extra fun.
9. Sprinkler and slip-n-slide combo
We've talked a whole lot about sprinklers so far even though we said that we'd show you some slip-n-slide ideas too, so it's time to make good on our promise! Of course, slip-n-slides are something that a lot of people already own, so let's start out with an idea that will take what you already have to the next level. We're crazy about the way Pinterest Challenge built the same kind of PVC pipe archway sprinkler we were talking about earlier on out list and then placed their slip-n-slide underneath, creating an awesome hybrid that we just know our kids will play on for hours!
10. Sprinkler limbo game
If you're going to make a sprinkler of your own, would you prefer to try and make it into an actual game as well, just to keep your kids as amused and occupied as possible in the fresh air? Then we definitely think you should check out how Home Depot created this awesome (and often hilarious) limbo game!
11. Giant neighbourhood slip-n-slide
Do you live in the kind of neighbourhood where everyone is friends and likes to collaborate on projects, events, and all kinds of fun things together? Then perhaps you'd be the perfect group to try making a giant neighbourhood slip-n-slid in a common space so that everyone can enjoy it, no matter their age! We cant get over how awesome this plastic tarp lined structure featured on Torriero Designs is. This idea's nearly a proper borderline waterslide if you put it on a hill and fill it with enough water!
12. Backyard slip-n-slide from a tarp
Do you love the idea of creating a giant slip-n-slide but you'd rather make it in your backyard than in a common space? Well, if you have a hill and a decent length of free space available, then this long anchored tarp design featured on Chaos Kidz might be the best idea for you! We like this tutorial because it's free of fancy bells and whistles; it simply teaches you to make a classic style slide like the ones you loved as a kid.
13. DIY slip-n-slide kickball
Have you always been a big fan of using your DIY skills to take something you love to the next level and make it eve better? Well, there are plenty of ways to do that with slip-n-slides but this idea from Playrs Club that turns it into a hilarious sports game might be our absolute favourite! Their tutorial guides you through the process of making a kickball diamond out of kiddie pools filled with water and slip-n-slides between then so you can literally slide into home base.
14. Slip-n-slide and sprinkler "carwash" combo
Have you been scrolling through our list thinking about how you'd love to create several of these ideas at once for your kids because there are so many different elements you like but you just haven't found the perfect combination of features yet? Then here's another awesome idea for your consideration! Diary of a Preppy Mom shows you how to make a sprinkler car wash with a huge slip-n-slide tarp to go along with it. This way, your kids get the fun of both!
15. Homemade perpetual slip-n-slide
Have you actually been scrolling through our list and wondering whether you might find some really creative and perhaps nearly crazy ideas for what could basically be a DIY water playground? Well, most of what we've shown you so far has been pretty simple and kid friendly so, to close the list out, we thought we'd show you one that's a little more challenging to make and a little more high powered top use! Check out how Laughing Squid made a "perpetual" slip-n-slide that lets you spin around and around for as long as you can hang on!
Do you know a fellow DIY enthusiast who loves getting crafty with their kids in the summer, especially if it means showing them a good time outdoors as well? Share this post with them to give them all kinds of awesome new summer things to try out in the sun this year!