15 Snazzy Leather Wallet DIYs To Try Your Hand At
Grab some leather scraps and get to work. Whether you want to go real or faux, it doesn't matter because either way you'll be a designer by the end of the day. Below, you'll find 15 snazzy leather wallet DIYs to try your hand at. Instead of shopping, why not create something a bit more personalized that you can use on a daily basis? Gather inspiration below!
1. Classic, Chic
Primer starts us off with a super chic and classic leather wallet style. We love the waved pockets and the fact that they went with a lighter leather for a more posh look. Hop on over now and check out the easy-to-follow tutorial.
2. Single, Rustic-Style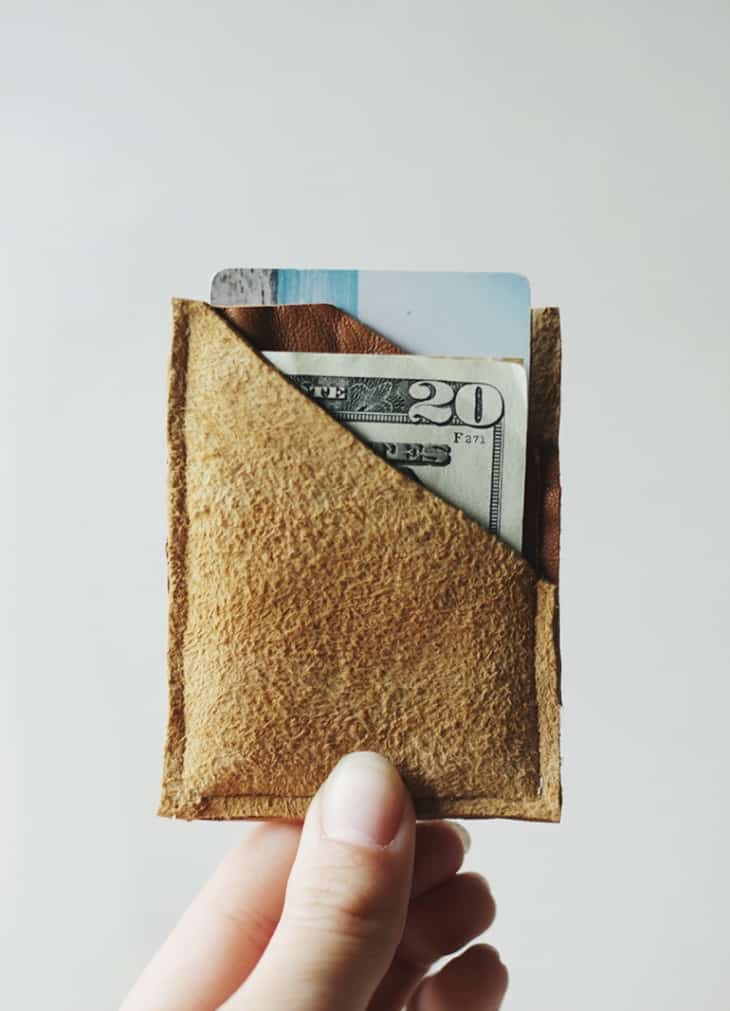 We're loving this soft, suede design found over at The Merrythought.If you'r looking for a simpler, more rustic design than this is the one for you. It's an easy tutorial to follow as well and you'll have a card or money holder to gift in no time.
3. No Sew, Studded Hardware
If you're not into sewing, then you've found the right project to take on. Over at Lia Griffith you'll find this no-sew, studded beauty to take on. And we're really loving the pink leather piece featured front and center – it's so cute!
4. Large, Clutch
You could always go with a design that doubles as both a wallet and a clutch. Grab it and go for shopping. Or, just throw it in your tote on a day when you need a few more items. This piece can be recreated with some help from Beckham + Belle.
5. Personalized, Handpainted
You could always give an older piece a makeover. Grab your older wallet and give it a handprinted redesign. Check out Love, Maegan for some extra bouts of inspiration.
6. Sewn, Mini
See Kate Sew has a tiny design up their sleeve and we've in love. All you need to do is know how to sew just a little bit to get this mini wallet up and running. And we're loving the choice of plum-colored leather, don't you?
7. Mixed, With Wood
A bit of leather and wood can come together nicely to make something special too. Just check out this creative ideas over at Always Rooney. We love how you can so easily personalize the wood part too with a bit of imagination.
8. Two-Toned, Slim
What about a two-toned, initial-accented piece? It's the perfect DIY gift and something that's actually functional for the receiving. Mem and women alike will be able to utilize this beauty. Check out the details over at Carla Schauer.
9. Stamped, Men's
We're really loving this easy design as well. Not only are the stitches such a cool, edgy accent to this piece in particular, but Mr. Lentz Leather Goods took it a step further with the hand-stamping accents ass well. We love this kind of personalization and how you can really text your craftiness.
10. Unique, Large Stitching
If you hop on over to Brit + Co, you'll learn a bit more about leather-making in general, including more about this large-stitched wallet. We love the contrasting colors and how the thread makes it such a unique, standout piece compared to what we're used to. It's another unisex design as well.
11. Kid-Friendly, Quirky

Maybe you're making a leather wallet for a little one to utilize. If so, A Beautiful Mess has the best idea around with these pouches. You can gear the design towards kids and make them easier to handle but creating a "pouch" for them to hold their essentials in.
12. Floral, Girlish
Happy House Projects dolled their leather up a bit. With the addition of some leather florals, it becomes a rustically-inclined yet charming accessory for the ladies in your life. And we're loving the colors leather as well!
13. Fabric, Accented
Visit Zest it Up if this rad design speaks to you. Taking leather and fabric and bringing to together for one new and trendy design, this is a compact piece that works well for a variety of people. And that extra bit of fabric pattern in between the cards makes for a unique, fun surprise.
14. Printed, Thin
World of Pineapple had a host of inspiration up their sleeves. These slim designs have all been printed with something funky or personal. Check out the details after you take the jump over.
15. Women's, Pouch
Brit + Co has our final project of the day. And it's this womanly, leather pouch that can double as a wallet or just another way to keep the goods in your tote organized and ready to use. It also gives you a great idea in terms of leather coloring – the blush leather and chocolate threading really compliments well.