15 Fantastic Knitted Sock Patterns for Spring
Typically when people think of cozy knitted things, they think of the thick, hot kinds of garments that will keep you warm no matter how subzero the temperatures outside are. In many places, the weather goes right from perfect knitwear weather and straight into summer when suddenly it's too hot for socks, period. Where we come from, however, things are a little bit more temperate, giving us an extra window of time for light weight knits. That's why we love knitted socks in the spring so much! If they pattern, weight, and yarn are all just right, you can absolutely knit socks for you, your family, or your friends that will keep them warm under their spring rain boots without being too hot and making their feet sweat. Besides that, spring socks are a fantastic excuse to start using bright splashes of colour once again in your projects after all those warm winter tones!
Just in case you love knitting socks as much as we do and like to change your projects up with the seasons too, here are 15 of our very favourite knitted spring sock patterns (and, yes, we've actually knitted all of these before).
1. Prairie Spring socks
If you're going to go to the trouble of knitting yourself a whole brand new pair of socks for spring, would you prefer a pattern that's got a little more style and detail to it than the average thick slipper sock you've been sliding on to shuffle around the house in all winter? Then we have a feeling you're going to love this slip stitch pattern from Wollen Wilderness a whole heck of a lot! They show you how to create a diagonal design across your foot quite easily. Keeping the base of the sock underneath your slipped pattern quite basic and simple makes these socks a great opportunity to use fantastically fun speckles that will keep things interesting for you!
2. Jian socks
Perhaps you're a more experienced knitter who has been looking to try your hand at some exciting lace patterns but you'd still like to keep things a little bit on the simpler side? Then we think we might have found just the pattern for you! Besides being a great learner's project when it comes to simple lace patterns, this design from Stick Chick Knits is also perfect for spring because the eyelets help keep your feet cool rather than letting freezing cold air slip through like they would in the winter.
3. Slippery Slope socks

Have you always had a huge love for gradients and ombre? Perhaps you were pretty intrigued by the first design we showed you with the slipped stitches but you'd rather see them criss-cross over each other than just travel up the leg. In that case, maybe these super fun and colour socks from General Hogbuffer would be a better pattern for you! We adore the effect that the striping with a solid cream colours has in contrast with the way the coloured yarn moves through its own colour gradient. This pattern isn't necessarily easy, per se, but it's certainly not as difficult as it looks, so don't be intimidated!
4. Simple sneaker socks
In your world and wardrobe, does wearing a "spring sock" mostly just mean you can finally go back to the cropped sneaker socks you love so much rather than having to wear the more constricting higher socks that will cover your legs so snow doesn't touch your ankles under your pants? Well, those shorter sockettes are simple enough to find in stores and all, but if you ask us, everything is more satisfying if you've made it yourself. That's why we were so happy to come across this adorable sneaker sock pattern featured on Haalu! These are a pretty quick knit thanks to their shorter size, so we've made countless pairs and given them to just about all of our friends and family members in all different colours!
5. Knitted yoga socks
Okay, we know that technically yoga socks aren't really season or weather specific and, since you usually do yoga indoors, you could wear or not wear the socks any time of year, but there's just something about spring time that always makes us want to get fit, stay active, and look our best. That's why we often find ourselves knitting yoga socks in the spring! This patter from Yarnspirations is a nice, simple option because it stays pretty true to the regular sock designs you're probably used to, just without the added effort of finishing a heel or toe.
6. Spring Fern socks
Have you been looking at the slipped stitch socks and the lace socks and thinking about how you wish you could find a design that hits somewhere in between those two in terms of aesthetic? Then maybe these simple vertical eyelet socks from Wollen Wilderness would be a little bit more up your alley! Personally, we love the busy effect that creating a slightly lacy visual pattern in a highly variegated yarn creates, but we've also done these in solid spring colours and loved the very clear patterning that creates as well. This is simply an awesome design no matter what you knit it up in!
7. Cottage Garden socks
When it comes to length, would you really prefer to hit something between the longer socks we've shown you that travel up the shin and the shorter sneaker socks from above that stop right around your ankle? Well, technically sock length is quite simple to alter and you could just knit more or less on most basic sock patterns, but we understand that sometimes when you want a little more detail to what you're creating, it's just more reassuring to have a pattern that you can follow from start to finish. That's why we've made these awesome medium length cottage socks so many times! Get the details for this comfy design on Pink Lemon Twist.
8. Volturi Palace socks
Regardless of what season you're knitting for, are you the kind of knitter who has never shied away from a little bit of colour work? Well, between that and the slightly eyelet patterns you see in this pattern, we have a feeling we've just the perfect design idea for you! These socks from Rachel Coopey are knit in a very thin yarn to keep them light and airy, but they're knit high enough that they'll still fit well in spring boots for chillier places. Between the stitch pattern and the contrasting colours at both the toe and the band, they're also just plain stunning!
9. Mystery Sock '09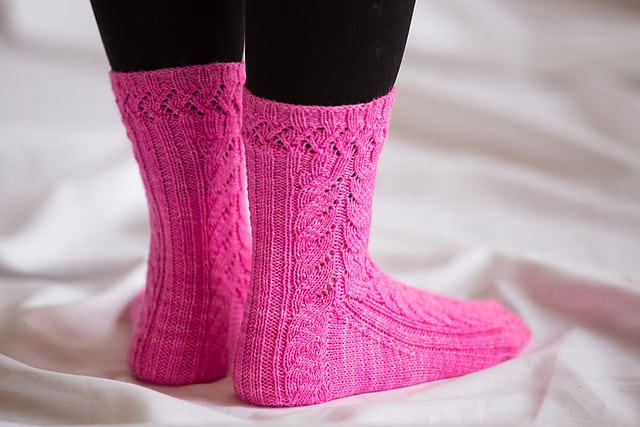 When this adorable little simple lace sock pattern from Kristen Kapur was first published, it was actually released in pieces as a mystery knit-along, which makes for a fun game in the winter months when things are slow and cold. Now that the pattern is out in full, however, we keep it on hand for when we need a caring handmade gift for a friend that we can to really impress them with, but that isn't too advanced. This pattern will help you knit just a simple, classic lace spring sock with enough eyelets to keep you cool and enough height to make sure the wind doesn't snap at your ankles.
10. Little Cable Knee Highs
Are you the kind of person who really does resist giving your laters up for as long as possible because it gets quite cold and wet in the spring where you live, so your spring boots are still pretty hardy and high? Then maybe you'd benefit from a pair of light weight but knee height spring socks to match! We simply adore this knitted knee high pattern from Purl Soho because it's mostly quite simple and therefore decently quick to knit, but it still gives you some detail at the back in the form of a small cable, keeping both your hands and your eyes interested.
11. Egg Stripes socks
Even though you're pretty intrigued by all of the little lacy patterns we've shown you already on our list, are you actually thinking about how you'd prefer raised stitch patterns with the occasional eyelet to no kidding lace? Well, that's quite fine and not as difficult to find in a pattern as you might think! These mid-height spring socks are great for the season because they're light and sort of low, but they're also detailed in a different way than classic lace, which makes for a nice change sometimes. See how they're created in more detail on Pink Lemon Twist.
12. Arrow Socks
Did we really catch your attention when we started talking about colour working your yarn above, but you're actually such a big fan that you'd prefer even more colour work than what you saw there? Well, we're pretty big fans of creating shapes with colour work ourselves, so we certainly can't say we blame you! In fact, we'd be willing to bet that you'd have a better time working with a pattern like the one for these bold arrow socks than one that requires lots of looping and lace work. Get the entire stitch and construction pattern on Makiho Negishi.
13. The Gansey Sock
Just in case you're still thinking about spring-like socks that are light weight but feature more defined and raised stitch patterning than they do classic lace, here's another alternative for you! We simply adore making these mid-height socks by Kate Atherley because the pattern is so clear and concise that you'll be amazed by the kinds of complicated looking designs you're able to create just by using the standard stitches you already know in new combinations.
14. Spring Stream socks
Did the previous socks with the traveling eyelets and variegation that we showed you above really catch your eye, but there's just something about the language in the pattern that's a little different than what you're used to? We can understand that; we've knit enough patterns in our lifetime to know that sometimes instructions that work really well for one person just don't for someone else, even if both patterns are very well written. That's why we were pleased to come across a similar (but still varied) design by another knitwear designer, just to keep things interesting! Check out how Life is Cozy created these socks with a cute, spring-like pattern across the foot but a toe and heel that' have been reinforced with ribbing to make them more long lasting.
15. Scilla socks
Are you still scrolling back and forth between pictures and mulling your options over when it comes to lace and eyelets versus defined stitch patterns? We don't blame you for being torn when it comes to pattern options; knitted socks are something that will last you for years to come, so it's really worth putting the effort into making them precisely how you'd like them best! Just in case, you're still having trouble choosing, though, here's an awesome design with both eyelets and defined stitches to achieve an almost mermaid-like effect all across the top of the foot and up the ankle. Find out more about this stitch pattern on Knit Circus!
Do you have another favourite knitting pattern for beautiful spring socks that you love making but that you don't see here? Tell us all about the design or link us to the pattern and photos of your finished socks in the comments section!