15 Free & Simple Quilting Projects for Beginners With Easy Quilt Patterns
When we were little, our grandma taught us how to sew. The moment we'd caught on and learned how to sew a nice, straight line and create a neat, even seam, she guided us immediately through the process of advancing those basic sewing skills we'd learned into quilting! We're pleased and proud to report that we've been quilting for many years now and have mastered several advanced techniques in order to create some really beautiful, intricate looking pieces, but every once in a while we like to go back to the basics and make sure we can still do the simple stuff. Now that we have crafty kids of our own, we're very happy that we kept brushed up on the easiest steps and collected beginner patterns long after we'd advanced past that point, because it means we're well equipped for teaching our kids how to quilt all these years later!
Just in case you or your little ones are as interested in putting your basic sewing skills to use in a simple quilting project as we were once upon a time or as our own kids are now, if not more, here are 15 of the best simple beginner quilting projects that we've discovered over the years.
1. Fast four-patch patterns quilting project
The beauty of a simple squared patched quilt is that your colour scheme and pattern organization is much simpler to remember than it is if you add more squares to the repeat or more combinations within each square. That's why we love this simple four-patch quilt pattern outlined step by step on Diary of A Quilterso much! They show you how to alternate a base contrast with a four-patch combination repeatedly until you've got a whole blanket. They even guide you through the simple next step of alternating your pattern scheme within your four-patch square, just to keep things interesting! We like their explanation of using the constant contrast colour in the larger square as an anchor or guideline.
2. Basic free t-shirt quilt project
Are you actually ahuge fan of upcycling to the point that you'll take just about any opportunity you can find to turn basically any craft you try into a chance for repurposing old things? In that case, we're all but convinced that you'll get ahuge kick out of the wayTotally Stitchin'used old t-shirts covered in team names and logos to create a very simply patched together quilt that will let whoever you give the piece to wrap themselves in memories.
3. Big and little squares quilted for a beginner quilting project
Are youveryinto the idea of making a square based quilt because you've always loved that sort of grid shaped finished product, particularly if you're working with adorably patterned fabrics that you really like, but you're just not sure you're ready for things like repeating patterns and four-square combinations? Well, that doesn'thave to mean that you're limited to solely rows of plain, equally sized squares! Check out howSamelia's Mumalternated between full squares and squares that feature a smaller contrast square in the centre, just for a bit of extra contrast and visual appeal.
4. Beginners arrowhead quilt patterns
Are you actually browsing through the options and thinking about how youmight be feeling ready to tackle a different shape, rather than just working with equally sides squares this time around? Well, we think you'll be pleased to know that there are actually plenty of ways for you to make fantastic quilt pattern from alternative shapes without taking on a project that's too challenging for a beginner. We'd suggest taking a look at this beautiful patterned beginner's arrowhead design on a white background, as outlined on Craftsy!
5. Easy Make-in-a-day beginner quilted topper
Are you feeling pretty confident in your ability to piece together a combination of squares and rectangles in order to make a stunningly coloured and patterned quilt design, but you're not actually quite so sure about how well you'll do trying to tackle the tasks of filling and edging the pattern once you've sewn it? Then maybe you should try to make a quiltcover instead!Making Mrs Mshows you how to make it happen so you can simply flip your pattern over and existing quilt or thin duvet in order to be used.
6. Pretty garden lap quilt tutorial
Perhaps you've been scrolling through our list and thinking about how you actuallydo really like the idea of making a square grid style quilt, but you might prefer to create one that looks more detailed by using smaller squares, even though that seems intimidating given the size of the average full quilt's measurements? Well, no one ever said that you can't make a quilt of a different size, right? We'd suggest checking out howSusie's Scrapsmade a smaller lap quilt that's great for picnics, piecing it together from many smaller squares in all kinds of stunning floral patterns.
7. Simple stripes quilt pattern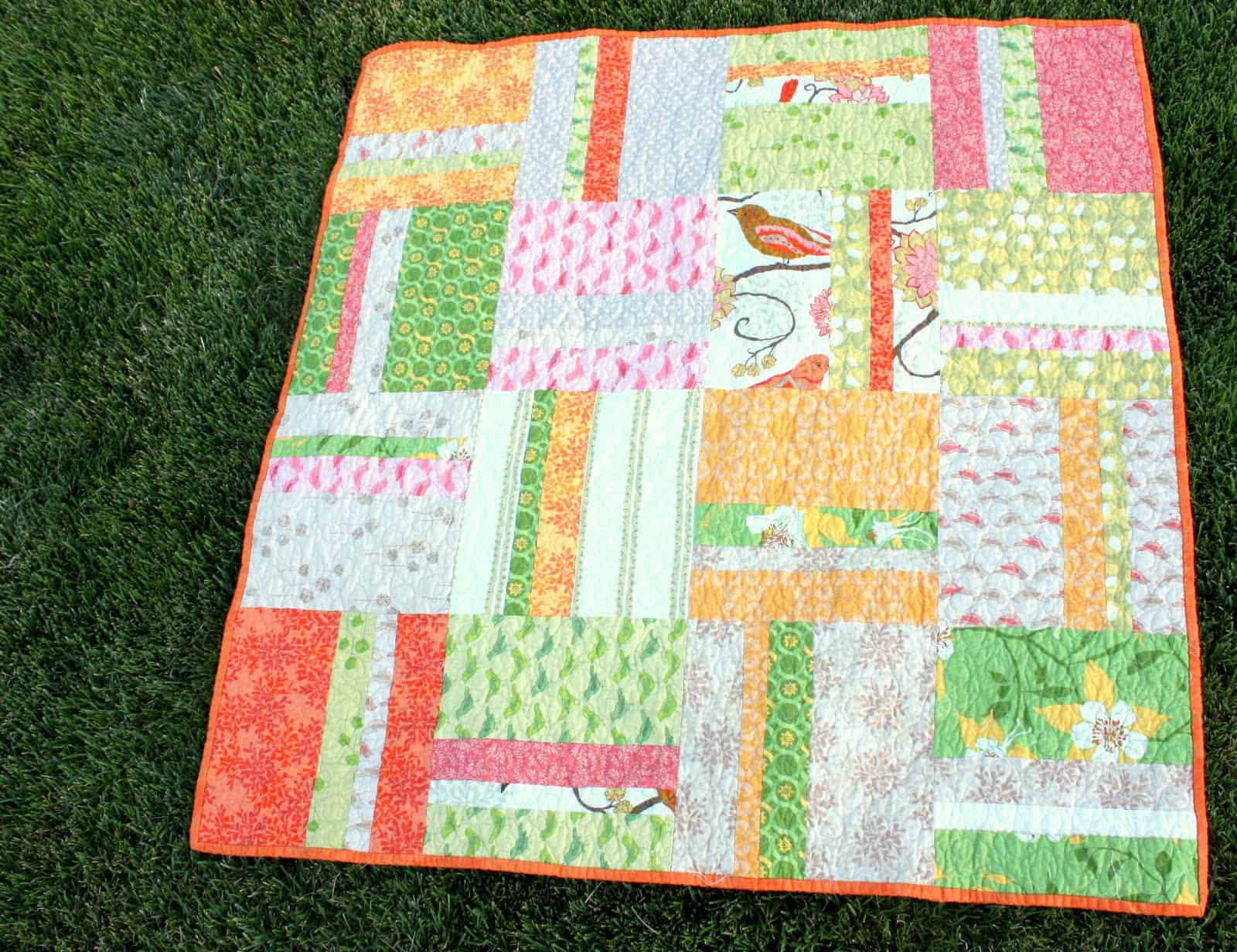 Did we actuallyreally catch your attention when we started talking about ways to make quilts that involve some rectangular shaped stripes instead ofjust a grid of squares, but you think you might actually enjoy the trips so much that you want to make yours happenentirelyin patterned stripes? In that case, we think perhaps we've found theperfect tutorial for you thanks toDiary of A Quilter!
8. Jaded chain baby quilt pattern
Just in case you actuallyare feeling up to a slight challenge despite being a beginner, here's a fantastic tutorial that will help you learn a standard quilted shape or pattern that you'll see used in my different colour schemes and combinations throughout your experiences in quilting!Jaded Spade Creationsteaches you how to make a beautiful diagonally traveling design element called a "jaded chain".
9. Beginner quilting project idea – log cabin flower
Has all this talk about shapes, patterns, and designs really got you thinking about how the sky is the limit when it comes to quilting and what kinds of images you can make, even when you'r rather new to the art? Well, if you've ever loved flowers and floral designed pieces in your home, we have a feeling you'll get alongvery well indeed with this "log cabin flower" pattern outlined in nice, clear steps for beginners just like you or your kids onLeah Day.
10.How to bind a quilt
Did we perhaps really catch your attention when we started talking about binding the outside of your quilt because that's the part of the project that you've had the most trouble with so far? Well, don't feel bad; this is a slightly difficult task thatmany beginners struggle with, since you're working on such a small space. In order to help you work on it and improve, though, here's a fantastic resource fromSassy Quilterto give you some helpful tips and tricks on making your binding happen with as much success as you can muster.
11.Ombre triangles quilt
Were you eyeing up the beginner's arrowhead design for quite a while but you can't help thinking that you might prefer to piece shapes together so that they sit right up against each other, rather than floating independently on a white background? Then we think you might get along a little better with something like this ombre triangles quilt outlined step by step onSee Kate Sew! They show you how to keep track of the direction of your pieces as well as your shades nice and simply.
12.Basic machine quilting stitches
When you were little, was the first quilt you were ever given actually the kind where the beauty and detail was added in the form of embroidery stitching, rather than in actual patchwork, sothat's think kind of quilting you've been hoping to learn? In that case, wedefinitely think you should take a look at howPatchwork Possecreated this lovely machine quilted piece featuring all kinds of swirling leaves and petals on top of floral fabric for a stunning botanical look.
13.Simple Lazy quilt
Did this idea by any chance catch your attention because it's called a "lazy quilt"? We only ask because that's precisely how it caught ours as well! We loved this design because the concept of piecing together a hodgepodge of themed fabrics and scrap pieces cut in all different shapes and sizes means that you can work with what you've already got in your sewing room rather than buying all new supplies, but still make something completely beautiful! Get the full details for making your own lazy quilt happen onAll Free Sewing.
14.Ruffled rag quilt
So long as you're sticking to standard cubed or square patterned quilting, have you actually been feeling a little bit more confident in your skills lately? Then we can definitely understand the urge to step your game up a little by adding some kind of new element or detail, but we know that you'll still likely want to keep things quite easy, since youare only just starting out. That's why we couldn't want to show you this fantastic ruffled edges quilt byFleece Fun! Of course, as you can see, the appeal here is that we don't mean ruffled edgesjust around the very outside edges of the quilt itself. Instead, they show you how to add an adorable ruffled edge to every single fabric square you're working with!
15.Full horizontal chevrons quilt
Has part of the appeal of quilting for you always been the way that you can piece a large image together from all kinds of smaller shapes in order to create something beautiful no matter what angle or distance you're looking at it from? Then we haveevery confidence that you're going to adore this quilted chevron stripes idea outlined step by step onMaking Things is Awesome. If you look at this photo closely, you'll see that the horizontal zig-zags you see across the entire quilt areactually made from little, patched together dual coloured cubes that have been alternated and lined up by colour to make the chevrons! Everything about this pattern is fantastic, if you ask us.
Do you know another fellow DIY enthusiast or avid crafter who's always yearning to learn new things and has expressed an interested in quilting, but who you think could use a little bit of inspiration or guidance? Share this post with them to help get them motivated and started!