These 25 DIY Shutter Projects Will Ignite Your Rustic Style
In the bedroom or in the kitchen, shutters don't only go outside on the windows. With a bit of creativity and some handiwork, you'll be able to take some older pieces and make them new again! These 25 DIY shutter projects will ignite your rustic style and have you giddy with possibilities.
1. Focus Piece
Southern Hospitality starts us off with this beautiful forcus piece that can be used in the foyer, dining room or even in the living room. Just color the shutters in a shade you love.
2. Mail Holder
Samantha Elizabeth took one shutter and cleaned up the counters. Store you mail in an easier way now!
3. Plate Rack
Open shelving can be a lot of fun. Use a shutter to display and store them. Just visit Laurie Anna's for the details.
4. Side Tables
Good Housekeeping created a side table completely our of shutters! Check out the tutorial after the jump.
5. Bench
We love funky, mismatched seating and this bench from Liz Marie would be a great addition to your dining room. And it's easier than you may think to create!
6. Sliding Doors
Me & Mrs. Jones made sliding doors out of old shutters! We are loving the blend of modern and rustic styling here.
7. Frame Display
You can even use some recycled shutters as a place to display your favorite photos. With or without frames it works! (via)
8. Sofa Table
You can even use a shutter to create a sofa table for the living room. Modern or more rustic, it's all up to you! (via)
9. Wreath Decor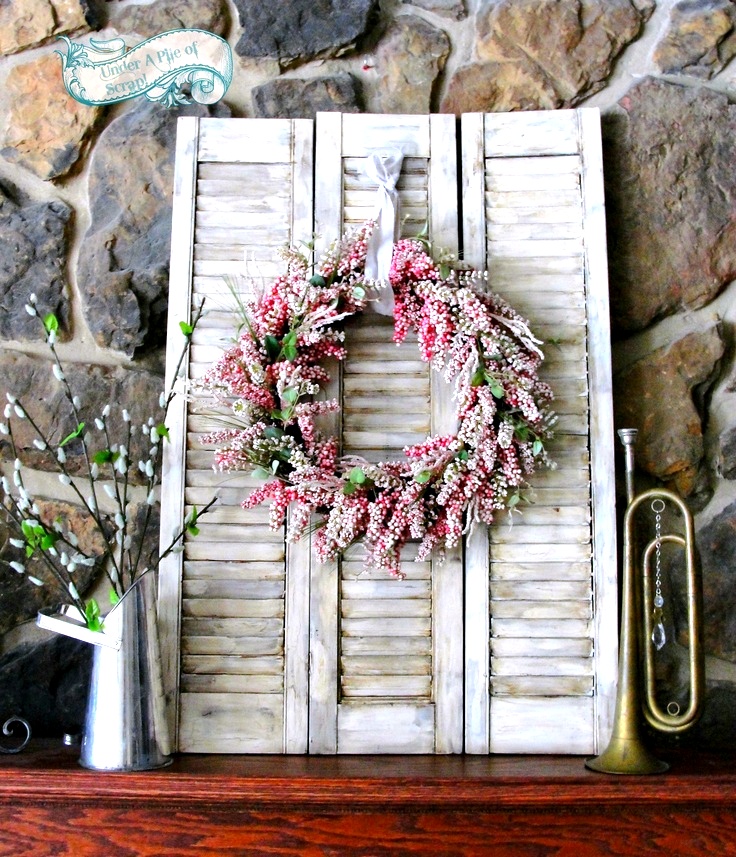 Funky Junk Interiors used an older shutter as a beautiful backdrop for a wreath. Up on the mantle or in the foyer, it's a fun way to decorate.
10. Easy Organizer
Home road makes an easy organize out of an old shutter that works great for family homes. In the kitchen or in the home office, these are really helpful!
11. Shelving
Homeroad also made this little shelving unit out of an old shutter! Add some hooks and clean up a bit in the corners.
12. Welcome Sign
We're loving this welcome sign made by My Repurposed Life. Use it all year long and change it out with the holidays and seasons.
13. Plate Displays
Worthing Court used some shutters to help in their collectible plate displays. It's a beautiful way to do so in a more traditional home.
14. Word Decor
You can even add some lettering to your shutters. Just check out the inspiration at Hometalk.
15. Mason Jar Planters
We've seen these cuties floating around. Just add a mason jar and some fresh buds for a rustic and charming piece of decor in the house. (via)
16. Accent Wall
Or you can go all out like they did over at Country Living. An accent wall full of texture and color, bring your cottage home full circle with this project.
17. Headboard
The Lettered Cottage used old shutters to create a girlish and charming new headboard. And we're loving the powder blue color choice, aren't you?
18. Shelving Unit
You can also create a shelving unit out of shutters. How adorable in the guest bathroom or bedroom could this be? (via)
19. Semi-Circle Piece
You can find all different kinds of shutters to make some magic inside the home. And this semi-circle piece at Completely Coastal inspires us.
20. Flower Box
Yes, you can even make a flower box out of some old pieces. It's a perfect, rustic touch to the garden area. (via)
21. Photo Backdrop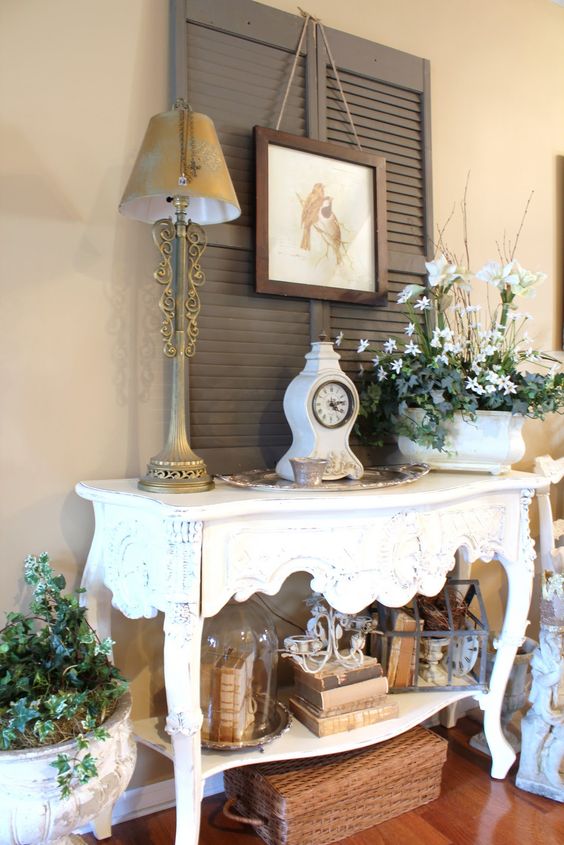 Use some shutters as the backdrop to your wall art. It's an easy DIY, even for novice crafters! (Pinterest)
22. Centerpiece
Or just use an old piece as the focus for your centerpiece. Whether for brunch or afternoon tea, it's a fun touch. (via)
23. Kitchen Island
Beyond the Picket Fence made a kitchen island using some shutters in its design. We love this innovation!
24. Vertical Planter
The Morton Project grabbed some larger shutters and turned them into vertical planters! Just imagine the life you can bring to your back porch or patio area with this.
25. Hallway Tree
A hallway tree could be a nice addition to your home, don't you think? Grab the details at Life at the Cottage.