13 Awesome Things You Can Do With Wax
When we think about crafting with wax, our minds naturally wander to candles first. While it's true that there are countless awesome DIY candle projects that you can make with wax but there are plenty of other cool, fun and useful things you can make as well! We'll be fully honest with you, though; we absolutely love both making and burning candles, so any time we talk about getting creative with wax, chances are good that candles will make up the bulk of the list.
Just in case you've never considered making either candles or other things with wax, here's a list of 13 awesome things you should totally try!
1. Cake scented funfetti candle
We've already talked about how much fun making candles with wax can be and we think it goes without saying that they usually smell good, but have you ever considered how cute DIY wax candles can look as well? This DIY cake scented funfetti candle from Bethcakes is the perfect example of what we mean! Besides smelling like a delicious, freshly baked cake, the sprinkles in this candle (which are actually real sprinkles) make the whole thing look like a celebration in a jar!
2. French vanilla coffee bean candles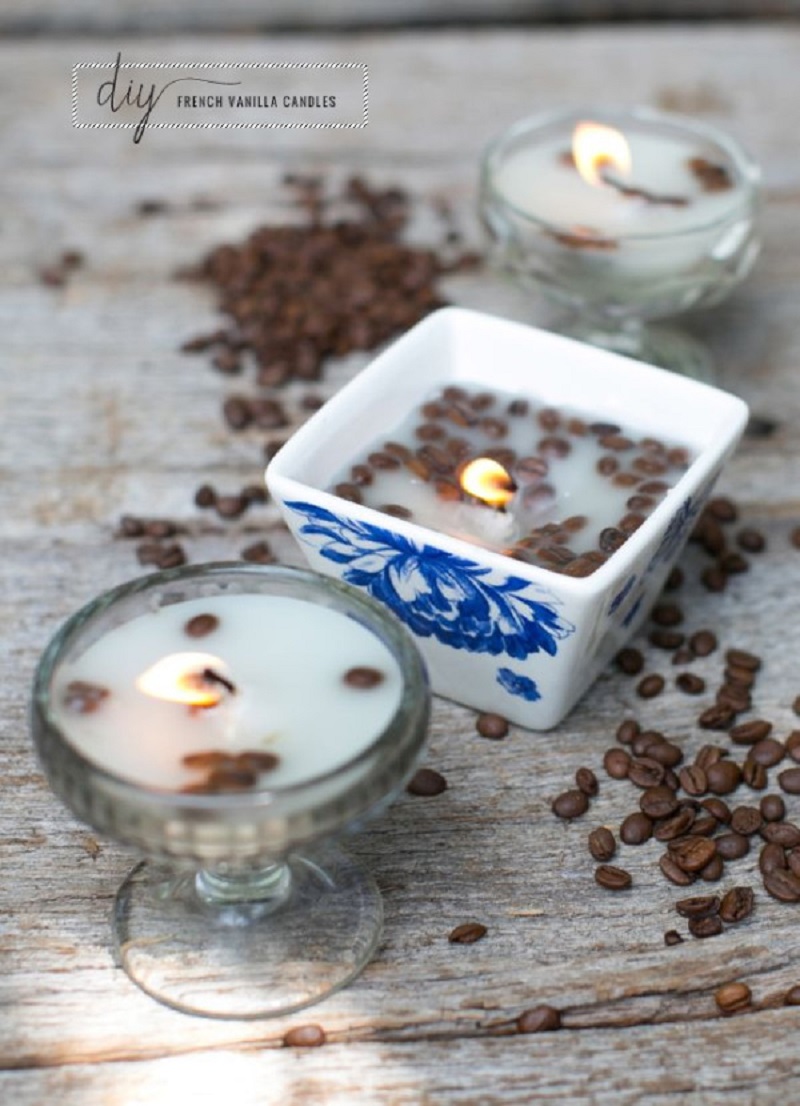 Are you the kind of person who enjoys nothing more than the smell of a warm pot of coffee in the morning? Do you especially like it when there's a hint of vanilla to the aroma, like you've just made a delicious latte? Then you're going to love this DIY vanilla bean wax candle tutorial from Hello Glow. We love the way that dropping a few whole coffee beans into the candle itself contributes to the aesthetic.
3. Bright geometric candles
While we're talking about cool visuals in wax projects, we definitely think you should check out this geometric candle making tutorial on Homemade-Modern. Their instructions show you how to make a candle with edgy angles to it, as well as how to make it in all kinds of bright colours!
4. Multi-coloured crayon candles
Are you reading through this list and getting a hankering for a bit of candle making but the only kind of wax you have available right now is in boxes of your kids crayons? Well, if you like bright colours, than that works just as well! We love the way Brit created angled candles with a colour blocking effect using crayons that have been carefully melted down.
5. Vintage teacup candles
Perhaps you're more concerned with the presentation of your candle rather than the look of the wax or the way it smells? In that case, you might prefer the way Cupcakes and Cashmere put emphasis on aesthetic by making a simple wax candle in a pretty little teacup! Take a trip to your local vintage and thrift stores or comb through the tables at garage sales until you find the teacup that's just right and then get started with your wax, just like the tutorial shows you.
6. Bottle cap candles in a jar
Are you looking for a simple little DIY gift that you can package up and give as a party favour? Well, this mason jar full of adorable little bottle cap candles is a trendy and totally adorable idea, if you ask us. Bonus points awarded for projects that upcycle more than one type of thing at once! Get the full details from 154 Hidden Court.
7. Jelly bean candle
Did you love the idea of making a sweet scented candle that looks adorable and smells like one of your favourite treats, but birthday cake just isn't really your thing? Then perhaps you'll like this jellybean candle idea instead! It smells sweet and fruity and it's colourful and fun looking to boot. Get the full instructions for making your own on Mumtastic.
8. Melted crayon shaving ornament
Canvas wall art and colour blocked candles aren't the only things you can make with melted crayons! If you and your kids have ever made tissue paper sun catchers to hang in your windows then you already know that they're a lot of fun to create and very pretty to enjoy after. Try upping your sun catcher game by using crayon wax to make it instead, just like Wee Share did here! We love the swirling coloured effect their technique creates.
9. Crayon dipped white candles
Are you looking through this list and loving what you see but you'd just not sure you're quite ready to actually start making your own candles from scratch yet because you've actually never worked with wax before? Then try this awesome crayon dipped candle tutorial by Craftionary instead! They've taken premade, store bought white candles and carefully put them in melted crayon wax to create an effect similar to dip-dying fabric, giving you a dual coloured candle in the end. We love that you could also do this technique with a candle you made from scratch rather than a store bought one once you're ready to try your hand at more advanced wax projects!
10. Hair removing sugar wax
If you've ever had your legs waxed then you're already familiar with how that type of wax differs from the thicker wax material that you'd usually make candles with. That doesn't man, however, that leg wax isn't a kind of wax project that you can create at home! Green Prophet guides you through the process of making sugar wax so everyone can have nice, smooth legs at your next home spa life with your friends.
11. Cookie cutter candles
Are you ready to start making your own candles but rather than putting them in something novelty like a mason jar or a vintage teacup, you'd rather create cute little seasonal shapes? Then cookie cutters are the answer to all of your needs! Popsugar shows you how they made pretty little tea light candles shaped like flowers and Christmas trees using simple metal cookie cutters.
12. Embellished wax Easter candles
Were you intrigued by the idea of using coloured wax to embellish and alter a premade white candle but you'd rather something with a little more detail than just dipping it into solid colours? Well, whether you made your premade candle yourself or bought it at a store, here's a cool project for Easter! This Pinterest feature suggests cutting coloured crayons into small pieces, heating them up, and pressing them into the surface of another candle to make awesome patterns.
13. Wax seals
Have you ever seen medieval movies where everyone's letters are sealed on the back with a wax seal that has their initials or family crest pressed into the wax for personalization? Well, that might not be common practice anymore, but it's certainly a fun era craft to do with your kids or even just an awesome way to customize a set of invitations to your next party! Check out how Craft Phesine used a textured necklace pendant to mould a seal press out of clay that will let you create the pattern in melted wax drops on the closing of an envelope.
Do you know someone who loves working with wax but who could use a little bit of inspiration when it comes to finding new projects to try? Give them a helping hand by sharing this post with them!