35 Screened In Porch Ideas That Will Inspire Your DIY Skills
Today we're talking about some homey things that may just prompt some fun projects for your own special space. These 35 screened-in porch ideas will inspire your DIY skills and have you jazzing up and renovating by the weekend. Whether you do this to make entertaining a bit easier or just for the family to enjoy, check out the tutorials and inspiration below. Your porch will thank us.
---
35 Screened In Porch Ideas
1. Cozy Lights
If you want, you can definitely make your brand new porch a very cozy spot by adding some really cute lights. Some comfy furniture will turn this spot into your favorite area of the home. Check out how beautiful the porch looks for @ownandcountryhouse on Insta.
2. Chill & Fun
This particular porch is a perfect mix between chill and fun areas. Furthermore, not only are there both a sitting area and a dining area but there's also a really cool porch to chill in. Simply perfect! We simply love how the area looks on @the_seasoned_home's Insta.
3. Reading Nook
Is there a more perfect place to read than out on your porch? Relaxin on a comfy chair with lots of pillows, enjoying the weather outside, but still, protected from the elements? Well, we really can't find a better way to dive into a cool new interesting world than like this. We're in love with this spot on @wellnestedhome's porch!
4. Living Space
This cool spot is more than a screened porch – it's a perfect outdoor living space! It has floor-to-ceiling windows, a fireplace, comfy couches to lay on, and more. It's just lovely, and we are really inspired by this place we found on Houzz.
5. Go White
Your porch can certainly allow a lot of light in if you have large windows, but the whole place will look even more luminous if you use white furniture like these couches and the white drapes as well. The chosen lights give this space a cozy feel that we absolutely love. Check it out on @mykukun on Insta.
6. Cat Haven
Even if you live in a house rather than an apartment, it doesn't mean that you want to allow your cats to roam free. This screened-in porch is perfect for allowing the cats some air while not actually allowing them out in the garden.
7. Green Heaven
If you have lots of indoor plants, you can definitely add some of them to this little heavenly spot, so you are surrounded by some green plants. A couple more couches, a dining area, some lights, and you won't want to spend any of your days inside. We can't get enough of looking at this cool pic from @sabiinteriors.
8. Hanging Couch
This particular porch comes with this really special feature – a massive hanging couch! The beachy vibe given off by the furniture here can't be beaten, and we're definitely going to go looking for some furniture in these shades of blue! Just lovely! Via @expresssunrooms_myrtlebeach.
9. Grays
Shades of gray keep things light, and they'll also keep against the dirt that is sure to accumulate in areas that are partially exposed to the elements. This particular porch uses gray flooring, and they made sure to get some furniture in the same shade. It's just lovely, and we love this pic from @primetopdecks_patiocovers.
10. Hanging Chair
How about you add a beautiful hanging chair to the porch? It will add an extra spot to sit, and these chairs are super comfy. Plus, this one from @mwconstruction also comes with a dining area, which we love, while the wood used in the construction gives off a rustic vibe.
11. Muted Shades
By using muted colors like white and beige, you allow the wood to shine in the construction while also permitting nature outside to play the focal part. It's a great idea for a screened porch, but you do have to be aware that it's quite likely you'll be tracking dirt in there quite easily. Check out the pic from @shannrg__.
13. Open Up to the Pool
You can use retractable screens to partially close off your porch, allowing you to open it up towards the pool if necessary. Of course, not all seasons are perfect pool-time, but if you live in a place like Florida, this could be a great solution. Check out the pic from @ourblissfulcottage.
14. Go Rustic
Sometimes, your porch can definitely be used as a place to have lunch or dinner, and during these times, you'll need a cool table and some chairs, and perhaps even extra cabinets. This particular porch from @rachel_thepondsfarmhouse looks just right, and we love how it all comes together.
15. Crisp and White
White is beautiful and, when used for furniture and decor pieces, it makes a room look a lot brighter and spacious. So, this particular porch from @luluhome.cami
gives us exactly those vibes, and we love that we can enjoy the nature behind like so. The Frenchie in the pic sure makes things ten times more adorable.
16. Entertainment
A little bit of entertainment while spending the day or evening on the porch is called for, so this cool deco idea is something we'll definitely borrow from @creativelycatiegoss. We also love the lights and the chosen furniture as it makes the screened porch really cozy.
17. Statement Chandelier
If your porch has high ceilings, a statement chandelier will certainly work. If you want to make sure you can use the porch around the year, you can also add in a fireplace. While the glass will protect you from the cold to some extent, it certainly won't do that as a warm fire can. We love this room from @verandaestatehomes.
18. Extension
Here, the porch looks more like an extension of the house, allowing the residents to cozy up in front of the fireplace, open up the doors to step outdoors at any time, and just enjoy the daylight. It's such a beautiful room, and we find plenty to be inspired here—Via @house.of.helen.designs on Insta.
19. Hammock
Hammocks are absolutely awesome, and if you have a screened-in porch, you can definitely put one up. Whether you'll just be using it to kick back and read a book or you want to take a nap in it, you're at least protected from the elements and all the bugs. Check out the pic from @becschlieman.
20. DIY
With a bit of carpentry skill, you can definitely try to make your own screened-in porch as @grahamtrafford did. It looks great, it's cheaper than having someone do the work for you, and you can customize it all. No matter how big or small your porch is, this can help keep the bugs away.
21. Lantern Lighting
HGTV begins our inspiration with this gorgeous, screened-in porch that's been highlight by a slew of lanterns. Giving this a Moroccan-Inspired look, that romantic lighting is really all you need to turn this space from day to night. You, too, can make this happen by adding these around the room plus some gorgeous curtains or fabrics all around the room.
22. Rustic Infusion
You could take a page out of Thistlewood Farms by creating a farmhouse-inspired screened-in porch for your home. There's a lot of ways to go about decorating within this design niche. Also, there's are a good variety of farmhouse-inspired decor DIYs that you can find to help spruce up.
23. Add A Swing
Porches and patios are fun to personalize and one of our favorite ways to do that is by adding a swing. We found this beauty on Pinterest, but there are a lot of great styles that you can install or even DIY if you're feeling craft enough. This one has a more versatile style that will fit in with a variety of outdoor looks.
24. Hang Twinkle Lights
If you're thinking of easy, DIY ways to add a more warm and welcoming atmosphere to your porch, then this idea from Simply Organized will certainly do the trick. Sometimes screened-in porches can be bland and only used to functional. But all you have to do to amp the style and entertaining worth to the space is add some twinkle lights!
25. Nature Inspired
We not only love the decor in this space, but we love its entire design. If you're looking for screened-in porch setups to grab inspiration from before building your own, then this gorgeous one from Karen Foley is something you may want to take a second look at. With a nature-inspired take and a very organic, raw feel, it's one of our favorites on the list.
26. Drop Cloth Porch Curtains
Another way to finish off your porch would be with some drop cloth curtains. Fortunately, you can learn how to make some of your own over at Here Comes the Sun. Neutral tones are always great for the home but don't be scared to go with some color to personalize the area even more.
27. Include A Dining Area
Another DIY idea when it comes to your porch is to add a dining area to the scene. You can decorate and style it all on your own and add a space that's easily used for entertaining and enjoying all year round. We love this setup from The Endearing Homeand would definitely model our own after it.
28. Think Modern
Coco Cozy went with a modern scheme for her screened-in porch and we're in love with this too. We're very used to more traditional or natural scenes when it comes to our outdoor areas but keep in mind that you can create something more contemporary as well. You can both enjoy this room of the house and have it feel like part of your entire vision.
29. Personal Nooks
Another way to DIY and personalize your screened-in porch is to distinguish nooks. If you're working with a nice size area, section them off nicely. Take this nook we found over at HGTV,for example. Use this dining spot as a place to have coffee with the girls or do some afternoon writing.
30. Shed Transformation
We are absolutely swooning for this DIY idea from The White Buffalo Styling Co.Once an old shed and now a beautiful porch, it's a transformation that's truly inspiring. If you've got something similar out back, why not turn it into something usable for the family?
31. Distressed Glam
House Beautiful gives us another fun styling idea that we can take a run with. This distressed – but glam – setup is infused with so much fun, texture, and feminine quality. We love the uniqueness behind this porch anyhow, it's not only perfect for enjoying the scenery outside but still a fashionable part of the home too.
32. B&W Geo Prints
Maybe you have more of a funky spirit. If so, take note from Serendipity Refined and their black and white, geo-inspired porch area. We love how just the easy addition of a throw rug with contrasting tones made this something even more special.
33. Initial Planter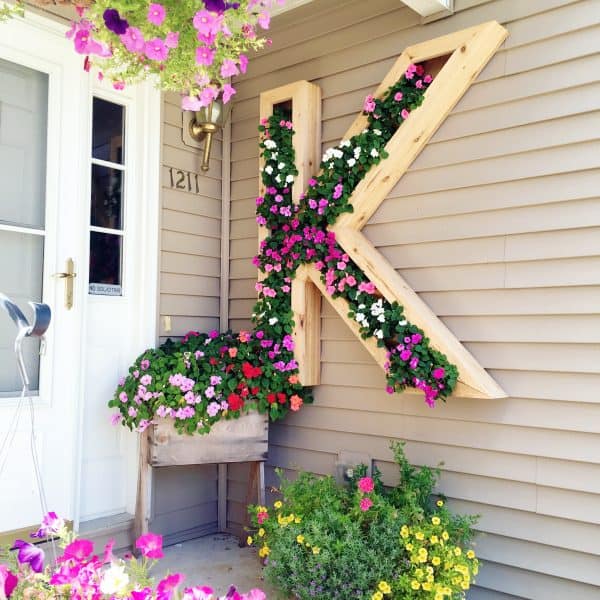 Here's another fun DIY that makes for a wonderful addition to your porch area. The florals will get sun from the natural lighting that the room gets hit with, and space gets a breath of fresh air from the petals. Have a peek at how to make this happen over at Remodelalholic.
34. Trendy Visions
Apartment Therapy showcased this small area, and we love its quaintness and its trendy vibes. Varying textures, fun furniture pieces, and welcoming air, it's another great space to gather inspiration from when creating you own porch area.
35. $500 Budget
And finally, if you want to do more than DIY your own decor for your screened-in porch, then HuffPost has the project for you. Build your own space from scratch. All you need is $500 in your pocket – and some crafty hands – to get started.
---
Final Thoughts
Whatever project you want to take on for your screened-in porch, we're sure you'll find just the right solution for your home. We know we offered plenty of ideas here, so we hope you'll pick a few and let us know which ones.