18 DIY Wedding Card Boxes For Your Guests To Slip Your Congrats Into
There are a lot of fun ways to gather up all of your congratulatory greeting cards. From baskets to bins, you can use this as just another fun way to bring in some hand-made, creative energy and personalization into your big day. And we've compiled a wonderful list of 18 DIY wedding card boxes for your guests to slip their congrats to you … right into!
1. Vintage Suitcase
Grab a vintage suitcase and dress it up a bit to hold your wedding day cards. Guests can just drop and go! (via)
2. Mailbox
Ruffled shows us how easy it is to use a mailbox! It's literal and you can find or make nearly any type or style.
3. Hat Boxes
Here's another way to easily DIY a piece of your wedding. Gather hat boxes, stack them and get creative with the styling! (via)
4. Recipe Box
Paint or own or dress up a larger, vintage recipe box. Either way, using one to hold your wedding cards is another great idea. (via)
5.  Bedazzled Box
Two Twenty One has one of the easiest DIYs for us to share. Bedazzle a box and have your guests slide their congratulations right in.
6. Wooden Log
Or if you want something more rustic. Check out Instructables and learn how to turn a log into something beautiful and functional.
7. Globe
My favorite of the bunch, this globe is so charming and unique. Grab all the details over at Un Beau Jur.
8. Simple Baskets
Baskets are always easy to transform too. Love of Family and Home gives us this creamy beautiful and we're in love.
9. Houses
Mini houses are another great way to store your congrats. Check out this cute idea over here and grab some inspiration. These are be easily made from scratch!
10. Trunks
Trunks are another great idea because they can be DIYed and styled quite easily. From modern to vintage, it's a classic way to store the cards.
11. Wire Baskets
Dress up a wire basket a bit for a rustic or simple feel. Etsy has  ton to choose from and you can buy or at least grab some DIY inspiration from them.
12. Lanterns
Style Me Pretty gives us another special idea that we have been swooning for. Grab a lantern, give it a quick makeover and have it await all the heartfelt cards.
13. Glass Cases
We also love this chic idea from Southern Weddings. Glass cases with a bit of reworking could be what you need to top off the day too.
14. Wishing Well
Something Turquoise gave us another unique idea. This too can be made from scratch by someone that loves to play around and work with their hands.
15. Milk Crates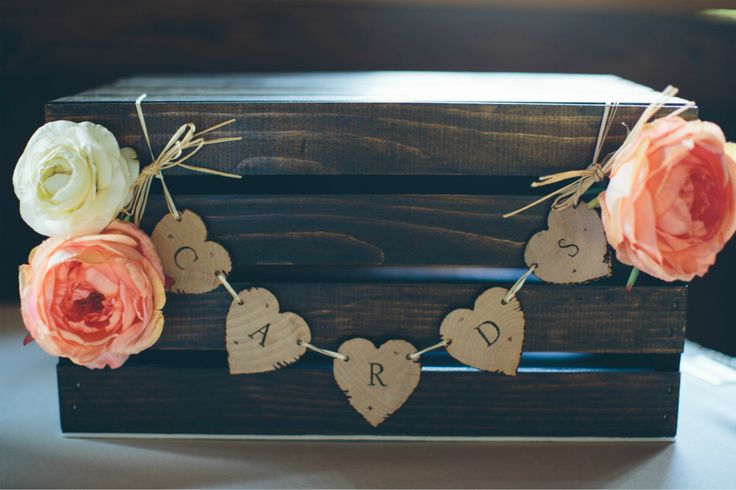 Similar to baskets, milk crates are easily made into wedding card boxes. And we're loving this beautiful styling.
16. Picnic Basket
If you're looking from something more springtime and casual, go with a picnic basket. You just have to get a bit creative with the presentation.
17. Lego Box
The Knot showed off this adorable Lego box diy and we are loving it for the more unique and quirky couples out there. You can literally create anything you want this way.
18. Birdcage
My Wedding Reception Ideas inspired us with this birdcage idea and all the fun ways you could style and accessorize an old or new cage for the wedding day!