Can You Freeze Royal Icing? Here's What You Must Do
Icing makes cakes and cookies look fabulous, but it's really royal icing that gives it an elevated look. If you're just starting out in working with royal icing or you're looking into it, you'll want to find out everything about it, including if freezing royal icing is possible.
If you could freeze royal icing, you'd save a lot of time as you don't have to make it all the time; you just have to remember to take it out of the freezer ahead of time.
Can You Freeze Royal Icing?
Every time you take on a new task you have to take into consideration all the time you actually put into that task and how to maximize your efficiency. Therefore, if freezing royal icing will save you time in the long run AND make your life easier, that's something you have to consider. We have a message from one of our readers on this theme, so here it is:
I've started making cakes and custom cookies for friends and family as a kind of small side business. I have received more orders in recent weeks than I was expecting, and sometimes find it difficult to meet all the necessary deadlines. What's slowing me down the most is the need to constantly mix royal icing from scratch.

I'm not a fan of the pre-bought stuff, but it is time consuming to make a fresh batch every week. I was thinking that it might save me some time to simply make a large batch once a month and freeze it in batches to save time when baking for my clients.

I'm worried that the icing won't freeze well. I can't afford to have baked goods that don't taste great. Can you freeze royal icing?
Yes, you can freeze royal icing. If you want it to taste freshly made for your clients, you will have to be sure to protect it well against freezer burn and so that it doesn't develop a crust and go crumbly. Also, you must decide whether you are going to freeze your icing already colored, or just freeze it plain and mix in the colors when you need them.
It is easier to store plain white icing because the color can have a tendency to "bleed" when frozen and then thawed, but it's not necessary to freeze it white. Just be prepared to correct the color if necessary when ready to use.
How to Freeze Royal Icing?
Are you ready to get started in freezing royal icing? Then let's go through all the steps:
To freeze royal icing, be sure to begin with fresh icing that hasn't been sitting out for too long.
Royal icing has a tendency to dry out and get crumbly, and starting out with dry icing will yield poor results.
Place the icing in freezer bags, then seal the bags after the excess air has been removed.
Label and date the bags and place them in the freezer.
You can lay the bags flat and store them stacked to save space.
How to Freeze Royal Icing for Longer?
If you want to make sure that your royal icing is kept in perfect condition, you may want to consider getting a vacuum sealer. The vacuum sealer will take out all the air in the bag and provide a perfect seal on your freezer bag, so no air goes in. In turn, this will extend the life of your royal icing and ensure that there's no change in taste.
We have a full list of vacuum sealers you could get, but we do love the FoodSaver V4840 2-in-1 Vacuum Sealer Machine which works with both freezer bags and containers of various sizes. This means you can freeze as little or as much royal icing as you'll need, as well as plenty of other dishes.
How to Thaw Royal Icing?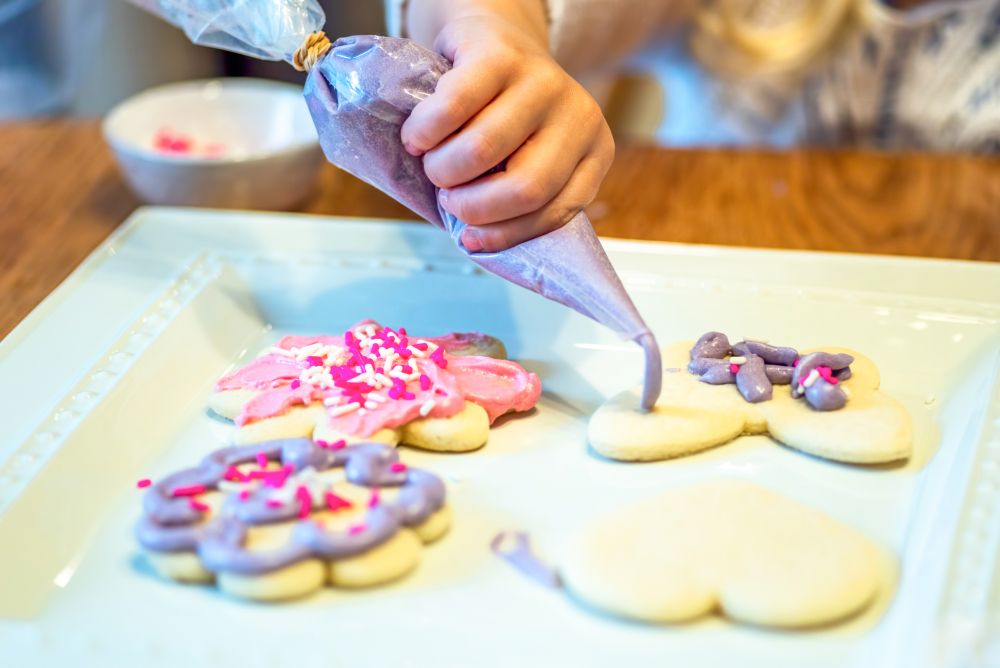 Is it time to make your next batch of cookies? Well, let's take out the royal icing then.
To use, remove the icing from the freezer and allow to thaw completely in the fridge before use.
When ready to use, check for any separation. You may need to whip the icing in a bowl with a spoon or spatula first before using it.
Then, add any coloring if necessary.
Spoon the icing into piping bags or use it however you usually use it to decorate your baked goods.
Thawed royal icing should be used within a few days for best results. Store in the fridge if not using immediately.
Can You Freeze Cookies With Royal Icing?
Yes, you can! Cookies with royal icing can be frozen and quite well. You'll just have to make sure you put the cookies in individual freezer bags and then stack them in a container so they're better protected.
Royal Icing Recipe
When it comes to royal icing, the recipe only requires a few ingredients – egg whites, confectioners sugar, and a bit of lemon juice.
You need to put the egg whites into the bowl of your electric mixer and beat them with lemon juice. Then, add sifted powdered sugar on a low speed.
As far as consistency goes, you'll need to test it out to get it right. Depending on the size of the egg whites, you may need to adjust the recipe. If the icing is too thin, you can add more confectioners sugar, if it's too thick you can add a bit of water.