15 Lovely Projects Made from Old Shutters
In our house, the most popular crafts are always the things we make that involve upcycling of some kind. In fact, we do so much of it that we're practically known in our friend group for scouring antique and garage sales, as well as thrift stores, for things that we can repurpose. Recently, we came across quite a large collection of vintage wooden shutters and, added to the ones we've already collected over the years, we feel we have enough to make something really epic! That's why we've been keeping our eyes peeled for fantastic DIY upcycling projects for our home made from old shutters of all kinds and sizes.
Are you feeling just as enamoured with the idea of repurposing vintage shutters for home decor as we were? Check out these 15 fantastic ideas, designs, and tutorials that we've come across so far in our search for inspiration and guidance!
1. Shutter collage wall
If you're going to put in all the time and effort it takes to make something impressive out of shutters, are you totally willing to make something quite permanent and eye catching? In that case, we'd think you might get a real kick out of the way Thistlewood Farms used their old painted wooden shutters to line an entire wall like an accent piece!
2. Shutter console table
Do you have one shutter that's a little larger than the average one you came across in your search, so you're looking for a project that will really take advantage of its size well? In that case, we'd definitely suggest taking a look at how HGTV turned theirs into a lovely console table that will sit well behind your couch or even suit your entryway!
3. Shutter kitchen island on wheels
Are you feeling quite enamoured with this whole concept of using shutters to make furniture but you'd much prefer to make something for your kitchen than your living room or front hall? In that case, we'd absolutely encourage you to take a look at how Beyond The Picket Fence made this fantastic DIY rolling kitchen island using wooden shutters to create the base.
4. Rolling shutter closet doors
Perhaps the shutters you have are actually quite large because they're specifically from an old fashioned verandah, so you feel like you might preserve their original purpose and keep using them as doors? Then maybe you'd prefer to add some additional novelty by adding a sliding bar door bracket the way Me & Mrs. Jones did.
5. Wall mounted old shutter bathroom shelf
If you're going to build something from scratch using your shutters, would you rather make it something really functional that you actually need? Well, if storage is as much of a constant need in your home as it is in ours, then we think you'll really appreciate the way Funky Junk Interiors turned their shutters into a wall mounted cubby shelf for their bathroom!
6. Shutter photo display
Are you the kind of nostalgic person who almost always chooses to craft something that will help you display your photos whenever you can? Then we think you'll be quite pleased to learn that that's totally something you can use your shutter doors to do! Take a look at how Start Loving Your Home mounted their photos onto a wall hung shutter by clothes pinning them to the slats.
7. Vintage shutter headboard
If you have more than one set of shutters, especially ones of different sizes, then maybe you'd prefer to use them all at once and make something a little bigger! We adore the way Samantha Elizabeth made over their bedroom by painting four vintage wooden shutters and setting them up just right on the wall to make a farmhouse chic headboard.
8. Wall mounted shutter organizer
Did you really like the idea of turning a shutter into a wall mounted piece but you're also intent on making something that does more than just hold photos, since you're a practical crafter? In that case, we feel like you might prefer to see how Home Road made one of their wooden shutters into a wall mounted organizer for letters, reminders, family notes, and so on!
9. DIY shutter corner shelf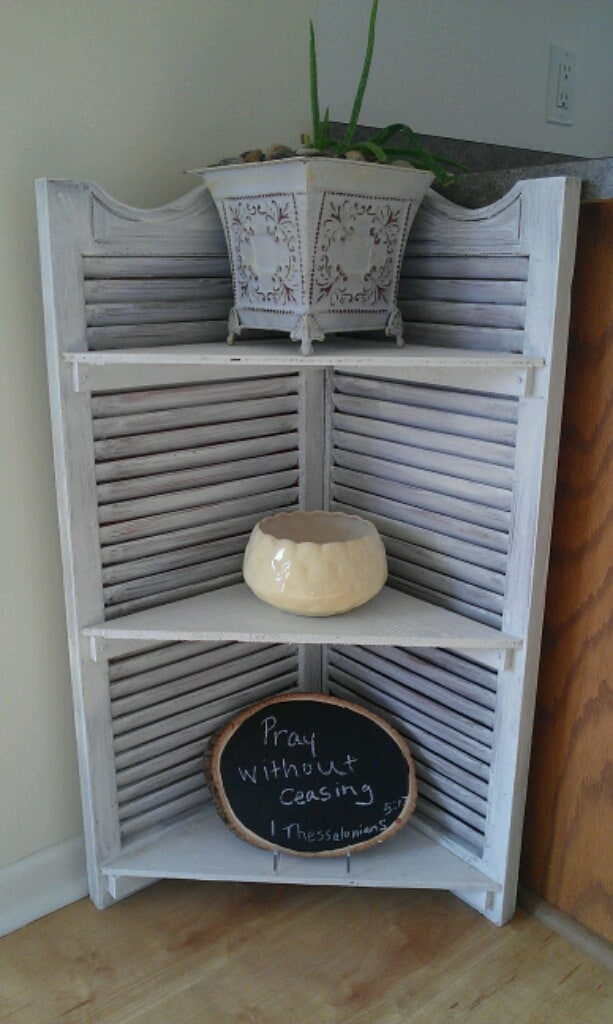 Just in case you're feeling quite intent on making some kind of storage solution or shelf but the only space you have available to put anything is in one corner, here's an idea that you can totally still work with! We're huge fans of the way Thrifty Treasures used two wooden shutters and some plywood to make this simple corner shelf that looks great painted or weathered.
10. Shutter table runner
Rather than making something permanent or that will stay out on display all the time, would you rather create a shutter piece that you can dig out and use when you really want to just set the scene and amp up the farmhouse chic aesthetic for guests? Then we think you'll get a real kick out of the way Becky's Farmhouse used one of their wooden shutters as a rustic table runner!
11. Bathroom mirror with vintage shutters
Of course, just because you're upcycling your shutters from their original spot doesn't mean you can't still use them as shutters somewhere else! That still counts as repurposing, if you ask us. This stunning vintage shuttered mirror outlined step by simple step on My Shabby Soul, designed just to add a bit of vintage character, is the perfect example of what we mean.
12. Kitchen item shutter storage
Are you sill thinking about how much you love the idea of using your shutter to make some kind of storage solution but you live in a very small apartment and you're just not sure you have the space for the boxier style shelves we've shown you so far? Then we think you might get a real kick out of the way Design Sponge made this leaning kitchen utensils hanger instead! We love the way they added a geometric pattern to theirs using paint.
13. Shutter mug rack
Just in case the previous idea cause your eye but most of your kitchen supplies already have a home, here's another idea that will at least help you get some things up off the counters and out of the cupboards in order to make more room. Check out how Hometalk used a weathered shutter to create a wall mounted mug hanger with hooks down each side.
14.  Shutter garden bench
We've already talked a little bit about making actual furniture pieces out of shutters but, if you're going to build furniture from scratch, would you much rather create something you can actually sit on? In that case, we'd absolutely suggest taking a better look at this tutorial from My Repurposed Life that teaches you how to make two repurposed shutters and and some upcycled wooden chair legs into a bench that looks great on the lawn or a porch.
15. Tuscan shutter garden
Have we really caught your eye with the mention of making some kind of porch decor but you're also hoping to up the number of pretty florals and green plants on your porch too? Then we think this adorable vertical garden idea outlined in just a few simple steps might be right up your alley! See how these rustic chic painted terra cotta planters were affixed all down a tall leaning shutter on Simple Nature Decor.
Have you created other stunning DIY pieces from old shutters before that you were very happy with indeed but that you don't see here on our list? Tell us all about what you created and how you did it or link us to photos of your finished work in the comments section!