15 Shrimp Dinners That Will Make The Entire Family Happy
Are you looking for some unique ways to put a spin on the usual weekday family meals? Sometimes all you have to do is add shrimp. Although it's a fan-favorite and an incredible versatile protein option, we forget that we can make it a house staple and not just one to order when we're out and about. Instead, learn how to incorporate them into dishes everyone will love. These 15 shrimp dinners will make the entire family happy and mix things up from the usual in tasty ways too!
1. Shrimp & Veg Coconut Curry
There are so many fabulous flavors involved in this dish. The coconut sweetens the curry just right and the shrimp makes it a bit more of an indulgent experience at dinnertime. Check out the recipe over at My Nourished Home.
2. Shrimp Fettuccine Alfredo
Wyldflour went a more traditional route with their fettuccine alfredo dish. But, instead of the natural selection of grilled chicken, this bite is topped off with some garlic shrimp. Prepare a salad and some bread as a side piece to this delicious ensemble.
3. Shrimp & Pepper Jack Nachos
Who doesn't love nacho night at home? It's an easy dinner to through together and easy to personalize according to taste buds too. And at Barbells and Bellinis, bouts of pepperjack and shrimp make the perfect foundation for the perfect bite.
4. Jambayala Pizza
Jambayala is delicious and full of flavor. And it's a family-friend bowl as well. But when you combine it with the ultimate family-favorite meal, pizza, you have something both experience and scrumptious up your sleeves for the fam. Check out all the details at Life Tastes Good.
5. Shrimp Fajitas
Fajitas are a friendly, family favorite as well. And these shrimp fajitas from The Blond Cook can be cooked up in one pan. The cleanup and the prep is super easy!
6. Butter Garlic Shrimp
A bit of butter and garlic go together like peanut butter and jelly, perfectly and deliciously. At Flavor Quotient, you'll learn how to cook up your shrimp using these additions and making bites that even the kiddos will want seconds of. Grab the recipe after the jump!
7. Creamy Tuscan Shrimp
This shrimp can stand alone or be paired with some grilled veggies. Of course, it is of the Tuscan variety and would taste nice with some pasta as its side too. Learn to make this beauty by visiting Salt & Lavender.
8. Lemon Butter Shrimp
12 Tomatoes went with a classic favorite. Everyone loves a bit of butter and lemon with their shrimp. Add some grilled asparagus and you've got a healthy summertime meal for the family on your hands.
9. Pork Burgers with Garlic Shrimp
Who doesn't love a good burger? If your family enjoy this kind of weeknight bite, then put a tasty spin on the classic sandwich. Fire up the grill for pork burgers topped with garlic shrimp. All the info can be found at the geniuses behind Little Kitchen. Big World.
10. Kung Pao Shrimp
A bit of spice is always nice. Hop on over to Omnivore's Cookbook if you're feeling like an Asian feast for dinner tonight. This Kung Pao shrimp has lots of flavor, crunch, and fresh ingredients to spare.
11. Grilled Shrimp Foil Packets
These foil packet dinners are always so easy when you want a quick-fix and quick cleanup. Pack your aluminum pouches with all the ingredients and then fire up the grill or oven. Follow along at Delish.
12. Shrimp Tacos with Pineapple Salsa
Taco Tuesday just got fresher and more fun with this recipe from Amy Sheree. Instead of chicken or beef, add shrimp to the mix of Mexican deliciousness. And then add some pineapple salsa to really make everyone's taste buds pop!
13. Shrimp Corn Chowder
Corn chowder is a family favorite, especially during the chillier months. But to give it a summertime spin or one with a bit more heartiness, you can add shrimp. The recipe can be found at Well Plated by Erin.
14. Pesto Parmesan Spaghetti Squash with Shrimp
Spaghetti squash is very much in right now, especially among the vegan and vegetarian friends. But, if you want extra protein, shrimp can be a great addition. And don't forget the pesto according to Peas and Crayons!
15. Chipotle Shrimp Burrito Bowl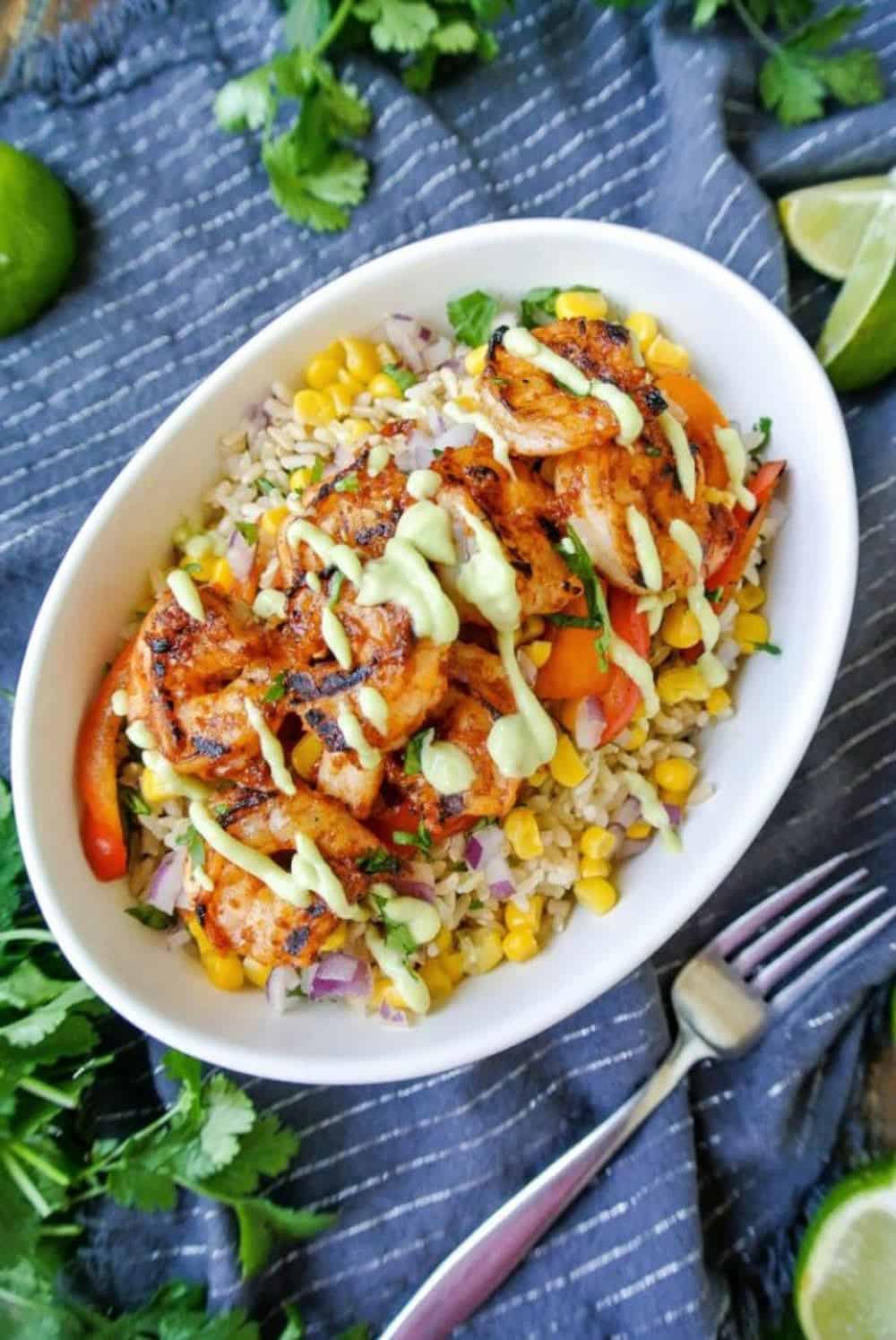 Kelly's Ambitious Kitchen gives us our final recipe of the night. These burrito bowls are filled with fresh ingredients and can be personalized to everyone in the family in terms of toppings. But the shrimp makes this one a difference experience than our usual steak or chicken options.