Flaunt Your Favorite Memories With These 50 DIY Picture Frames
Family and friends sprinkled around the house, your favorite snapshots from vacations of the past or memories that you can't let go of and want to display all year long, all you need are some picture frames to hang or stand on the mantle! Fortunately enough you don't have to shop for them all and instead, you can get creative and make some that fit your personality and your home. Flaunt your favorite memories with these 50 DIY picture frames found below!
1. Clothesline
Hang a variety of photos on this DIY clothesline frame from Common Creative ATL. It's funky, it adds texture to the walls and a pop of color too!
2. Gilded
Julie Blanner made some gorgeous, gilded frames that we're swooning for. Check out her inspiration and her beautiful gallery wall.
3. Fabric Scraps
Use some fabric scraps to create this fun, ombre DIY picture frame. Grab all the easy details over at Mimi, Mommy & Me.
4. Collage
This beautiful beadboard collage frame from Creations by Kara can be the perfect addition to your gallery wall or hallway decor. Pop in the family and display!
5. Wooden Monogram
Shanty 2 Chic made this rustic, wooden piece complete with a monogram and/or initial accent. It's the perfect family piece or DIY gift idea.
6. Chevron
This chevron board is so much fun and only cost a mere $5 to make. Grab the details and know-how over at Shanty 2 Chic!
7. Wood + Leather
Going Home To Roost used a bit of wood and a bit of leather to create this funky and unique frame. Use it to display artwork, prints or family photos!
8. Window Frame
Visit I Heart Naptime to learn how to turn an older window frame into a spot for housing a gorgeous family memory or snapshot. Above the fireplace, sofa or in the guest room it could fit quite nicely.
9. Simple
Here's a simple DIY frame from Shanty 2 Chic – yet again because they are so creative there – that also provides you with a snazzy free printable! Click away!
10. Burlap Canvas
U Create made these adorable burlap canvas frames that would be the perfect addition to your home office desk or a side table in the foyer. They're so charming!
11. Yarn + Cardboard
With some yarn and a bit of cardboard you can easily make these colorful futures. Follow along with Let's Do Something Crafty.
12. Rocks
Morena's Corner made a frame with rocks as its main ingredient! We love the natural, textural look and you'll have a lot of fun designing the finished product.
13. Modern
Check out this modern and simple DIY frame over at Happiness Boutique. This one makes the picture of choice look like a canvas print with a bit of a professional feel.
14. Fabrics
Here's another DIY picture frame you can make with all kinds of fabrics you love and that inspire you. Wonder Forest has all of the details and know-how.
15. Hot Wheels
Hot Wheels has something extra adorable for you to make for your little ones, or get them involved! Grab some $1 cars and start gluing.
16. Cork
Two Shades Of Pink made this super rad cork frame that we are absolutely swooning over. Paint them the colors that inspire you and voila!
17. Pom Pom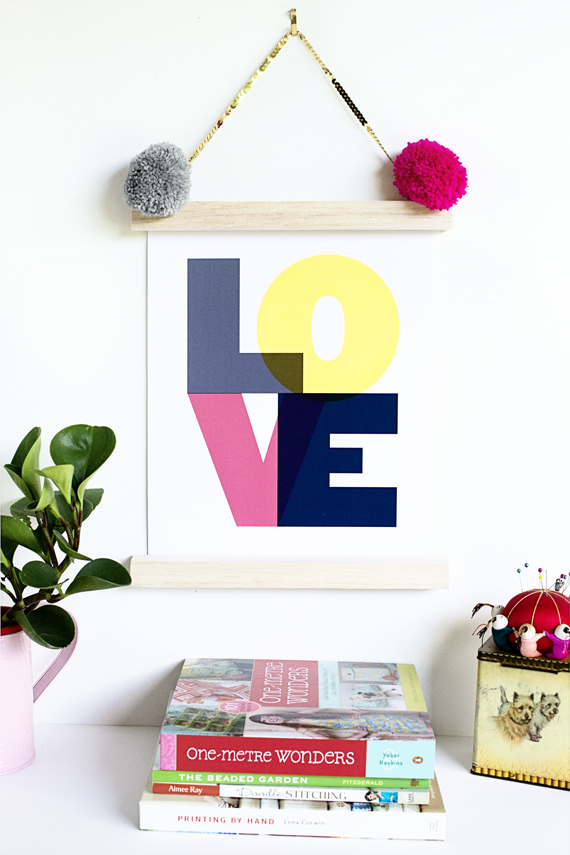 Visit Minted to learn how to make this super quick art pom-pom accented frame. Hold you favorite prints or larger photos in this cutie.
18. Ornaments
Minted featured these adorable DIY picture frame ornaments as well. They have a fun, festive feel and they'd be a perfect addition to your seasonal decor.
19. Moss
For something a bit offbeat or for a themed event, make this moss photo frame from Ruffled. Weddings, showers, or something to accent the porch!
20. Washi Tape
Using fun pieces of washi tape can be another creative and unique way to frame your photos. Check it out at Brit + Co.
21. Dollhouse
Is this dollhouse frame that the most charming? Martha Stewart has all the details you need to recreate one right at home.
22. Paper Straws
The TomKat Studio made these paper straw photo frames that we're swooning for. How innovative and creative is this DIY?
23. Pallet
This rustic, pallet frame from It's Overflowing is both a fun DIY to dive into and a great way to accent your cozy, traditional home with family photos.
24. Books
Grab some old books and turn them into picture frames. We are loving this unique idea from Better Homes & Gardens!
25. Wood Transfer
Here's another DIY picture frame that involves wood but this time it's an actual photo transfer. Snatch the details from DIY Joy.
26. Washi-Trimmed
You can always use washi tape to jazz up an old photo frame. It's easy and the finished product is super fun just like you see here with Bombshell Bling's piece.
27. Mason Jar
If you love the vintage feel and country flavor of mason jars, then you'll want to learn how to make this from Home Stories. How adorable as a centerpiece!?
28. Maps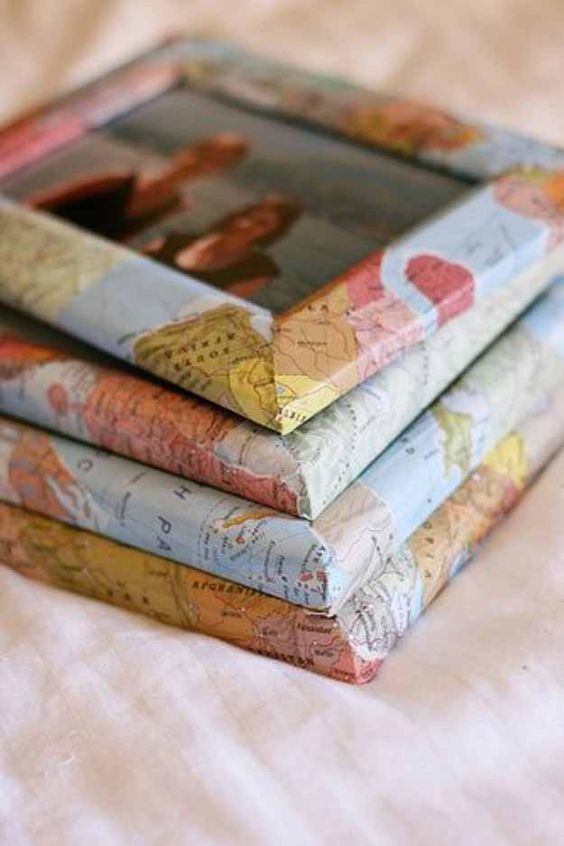 Decoupage some vintage maps onto some older frames for a new and improved look. We snagged the idea from Alyssa B. Young.
29. Newspapers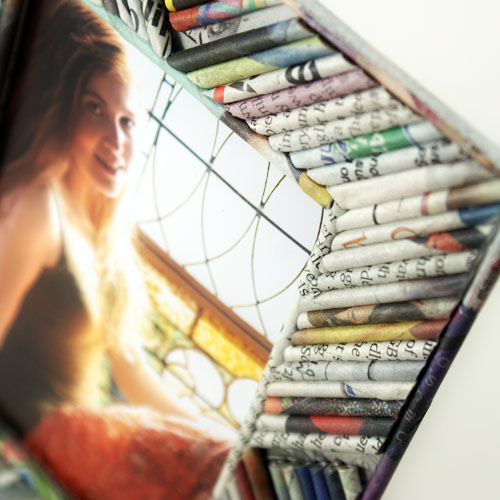 Collect some newspaper and use them in your next DIY picture frame tutorial. You can create something similar to this feature from Saved By Love Creations.
30. Pom-Poms
Brit + Co has another adorable idea and this time it includes some pom-poms! Use them to outline your prints, photos or other memorable pieces.
31. Home State
Whether you decide to draw on the states or countries, draw a piece of your home onto you frames. This idea was found at Home Decor Ideas and we find it quite charming.
32. Love
Learn how to easily personalize a simple frame with the help from Everyday Cricut. The addition of color and "love" made a big difference!
33. Sand
For your beach memories, try your hand at creating this sanded frame. Take a peek at the easy tutorial over at Simply Nicole.
34. Boy Crap
We are absolutely in love with this DIY picture frame full of "boy crap" featured on A Girl and A Glue Gun. How adorable for a play room?!
35. Industrial
This one has a bit of a rustic style as well but it's infused with a bit of industrialism as well. Check it all out over at Remodelaholic.
36. Clipboards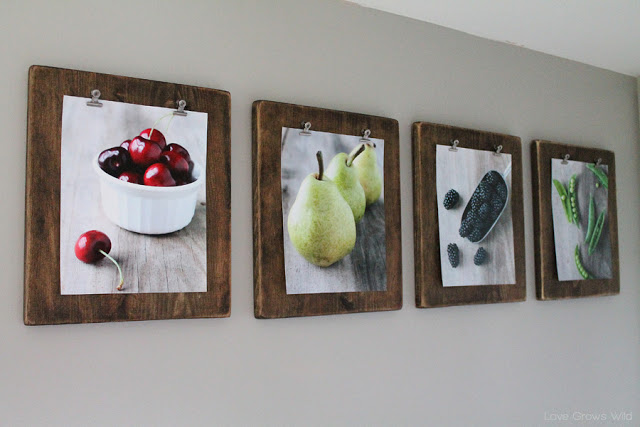 Love Grows Wild made these photo clipboards that are perfect for jazzing up kitchens, craft rooms or even hallways. And they're super easy to make!
37. Toilet Rolls
Creative Carmella utilized some toilet paper rolls in the creation of these charming picture frame. Add a bit of style to your simple frames with a roll and some paint!
38. Wood Burning
Learn how to wood burn your picture frames over at A Beautiful Mess. We love all of the delicate designs they decided to go with!
39. Foam
Sugar Bee Crafts made these popping frames out of foam board! We love the silhouettes and the color choices, don't you?
40. Classic
Check out these classic frames over at Skunkboy. We love the lineup she made of this little gal but we also love how versatile the style can be for all homes.
41. Fireflies
Crafts Unleashed made this fun, flickering fireflies frame and it looks to be a beautiful idea for a DIY gift or to show off you little ones' adorable faces.
42. Comic Book
Here's another decoupage project that we've swooned for. Grab some of your favorite comics and start designing a new piece for your little guy or playroom! Thanks Crafts by Amanda!
43. Ladder
Create a DIY picture frame ladder for your living room corner or dining room. Stack it with photos and learn how to recreate it over at Creative Ambitions.
44. Cardboard Rings
Here's another funky and quirky way to display your photos. Over at Photojojo you'll learn how to make these charming cardboard rings!
45. Pedestals
Go back over to Crafts Unleashed to learn how to make these pedestal-like picture frames. The trio set is perfect for decorate the foyer or mantle.
46. Paper Punches
Similar to washi tape, use paper punches to create a funky DIY picture frame for your favorite pieces. This too is at Brit + Co.
47. Floating
Check out these floating frames from Oh Happy Day. Stick your favorite art pieces inside your have your family floating beneath the glass.
48. Yarn
Here's another DIY picture frame tutorial that involves some yarn and we're loving it. Hop on over to Spoonful of Imagination and check it out!
49. Sticks
Using wooden sticks you find right in your backyard, Morning Creativity shows us how to turn them into a trendy DIY photo frame. Jump over and grab the instructions.
50. Instagram
Over at Pink Coffee Photo you'll find this snazzy tutorial for creating a photo frame filled with you favorite Instagram pictures. It's one of our favs!