Peanut Butter And Jelly Waffles
Peanut butter and jelly waffles – crisp, fluffy peanut butter waffles with a quick and easy jelly sauce and an incredible peanut butter sauce; PB&J in waffle form!
Hands up who likes waffles! Now, hands up who likes peanut butter and jelly sandwiches?! How about both in one?! These peanut butter and jelly waffles combine the best of both worlds – crisp yet fluffy waffles with the classic, unbeatable flavour combination of PB&J.
Waffles are one of my favourite breakfasts; obviously they aren't an every day kind of meal, but when it comes to the weekend, waffles are my first choice. I love to experiment with flavours and make a different variation every time; these delicious peanut butter and jelly waffles are the result of my most recent experiments.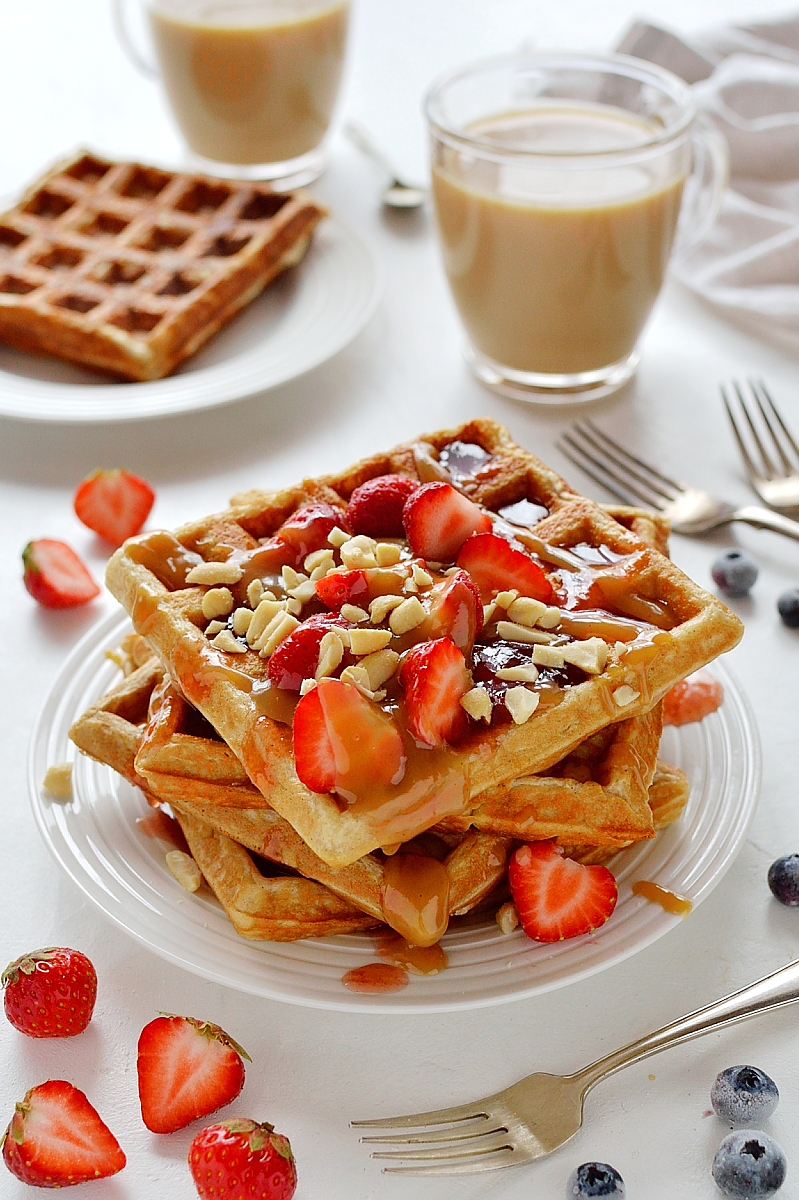 The waffles are flavoured with peanut butter and made with buttermilk to keep them light and fluffy. I topped them with two quick and easy sauces – a jam/jelly sauce and an incredible peanut butter sauce; both take mere minutes to make and will keep for at least a few days in the fridge.
As I understand it, in the US the jelly in PB&J refers to grape jelly; however, here in the UK we don't have grape jelly, so I used seedless strawberry jam for my jam sauce instead. You can use grape jelly if you prefer, or any kind of smooth jam, it's up to you!
I served the waffles topped with some sliced fresh strawberries which tamed the sweetness of the sauces a little, and some chopped salted peanuts which provided a nice variation in texture and added to that salty-sweet flavour which is so addictive!
Here's what you'll need:
Makes about 4 waffles.
Waffles:
1 1/4 cups all-purpose flour
1 1/2 Tbsp sugar
1/2 Tbsp baking powder
1/4 tsp baking soda
1 cup buttermilk
2 Tbsp butter, melted
1 large egg
3 Tbsp smooth peanut butter
1/2 tsp vanilla extract
1/4 tsp ground cinnamon