Peanut Butter And Jelly Waffles
Peanut butter and jelly waffles – crisp, fluffy peanut butter waffles with a quick and easy jelly sauce and an incredible peanut butter sauce; PB&J in waffle form!
Hands up who likes waffles! Now, hands up who likes peanut butter and jelly sandwiches?! How about both in one?! These peanut butter and jelly waffles combine the best of both worlds – crisp yet fluffy waffles with the classic, unbeatable flavour combination of PB&J.
Waffles are one of my favourite breakfasts; obviously they aren't an every day kind of meal, but when it comes to the weekend, waffles are my first choice. I love to experiment with flavours and make a different variation every time; these delicious peanut butter and jelly waffles are the result of my most recent experiments.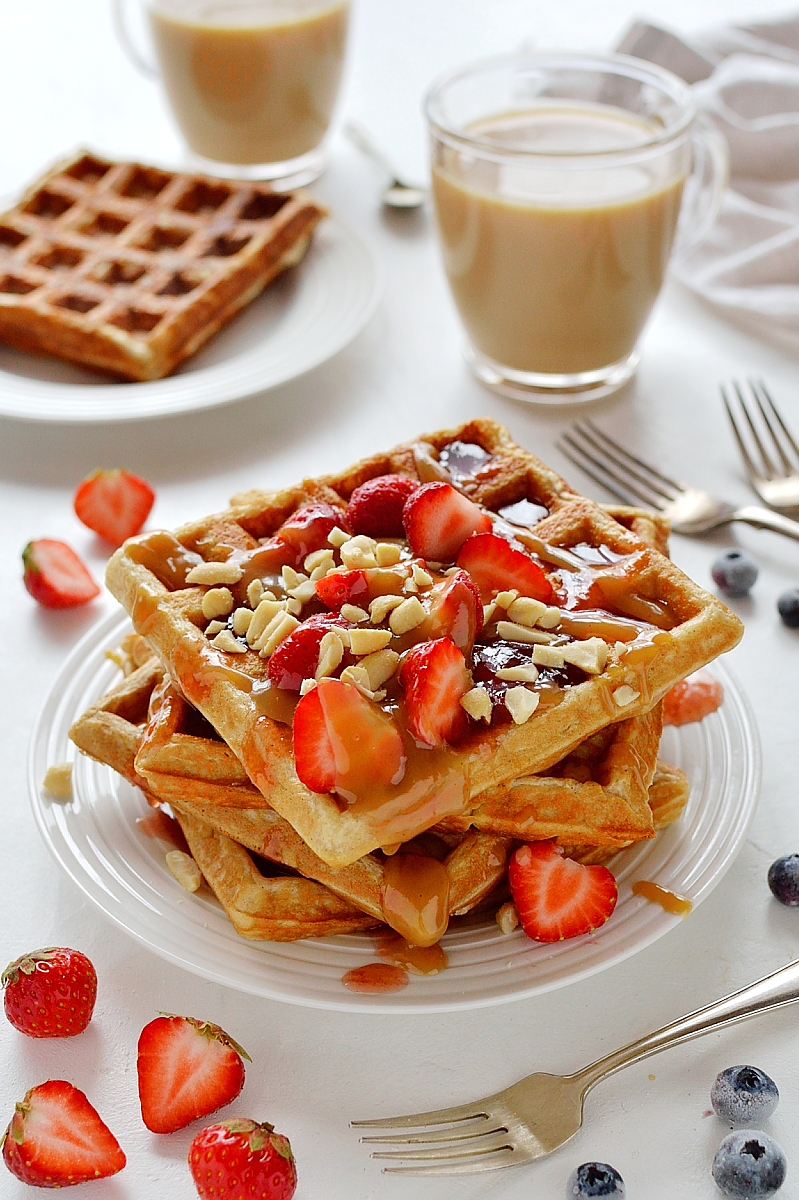 The waffles are flavoured with peanut butter and made with buttermilk to keep them light and fluffy. I topped them with two quick and easy sauces – a jam/jelly sauce and an incredible peanut butter sauce; both take mere minutes to make and will keep for at least a few days in the fridge.
As I understand it, in the US the jelly in PB&J refers to grape jelly; however, here in the UK we don't have grape jelly, so I used seedless strawberry jam for my jam sauce instead. You can use grape jelly if you prefer, or any kind of smooth jam, it's up to you!
I served the waffles topped with some sliced fresh strawberries which tamed the sweetness of the sauces a little, and some chopped salted peanuts which provided a nice variation in texture and added to that salty-sweet flavour which is so addictive!
Here's what you'll need:
Makes about 4 waffles.
Waffles:
1 1/4 cups all-purpose flour
1 1/2 Tbsp sugar
1/2 Tbsp baking powder
1/4 tsp baking soda
1 cup buttermilk
2 Tbsp butter, melted
1 large egg
3 Tbsp smooth peanut butter
1/2 tsp vanilla extract
1/4 tsp ground cinnamon
Peanut Butter Sauce:
1/8 cup runny honey
1 Tbsp sugar
1/2 tsp vanilla extract
1 Tbsp butter
1/4 cup smooth peanut butter
2 Tbsp milk
Jelly/Jam Sauce:
1/2 cup jelly or jam or your choice (I used seedless strawberry jam)
1 Tbsp water
fresh strawberries and chopped salted peanuts to serve
1.Preheat the oven to 275°F and place a baking sheet in the oven. To make the waffles, place all of the ingredients into a blender and blitz. Scrape down the sides and blend again until smooth. Set aside for five minutes while you heat up your waffle iron.
2.Brush both sides of your waffle iron with olive oil. Pour in some batter (the exact amount will depend on your waffle maker and don't do like I did and overfill it!) and cook for about five minutes until the waffles are golden. Carefully remove the waffles from the waffle iron and place them on the baking sheet in the oven to keep warm. Continue making waffles until you have used all of the batter.
3.To make the peanut butter sauce, place the honey, sugar, vanilla and butter in a small pan. Heat gently until the butter has melted and the sugar has dissolved. Add the peanut butter and stir until smooth then stir in the milk.
4.To make the jelly/jam sauce, place the jam and water in a small saucepan and heat gently while stirring until the jam has melted and is smooth. You may need to give it a whisk.
5.Serve the waffles drizzled with the two sauces and topped with sliced strawberries and chopped peanuts. If the sauces become too thick as they stand then they can be gently warmed until melted.