Dark 'N' Stormy Ice Cream (AKA Rum And Ginger)
Dark 'n' Stormy ice cream (rum and ginger) – a delicious, grown-up take on the classic cocktail with the warming, fiery flavours of rum and ginger. Perfect all year round!
Here in the UK we have been enjoying a bit of a heatwave. My diet over the last few days has consisted mostly of ice cream and smoothies and seeing as ice cream is one of my favourite foods I'm not complaining! I make my own ice cream regularly and love to experiment with lots of different flavours; my most recent experiment was this Dark 'n' Stormy ice cream aka rum and ginger (with a dash of lime).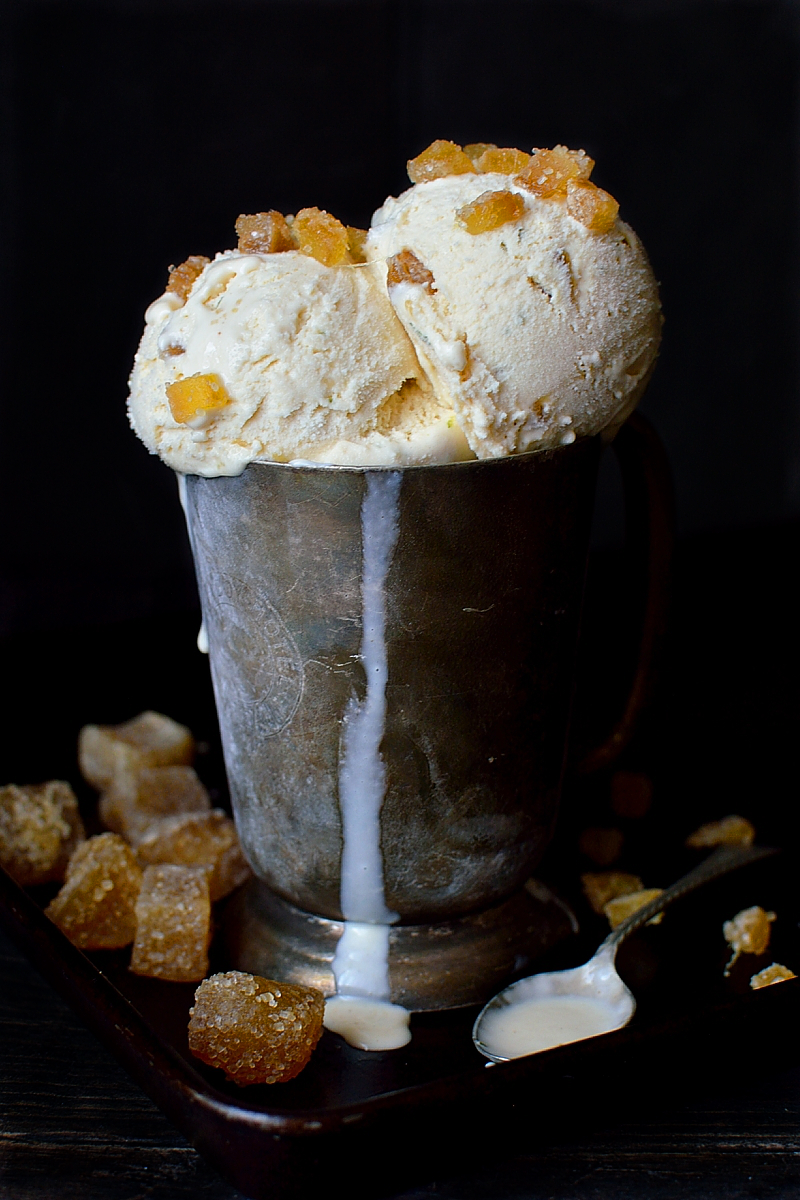 This ice cream is based on the classic Dark 'n' Stormy cocktail – a mix of dark rum and ginger beer garnished with a slice of lime. It is both refreshing and warming at the same time so is a good all-year-round drink, as is this ice cream! It is cooling and refreshing in Summer, but has warm flavours that also work really well in Autumn and Winter; especially if it is served atop a slice of apple pie!
I used a custard base to make the ice cream which I infused with fresh ginger; I then added a hefty dash of dark rum and a little bit of lime zest and juice to fully recreate the flavour of the cocktail. Once the ice cream was frozen I mixed in some chopped candied ginger, this is absolutely optional but I like the variation in texture and extra bursts of fiery ginger flavour that it provides.
Here's what you'll need:
90g fresh ginger (a fat 3 inch piece)
2 cups full fat milk
pinch salt
¾ cup granulated sugar
2 Tbsp dark brown soft sugar
1 + ¼ cups heavy cream
6 large egg yolks
finely grated zest and juice of 1 lime
1/4 cup rum (plus more if needed)
1 tsp ground ginger (optional)
1/2 cup candied ginger (optional)
1.Thinly slice the ginger (there is no need to peel it) and place in a non-reactive saucepan; add enough water to cover the ginger by about 1 inch. Bring to the boil, allow to boil for 2 minutes then drain and discard the water.
2.Return the ginger to the pan; add the milk, salt and sugars and heat until just coming up to a simmer. Remove from the heat, cover, and leave to infuse for 1 hour. (Blanching the ginger in water before adding the milk prevents the acid in the ginger from curdling the milk).
3.Pour the cream into a large bowl and place a fine mesh sieve over the top.
4.Rewarm the milk and ginger mixture until just coming up to a simmer, remove the ginger slices with a slotted spoon, squeeze out and discard.
5.While the milk is heating, whisk the egg yolks in a heatproof bowl until smooth. Gradually pour the hot milk a little at a time into the egg yolks, whisking constantly. Return the mixture to the pan over a low heat and stir until it has thickened enough to coat the back of a spoon; do not let it boil or you may end up with scrambled eggs.
6.Pour the custard through the sieve into the cream, whisk until smooth then whisk in the lime juice and zest followed by the rum. Cover and place in the fridge until completely cold (you can speed this up by placing the bowl over an ice bath). I leave the custard in the fridge overnight.
7.When the custard is cold, taste and add more rum if needed. If the ginger flavour isn't strong enough then you can whisk in a teaspoon of ground ginger.
8.Churn in an ice cream maker according to the manufacturers directions. If you like you can roughly chop 1/2 cup of candied/crystallised ginger and add it to the ice cream in the last minute of churning. Transfer to a container and freeze for a couple of hours until firm before serving.