15 Paper DIY Projects for Fall
Every once in a while, our kids get in a creative mood on a day where we're short on supplies, a little bit pressed for time, and not fully prepared for the kind of amazing crafting experience we usually like to give them. We try not to stress out when that happens, though, for two main reasons. The first is that we're grateful to have raised little humans who are creative, motivated to make things, and adore crafting just as much as we do! The second is that there is something to be said for the beauty of simple crafts, the value of easy techniques, and the resourcefulness of learning how to make things with whatever you've got on hand. We recently found a whole pack of scrap, spare, and construction paper on one such afternoon and figured we might as well put it to good use with our kids and get some seasonal decor happening for our house, so we immediately dove into look up different kinds of fall themed projects made from paper!
Just in case you're as intrigued by the idea of making autumn projects out of paper as our family was, if not more, here are 15 of the best ideas, designs, and tutorials that we came across in our search.
1. Folded paper leaves
Have you ever folded simple paper fans like accordions, the way preschoolers are often taught to, eyeballing the width of each fold just right to make something that looks a little bit like an accordion? Well, that's almost exactly what this fantastically easy and totally kid-friendly paper leaf craft outlined step by step on Coriver Basin requires you to do! We love that they even added a stem to really make sure these look like a leaf and not just another folded fan.
2. Paper leaf garland
Have you ever made bunting or DIY garland for parties or special occasions and thought about how much you adored both the process and the finished product, or how you would have been quite happy indeed to leave it up all year round if it wasn't so explicitly birthday or graduation themed? Well, thanks to this tutorial from The House That Lars Built, here's a lovely garland you can leave hanging, at least for the season! We love the way they created paper leaves from autumn coloured tissue paper.
3. DIY paper book pumpkins
Are you the kind of careful upcycler that you'll keep just about anything for future crafting purposes, even if it's very damaged? Well, in that case, here's a project that will let you get those water damaged books with missing pages that you found in the basement when you moved out of the corner in a way that's productive and decorative! Homedit shows you how to cut and fold them to look like a little rounded pumpkin, painting the outer edges of the pages orange and adding a stick stem and a ribbon leaf.
4. Fall coloured paper flowers
Have you been pretty intrigued indeed by the idea of making outdoor plants from paper in order to simply decorate the surface in your house this fall, but you've already made your share of paper leaves? Then perhaps you'd have a better time creating something like these wonderfully realistic looking fall coloured paper flowers by following the steps outlined on Sew Paper Paint! We love that these really do look like dried blossoms.
5. Paper, embroidery hoop, and wire fall wreath
We've always loved the process of making DIY wreaths, no matter what kind or what time of year, so it only makes sense that we'd be excited to try a new kind that we've never made before! Check out how Dream A Little Bigger made this one that's slightly more minimalist in its aesthetic by using crafting wire to attach little paper leaves all around an embroidery hoop. We love the way the leaves wiggle when you open and close whichever door you hang it on!
6. DIY tissue paper flowers
Did we really catch your attention when we started talking about working with tissue paper to make fall crafts but, once again, you've made quite a number of leaf themed projects already this year and you've really been hoping to try something else lately? Then here's another flower tutorial that looks like they're still blooming this time, rather than dried for the season! Check out how Jtru uses layers of tissue paper to make them look so incredibly realistic.
7. Paper and glitter fall wreath
Are you actually quite intrigued by the idea of using paper to make a simple fall wreath because you think you'd really like to teach your kids how it's done, but you also know that they're the kind of bright little sparks who always prefer to add a little glitz and glam to any DIY project they do, even if it's not something that would usually sparkle? In that case, we'd definitely suggest taking a look at how TwelveOeight created these beautiful scrapbooking paper leaves and embellished the tips with fall coloured glitter!
8. Tightly rolled paper pumpkins
Perhaps we've actually still got you thinking about how much you liked the idea of upcycling old books and their damaged pages, since you unfortunately have quite a number of them, but you're just not feeling the method we showed you a little earlier on our list? In that case, perhaps you'll get along a little better with this fantastic rolled paper alternative outlined step by step on Place of My Taste! Their tutorial still shows you how to make a lovely paper pumpkin, you're just stacking carefully rolled paper bundles rather than cutting a book into the right shape. You could also do this project with newspaper or other kinds of scrap paper!
9. Bundled rolled pages pumpkin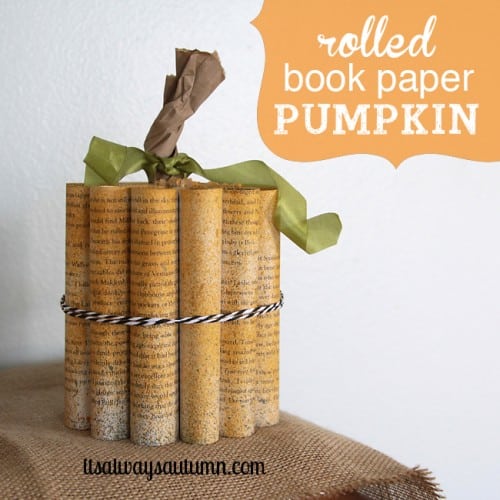 Are you actually still feeling quite intrigued by the idea of making a rolled paper pumpkin but you're also the kind of creative mind who often thinks about how things are done and how they might be done differently, no matter what you're making, so you've held out on the book page pumpkins, just to see if there are any other options? Well, we think you'll be rather pleased to learn that there is one more! Check out how Shelterness rolled their pages and bundled them vertically before painting them orange and embellishing the whole thing.
10. Layered pumpkin and string paper bunting
Perhaps the thing on our list that caught your eye the most so far was the adorable fall bunting or garland idea but, once again, you're feeling like a sucker for pumpkins rather than leaves lately, since you've already made so many leaf themed things? Well, here's a simple paper pumpkin idea that's easy enough for your kids to get in on too! Check out how Whitehouse Crafts made each little pumpkin out of layered paper circles glued at the top and strung together strategically before being threaded so you can hang them up.
11. Paper pumpkin straw toppers
Have you actually been looking for cute fall paper projects for your kids to help you make because one of them has an autumn birthday and know they adore decorating for all parties as craftily as possible just as much as you do? Well, here's a quick paper project that will keep them busy for an afternoon and get them excited for the party that's to come! Check out how these adorable layered pumpkin straw toppers are made step by step on Hello, Wonderful.
12. Paper leaf branch bouquet
Have you always loved the way that real branches with dried leaves look in a vase, like a chilly autumn bouquet, but fall actually hit so hard and fast where you live this year that you missed your opportunity and can't actually find any branches near your home that still have leaves on them? Well, that's where this cute tutorial from Love of Home comes in to save the day! They suggest making paper leaves and attaching them to your real branches just like the real thing.
13. Accordion folded paper pumpkins
Are you actually still scrolling through our list because you're feeling torn between the idea of making accordion leaves and the idea of making paper pumpkins, and you're really having trouble choosing between the two? Well, who ever said you have to choose? We love the way The Chilly Dog unwittingly blended the two ideas by creating cute paper pumpkins made from layers of paper that has been folded just like you saw before.
14. 3D rounded paper pumpkin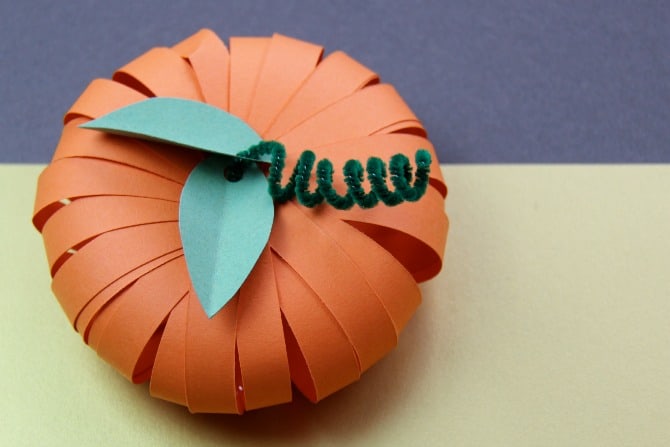 Would you rather help your kids get a little more satisfaction out of what they're making by actually having them built it piece by piece until it finally looks like the finished product? Then we have a feeling that you might all get along a little bit better with this fantastic hollow paper pumpkin from One Busy Wahm! They guide you step by step through the process of cutting orange paper into strips and attaching them all at one end so you can carefully bend them upwards and attach them at the other end to get the right shape. We love the spiralled stem made from a wrapped pipe cleaner!
15. Upcycled rustic window and paper leaf hangings
Have you been meaning to add a DIY fall touch to an upcycled window frame you brought home recently because you've built quite a rustic chic aesthetic to your household and you think it would fit quite in rather perfectly? Well, for the fall, why not let your kids play a role in how you present it? We love the way Crafts Unleashed made these vertical paper leaf hangings that make it look like the leaves are blowing in the wind outside the window.
Have you made other kinds of totally awesome and wonderfully decorative fall crafts out of paper before but you don't see anything quite similar to what you've created on our list? Tell us all about what you made and how you did it or link us to photos of your finished project in the comments section!