15 DIY Pens and Pencils That Will Make Studying More Fun
If we're being totally honest with you, we've always been the ones in class who shows up with some kind of totally extra hand crafted element to our back to school gear. Whether we've painted our own backpack or sewn our own pencil case, there's something DIY about the things we prepare ourselves for the new year. One of the things we liked doing best, however, is continuing to make ourselves new things as the semester goes on, just to keep ourselves feeling excited and interested while we're doing homework or taking notes. That's why, a few weeks into the first semester, we've been struck by the inspiration to make ourselves a few totally funky DIY pens and pencils to add to our kit and really impress everyone in class with.
Just in case you're feeling just about as intrigued as we were, if not more, by the idea of making your own awesomely customized pens and pencils, here are 15 of the very best designs, ideas, and tutorials that we've come across in our search for inspiration so far!
1. Nail polish pens and pencils
When you're not taking notes in class are you a total beauty guru, pouring over makeup tutorials and practicing your techniques in your spare time? Well, it nails have ever been part of your beauty routine, save up the bottles the next time you find one empty after a manicure! Believe it or not, you can turn those bottles and their lids into adorable little pencils. Your classmates will think you're about to give your nails a touch up mid class when you first pull this funny utensil out of your bag! Get the full details on Kim Inspired DIY.
2. DIY botanical pen bouquet
Have you actually always preferred working with softer materials like felts and fabrics, no matter what kind of project it is you're making, but you weren't sure you can really created something like a customized pen or pencil using soft things as your primary tools? Well, we think you'll be pretty pleased to learn that you actually can thanks to tutorials like this one from Craft A Doodle Doo!
3. Thread wrapped pom pom pencils

Perhaps we really caught your attention when we started talking about customizing your writing utensils with softer materials, because that really is the kind of craft you usually prefer, but fabric wasn't really what you had in mind? Well, if you happen to have some embroidery floss and yarn on hand, we think perhaps you'll get along a little bit better with this awesome thread wrapped pom pom pencil idea outlined step by step on Purely Katie!
4. DIY ribbon and beaded pens
What if you've actually been scrolling through our list and hoping to come across something a little more mixed media and eclectic looking, since part of what you love so much about crafting your own things is that you can make things that look funkier than what's available in stores? In that case, we have a sneaking suspicion that these ribbon wrapped pens with seed bead ends might be right up your alley! Get the full details for making your own on Shemi Dixon.
5. Lip gloss pens and pencils
Did we actually really catch your attention with the beauty product based idea we talked about earlier on our list but nail polish has never really been something you use, even though you're an obsessive makeup lover otherwise? Well, perhaps you'd get along a little better with something like this lip gloss pens and pencils tutorial outlined on Kim Inspired DIY instead. Just make sure you keep these and your actual lipglosses separate in your bag!
6. Fabric tape pens
Were you quite taken with the idea of making fabric covered pens because there are just so many lovely patterns and colours out there you'd adore covering your writing utensils with, just to brighten up your day… but you're just not sure you liked the way the fabric wound around the pen in the previous tutorial? Well, just in case you'd rather have yours sit very flush to the plastic with essentially no risk of unwinding, we'd definitely suggest checking out how Mountain Modern Life covered their pens in fabric tape instead!
7. Napkin pencils
Has your favourite kind of crafting project actually always been decoupage based? Perhaps you're just looking for a slightly simpler customized pencil craft because, even though you'd love to add some colour and design to your note taking supplies, you still want to be able to hold your pencils like normal. In either case, we'd absolutely suggest taking a look at how Cut Out and Keep gave these pencils a new coat using napkins!
8. Rainbow glitter pencils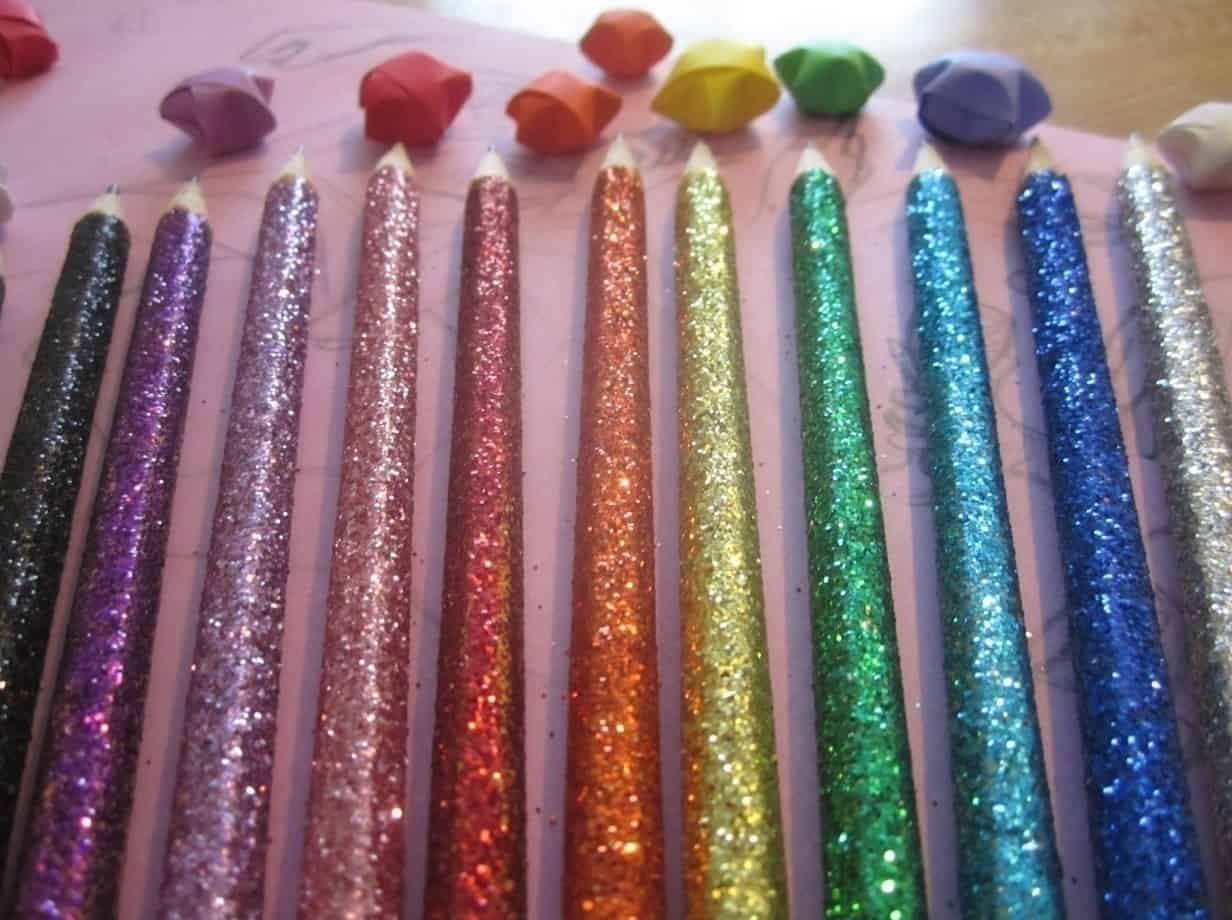 If you're going to go to the trouble of adding some colour to your pencils and putting in the time and effort it takes to really customize them, would you rather make sure to add a little bit of sparkle as well? In that case, we're convinced that you'll have a total blast making these fantastic rainbow glitter pencils featured on Cut Out and Keep! We like that they show you how to seal them well so you don't get stray glitter shedding all over your notebooks and school desk.
9. DIY candy pens
Are you actually still scrolling through our list in hopes of finding another idea that will help you make something totally kitschy and novelty, but the beauty product concept just doesn't quite appeal to you, since you've never been a huge makeup fan? In that case, we think you might get along a little better with something like this hilarious candy bar pencil idea featured with full, clear instructions on Kim Inspired DIY!
10. DIY lava lamp pen
As we said before, if you're going to put all that effort and patience into make a custom pen, or pencil, would you rather make something that will look very impressive indeed while you're taking your notes? Well, if you've ever seen an awesome lava lamp in action, then you already know just how neat this DIY lava lamp pen is going to be. We love the way Hello Maphie made theirs purple, but we're also sure it would look just as neat if you followed their steps and simply swapped the colour!
11. Thing 1 and Thing 2 pencils
Perhaps you're not actually the one who has recently gone back to classes, but you would like to make something cute for your kids who have? Well, particularly if they're in the same class, we have a feeling you might get a kick out of this funny little pen duo idea featured on Moms and Crafters! They show you how to do some tape wrapping around the pens, holding a feather in the end, as well as how to make a "Thing 1" or "Thing 2" label for each. Everyone loves a good Dr. Seuss theme!
12. Washi tape pens
Are you feeling very intent indeed on customizing this year's pens in some way but you don't have very much time to get crafty in after all so you're looking for a way to get creative with colour and pattern while still keeping things easy? In that case, we'd definitely suggest taking a look at how As The Bunny Hops transformed theirs using washi tape and simple, careful winding techniques!
13. Fabric wrapped tassel pens
Are you actually still scrolling through our list and thinking about how much you enjoyed the idea of wrapping your pens in fabric tape but you just can't help feeling that they could still use a little something extra, above and beyond that? Well, we know our favourite kinds of novelty pens have always been the ones with something silly or eye catching hanging off the end so it bounces around as we right, so we're sure it'll come as no surprise that we adored these funny tassel pens outlined step by step on Alyssa and Carla!
14. DIY personalized pencils
Are you actually thinking about different ways to customize your pens or pencils that are a little bit more subtle than some of what we've shown you so far, while also still giving you an opportunity to get creative? Well, if you look very carefully at this photo, you'll see that that's precisely the balance that Home Sweet Crafting achieved when they added cute quotes and song lyrics to the ends, near the erasers! Their tutorial shows you how it's done in just a few simple steps.
15. DIY rainbow pencils
By now, we've given you plenty of ideas for decorating and customizing the outsides of your pencils, but what about the insides? Well, believe it or not, creating pencils that sharpen as though they have something awesome inside, wrapped around the lead, is actually something you can do. Check out how Kim Inspired DIY guides you step by step through the process of making a fully homemade pencil that reveals a full rainbow spectrum with every twist of your pencil sharpener!
Have you made other kinds of awesome and super fun DIY pens or pencils before that you really enjoyed using and got a lot of complements on but that you don't see anything quite similar to here on our list? Tell us all about what you made and how you did it or link us to photos of your finished customized writing utensils in the comments section!