How To Chalk Paint Furniture – DIY Chalk Painting
Chalk paint has become incredibly popular over the last year or two, and with good reason – it is a wonderfully functional type of paint with a lovely range of colors. And there are a number of finishes that can be achieved as well. Today I will show you how I refinished a TV stand using a beautiful pale blue chalk paint. Learn how to chalk paint furniture.
Let's get started with the chalk paint:
Here's what the TV stand looked like before. It has a bit of a texture, as you can see from the photo, but overall the surface is fairly smooth. One of the major benefits of chalk paint is that you don't need to sand your furniture piece beforehand, no matter what the finish is. There is something about the way the paint is made that allows it to adhere nicely to a variety of different surfaces. The other benefit is that you can paint over partially dry paint without it peeling up.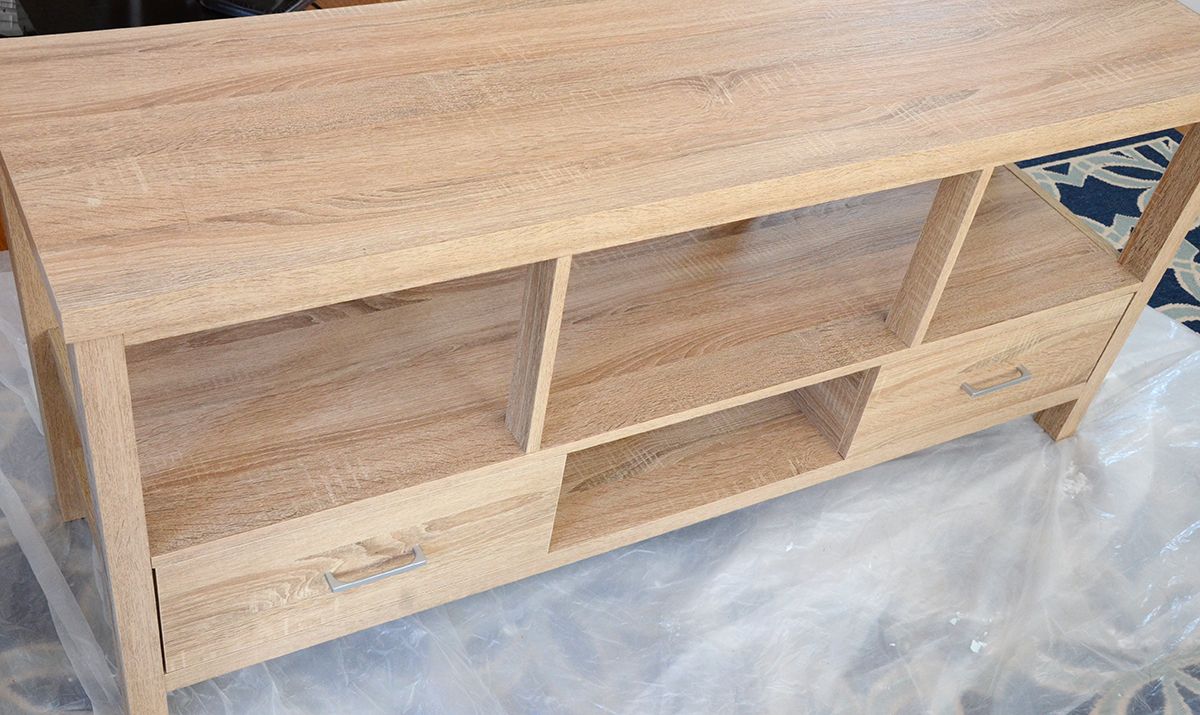 Things needed to chalk paint furniture:
Here's what you'll need to refinish your own piece of furniture:
Chalk Finish Paint (I used Renaissance Furniture Paintfrom Amazon)
Paintbrush
Paper Towels
Dropcloth or Tarp
Step by step guide to Chalk Paint Furniture:
Step 1: Clean the piece of furniture
Begin by wiping the furniture down with a damp paper towel. This will remove any dirt or dust that may have accumulated. Place a dropcloth or tarp underneath your piece to protect the floor.
Step 2: Open the chalk paint
Next, shake your can of chalk paint vigorously and then open it up. Mine seemed very thick (you can see the consistency in the photo above). Use a paint stirrer to finish mixing it up.
Step 3: Start chalk painting with a brush
Now it's time to start chalk painting. The top surface of my TV stand is the most visible area, so I left that for last. I would recommend starting on the back side so you can get the hang of the texture of the chalk paint. Use long, even brushstrokes and go back over the paint once everything is coated to smooth out the brushstrokes.
Step 4: Smoothen the paint droplets
As you can see above, sometimes the paint will become thick and gather into droplets on the edges of the furniture. Use a paper towel to gently smooth over these places, ideally before they dry.
The result
You'll most likely need to do only one or two coats, depending on the original color of the furniture. My TV stand needed two coats. Let it dry in between coats, according to the directions on the paint can. My first coat dried within the hour. I let the final coat dry overnight just to make sure that it was completely set before I put everything back on top.
And that's all there is to chalk paint furniture! You could take it a step further, however, by distressing or adding a wax to the surface. But I love the way mine looks with the clean finish against the wood accent wall.
And one other benefit… it doesn't smell as bad as the latex paint that you get at the hardware store! (I would still recommend opening a few windows though, for proper ventilation).
The finish has a slight texture to it, thanks to the brush bristles, but it is only noticeable up close.And Renaissance Furniture Paint has a great range of colors that are sure to spice up a plain old piece of furniture… but there are a few other brands out there that have other colors.
Have fun transforming your furniture!