25 DIY iPad And Tablet Case Tutorials
You bought a new iPad … now you have to find a case to protect it from daily wear and tear. Sure, you could just buy one online – but why not make something yourself? That way you're sure to have something unique. So here  are the 25 of our very favorite DIY tablet case tutorials.
1. Leather Patterned Laptop Sleeve
If you're on the hunt for a super stylish iPad case, this might be the one for you. It can be customized to fit the size of your tablet, laptop, etc. It combines leather with black and white patterned fabric, and has a zipper closure to ensure that your technology stays put. This is a free tutorial by Sarai Mitnick and shared by Design*Sponge.
2. Folded "Geek Chic" iPad Case
This folded, envelope style case has crisp, angled corners and a beautiful leather closure. And it even has a handy shoulder strap if you'd like to wear it like a purse. The tutorial is available as a free PDF tutorial, originally published in Lisa Lam's book A Bag For All Reasons. Download it from the How About Orange blog here.
3. Composition Notebook iPad Cover
If you love vintage things, then this Composition Notebook iPad Cover would be perfect. The thick cardboard protects your tablet from dust and scratches, and provides a convenient way of holding it so you don't get fingerprints on the screen. Plus, you'll look cool reading a composition book! Check out the full tutorial over on Ashley Hackshaw's blog.
4. Nautical iPad Mini Case
This case holds not only your iPad, but also the charging cord. This particular one was made with anchor fabric and striped trim, giving it a nautical feel… but you could use any fabric you want. You could try plaid fabric to give it bit of a hipster vibe, or canvas for a utilitarian look. Get the full sewing tutorial at Mommy By Day Crafter By Night.
5. Felt iPad Case
Felt is a great material to use as padding, making it the perfect thing to use for an iPad case. Here, you have the option to customize the top with either a scalloped edge or a basic curved edge. And the button closure adds a bit of character and a small pop of color. Oh So Lovely Vintage shares the easy sewing tutorial here.
6. Monogrammed Tablet Case
This case is both beautiful and functional. With a gorgeous leather monogram on the front and a colorful strip which contrasts nicely with the gray wool, this one is very pleasing to the eye. And although it's not visible in this photo, there is a handy zippered pocket on the back to store chargers and headphones. Check out the full tutorial at Bernina's blog We All Sew.
7. Button Front iPad Case
This one is great for people whose sewing skills aren't as advanced, as it is basic and straight-forward. The bottom is reinforced with a piece of dark leather, and the button closure adds a nice visual touch. Choose a geometric printed fabric to create a lovely contrast. And it is lined with batting so it will protect your iPad. Get the full, thorough tutorial over at The Fabric Mill Blog.
8. Vintage Book Tablet Case
This vintage book case is quite unique, and it will look like you're reading a book when you're actually checking your email! This can be customized to the size of your gadget – just find a book that is slightly larger than your iPad, Kindle or other tablet. You can also hide it amongst the books on your bookshelf and nobody will ever know that your tablet is there. Get the tutorial here.
9. Crocheted iPad Case
If you like to crochet, give this project a try. As far as crochet patterns go, this is an easy one… essentially just a rectangle which is stitched together at the sides. Accent it with a pretty button and you're sure to have the most original iPad case on the block. And you could use multiple yarn colors if you really want to get fancy. Make your way over to Yarnspirations to download the free pattern.
10. Multi Print Case
This is technically a tutorial for a Kindle cover, but you could easily adapt it to fit any type of tablet. The cool part about this design is that it utilizes two types of contrasting fabric, so you can create a color blocked sort of look. Plus, the top fabric creates a pocket where you can keep pens, small notepads, etc. Get the tutorial over at Cut Out + Keep.
11. Leather iPad Sleeve
If you err on the side of clean and contemporary, give this leather sleeve a try. The contrasting plastic twine gives it a camp-inspired sort of vibe, and adds a pop of bright color. You can also make matching cases for your pens, business cards, and even a mousepad! Watch the video tutorial by Martha Stewart here.
12. iPlaid Shirt Tablet Cover
Well isn't this a genius idea?! This crafty lady turned an old plaid shirt into a cute iPad case and called it the "iPlaid"! A great advantage of using a button-down shirt is that you can use the part that has the pocket so you can store business cards or other small items inside. Watch a great video tutorial on the Mr. Kate blog.
13. Lined Plaid Electronics Sleeve
This lined sleeve for your electronics will keep them safe and stylish. Customize the measurements depending on your tablet type. The thicker the fabrics you choose, the more protective it will be. This color scheme has a wintery, almost holiday feel to it – but you could choose a different fabric combination if you're envisioning another look. Get the tutorial on Design*Sponge.
14. Fleece iPad Cozy
This super soft iPad cozy is made of fleece and cut with pinking sheers, giving it a bit of a whimsical look. It's a great option for at-home iPad use. And the texture of the fleece will prevent it from slipping off the sofa. Get the written tutorial here, and don't miss the video tutorial that's down at the bottom of the page!
15. Crocheted Self-Striping Case
Here's another crocheted case, but this time self-striping yarn is used to give it a unique textured look. You can create it according to the size of your tablet, so it can be used for iPads, Kindles, or even phones. The closure is a fabric covered button with a crocheted loop. Get the tutorial at Tuts+.
16. Bubble Wrap Duct Tape iPad Case
This duct tape iPad case is quite inventive. The inside is filled with bubble wrap, making it extremely tough and protective – and then it is lined with fabric to protect the screen. The exterior is covered in decorative duct tape to dress it up a bit. And it only takes about 15 minutes to construct! Head over to As The Bunny Hops to check out the how-to.
17. Prop Up Tablet Case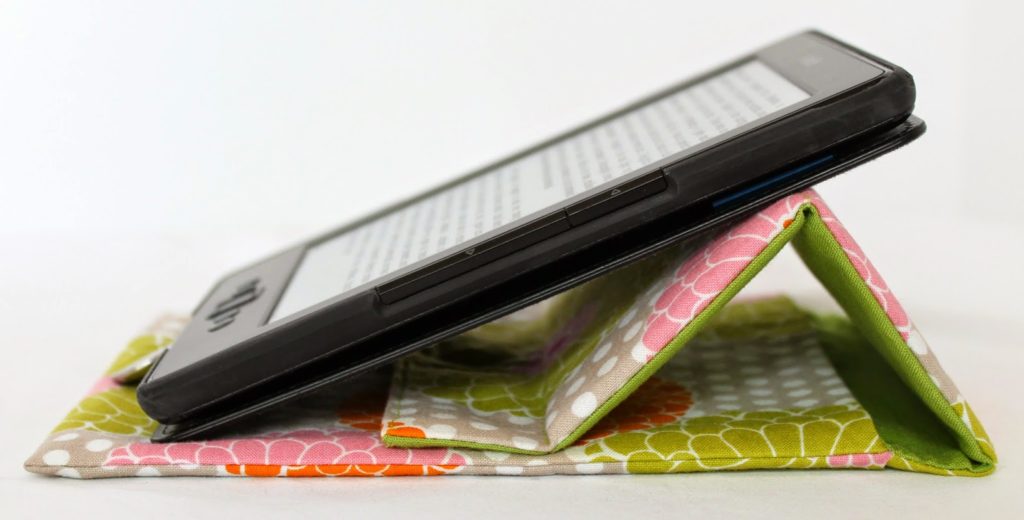 This tablet case is similar in function to many of those on the market today, with a folding section that allows you to prop up your device so you can read it more easily. And you can slip your tech inside the pocket when it's not in use. Make your way over to The Inspired Wren to find out how to make one yourself. And it can be adapted for any type of tablet by changing the measurements.
18. Leather and Felt iPad Case
This case is made using light yellow leather on grey felt, a lovely, almost retro combination. A large wooden button is the perfect finishing touch. Again, it can be customized to fit any size or type of gadget by adjusting the measurements. It's also lined in flannel so your iPad has a nice soft place to sleep. Get the full tutorial over at the Mod Home Ec blog.
19. Etch-A-Sketch
If you grew up in the 80's, you'll probably appreciate this one… an Etch-A-Sketch themed tablet case! It is made with red, gray and white felt and a message can be stitched across the "screen." And it looks like it is super easy to make. Head over to Smashed Peas and Carrots to find out how Maggie did it.
20. Neon Duct Tape iPad Case
Here's another case made out of duct tape, but this time it's created using a bubble wrap mailer to make the process even easier. Just get a plain old yellow padded mailer and cut it to size – then cover it with duct tape sheets. Yes, duct tape sheets do exist! Get the full tutorial over at The Kipi Blog.
21. Fox iPad Case
This fox case is completely adorable. It is made out of a few different colors of thin fleece, making it a soft and cozy cover for your tablet. You could probably make different animals by changing the fleece colors and the shape of the ears. Wouldn't a mouse be cute? Make your way over to Eskimimi Makes to check out her thorough sewing tutorial.
22. Studded Leather Envelope Case
For a more refined look that's elegant enough for work, make one of these envelope-style clutches for your iPad. Cut a large piece of leather (or vegan leather if you prefer) into your desired shape and add brass brads all over. Yes, just those little metal things available in the paper section of the office supply store! What a genius idea. Get the full tutorial at The Pretty Life Girls.
23. Marbled Tablet Clutch
Marbling seems to be a hot trend these days, so why not use the technique to create a case for your tablet? The end result is sophisticated enough to bring to meetings and will protect your iPad from bumps and bruises. It's made with marbled paper, vinyl, and a few other materials. Head over to For The Makers to find out how to make one.
24. Geek Chic Leather iPad Sleeve
This self-proclaimed "geek chic" tablet sleeve incorporates some fun typography, and you can customize it with whatever text you'd like. These instructions use the Cricut Explore machine, but you could easily replicate the concept by hand with a fabric marker. Just grab few stencils from the craft supply store. Get the full tutorial over at The Crafted Sparrow.
25. Scalloped Leather iPad Cover
This classy design uses thick leather to create a layered look out of scalloped strips. It almost looks like it's covered in fish scales. All you need is a round drinking glass to create the scallop shapes for each strip, and then the strips are sewn together into the rectangle shape to fit your iPad. Head over to Skona Hem and use Google Translate to learn how to make this beauty.