18 Outdoor DIY Bar Projects For Your Evening Backyard Parties
Have the gang over for a party in the pool and some cold drinks in the sunshine. Utilize your backyard space in all ways possible while getting some much needed Vitamin C. If you already have one, or just need to give it some sprucing, here are 18 outdoor DIY bar projects for your evening backyard parties to benefit from. Drink making and drink taking just got a heck of a lot more stylish.
1. Pallet Pool Bar
This pallet pool bar is easy to whip up and easy to personalize with a bit of color or textural bedazzling. Find the tutorial over at our favoriated Brit + Co. Hot pink, yellow, or a crisp white have this makeshift creation looking super chic.
2. Mojito Spread
We love this spread idea from Bird's Party. Grab all the girls and have a mojito bar ready and waiting for them. Your time at the pool just got a whole lot more fun – and delicious.
3. Cactus Wine Glasses
You'll need some glasses for your sparkling white wine and these cacti cuties are perfect. Again, visit Brit + Co for all the know-how behind their makings. They're right on trend and could be used as a perfect hostess gift as well!
4. Golden Barware Set
Some barware will do your outdoor set nicely as well. At A Beautiful Mess, you can learn how to make some golden accessories and have your entertaining needs just a bit more stylish. Again, this acts as a wonderful DIY gift for friends or neighbors!
5. Light-Up Wall Bar
Cassie Fairy knows what to do if you don't have enough square footage but still the want for entertaining outside. This light-up wall bar is perfect for smaller spaces! Grab the tutorial after you make the jump over.
6. Snacking Tables
Some little, built-in to the overhead porch snacking tables are perfect additions – especially for larger families or those who do a lot of entertaining. Check out the blueprints for these cuties by visiting Lowes. Add paint or leave them natural.
7. Hutch Upcycle
A hutch flea market find can be turned into your outdoor bar dreams. Check out the revamp we found over at HGTV! It's got a cottage charm that we're loving and a lot of room for personalizing as well.
8. Simple Bar
A minimalist bar like the one we found at Storefront Life works well too. These are easy to recreate, even if you're not the best with your hands because the tutorial really is so simple to follow along with. You can even tweak some of the details to make it larger or smaller.
9. Deck Railing Bar Table
Cleverly Inspired cleverly used old desk railing to create some bar tops. Have your hot dogs and hamburgers while overlooking the backyard view. This creates more seating in the area as well for when your entertaining needs are a bit more.
10. Spray Painted Bar
On Sutton Place has a DIY outdoor bar that you can gather inspiration from as well. They used spray paint to add a neutral tone – and that sparked our ideas as well. Think about adding some metallic shades or ombre additions for a real pizzazzed punch!
11. Wooden Bar Cart
There's something really charming about this bar area because it has a multi-purpose function. You can both mix drinks and pot your plants. Check out more details at Runway Chef.
12. Classic Bar Table
The Chronicles of Home made a classic bar table to suit your outdoor entertaining needs as well. Make multiple of these for larger spaces if you so choose – or a bigger version! Don't be afraid to add some color too.
13. Cinder Block Planter Bar
We are really swooning for this ultra unique design found over at our friends at Design Sponge. This is both an outdoor bar and a planter area. It really mixes the best of all worlds within its crisp and modern vision.
14. Crated Bar
Creates can easily turn into a makeshift outdoor bar as well. Just check out this beautiful design from Torie Jayne. Grab some wheels to attach to the bottom and make it easy to manuever around!
15. Bar Table
Here's another little bar table you can whip up and utilize as well. Ana White will walk you through the easy process. And, better yet, she can give you tons of ideas on how to style it.
16. Colorful Bar Cart
Bespoke Bride had this beautiful and colorful bar cart up their sleeves. And why can you just take a bar cart outside to make the magic happen? You can – and you can have a lot of fun styling to fit the entertainment's needs.
17. Gradient Bar Ware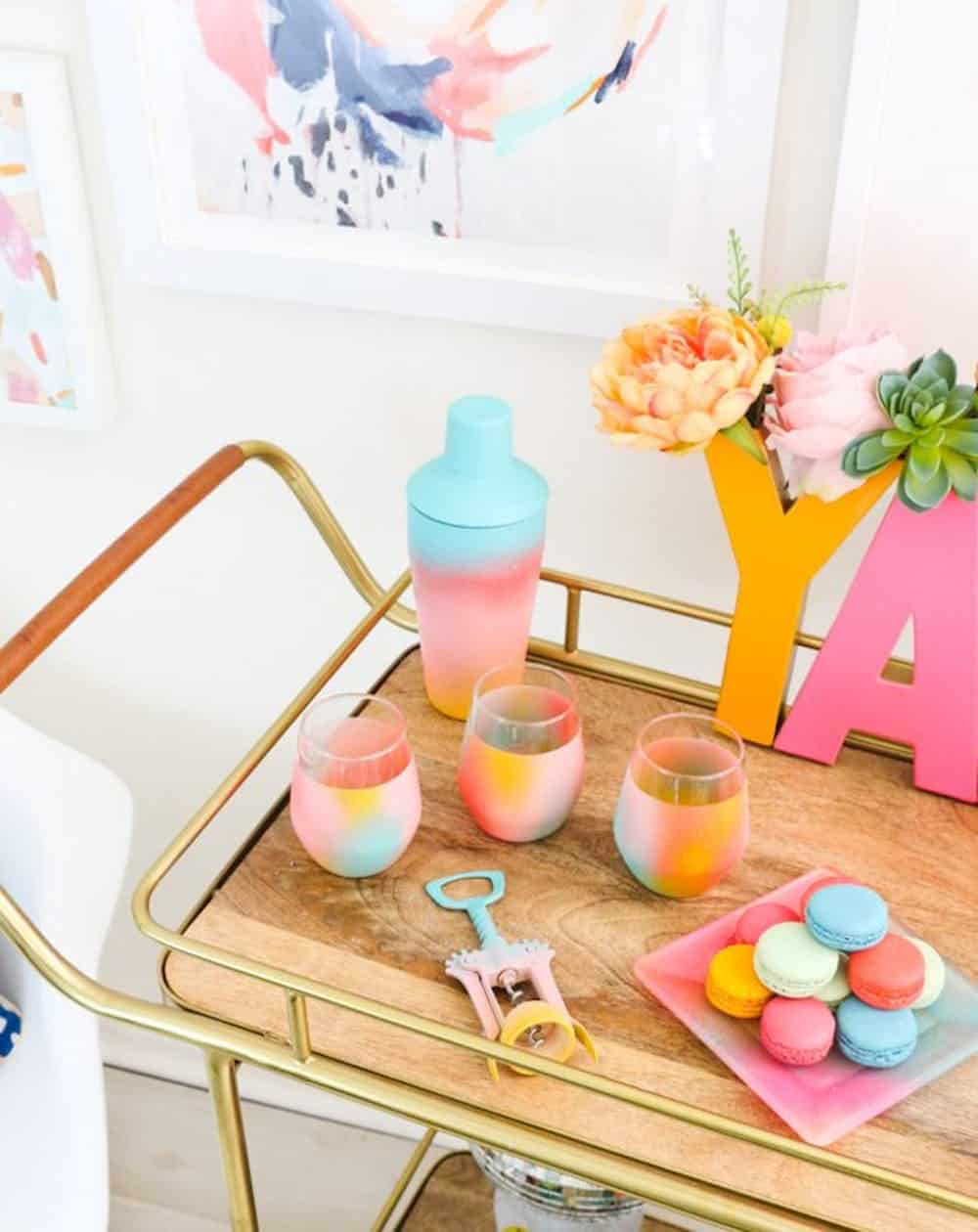 Here's more DIY barware that we found fitting for an outside bar. Check out this gradient set found at A Kailo Chic Life. We love the beachy tone.
18. Cinder Block Bar
And finally, if you visit the gals at Brit + Co just once more, you'll learn how to put more cinder blocks to good use. Yes, you can make them into a bar. And yes, you can make them colorful too.