33 Ways To Organize Your Gift Wrapping Essentials
From birthday paper to Christmas gift tags, it seems like there's a gift to be wrapped all year long for a variety of reasons. And when you collect those necessities for creating the perfectly wrapped present, you can create a bit of a chaotic mess in your office, kitchen, playroom and the like. So today, we're showing off 33 ways to organize your gift wrapping essentials and tidy things up a bit!
1. Shower Caddy
BHG gave us all such a clever idea for organizing bits and pieces of your gift wrapping essentials. Grab a shower caddy, hang it on the wall and tidy everything up a bit! It's perfect for tags, pens, tape and scissors too.
2. Homemade Behind-the-Door
Create your very own behind-the-door organizer by using bits and pieces from Ikea (or a similar spot). Brooklyn Limestone can walk you through their very own design!
3. Golden Rods
IHeart Organizing utilized her cabinets and made a spot for some golden rods that hold wrapping paper! They'll be easy to grab and to see as to not forget what you have.
4. Black Wire
Over at The Old Park Homestead you'll see how to utilize some black closet wire for organization your tissue paper and gift bags! All you have to do is fold and go!
5. Dowels
Some cup hooks and dowel rods can make hanging your wrapping paper so much easier and tidy. Woman's Day gave us this inspiration and we love how easy it would be to just grab a piece, cut and wrap!
6. Jars
For some of your embellishments, buttons and pom poms for example, think about grabbing some mason jars to keep them neat and tidy on the shelves. You'll also be able to see and find what you need quicker. Thanks Woman's Day!
7. Utensil Holder
Utensil holders can do a lot for organizing around a craft room. In this case, IHeart Organizing used them to color code her gift tags for future presenting wrapping – and we love it!
8. Pegboard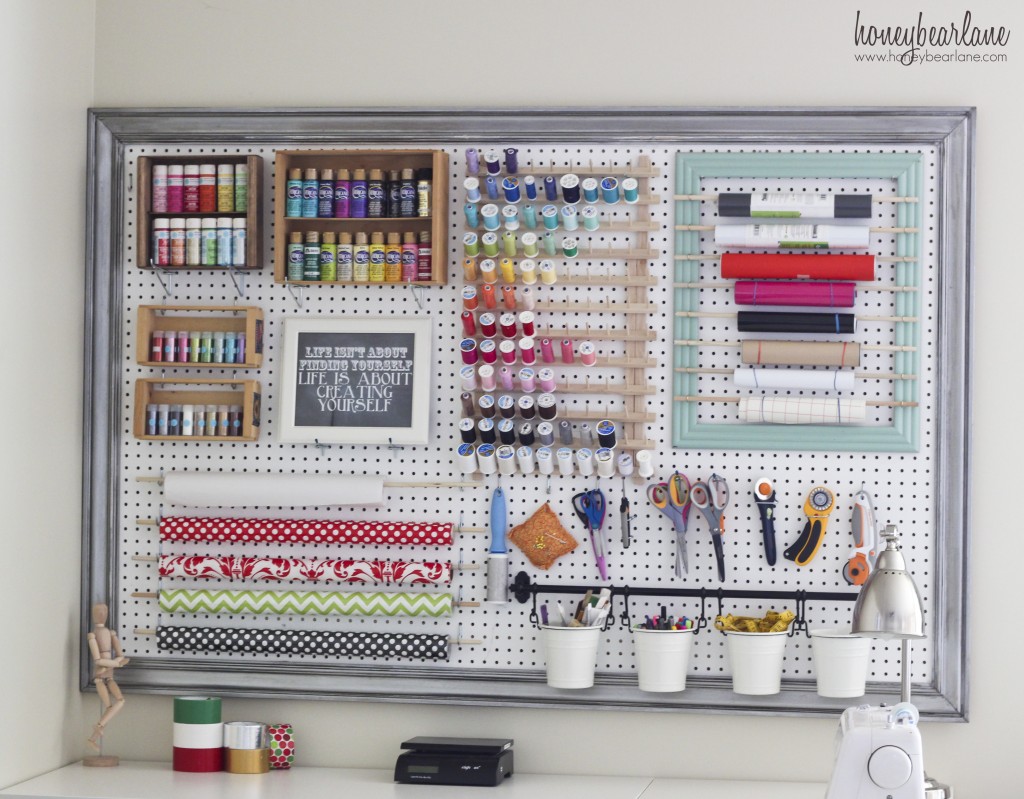 Frame a large pegboard and create an entire gift wrapping station. Honey Bear Lane really does her space justice and utilizes the board to the top degree. And it keeps necessities all in the right space, which makes it all more functional.
9. Ribbon Basket
Anyone can make this for their own wrapping room or crafting area. It's a great way to organize and see what ribbons you have, so it's easier to finish your presents off in a pretty way. Thanks House Logic!
10. Scrapbook Shelves
Turn your scrapbooking shelves sideways to hold your tissue paper, gift bags and even wrapping paper scraps! That's what A Bowl Full Of Lemons did!
11. Spool Rack
A Night Owl found a spool rack at a thrift store and got an incredible idea. Organize my washi tape! This is a great addition to your gift wrapping station, don't you think?!
12. Paper Towel Holder
Paper towel holders work great for holding and organizing ribbon. And over at GH you'll get some inspiration on how to style it at home for yourself.
13. Bike Rack
Yes, even a bike rack can come in handy when trying to organize all of your gift wrapping essentials. In fact, it makes the perfect wrapping paper holders. Thanks for the idea Styletic!
14. Magazine Containers
Magazine or paper containers can do wonders for your organizing. IHeart Organizing gives us another way to hide and tidy away essentials in style.
15. Framed Bars
This framed piece from In My Own Style is functional and pretty too! Check out how to make one of your own right at how!
16. Trash Can
Repurpose a trash can to hold your wrapping paper like Chez Larsson did. There's a super easy tutorial after the jump!
17. Plastic Drawers
Even plastic drawers can be helpful. Jazz them up with labels and then stack and store them in closets to put away the clutter, like that at Random Recycling.
18. Door Design
Here's another behind-the-door DIY design that we're loving and swooning for. Restful Living made this from scratching using some great piece like Ikea's grocery bag storage bins for wrapping paper!
19. Nook
Check out this adorable gift wrapping nook from Creative Life. There are so many different ideas you can snag inspiration from and we're in love with the entire vision.
20. Go-Anywhere Bucket
Make your own pail from this Martha Stewart idea. You can even lug it over to your friend's house and you can have an entire wrapping party in a cinch!
21. Pegboard Box
Take all the functionality of a pegboard and turn it into a box with this idea from Thistlewood Farms. It's great for smaller areas!
22. Luggage
Use an old piece of luggage and turn it into a portable gift wrapping station. You'll be able to get to everything in a pinch and it's adorable too – thanks to BHG for sharing.
23. Chic Corner
With this YouTube video you'll see how to create your very own gift wrapping station similar to this chic setup!
24. Desk
Turn an older writing desk into a gift wrapping area inside your craft room, under the stairs or even in the breakfast nook. We love this idea and how charming it is. Check it out at Bead & Cord.
25. Stools
You can even turn a stool into the perfect gift wrapping essentials organizer. Just follow the instructions and details at 2 Little Hooligans.
26. Scissor Hooks
Whether you have one faithful pair or several funky ones, hanging your scissors is a great idea as they're always one of the first things to get lost in the midst of all the fun. Check out this chic way at HDE.
27. Wire Shelves
Cupcakes and Cashmere using classic wire shelves to organize and display all the goodies she needs to create the most beautiful presents!
28. Card Box
What goes along with gifts besides the actually present they are unwrapping? Gift cards, of course! Woman's Day shows us how to create small file boxes to sort all of the celebratory cards you are collecting for the future.
29. Washi Tape
Again, IHeart Organizing gifts us another great idea. If you like to use washi tape when embellishing gifts, grab a plastic or acrylic utensil organizer and use them to create a spot for your pretty tape pieces.
30. Labeled Boxes
Of course, an easy way to organize is to start with some labeled boxes. IHeart Organizing used them to hide gift tags, but you can also insert bows and embellishments to keep them all in one spot.
31. Wire Basket
A simple wire basket could be all you need to gather all of your wrapping paper and keep it in one, organized spot. This snapshot is from the tidiness of IHeart Organizing!
32. Tin Caddy
Instead of a shower caddy, use a tin basket and create your very own grab-and-go gift wrapping caddy! We love this idea from I Heart Naptime, it's great for those quick "thank you" presents or birthday fun that needs to be wrapped up.
33. Towel Rack
Here's another great idea BHG that will make gift wrappin so much easier! A hand towel rack can help display and organize your ribbons as you top off everything beautiful gift!