50 Organization DIYs To Help Get Your Life In Order
Every nook and cranny of our life feels a bit better when the "stuff" around us has its own place. And there are tons of different ways to make everything feel a bit neater and bit more tidy too. These 50 organization DIYS will help get your life in order and have you ready to conquer the day.
1. Clip-On Desk Organizers
Over atBrit & Co, you'll learn how to make your desk more organized, less cluttered but still very stylish. Hop on over and check out the details behind this innovative organizational idea!
2. Cord Labeling
Know what goes where and stop getting everything knotted by labeling your cords. Check out some free printable and washi tape ideas at The Budget Decorator.
3. Backdoor Laundry Hamper
Making Nice in the Midwestgrab an embroidery hoop and turned it into a laundry hamper. Keep the corners of the room decluttered with this cutie.
4. Headboard Closet
If you're good with your hands you may want to take on this space-saving idea. Turn your headboard into an extra closet or storage space! (via)
5. Recipe Binder
Keep all your recipes on-hand and ready-to-use by placing them inside a binder.Living Well Momshows us how to keep them all in one spot inside of cluttering up the kitchen counters.
6. Rolling Book Basket
7. Painted Magazine Files
Earl Greyknows how to organize your magazine collection with fashion-forward energy. Grab some inexpensive file holders and turn them into a trendy little rack!
8. Cord Organization
Our Thrifty Ideashas this clever little move for organizing your cords. Don't have your drawers your cabinets filled with knotted necessities anymore!
9. Charging Cell Holder
Made from a lotion bottle, keep your cell phone off the floor with this holder fromMake it Love It! Charge it in style!
10. Hidden Shelf Storage
Sewing Barefoottook some old books and turned them into a secret storage spot. Spruce up the bookshelves with these beauties!
11. Golden Pencil Holder
View from the Fridgetook a piece from Anthropologie and created their own from its inspiration. It's perfect for your desk or vanity!
12. Jewelry Storage Mirror
Hop on over toA Beautiful Messand learn how to whip up one of these jewelry storage mirrors now! It's modern and holds more than you think!
13. Drawer Hangers
We're also loving these drawer hanged fromDesign Sponge. It's stylish and gets all of the extras off up the floor.
14. Gold & Acrylic Clipboards
If you visitDesign Spongeagain, you'll learn how to make these gold and acrylic accessories. Spruce up the office with fashion and function!
15. Coffee Can Wine Rack
You can even make your very own wine rack to keep your bottles ready-to-use and out of the cabinets. Check out this DIY over at Brit + Co.
16. Pallet Laundry Shelf
Learn how to create a quick pallet shelf for your laundry room! If you have to do your chores in a small space, this will help out for every load. (via)
17. Suitcase Coffee Table
Design Spongehas this innovative idea up their sleeve too. Provide extra storage and style in the bedroom or living room by turning a vintage suitcase into a table!
18. Gold Leaf Lucite Office Supplies
A Bubbly Lifeoffers up this quick tutorial for gold lead and lucite desk and office accessories. Hold you magazine and paper clips with these cuties.
19. Framed Pegboard
Clean up the craft room with this framed pegboard fromHoneybear Lane! It's so easy to install and even easier to organize.
20. Under the Kitchen Sink Clean-up
Underneath the kitchen sink tends to collect lots of necessary odds and ends. Organize it! And use this idea as inspiration! (via)
21. Kid Pantry
Organize and clean up a bit for the kids. Create a pantry all their own so they can get what they need when they want it and not have all of the little snacks messing up the main cabinets. The Shirley Journey has the details for this kitchen pantry organization idea.
21. Storage Shoe Bench
Bob Vilamade a storage shoe bench that will solve lots of mud room and foyer problems for you. Take the leap and check out the details now.
22. Writer's Desk Organizers
A Pumpkin and A Princess made some snazzy desk organizers we're loving. Hide all your writing tools or use this at the vanity or in the kitchen too!
23. Hot Tools Bathroom Storage
Run over to Dream Green DIY and learn how to turn a file holder into a hot tool storage spot. Clean off those kitchen counters!
24. Magnetic Colorblock Desk Accessories
House of Earnestmade their desk accessories with magnets! Declutter those desk drawers and have your push pins and paper clips ready-to-use!
25. Cork Storage Boxes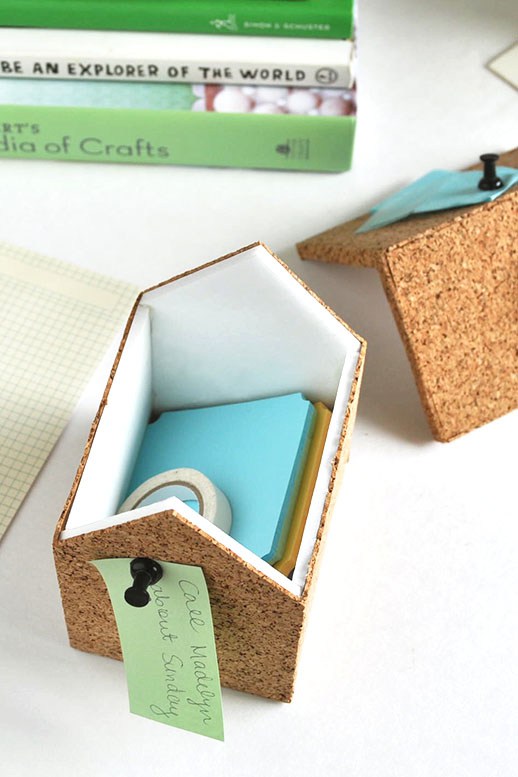 If you're a fan of cork, you'll want to check out this handy DIY. Create storage boxes in an afternoon with some help from Sugar and Cloth.
26. Sofa Organizer
Check out the pattern for this adorable sofa organizer over at The Creative Blog. Sew it up and have all you need for movie night on hand.
27. Fabric Storage Boxes
Here are some more storage boxes you can whip up! This time all you have to do is visit Craft & Creativity while grabbing some fabric!
28. Magnetic Bathroom Rack
All you need is a magnet strip in the bathroom to clean up the space a bit. Just look at all the little stuff you'll get off the counter tops! (via)
29. Chalkboard Wall Calendar
Tatertots and Jello teaches us how to take a wall and organize our entire schedules in an instant. Perfect for families, it's easy and stylish if you have the right space.
30. Rope Vases
These can be used all around the house. From the kitchen to the bathroom, check out how to make them at Creative in Chicago.
31. Belt Strap Bins
We love how trendy these are! Organize your closet in style with these belt strap bins from Iron & Twine.
32. Framed Bulletin Board
Learn how to make a snazzy bulletin board over at Tatertots and Jello. Organize your grocery lists, to-do lists and more!
33. Desk Frame Organizer
Sometimes you can use the smallest, simplest thing and turn them into something new. Right here at The Wishful Tinker you can turn a frame into a full-forced organizer.
34. Toy Storage Crates with Wheels
A Bubbly Lifemade these absolutely charing toy box crates that we're swooning over. And added wheels for easy moving!
35. Industrial Storage
For the garage or in the mudroom for multiple kids,Bright Bazaarshows us how tomato this industrial storage for our homes too. Check it out!
36. Pegboard Letter
Here's another pegboard DIY we're loving except this one is a bit more personal! A Ruffled Life has all the details on how to make one of these!
37. Painted Storage Boxes
You could always paint your storage boxes. Annika Backstrom has all the details behind these beauties.
38. Paint Chip Memo Boards
Another way to organize your daily schedule and have to's, check it out at Shannon Claire! It's inexpensive and easy to recreate.
39. Ceramic Vanity Set
Brit + Comade a ceramic vanity set that's just as pretty as it is functional! Clean up all the goods in a pinch!
40. Hat Racks
Organize your hats with some help fromPassion, Pink & Pearls! Just choose a corner of the closet to get started.
41. Mason Jar Sewing Kit
The Polka Dot Chair teaches us how to create a mason jar sewing kit to keep all of your essentials found and organized. They have a free printable too!
42. Rustic Rolling Cart
Beyond the Picket Fencecreated a DIY rolling cart that can be used in all kinds of ways for all kinds of things. Check it out now!
43. Backpack Station
Bat momhas all the details you need to clean up the foyer or mudroom. This one is great for moms of multiples.
44. Neon Kitchen Canisters
You could always clean up the kitchen a bit too by creating some new canisters. Organize and separate in color! (via)
45. Washi Tape Organizer
If you've got a craft room, then there's a big chance that you have a nice collection of washi tape. Learn how to organize them at IHeart Organizing.
46. Jewelry Blocks
Here's another great way to organize your jewelry. Grab the details at Emily Henderson.
47. Chalkboard Labels
These printable chalkboard labels can be used in so many places around the house. From the kitchen to the play room, go and print them out now from Lia Griffith.
48. Homey Desk Organizers
HGTVshows us how to take everyday items you want to rid of and turn them into something new and useful. This time they're for the home office!
49. Magnetic Spice Jars
We've all seen these wonderful bits before. Learn how to make them over atOne Lucky Pickle!
50. Block Print Canvas Containers
Hipster's Tea Party made some canvas containers that are perfect for cleaning up living rooms, play rooms or even home offices. Check out the tutorial after the jump.