No-Cook Noodle Bowl Recipe To Try This Summer
Summer is undoubtedly one of the best times of the year. Nights are long, adventures are aplenty, and the days just seem easier. There are pool parties, snow cones, and bike rides. That good old summer bliss. But you know what summer also has? An inevitable heatwave. When the uncomfortably hot temperatures hit, I do everything I can to beat the heat. Including keeping the oven and stove in the off position. I may love food dearly, but there is only so much heat a person can take!
But being a group of such die-hard food lovers, we aren't willing to completely give up good food, right? This bowl has become a summer staple. It features the freshest seasonal ingredients, is effortless but filling, and requires no heat whatsoever. The super-powered magic secret ingredient: the kelp noodle.
Here is a little kelp noodle 101 to get you started:
Say kelp, what?!?!
Have you heard of kelp noodles? That is a clear tasteless noodle made from, well, kelp! Kelp is a vegetable that grows in shallow ocean areas, but I promise you, the noodles do not taste like the sea. They are nearly flavorless, making them well suited to a variety of applications.
Where to find them.
Kelp noodles can be purchased online or at your local health food store. If you can't find kelp noodles, you can replace them with cooked cellophane noodles for a similar result. If you wanted to keep this dish raw, you could use spiraled zucchini as well.
How to prepare them.
These are one low maintenance noodle. All that is needed to get them service ready is a quick soak in warm water, just 10 minutes. The water will help to soften the noodles, creating a better texture. Once they have soaked, they simply need to be drained and then they are ready to go.
Ingredients for Noodle Bowl Recipe:
For the dressing:
1/3 cup peanut butter
2 tablespoons apple cider vinegar
1 lime, juiced
1/2 orange, juiced
2 tablespoons honey
1/4 cup sliced scallion greens
1 clove garlic, minced
1 teaspoon minced ginger
For the noodles:
1 bag kelp noodles
1 bell pepper, cut into thin strips
1 cup shredded carrots
1/3 cup fresh peas
1/4 cup chopped cilantro
2 tablespoons chopped mint
For garnish:
Directions Step by Step To Make the Cold Noodle Bowl:
Add the kelp noodles to a large bowl. Cover with warm water and let sit for 10 minutes.
While the noodles are soaking, whisk together the peanut butter, vinegar, lime juice, orange juice, and honey.
Add in the scallions, garlic, and ginger. Stir to combine.
Drain the noodles, and shake off all the excess moisture. Add back into the bowl. Add in the bell pepper, carrots, and peas.
Add in the dressing.
Toss to combine.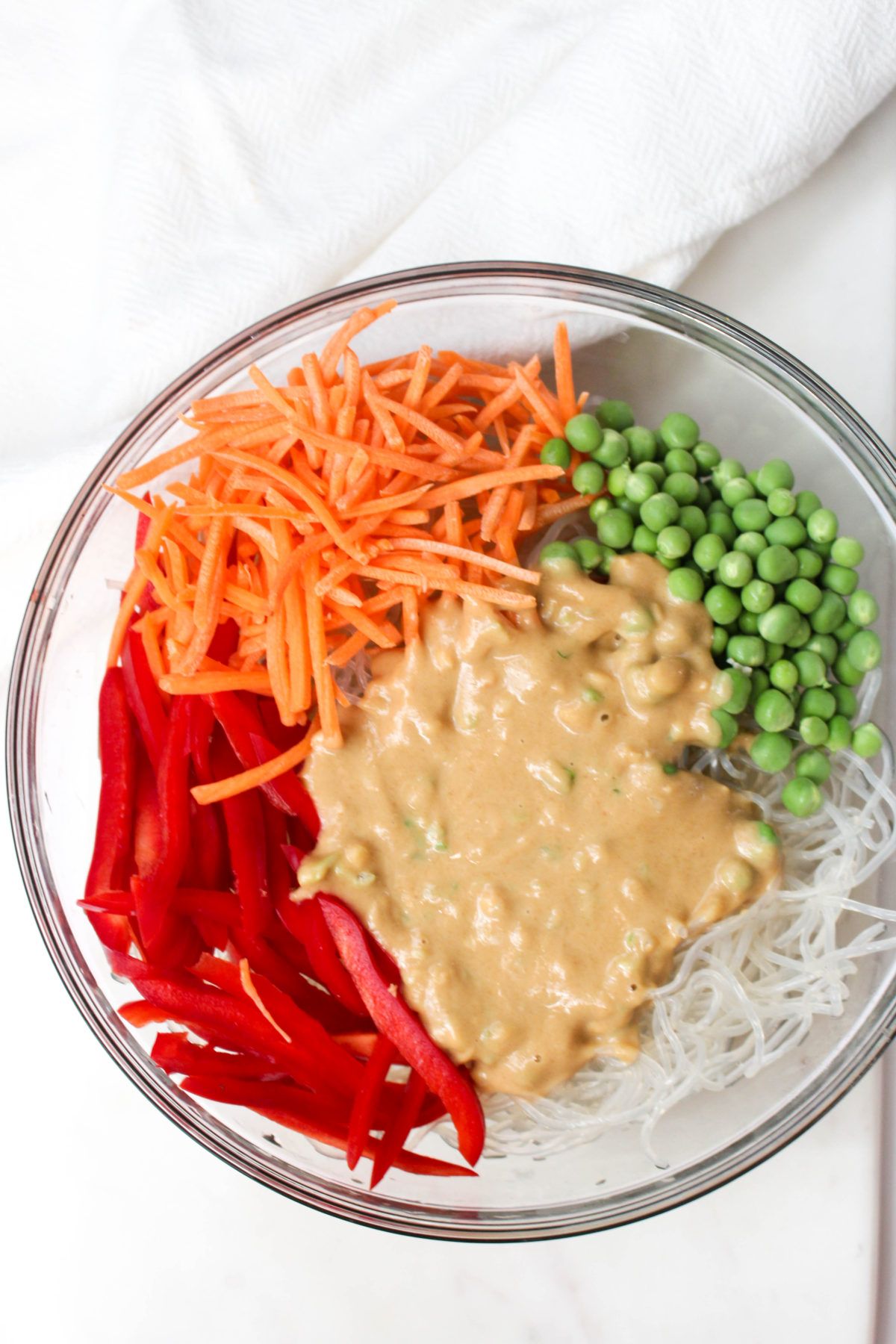 Add in the cilantro and mint.
Toss again and serve, topped with toasted nori if desired.
Yield: 2
No-Cook Noodle Bowl Recipe To Try This Summer
By using kelp noodlea, you won't even need to use heat to make this delicious no-cook noodle bowl.
Ingredients
For the dressing:
1/3 cup peanut butter
2 tablespoons apple cider vinegar
1 lime, juiced
1/2 orange, juiced
2 tablespoons honey
1/4 cup sliced scallion greens
1 clove garlic, minced
1 teaspoon minced ginger
For the noodles:
1 bag kelp noodles
1 bell pepper, cut into thin strips
1 cup shredded carrots
1/3 cup fresh peas
1/4 cup chopped cilantro
2 tablespoons chopped mint
For garnish:
Nutrition Information:
Yield:
2
Serving Size:
1
Amount Per Serving:
Calories:

469
Total Fat:

22g
Saturated Fat:

4g
Trans Fat:

0g
Unsaturated Fat:

14g
Cholesterol:

0mg
Sodium:

273mg
Carbohydrates:

64g
Fiber:

8g
Sugar:

39g
Protein:

13g